​An excellent online gaming experience is all about having a strong, reliable connection to the internet. Having a solid router makes gaming much more enjoyable. To find the best routers for gaming, take a look at our list and discover a router that goes above and beyond to deliver exceptional results.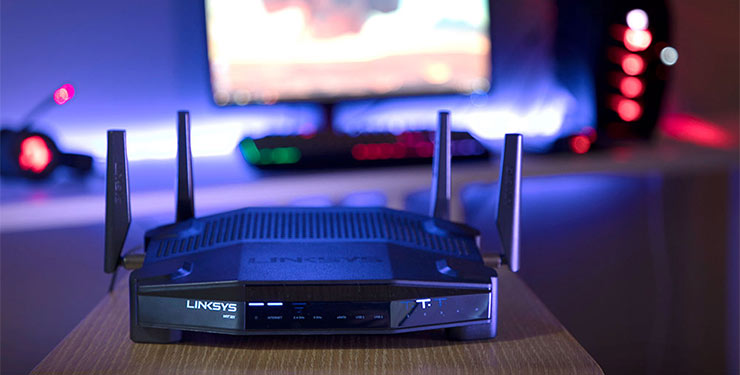 Online gaming can be an excellent hobby to get into. Whether you like to play MMOs with all of your friends, or you simply love to grab your controller and lose yourself in a fantasy for a few hours, you need to make sure you have the right equipment for the job.
Your gaming experience will only be as satisfying as the equipment you use to game. If you want to connect to the internet and game like a pro, you absolutely need to invest in the right router for the job.
A standard wireless router is not powerful enough to compete with the demands of modern gaming devices. This means you are going to need to purchase a router geared for online gaming experiences.
If you do not know the first thing about purchasing routers for gaming, now is a great time to get a feel for what is on the market. Give yourself a moment to look over our list of the top routers for gaming and see which model is the best fit for your needs.
How We Chose Our Ratings
To provide the best possible results, we have put a lot of care and dedication into crafting our list. A gamer can't begin a quest without the right information, so we are more than happy to provide you with an idea of how we came to pick our favorite routers.
First and foremost, we based all of our picks on specific criteria. All of the routers on this list will be able to connect gamers to the internet at faster and more reliable speeds than any routing devices designed for personal use.
Gaming is not the only factor taken into consideration, either. While a router might specifically be used to connect to the internet to game, many people also use the same routers for other purposes.
If you're really feeling confident in your skills, you might want to stream your games for others to watch. We have taken this to heart, and have made sure each of our picks is capable of connecting to the internet for more than just gaming.
Since honesty is important, we also spent a good amount of time scouring various online reviews and testimonials of various gaming routers. After weighing the pros and cons of these reviews, we were able to select our absolute favorite options.
This allows us to provide suggestions that meet our own criteria and also go above and beyond when it comes to the expectations of consumers.
Top 7 Best Routers For Gaming
NETGEAR (R8000-100NAS) Nighthawk
Having a gamer in your household can put a lot of strain on your internet connection. When one person is connected to a console and engaged in extended hours of play, it can make other devices on the same network run at a reduced capacity.
Since you don't want to upset the natural balance of your home, you want a router built to handle multiple devices. The Nighthawk X6 AC3200 is perfect for this goal. This router is designed to support more than twenty different devices at the same time.
The overall appearance of the X6 AC3200 can make it seem a bit intimidating to consumers with little experience purchasing routers. Though the spider-like design can look like something out of a horror film, the performance of the router is straight out of a work of science fiction.
You will be blown away with the speed and strength of your connection when you decide to game using this resilient option. The Nighthawk X6 AC3200 is also useful because it boasts a readyshare feature.
This allows users to upload important files to the router and share it with other computers. The ability to share files with other computers can be a lifesaver when you want to game at a friend's house and need certain data transferred to their console before you can connect.
The Nighthawk X6 AC3200 is a great fit for serious gamers and large households looking to maintain multiple devices at the same time without sacrificing connection quality.
NETGEAR Nighthawk X6 Smart Wi-Fi Router (R8000) - AC3200 Tri-band...
Recommended for up to 50 devices: Reliably stream videos, play games, surf the internet, and connect smart home devices.
Wired Ethernet ports: plug in computers, game consoles, streaming players, and other nearby wired devices with 4 x 1...
Loaded with advanced technology: Designed with a 1GHz dual core processor, 6 amplified antennas, Beamforming+, Dynamic...
ASUS RT-N66U Dual-Band Wireless
Smart devices have become all the rage in recent years. When your gadgets know the best options for you and your household, it can make your life a lot easier. With routers, smart tech has developed in some incredibly useful ways. The ASUS RT-N66U Dual-Band Wireless-N900 showcases smart technology at its finest.
This router uses a feature called Smart Connect, which automatically selects the fastest and most appropriate band for each device connected through the router. This means multiple devices can be connected at the same time without one running slower than the other.
External threats can also be a real cause for concern when you spend a lot of time gaming. When you leave your network open, it can make you vulnerable to a wide array of online attacks and viruses.
The ASUS RT-N66U Dual-Band Wireless-N900 is prepared for any possible threats, featuring AirProtection tech. The AirProtection feature keeps your network safe from any possible infections that might come around when you are connected to the internet for long periods of time.
Apple AirPort Extreme
Brand power is everything in the modern age. If you are a big fan of Apple products, then this router might be the right fit for you simply because of the trusted power of the name.
The Apple Airport Extreme Base Station was designed with gaming in mind. In the past, Apple routers were not the best for gaming. Though Apple computers can produce stellar graphics and experiences for gamers, the routers by the brand were less than thrilling.
The Apple Airport Extreme Base Station, however, exceeds expectations set by previous models. The biggest advantage this router has is that it is compatible with any type of device.
You can breathe a sigh of relief if you assumed it would only work with Apple products. Though the brand definitely prefers to craft devices for its own products, this router is a great deal because it provides fast, reliable connection.
On top of this, the router offers a slick, modern design that Apple products are known for. Whether you are exclusively a Mac person or you love your PC, you can appreciate all the benefits this device can bring.
Apple Airport Extreme
The intelligent, easy-to-use AirPort Extreme Base Station with simultaneous dual-band support is the perfect wireless...
Offers next-generation 802.11ac Wi-Fi technology
Delivers high-performance wireless access for Mac computers, PCs, and Wi-Fi devices such as iPhone, iPad, iPod touch,...
D-Link AC3200 Ultra Tri-Band Wi-Fi Router
There are many problems that can come along when you are trying to configure your wireless router. If you need to change the settings, for example, you could run the risk of ruining the reliability of your connection.
This is not a problem you need to concern yourself with when you explore the D-Link DIR-890L/R. Configuration is a snap with this device, as it includes a program that allows you to change your network and router settings from the convenience of your smartphone or similar device.
The D-Link DIR-890L/R might be a bit less expensive than some of the other items on this list are, but that can work to its advantage. This router allows for fast, reliable connection speeds and can support an array of devices at the same time.
Whether you are looking to game into the night or you just want to cozy up with your significant other and binge your favorite show all day, you can definitely expect quality performance from this router.
D-Link AC3200 Ultra Tri-Band Wi-Fi Router With 6 High Performance...
Ultimate Wi-Fi performance with AC3200 Tri Band speeds (1 x 600 Mbps in 2.4GHz + 2 x 1300 Mbps in 5GHz) to support more...
Enjoy 4K/HD video and online gaming simultaneously with 3 x 3 data streams and 6 high performance antennas
The 1GHz dual core processor gives you powerful wired and wireless speeds
ASUS RT-AC5300 AC5300 Tri-Band WiFi Gaming Router
While many of the routers listed here work well for gaming, only the ASUS AC5300 Router can say it was designed specifically for those looking for improved experiences while gaming. ASUS is a trusted brand and you might have noticed that this is not the first router by the company on our list. There are no fancy bells and whistles with this router, just a simple design that performs in an incredibly reliable manner.
Just because there are no dazzling extras with this router does not mean it is not a quality choice. The reliability of the ASUS AC5300 is assured, with the device being able to support a number of different computers, smartphones, and tablets at the same time.
Beyond this, the AirSupport feature of the router helps users to protect their networks from external threats. You can easily monitor network activity with the software included with this device, giving you the chance to stay ahead of any potential dangers.
ASUS WiFi Gaming Router (RT-AC5300) - Tri-Band Gigabit Wireless...
Tri band (Dual 5 GHz, single 2; 4 GHz) with the latest 802; 11AC 4x4 technology for maximum throughput (5334 Mbps) and...
Mu memo technology enables multiple compatible clients to connect at each client's respective maximum speed; Supports...
Built in ACCESS to Waist gamers private network (GPN) of route optimized servers ensures low, stable ping times for...
Linksys AC1900 Wi-Fi Wireless Dual-Band+ Router
Linksys has been a trustworthy name for routers for many years now. Many people have come to know this brand because of how affordable its devices are. While the Linksys AC1900 might not cost you a small fortune, it can still deliver some exceptional results.
In the past, users have complained about Linksys devices getting kicked off networks without warning and delivering spotty connections. The company took these comments to heart, changing its approach to design and creating the Linksys AC1900 to impress consumers.
It seems Linksys succeeded, as this device proves to be exponentially more reliable than any previous Linksys model. This alone has made it a popular choice for gamers, as it boasts the same affordable price tag as previous models while being able to go above and beyond to deliver quality.
This is a great choice for gamers who are just getting into the hobby and need an inexpensive and reliable option for their experiences.
Linksys AC1900 Wi-Fi Wireless Dual-Band+ Router with Gigabit & USB 3.0...
Up to N600 Mbps (2.4 GHz) + AC1300 Mbps (5.0 GHz) speeds with Simultaneous Dual Band
Platform Compatibility : Windows XP, Windows Vista 32/64, Windows 7 32/64, Windows 8 32/64, Mac 10.5.8 Leopard, Mac...
Includes Linksys Smart Wi Fi providing easy CD free set up, remote network management, parental control and app enabled...
Google WiFi Router
The overall look of your router might be important to you. Many devices can look like strange pieces of equipment that fell off a spacecraft. While this might be interesting in some regards, it can also create a mess of unseemly wires and clunky boxes in a corner of your house.
Instead of dealing with this, you might want to opt for a model like the TP-Link OnHub AC1900 Wi-Fi Router. With a slick, cylindrical design, this router packs a punch when it comes to appetizing appearances.
The look of this device is just one exciting feature. The TP-Link OnHub AC1900 Wi-Fi Router also features a number of internal antennas for maximized connection speed and reliability.
According to various reviews, using this device for gaming can produce consistently exciting results. The biggest setback to this model is that there is little-to-no control when it comes to adjusting the IP range of the router.
While this might be a huge issue for some, it may be a minor inconvenience to others who do not care about customizable features.
OnHub Wireless Router from Google and TP-LINK, Color Blue
The companion Google Wifi app makes setup simple and lets you to control your network from your smartphone
Super fast Wi-Fi speeds up to 1900 mbps to help with smooth streaming, gaming and downloading
Helps eliminate dead zones with 2.4GHz and 5GHz Band1/2/3/4 Wi-Fi antenna-13, 2.4GHz Bluetooth antenna- 1 & 2.4GHz...
Buyer's Guide
While the selection we provided here should be able to go above and beyond to deliver exceptional gaming adventures, you might also want to do a bit more shopping on your own. In order to find the best fit, you need to examine specific features of each router.
For one, take a look at how many devices can connect to the network at one time. While you might be using the router for private gaming, it is more likely the device will be used throughout your home by others requiring reliable connections as well.
Safety should also be a concern when shopping for a router. Most modern devices come with some type of protection, whether it is software or a downloadable app to monitor your network. The more devices that can connect through a router, the more important it is to check the security features.
Leaving your network open to online attacks can put a virus in your system that prevents you from gaming the way you intend. To keep your hardware free of corruption, be sure to pay attention to what security features are highlighted on your router.
Finally, connection speed can be quite important to your overall experience. While it is not technically mandatory that you buy a router geared for gaming, the routers designed specifically for this task are likely to deliver better results.
When a device is structured for gamers, it is likely to have stronger, more reliable connection speeds. If you are shopping around and notice the speed seems too low, that device most likely will not be the best fit for you.
Make sure to check that the router has been constructed for gaming capabilities before you make your investment. The perfect online gaming experience all comes down to the type of router you use.
If you want to connect to the internet and lose yourself in hours of exciting gameplay, you absolutely must take time to think about which router will help you along your way and deliver the best results.
Use our list as a springboard to discover other exciting options and find your path to thrilling and enjoyable gaming experiences.
Last update on 2020-08-20 at 15:37 / Affiliate links / Images from Amazon Product Advertising API