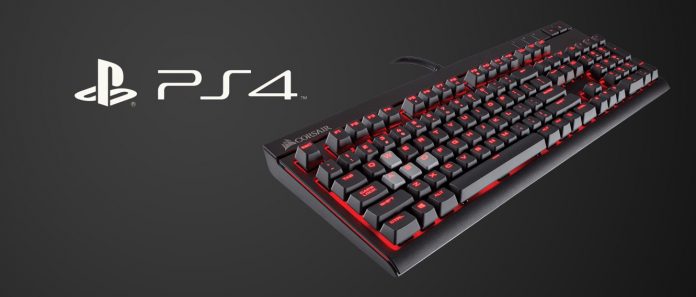 Out of the box, Playstation 4 console comes with one DualShock 4 controller, and that is it. For many games, it's enough to play their favorite games and enjoy PS4 at its full potential. However, some of you might find a need for some PS4 accessories to enhance your gaming experience competitively and just for fun. A proper PS4 keyboard is one of those accessories.
When you are looking for a PS4 keyboard the first thing you should decide is "What for do I need it?". Maybe DualShock controller can't provide you with such control as you want to when gaming? Or you just want a keyboard that you can use to easily navigate through the PS4 interface and view some media content and write messages quickly?
There are many different keyboards on the market. You can get yourself a keyboard that plugs directly into your DualShock controller or a more traditional keyboard that is wired or wireless depending on your setup. We have created a list of top 8 best keyboards that are compatible with your PS4 and PS4 Pro.
Mechanical vs Membrane which is the best console gaming keyboard?
have noticed two type keyboards – membrane, that is usually very affordable and more expensive mechanical keyboards. But what's the difference? To understand it, let's see how these different keyboards work.
Membrane keyboard for PS4?
When you press a key on a membrane keyboard, the key is pressed through a plastic layer that has electrical contacts and then through a hole in a second layer that interrupts a circuit, so the pressed key is registered. Pushing through plastic layers gives you a "Jelly" like feel and keyboard don't seem responsive. These keyboards can last for up to 10 million clicks.
Mechanical keyboard for PS4?
When you press a key on a mechanical keyboard, you activate a spring-loaded switch that's underneath the keycap. Depending on your keyboard you may require less or more strength to press the key. Unlike keys on a membrane keyboard, when keys don't have to be pressed down all the way to register if a key is pressed. Mechanical keyboards can last for up to 50 million clicks. That's five times more than membrane keyboards!
For gamers who do thousands of clicks every day on their keyboards, mechanical keyboards are a better choice as they offer higher lifespan, better precision and build quality. It's a good investment in future. However, if you are low on budget, some brands make great membrane keyboards that are a lot cheaper and does their job well. And at the end, have you ever had a keyboard that breaks down?
Our Top 8 best gaming keyboards for PS4
1. 

Corsair Vengeance K70 Review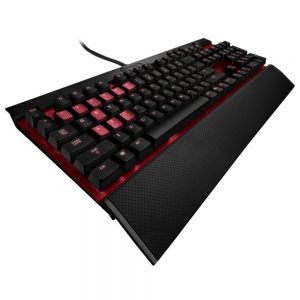 The Corsair K70 is a keyboard for dedicated and serious gamers. With its brushed aluminum construction that can be chosen in two variations – black anodized aluminum or plain brushed aluminum. It's surely one of the most desirable keyboards on the market.
Mechanical switches increase the longevity and speed of typing, and they are much nicer to touch. As a gaming keyboard, the Corsair K70 comes with replaceable WASD keys, but it doesn't feature any extra multimedia keys or programmable macro keys. This keyboard features backlighting so you can get it in three possible backlights: Red LED, Blue LED and RGB LED. Besides full QWERTY keyboard and numpad, this keyboard also has keys such as Play/Pause, Stop, Forward, Back, Mute and volume wheel that's made from metal.
On the backside, this keyboard has a set of four flip up legs to adjust the keyboard angle. These flip up legs are also on the front not only on the back as with cheaper keyboards, so you get more angle options. As for performance, the Corsair K70 did flawlessly. Keys on this keyboard are very responsive. You can not the only game on this thing well but also type very fast.
The Corsair K70 is one of the best premium gaming keyboards on the market. It's made for those who value robust, solid build. It's fully compatible with PS4.
---
2. Razer BlackWidow Chroma V Review
Razer BlackWidow Chroma V is another great mechanical keyboard that is made by a well-known brand. It's quite pricey but got a lot to offer – RGB backlights, mechanical switches, and five programmable macro keys for dedicated gamers. This is one of the most durable keyboards on the market rated to withstand a whopping 80 million keystrokes! Because this is an RGB keyboard, you can also program backlit keys with 16.8 million color options.
---
3. DREVO Calibur Review
DREVO Calibur is one of our most favorite wireless or Bluetooth keyboards for gaming as it's super well built and has a very reasonable price tag. This is not one of those super expensive keyboards that cost 100$+. It features RGB LED Backlit keys and endurance of up to 50M key presses. One thing to note is that this keyboard comes without a Numpad.
---
4. Logitech K400 Review
Logitech K400 is a keyboard that is not meant for serious gaming but more for a way how to browse through PS4 apps and write messages. It features a very slim and compact build. It's also wireless so you can use it far away from your display. Instead of a numpad, it has a touchpad.
---
5. Redragon Karura K502 Review
Redragon Karura K502 is a super budget friendly keyboard that's dedicated to gaming. Although this is a membrane keyboard, it's still very pleasing to press the low profile keys. You can switch between 7 Switchable Backlight Colors. Overall this is a very basic keyboard that works well and is perfect for those who are on a tight budget.
---
6. HAVIT LED Review
HAVIT LED is a backlit, wired keyboard that has membrane keys. Despite that, it looks like a mechanical keyboard with those high profile keys and compact mechanical keyboard layout. This gives this keyboard a more mechanical feel. However, as it is a budget version, it can't deliver the same responsiveness and feel as high-end mechanical keyboards can.
---
7. Logitech G610 Review
Logitech G610 is a very minimalistic looking keyboard with a very solid build. It seems like it would be great for everything – starting from writing documents up to gaming. It features mechanical keys and two possible backlighting: White LED and RGB LED. We preferred the white LED version as it seems more suitable for this kind of keyboard. It's made for those who not only want to game but also do other tasks.
---
8. Rii Mini Review
Rii mini is a super small keyboard that you can use with your PS4 console. It comes in two versions: one that uses 2.4Ghz frequency and has an adapter and another one that uses Bluetooth and has no adapter. This super compact keyboard not only have a full QWERTY keyboard but also a touchpad with gesture recognition. Although you can't game on this thing, it's perfect for quick navigation through your console and fast messages.
Final words
PlayStation 4 keyboard is no different from a PC keyboard. If you are looking for a decent buy that will last you for many years and you plan to do some heavy tasks with it, buy a mechanical keyboard. Preferably from a well-known brand like Corsair. You can't go wrong with it. However, if you want to save some money and you are a more like casual gamer that doesn't spend more than 2-3hours a day gaming, conventional and much cheaper membrane keyboard will work fine. If you are playing games on 4k TV that's dedicated to your PS4 Pro, we advise you to get a wireless or a Bluetooth keyboard. Having no wires and basically, unlimited distance from your TV(only restrictions are keyboards range and your room dimensions) is more convenient.
You can also find keyboards that have to be plugged at the bottom of your DualShock controller. They are great if you are playing games with your PS4 controller and want the keyboard only to type some quick messages. If you want to game on your keyboard, look for ones that are mentioned above.