When it comes to gaming, it seems like everything is different there. By saying "everything" I mean equipment and peripherals. For example, I'm sure you have noticed gaming keyboards, headsets, mouses and also furniture. Then the question arises "Do I really need gaming dedicated accessories?". If you're speaking of PS4 gaming chairs, the answer is a resounding yes.
In most cases, you will do more than great with conventional peripherals – they will do their functions properly and you shouldn't have any complaints. However, if you're not a casual gamer and tend to spend more than three hours a day gaming, the right accessories, and equipment matter a lot.
Proper PS4 gaming accessories can enhance your gameplay experience as well as give you some advantage over other players. This time we are talking about gaming chairs, particularly console or PS4 gaming chairs.
The greatest thing about console gaming is that you don't need anything more than the console itself and controller, that's it! Another bonus over PC is that you can game on a console in whatever position you like. For example, you can stand, layout or sit – on the sofa, chair, church or any other piece of furniture. But is it comfortable? As I already mentioned, a conventional sofa is great while gaming on PS4.
However, if you do this regularly, you might start to think about getting a dedicated gaming chair. I bet at least once you have found yourself being tired after long gameplay sessions, but you want to finish that one last game. This is where having a proper gaming chair matters a lot.
You can't just pick any chair for your PS4. Actually, in most cases, even a PC gaming chair won't be good enough for console gaming as PC and consoles are two different things. If you want to game comfortably for long hours, you need one of the best dedicated PS4 gaming chairs, with the main criteria – comfort.
Often these PS4 gaming chairs come with lots of various features, but remember that comfort is the one you're looking for. As the main reason, after all, are you being comfortable for as long as possible while gaming. Therefore, for serious competitive gamers or ones that do spend a lot of time gaming, we advise getting this must have PS4 gaming accessory.
Why is a proper gaming chair so important?
While most PS4 gamers spend their time gaming on a sofa or couch, people tend to replace their old couches with a new cushy gaming chair. So is there any particular reason? Yes, there is. First of all human bodies are made to be in motion. Sitting for long periods of time in front of TV strains your body especially if you're sitting on improper furniture. And not only because of that. These days dedicated PS4 gaming chairs come with tons of handy features.
For example, you get built-in speakers, ports for charging USB devices, vibration motors, and audio outputs. All of these things do improve your gameplay and lets you spend more time on your game without moving anywhere. We have counted top reasons why it's worth getting a PS4 gaming chair:
Comfort
Probably the most important aspect of why you should get a gaming chair is comfort. Sitting for hours and hours in the same position isn't what human bodies are designed for. Therefore, over time your body will show signs that it's time to stop gaming. Preferably you shouldn't ignore them and give yourself a stretch.
However, a proper gaming chair can also help. Sometimes PS4 gamers can spend for up to 6h+ gaming. If you do it frequently, it can lead to strains and pain. Usually in the back and neck. Getting a gaming chair that's supportive and also well padded can make a difference. From my personal experience and from talking with dedicated gamers I can assure that you will feel improvements right after trying gaming chair.
Ergonomics
Most of the conventional furniture is unmovable, meaning they are made to stay put. Therefore ergonomics and versatility are very important factors when looking for a gaming chair especially if your gaming room is small. In case there is lack of space or you just don't want to place a chair or sofa in the middle of your living room, you can get a gaming chair as they often are foldable. Meaning when you don't use them, you can fold them up and put away. In the closet, for example.
Tons of features that are very handy while gaming
Nearly all dedicated gaming chairs not only offers great support but also tons of great features. For example, inbuilt speakers that feature surround sound. Yes, not only your PS4 headset but also gaming chair can have surround sound. There are gaming chairs on the market that have four speakers and a subwoofer. Gaming chairs can truly immerse you into the game, but not only with sound. Some gaming chairs have vibration motors that are synced with the bass tones of your game.
This allows you not only to hear but also feel what's happening in the game, it's basically like a next-gen gaming. Imagine you are playing Call of Duty or other similar first-person shooters, you will be able to feel and hear explosions and grenades flying around. For added practicality, most of the gaming chairs come with audio inputs and outputs as well as USB ports for charging USB devices. If your controller battery runs out, no worries! Just plug it into one of the gaming chair's USB ports and keep on playing.
Our Favorite PS4 Gaming Chairs
Here are our top picks for PS4 gaming chairs this year: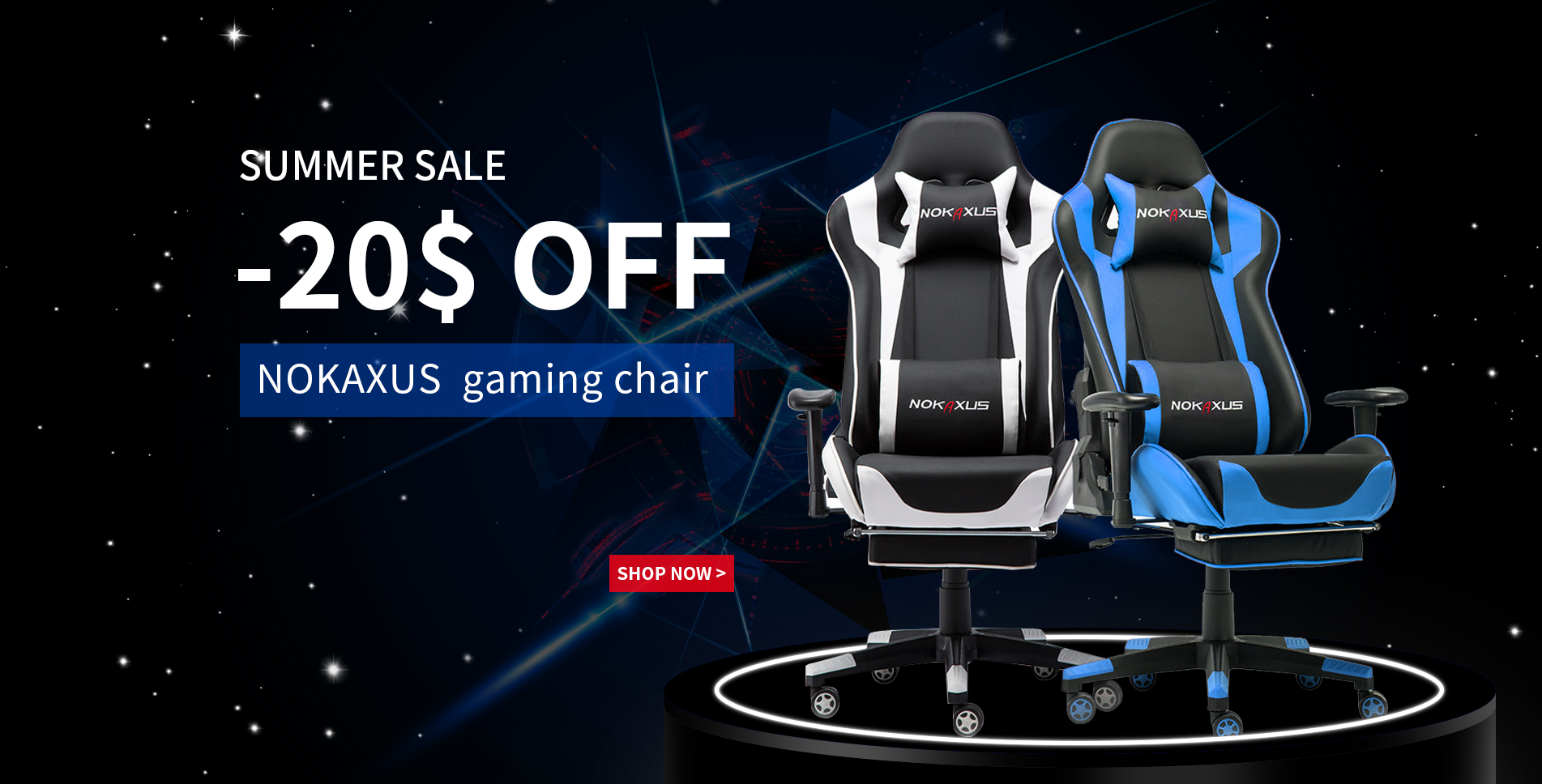 X Rocker Pro H3 – the best PS4 gaming chair on the market
Buy on Amazon
After hours of testing and playing PS4 games on gaming chairs, we decided that nothing else was so pleasant and comfortable to sit in as X Rocker Pro H3. This is truly the best console gaming chair on the market. It's super comfortable to sit it. On this chair, you get 4.1 audio meaning that there are four speakers and a subwoofer. In the result, you get full immersion surround sound that works flawlessly in a combination with vibration motors that sync with bass tones. If you usually play games using a headset, you also get a headphone jack. To make things even better, Rocker Pro H3 is foldable so you can put it away when you don't use it.
We loved this chair's build quality and design. You can surely game on it for hours and hours. Also, the cost is very decent for a product of this quality.
The only thing we were disappointed about was that it's made from a fabric that does look like a leather and after some while of active usage, foam padding tends to cave in. After a while, you might start to see you bottom print. Frame and overall structure are good whatsoever. So, if you are planning to use it every day for 5 hours or more, after about a year you will see first tears.
X Rocker II Review – superb allrounder 
Buy on Amazon
X Rocker II is one of the most popular X Rocker's gaming chair models, it's predecessor of their first successful console gaming chair. Just as Rocker Pro H3, this gaming chair is foldable meaning it's great for small rooms. As for audio, you get two forward-facing speakers and a powerful subwoofer. The best thing is that audio transmission is wireless meaning you won't have to pull audio cable. However, you should remember that this chair still needs electricity to run speakers and other features. Therefore, you will have to plug in power chord into AC power outlet.
You also get headphone jack if you prefer to use your headset as well as super easy to use side control panel featuring volume, bass controls as well as input/output jacks.
If we are talking about comfort, X Rocker II is one of the comfiest gaming chairs you can buy. It's super well padded and supportive. You will have no trouble with gaming marathons on this chair.
X Rocker Surge – great gaming chair for a modern PS4 gamer
Buy on Amazon
X Rocker Surge is a bit different than previous gaming chairs. It doesn't have armrests and it feels fresh when compared with X Rocker II and Pro H3.
Comfort is the word that defines all X Rocker's gaming chairs and Surge is no exception. I gamed on it for around 4 hours and I had zero complaints and nobody strains or aches. It's super well padded and has tons of support.
As most of X Rocker's gaming chairs, Surge comes with two speakers and subwoofer and it has wireless audio. Meaning you can connect it with any Bluetooth device. There are also separate controls for volume and bass as well as audio input/output jacks.
It's made as a versatile and movable gaming chair. However, as nearly all X Rocker's gaming chairs, it's heavy so if all you do is a game and don't spend time working out this may be a trouble. Otherwise, we think that Surge is a very modern gaming chair that's recommendable for almost any console gamer.
X Rocker Pro Series Pedestal Review – most comfortable PS4 gaming chair
Buy on Amazon
Looking for a gaming throne that is as comfortable as it can be? If it's so, X Rocker Pro Series Pedestal is exactly for you. Unlike all previous gaming chairs, This one is lifted up from the ground sitting on a pedestal. So it allows swivel and tilt in different directions. As you would expect from X Rocker, you get two speakers and a subwoofer that can be driver wirelessly. There are also traditional volume and bass controls, input and output jacks below the right armrest.
Setting it up is super easy and can be done within minutes. There's simply nothing much to do. Overall, if you love to sit a bit higher and want that added movement – tilt and swivel, this chair is a great choice. Plus it's the most comfortable one we have tested. Unlike many other gaming chairs, X Rocker Pro Series Pedestal is also great for tall people. Also despite looking bulky, it's actually quite lightweight meaning you won't have any trouble moving it from one place to another.
X Rocker Extreme III Review
Buy on Amazon
Our next pick is X Rocker Extreme III. It looks very similar as X Rocker Surge, but there are some key differences. It has simple 2.0 stereo speakers, RCA outputs, control panel to regulate volume and bass. Basically, all the features you would want. It also has decent comfort with very good neck and back support. We also found out that fabric is super easy to clean. So, if you love to snack while playing games, Extreme III is a great choice. Sadly, it's not suited for tall gamers.
Crew Furniture Classic – the cheapest and most simple PS4 gaming chair
Buy on Amazon
Not everyone needs an expensive, super fancy gaming chair with tons of features. For those on a budget, there's the Crew Furniture Classic gaming chair. It's available in eight colors and because there are no electric components, it's also super lightweight.
For those like me, who are casual gamers and spend around 1-2 hours every day playing out our favorite titles, there is no need for anything fancier. Plus you can use it as a conventional piece of furniture everywhere. Watch TV, listen to music, read a book – do whatever you like on it. Ovarall a great budget choice.
X Rocker Spider Review
Buy on Amazon
Just like X Rocker's Pro Series Pedestal, Spider features with tilt and swivel and is lifted up from the ground. It offers a 2.1 sound immersion experience and everything else X Rocker does. X Rocker Spider is made for those who want decent comfort and a similar experience to Pro Series Pedestal just for a lower cost.
This chair can be folded in half and it's lightweight, therefore, you can easily store it away when you have done using it.
Ficmax Ergonomic High-back Large Size Chair Review
Buy on Amazon
If you prefer to game on your PlayStation 4 on PC monitor and you're sitting relatively close to the screen, the Ficmax Ergonomic office desk chair might be exactly for you. Despite having lettering "office" in its name, it's mainly used by gamers and has gained quite a bit of popularity with its ton of adjustments and 8 colors to choose.
You can regulate backrest anywhere from 90 to 150 degrees and there is also an adjustable footrest.
How to choose a gaming chair for Xbox One?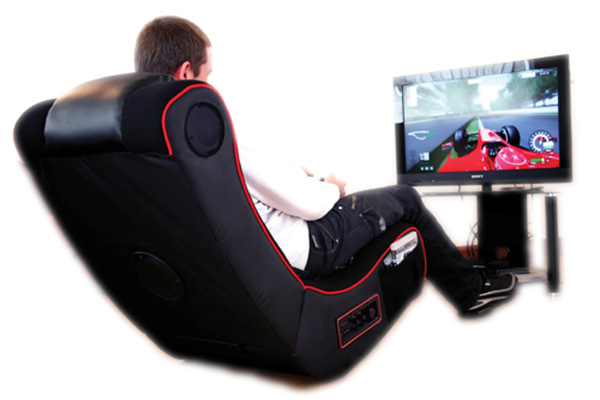 Now you're convinced that you need a gaming chair – that's a good choice. However, there are tons of options and various models on the market. How to choose the best possible one? As for all things that have to deal with comfort – we strongly advise trying gaming chairs out at the nearest store. However, usually, they are not sold in every tech-shop and are only available online. If this is the case, we have highlighted some of the main criteria to look for when thinking about getting a PS4 gaming chair:
Budget
Let's be honest, the first thing you will probably look for will be the cost. We all want the best we can get for our budget, but one thing is clear – getting the cheapest product on the market is probably a waste. First of all, it won't last long or will be uncomfortable and you will end up not using it and looking for a new chair.
Super cheap gaming chairs usually tear up very fast and break. Often they are more uncomfortable than conventional furniture. However, this doesn't mean you should buy a super expensive high-end gaming chair. Get something in between and most importantly from a well-known manufacturer that offers a decent warranty.
Material
When you know your budget, the next thing to consider is material. There is no doubt that the gaming chair should be well-padded and supportive. A proper foam is a must, otherwise, it could cave in after few weeks of use and become uncomfortable. When you know the internals, it's time to look for externals like fabric or leather. Answering which is the best depends on the chair and your needs.
For example, leather is much easier to clean and generally more comfortable. However, if it's not ventilated properly, it can cause sweating especially during intensive gameplay. Fabric, on the other hand, won't but also is a bit more difficult to clean and doesn't feel so great. Feel free to choose depending on your needs.
Styling
This isn't as important criteria as all the rest. However, let's face it. Styling and design can decide whether you will get a particular product or not. Therefore, appearance plays a huge role when choosing anything. We advise getting a gaming chair that looks appealing to your eye as you will be using it daily.
Features
At first, it might seem that you're only looking for a comfortable gaming chair that's mobile enough to be stored away when you don't need it. But most of them come with a variety of additional features that can make your gamer's life a bit easier. As already mentioned, you can get gaming chairs with inbuilt speakers, vibration motors, USB ports, and much more. So if you have a choice, go for it. Just remember that the chair itself will have to be plugged into a power outlet.
Final words on PS4 gaming chairs
If you have doubts about whether to get or not to get one of these PS4 gaming chairs, we advise you to ask yourself a question "Are body strains worth the money?". Plus you not only get a gaming chair that has improved comfort over traditional sofa but also added features that enhance your gaming experience and immerse you into the game.
Overall, if you're asking for a chair that is good for both the Xbox One and PlayStation 4, we advise X Rocker's gaming chair production as they are well made and durable. You can call X Rocker's pioneers of console gaming chairs. All models we know feature leather and inbuilt speakers. If you still didn't find what you were looking for, we advise checking out this list of the Best Console Gaming Chairs.
Last update on 2020-08-20 at 15:37 / Affiliate links / Images from Amazon Product Advertising API