What is a PS4 Chatpad?
The PS4 Chatpad allows you to input text directly within seconds, compose messages to friends, redeem codes, and search various app. Often, it comes with a headset port or a built-in speaker which thoroughly changes your PS4 gaming experience and brings it to a whole new level. If you are one of those people who send a lot of messages while gaming, then a PS4 Gaming Chatpad would make things a lot easier and more enjoyable for you.
1. PS3 and PS4 Wireless Keypad by Sony Review
Introduced by Sony, this PS3 keypad was released in December of 2008 and is one of the best ways to chat with friends and browse the internet on the PS3 as well as PS4. There are definitely a number of truly compelling features of this keypad. The wireless QWERTY keypad includes mouse input capabilities, which allow one to scroll and select easily with a bonus touchpad functionality.
On this PS4 Chatpad, the swiping gestures work well enough for scrolling through content on your XMB. The other particularly interesting feature of the wireless keypad is its touch-sensitive keys, which allows gamers to navigate through menus by simply swiping a finger across the keypad surface. This can also serve as a means of controlling the pointer when using the PlayStation's online web browser. Its design includes Bluetooth 2.0 and a rechargeable lithium-ion polymer battery which is separate and, thus, does not put any additional strain on the controller's power.
On the downside, it does not electronically connect to your Sixaxis or DualShock 3 controller. Instead, the pad is fitted with a retractable clamp that attaches to the controller. Also, you would require a micro USB cable (which does not come with the package) to initially set up your device and pair it with your PlayStation. Although it has a smart and sophisticated look, its buttons are a bit tiny which takes some time to get used to.
---
2. Joso Full QWERTY Messaging Chatpad for the PS4 Controller
This small, sleek keyboard fits well enough on your PS4 controller and can easily be attached or removed once you are finished. The keyboard contains a variety of letters and characters which make it an extremely good choice if you want to text, chat, or browse the internet.
Joso PS4 Chatpad Specifications: 
Operating voltage: DC: 3.7V 
Operating Current: < = 0MA 
Quiescent Current: < = 1mA 
Connection method: 2.4G wireless
Battery: lithium polymer 200MA / H 
Charging current and voltage: 130MA / 5V 
Material: ABSPackage Contents: 
1 x 2nd generation PS4 Bluetooth Keyboard 
1 x USB Charge Cable 
1 x 2.4G Wireless Receiver Adapter 
1 x User Manual 
The keypad itself features a total of 47 keys, including 0-9 number, 26 English letter, and assistant keys. The buttons are sized in such a way that they can easily be pushed, and typing can be done quite effectively. This black PS4 Chatpad also has a bottom audio jack which fits with 2.5 mm earphones. It is ergonomically designed for the comfort of the user.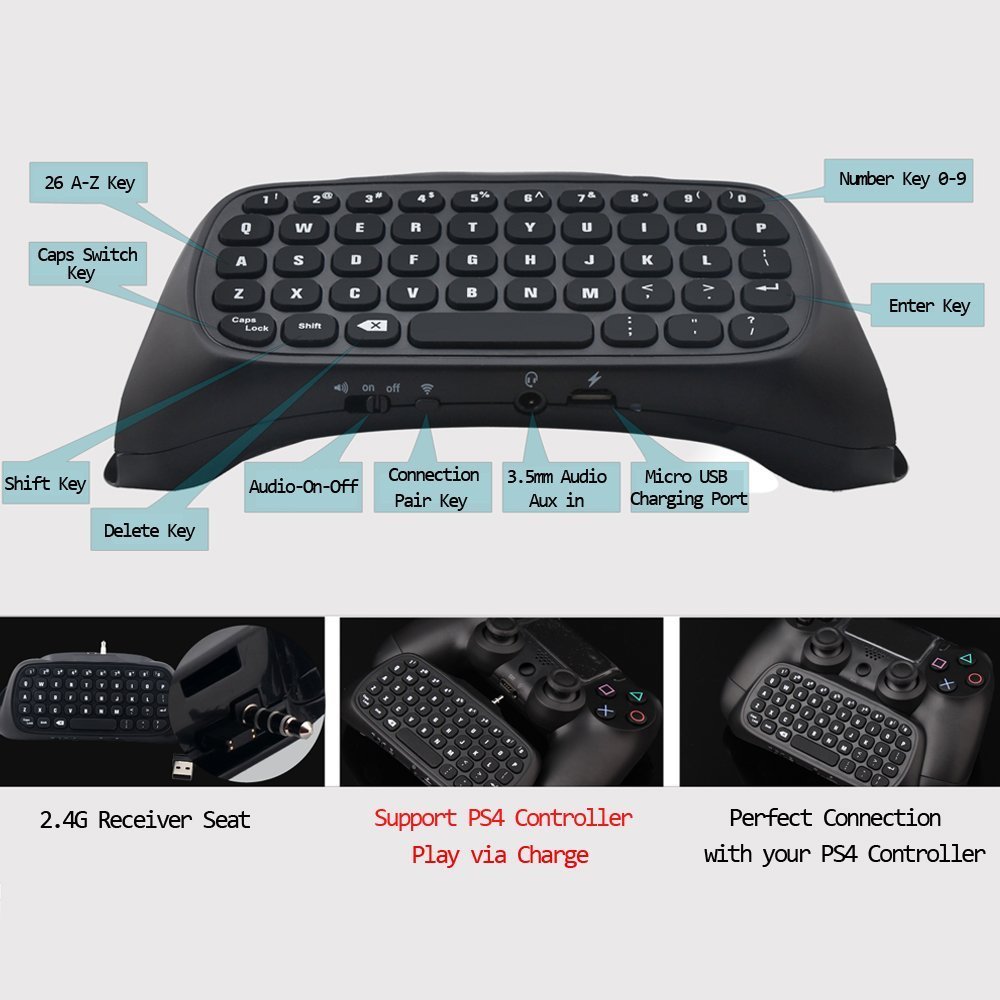 However, sometimes, the language set of the keyboard is not correct; in this case, you would have to refer to the sticker on the bottom of the device. Also, this Chatpad does not have any built-in batteries and has to be powered by the controller.
---
3. Fosmon Portable Lightweight Mini Wireless Bluetooth Keyboard Controller Review
This elegant and portable controller is definitely multi-functional. It comes with an innovative and compact QWERTY keyboard with a touchpad which works perfectly with a rather vast range of gadgets. There is a really big list of devices that it is compatible with, making it worth the investment. The cursor can be navigated effortlessly with the thumbs even without the need of touching the keyboard or the mouse.
The battery is rechargeable which is built-in and long lasting with the promise of having a standby time of 50 days. Another plus is that you are instantly notified when your battery is low and when it is charged to the maximum by the LED indicators. Also, charging it via a USB cable is not a hassle at all.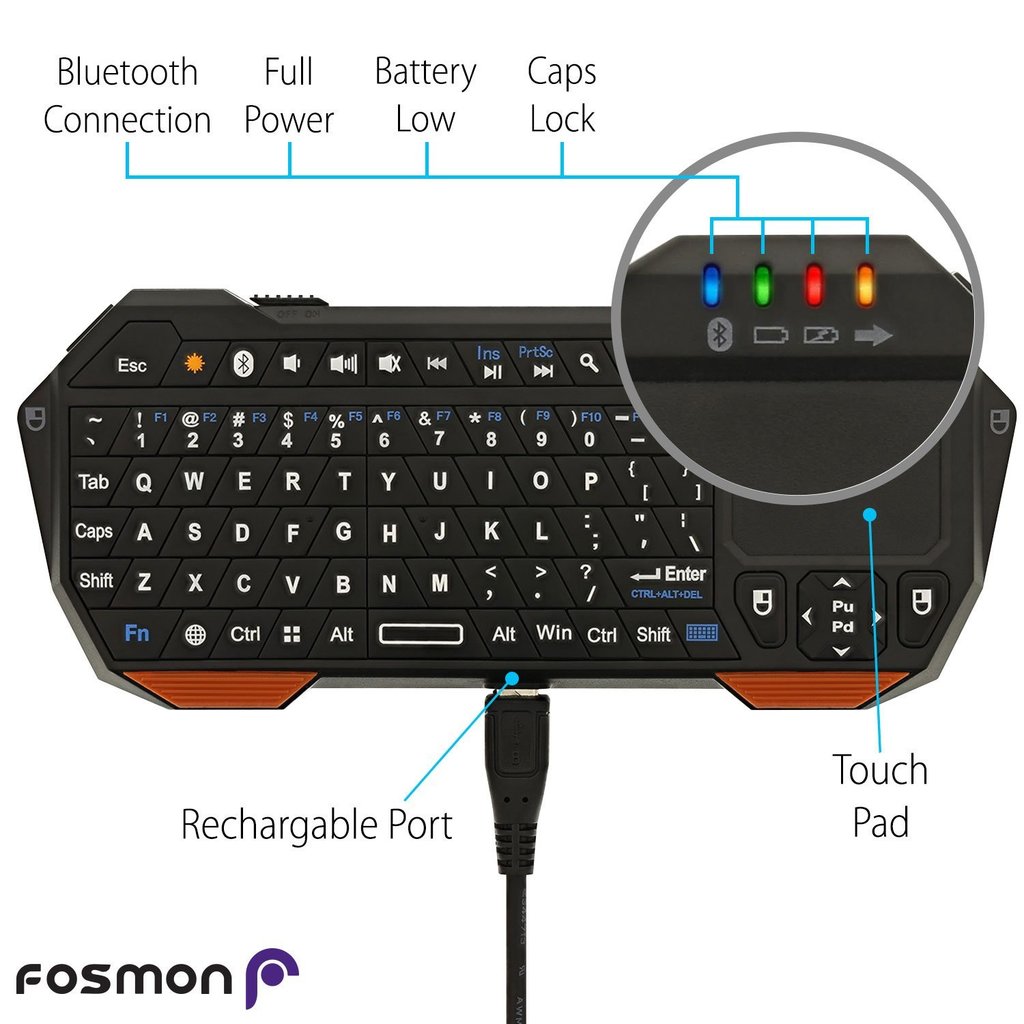 It consists of Bluetooth 3.0 with a working range of approximately 33 ft. or 10 m and a useful backlit keyboard which is perfect to use in a dark environment. Another positive thing about it is that it is lightweight and easy to handle with a good feel in your hands.
However, the warranty for this product is limited which is definitely a disappointment.
---
4.  TNP Wireless Mini Bluetooth Keyboard for PS4 Review
This Chatpad is the perfect match for PS4 gamers. Once plugged in, it does not alter the default PS4 gaming style at all. It is so handy and easy to install that no manual is needed. It makes communicating with your friends much cooler; be it voice chatting or typing, you can do both. It is equipped with Bluetooth 3.0 with a range of about 8-10 meters. It also has a built-in speaker with 8 ohms and 0.5 W power. This wireless keyboard offers you a high-quality experience and claims to give you service for as long as you're using your PS4.
The keyboard can be used only when the PS4 host has paired effectively with the keyboard. With a fairly reasonable price tag, this Chatpad is definitely a bargain.
---
5. Number-One PS4 Mini Wireless Chatpad
This Chatpad was manufactured by Number-One and has a built-in speaker for the PlayStation 4. It is also available in two colors: black and blue.
When plugging in this Chatpad into the controller, it uses the microphone jack, which is a hassle if you already have a microphone/earpiece working. It also sometimes messes with the connection and turns it off.
---
6. Collective Minds Chatboost Chatpad
This Chatpad comes with a battery pack and has 90% positive reviews. You can easily charge your controller while using it. After being charged, the controller almost has double the playing time. It comes with a micro USB port as well as a headset port, and headsets work excellently with it. It is also backlit which makes it a delight to use in the dark. Furthermore, it is equipped with a 2x rechargeable 1500 mAh battery with an ergonomic design. It is custom fit for an even secure attachment.
A small drawback of this Chatpad is that the initial charge is rather lengthy and takes approximately 7 hours. However, this might not be considered that big of a deal as you can charge it overnight when the PS4 is in sleep mode or while you are playing with another controller. Sometimes, while gaming (especially when playing games like GTA), the speakers may become blocked as you can accidentally put your thumb over the speaker.
---
7. Gamers Digital Mini Bluetooth Keyboard for PlayStation 4
It is a perfect fit for your PlayStation 4 DualShock controller. It is laid out pretty much like a keyboard on a computer which makes it easier to use for people or children who are just learning how to type. It has great compatibility with Netflix, Google, Plex and other applications or search engines. This device helps you up your socializing while gaming with its voice chat feature or simple typing.
It is a must-have accessory as it is thought to be long lasting with a PS4. It comes with a built-in speaker on the bottom so that you can readily communicate with your team or opponent without any need for a headset. This feature greatly enhances the overall gamer's experience. It is also made of an impact-resistant ABS plastic which can endure drops and shocks, giving it an even longer-lasting durability.
For some adults, it was kind of hard to type on since the keys are pretty small.
---
Conclusion – Found the best PS4 Chatpad?
Now that you know much more about Chatpads, it is fair to say that a choice to select one of these might not be a problem anymore. All of these Chatpads are equipped with the basics that you need to enhance your social game in the gaming world. Nowadays, this is a must-have accessory for gamers. With all those new and heightened features, these Chatpads are highly recommended for all those energetic and active gamers who want an in-depth and engrossing gaming experience.
Last update on 2020-08-20 at 15:37 / Affiliate links / Images from Amazon Product Advertising API