You're searching for Playstation 4 and want to get the best deal available? Then you have come to the right place. We have made this up to date buying guide that includes all PS4 consoles – regular, slim and fancy pro version. In both – 500GB and 1TB versions, so we assure that you can find your best fit.
It's worth mentioning that PS4 bundles are getting more and more popular and there is a reason for that – bundles are often cheaper than standalone consoles.
A little more about PS4..
PS4 has been out for a while now and since release has been an excellent console to play. Now some new models are here to replace the standard PS4 console – PS4 Slim and PS4 pro. And the pricing of those comes in that order too. Standard PS4 console is the cheapest one, and the oldest, PS4 Slim is the same as old PS4 standard, regarding hardware, just in a new slimmer casing. And the latest version – PS4 Pro, that has enhanced hardware and is a little bit different in design than PS4 slim. But at the end, you can play PS4 games on all of these consoles.
Playstation 4 Stand Alone Consoles
Sony PlayStation 4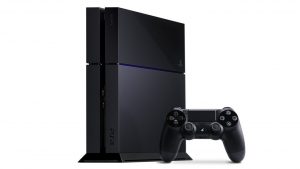 An original Sony PlayStation 4 console, successor to the PlayStation 3. Over 40.0 million units of this console have been sold, compared to Xbox  One 3 million that's a huge number! This console is still very actual as it can run all PS4 games. You don't need to seek a newer Slim version if you find a good deal on this one, because it simply does it all! 
Sony PlayStation 4 Slim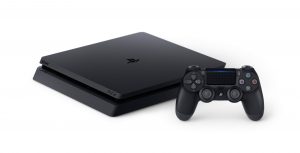 Don't want that bulky original PS4, but also your not thinking that Pro is worth the extra money? Playstation 4 Slim is the right choice for you.
PS4 slim is the same as older PS4 regarding hardware(GPU, CPU, RAM), the only new thing here is design. The word "Slim" does stand for something it's 40% smaller than its predecessor and has different styling. All sharp edges of PS4 have been rounded. Also, input and button layout is a bit different – USB 3.0 ports are repositioned. This console has reduced the fan noise as well as power consumption, and now it uses 40% less power! There are also some WiFi improvements.
Sony PlayStation 4 Pro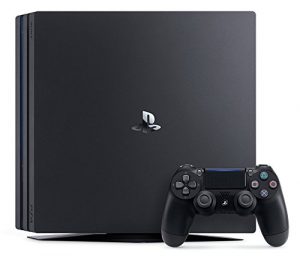 If the newest technology and graphics is what you seek, consider getting a PlayStation 4 Pro. As for design, it's same as Slim just with an extra "layer," but the real changes come underneath the casing. The real thing why people want the new Pro is because of its capability to run games at 4K (3840 x 2160) resolution, while the original PS4 and PS4 slim can't. The same thing is with 4K video output, PS4 Pro can output Ultra HD, while other two can't exceed 1080p.
Procesing speed on this console is also better – CPU is clocked at 2.1GHz, while PS4 and PS4 slim has 1.6GHz, in a result PS4 pro is 1.3 times faster. The standard storage capacity of Pro is 1TB, however you can exceed this. Check out our Top 7 Best PS4 Hard Drives and PS4 External Hard Drive Buying Guide.
Best up to date PS4 Bundle Deals
1. PlayStation 4 Slim 500GB Console - Uncharted 4 Bundle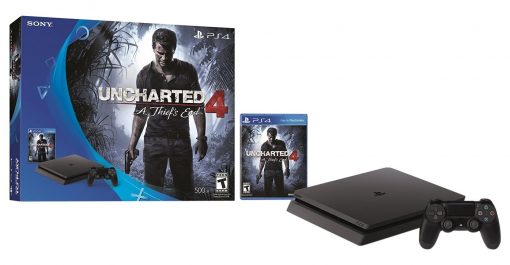 This bundle includes a PS4 Slim 500GB version, DualShock 4 Wireless Controller, and Uncharted 4: A Thief's End. This deal offers awesome start in Playstation gaming for an awesome price. This is one of the cheapest and one of the most popular PS4 bundle out there. At the end, you get an upgraded PS4 Slim + a very new and popular game. Wow!
Check out IGN review on Uncharted 4: A Thief's End where it scored 9/10.
---
2. PlayStation 4 500GB Console - Uncharted 4 Limited Edition

If you want to stand out from the crowd and you're willing to sacrifice PS4 slim looks for custom design console, this might be the right bundle for you. Uncharted 4 offers a great, very realistic looking graphics and an excellent story line. And yes, it may cost a bit more than deal above, but then again you always have to pay extra for style, you decide.
---
3. PlayStation 4 White Console Destiny Bundle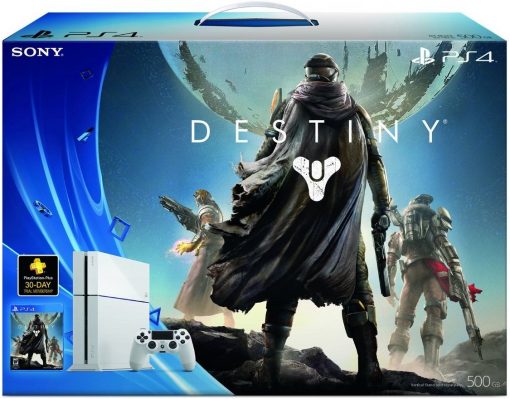 There is just something about white color. It seems like gadgets in white are more desired. Often smartphone, monitor or any other device you want to buy cost more in white version than in black. One thing is for sure – there are far more gray/black consoles out there than white. And sometimes you just want some sort of match between your devices. For example white TV with a white console.Besides its color, this console comes with Destiny game and has an internal hard drive of 500GB.

Check out IGN review of Destiny where it scored 7,8/10.
---
4. Sony PlayStation 4 500GB Bundle with Call of Duty Black Ops III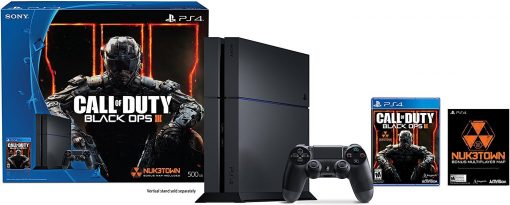 Ready for hours and hours of entertainment and satisfaction? This bundle brings us world famous Call of Duty game Black Ops III. This is a far cheaper option than buying a standalone console with a separate game. Call of Duty series by the statistics is the most bought first person shooter game, and that's for a reason. It offers a very satisfying multiplayer system and an excellent story line. Plus there are great other game modes besides story line and multiplayer like Coop.

Check out IGN review of Call of Duty Black Ops III where it scored 9,2/10.
---
5. PlayStation 4 500GB Console - Destiny: The Taken King Limited Edition Bundle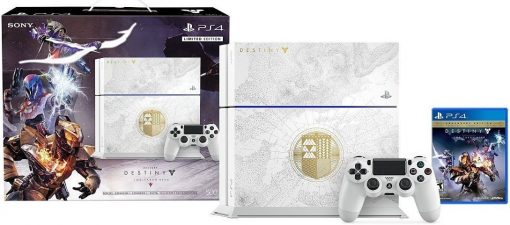 This is another PS4 bundle, where the case has a custom design. In Destiny theme. Awesome bundle if you want the game itself plus Expansions(Expansion I: The Dark Below, Expansion II: House of Wolves, and Destiny: The Taken King) and other game goodies like exclusive content –  Legendary gear sets, emotes, shaders and more.
---
6. PlayStation 4 Slim 500GB Uncharted 4 Bundle + Call of Duty Infinite Warfare Legacy Edition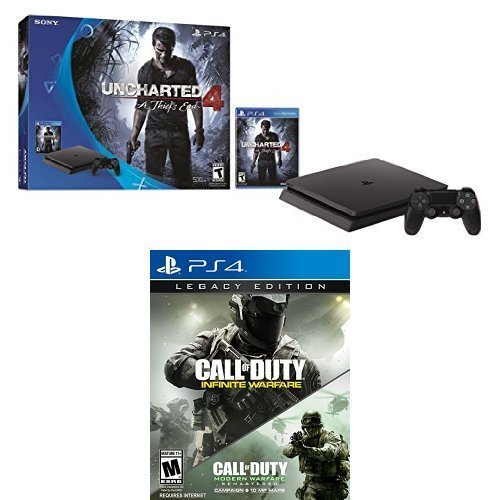 We are sure that for many who are looking for a PS4 bundle will stick with this one.
It offers a great price for the console and two games. Perfect if PlayStation 4 Slim 500GB Console – Uncharted 4 isn't quite enough for you, and you want to get an extra game. People have different opinions about Call of Duty Infinite Warfare Legacy Edition, however with this game also comes fan beloved COD Modern Warfare 4 Remastered! And if you don't really like Infinite Warfare, take it like this – Your buying Modern Warfare 4 and Infinite Warfare comes in Bonus. Sounds better?

Check out IGN Call of Duty Infinite Warfare where it scored 7,7/10.
---
7. PlayStation 4 Bundle - Grand Theft Auto V and The Last of Us Remastered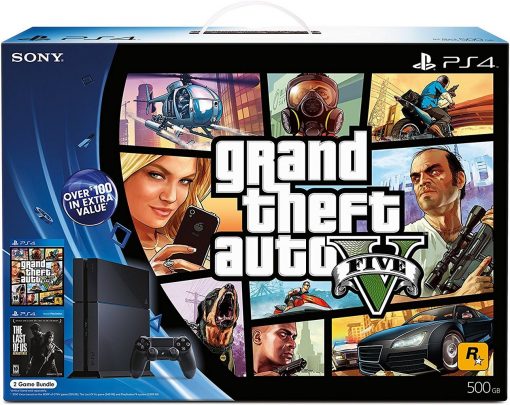 One of the most well-known games out there – Grand Theft Auto V and remastered version of The Last of Us. Wonder around in an enormous open world map, do things you can't in real life. Play multiplayer and show who owns the streets. This game for sure is one of the best games of the year. Perfect set for those who love city, guns, and action.

Check out IGN review of GTA V where it scored 10/10!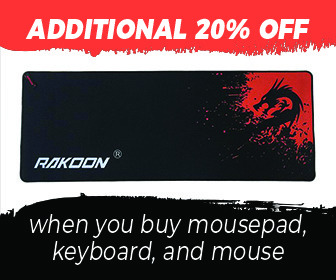 ---
8. PlayStation 4 Pro 1TB Console + Extra Controller Bundle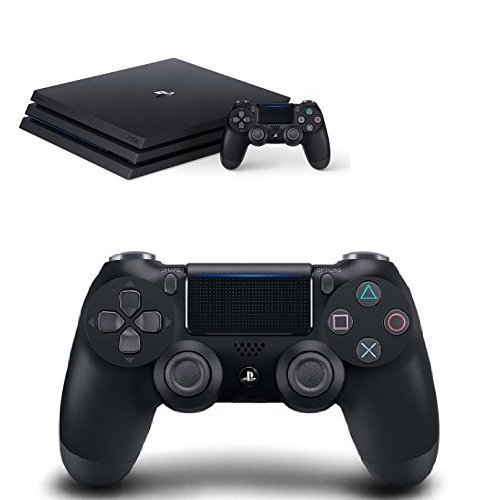 This is a great bundle for those who want the latest and best performing Sony Playstation console – PS4 Pro. This bundle doesn't include any games, but it has two controllers. Maybe you want to play with one controller while another one is charging? Or you just want to play games with your friends on the same console? Then this is one of the best bundle deals out there. The extra controller always comes handy.
---
9. PlayStation VR Launch Bundle

This bundle is a bit different from other ones mentioned above as it doesn't include Playstation 4 console itself. If you already own a PS4 console and want to immerse yourself deep into the games you play, consider getting a PlayStation VR Launch Bundle. In this bundle, you get everything for gaming in Virtual reality. All you have to do is plug the VR headset and your PS Camera into your console, and you're ready to enjoy gaming in 3 dimensions.
Is 500GB enough for PS4?
First of all, it depends on the person, some of you actively play one to three games and often delete old one that you don't play anymore. But others play up to 10 and more games and want to play something new once in a while. For some 500GB is completely enough, for some 500GB is nothing. With PS4 500GB you can roughly have around 8-10 games. Sometimes it's cheaper to upgrade your internal hard drive then getting a 1TB version -check out our Top 7 PS4 hard drives. Or an even easier solution – getting an external hard drive, check our PS4 External Hard Drive Buying Guide.
PlayStation 4 custom design – skins
PS4 custom design consoles can often cost quite a buck, however, if you don't want to pay extra but still want something different, consider getting a cheaper alternative – PS4 skins! You can get a cool PS4 case and controller skin for no more than 15$. Refresh your console with the most epic skins: