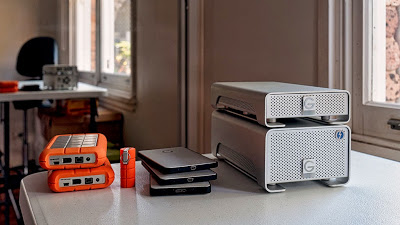 When it comes to storage, You definitely want to be sure that your data is safe. With the fast-growing numbers of photos, documents, and videos we have, we need some extra storage. Data safety and portability are great, even though most people don`t want to spend too much money on it. Your files often become useless if they just stay at home all the time, which is a problem that portable drives are made to fix. A portable drive must be small and light, so you can take it everywhere you go. If you are looking for the best portable drive, you will find it at our top. In the list below we have the top portable drives that offer great performance, helpful backup software, and excellent design.
WD My Passport Ultra Review – Best combination of price,speed and capacity
Wd My Passport Ultra is the number one bestseller because of its price, size, speed, and capacity. It's one of the cheapest drives you can buy, but not the slowest. With reading speed up to 120Mb/s and writing speed of 118Mb/s. Wd My Passport Ultra new model comes in four colors: Black, Blue, White, Berry, and also in four capacities: 500GB, 1TB, 2TB, and 3TB. Price varies from 500GB to 3TB, notice that the 1TB version is the cheapest. The drive is very popular. I recommend reading customer reviews before buying any device, they can be very helpful. The drive comes with bundled software – WD Smartware which allows users to make automated and cloud backups, many other portable drives come without software. My Passport Ultra has a 3-year limited warranty. Product dimensions: 0.8 x 3.2 x 4.4 inches (2 x 8 x 11 cm) and weighs just 8 ounces (226.8 grams). Wd My Passport Ultra is great option if capacity, size, and simple software are all you need.
Seagate Wireless Plus Review – iPad friendly wireless storage 
Need to wirelessly add 1TB of storage up to eight devices? It can be easily done with Seagate Wireless Plus. You can use wireless plus as mobile media server. And when connected to a computer or laptop it will work like any other portable hard drive. Seagate Wireless Plus supports only single-band wi-fi (802.11) with a top wireless speed of up to 150Mb/s. Out of the box, it's pre-formatted in NTFS, and Mac driver is included. You can use wireless plus with iOS, Android, and Kindle Fire devices with a free Seagate Media Mobile App. Also worth checking Seagate Central. The drive comes in various capacities: 500GB, 1TB, and 2TB. Product dimensions: 5 x 3.5 x 0.8 inches (12 x 9 x 2 cm) and weighs 9 ounces (255 grams). 
Seagate Backup Plus Fast Review – If its all about the speed
You can read the full Seagate Backup Plus Fast Review HERE. Newest Seagate external hard drive – Backup Plus Fast, really is one of the fastest external hard drives. Backup Plus Fast main advantages are speed and massive capacity. Backup Plus fast has 4TB of capacity, and two internal hard drives, which are configured in RAID0. RAID 0 configuration allows the device to achieve great reading and writing speeds. This external hard drive is 2x faster than the competition, with reading speed up to 230 Mb/s and writing speed up to 220 Mb/s. Of course, these speeds can only be achieved via a USB 3.0 port, but the drive is also compatible with the older USB 2.0 port. Transfer speeds with USB 2.0 port will both be about 30 Mb/s. Backup Plus Fast is very portable because its dimensions are only: 4,6 x 3,2 x 0,9 inches and weight is 10,4 ounces. If you are looking for a bigger capacity, we recommend Seagate Bacup Plus 8TB version, which has a very good TB/Price ratio and is relatively cheap (An excellent choice for Xbox One game console). Or if you need speed instead, check out the best thunderbolt devices.
Samsung Portable SSD T1 Review- New level of portability and performance
This portable drive is not the cheapest one. It comes in various capacities – 250GB, 500GB and 1TB. But this drive excels over others with its portability – it is the smallest SSD external hard drive, product dimensions are only 2.8 x 2.1 x 0.4 inches (7.1 x 5.3 x 1 cm) and it weighs only 1.1 ounces (31 grams). Shipping weight is around 8 ounces (0.23 kg). This is one of the top bestsellers on Amazon for a reason. Transfer speeds are astonishing, driven up to 450 MB/s by Turbo Write Technology. All of Your digital data will be well secured with AES 256-bit encryption. This device will work on both Windows and Mac computers with no hassle and reformatting. Samsung T1 has a nice metallic design, and this definitely is the most portable drive on the market, at the moment. Samsung T1 has a 3-year limited warranty. If You need a superfast portable SSD drive then Samsung Portable T1 is the one you are looking for!
[DISCONTINUED] Samsung T1 Portable 1 TB USB 3.0 External SSD...
Super fast read-write speeds of up to 450 MB/s driven by Turbo Write Technology. Transfer Rate - 450 MB/s
Easy Password Protection - Embedded AES 256 bit encryption for cutting edge data security. Encryption - AES 256-bit
Slim compact shape, combining style and portability featuring laser patterning and black chrome metalized finish....
Extreme performance and rugged design from LaCie

LaCie Rugged Thunderbolt Review
No products found.
The newest LaCie Rugged Thunderbolt All-Terrain SSD drive offers great speed, performance, and a very nice design. New, innovative LaCie design has two layers of protection. The outer bright orange layer protects the drive from drops and shocks. The first layer also seals the drive, to protect it from water and dust. The inner layer is aluminum. In our performance tests LaCie performed very well, data transfer rates via Thunderbolt connection: writing speed 150,7 Mb/s and reading speed 154,9 Mb/s, and via USB 3.0 connection: writing speed 92,29 Mb/s and reading 112,23 Mb/s. If You are looking for a more casual external hard drive, check out the Top 6 best 1TB external hard drives. There is also a hard drive version with a capacity of up to 1TB. Product dimensions: 3.5 x 5.5 x 1 inches (8.9 x 14 x 2.5 cm), it weighs 8.8 ounces (250 grams) while the shipping weight is around 1,1 pounds (0.5 kg). Drop-resistant up to approximately 2 meters (78 inches). Connector options: Thunderbolt, USB 3.0, USB 2.0. With AES 256-bit encryption Your files will be well secured.
No products found.
Angelbird SSD2go PKT
The Best Storage Device has great performance with both USB 3.0 and Thunderbolt. This drive is very small and compact, it`s one of the smallest storage devices on the market. Product dimensions is only: 5,2 x 3,3 x 0,8 inches and weight is 12,8 ounces. The shipping weight is just 15,2 ounces. Elgato storage device comes in two sizes: 259GB and 512GB of storage. Of course, this is a Solid State Drive called SSD. It is the second Elgato Thunderbolt portable drive. The external drive will work on both Windows and Mac computers without and reformatting and hassle. This is USB powered drive, which means no external power source and fewer wires. It is very easy to use, just plug the cable and You are ready to work at lightning speed. In our testings with Thunderbolt connection, the reading speed went up to 308 Mb/s and writing speed up to 283 Mb/s. The drive includes both cables – Thunderbolt and USB 3.0. There is no bundled backup software for Elgato Thunderbolt. 
Angelbird SSD2go PKT - 256 GB Orange
The new Angelbird SSD2GO PKT makes its own rules. Standards are meant to be broken. It's fast, compact, and shines with...
Whether you're working, creating or just having fun, your media and data are where you are. With blazing speeds of up to...
With USB 3.1 Type-C, 10Gb/s the SSD2GO PKT is fully compatible with the standard of the future and ensures that your...
WD My Passport Slim Review
Metal casing design, good performance, portability, and most importantly affordable price make WD My Passport Slim an excellent option for mobile backup and storage expansion. No doubt, that this is one of the best external hard drive, also one of the most popular. WD My Passport Slim comes in two capacities: 1TB and 2TB. In our performance testing My Passport Slim showed good scores, reading speed up to 107.89 Mb/s and writing speed up to 107.7 Mb/s. No other external hard drive has reading and writing speeds so close to each other. Data transfer speeds ar good, but they are a bit less than Wd My Passport Ultra, which has a reading speed of 117.87 Mb/s and writing speed up to 118.5 Mb/s. The price difference between the 1TB and 2TB versions is very low, so we recommend buying the 2TB version. This external hard drive is both compatible with USB 2.0 and USB 3.0 ports. Product dimension: 4,3 x 3,1 x 0,5 (10,92 x 7,87 x 1,27 cm) inches and it weighs just 4,8 ounces (136g).
Seagate Backup Plus Slim Review

 
No products found.
Sleek metal design, great price, and performance are offered by Seagate Backup Plus Slim. Only Seagate Seven portable drive is even thinner than Slim. This drive comes in four colors: Black, Silver, Blue, and Red. And at the moment on Amazon is available in two capacities: 1TB and 2TB, the drive is relatively cheap and very affordable. It is both compatible with USB 3.0 and USB 2.0. Also Apple Time Machine compatible, it also means that you can easily use the drive between Mac and Windows computers. Backup your content from mobile devices while on the go, using a free Mobile Backup App. Product dimensions: 4,5 x 3 x 0,4 inches and weighs just 5,3 ounces.  
No products found.
Toshiba Canvio Slim II Review 
Toshiba Canvio Slim II has an aluminum casing, which looks very nice. Slim II is an easy recommendation for anyone who needs a quick solution to expand storage. The drive is great for active travelers because of its small size and portability. The drive also inherits all the features from older brother Toshiba Canvio Connect. Out of the box, the Toshiba Canvio Slim II if pre-formatted in NTFS file system and will work on a Windows machine with no hassle. To use Slim II on a Mac computer you need to install Tuxera NTFS for Mac. The drive is available in two capacities 500GB and 1TB. You can choose from two colors: Black and Silver. With this external hard drive, you will also receive a lifetime of 10GB of free cloud storage. 3-year limited warranty included. Product dimensions: 4,2 x 3 x 0,5 inches (10,7 x 7,6 x 1,27 cm) and weighs just 5,4 ounces (153g). Shipping weight is 8,8 ounces (250g). Toshiba Canvio Slim II is one of the fastest external hard drives from a Low-Cost end. In our performance testings, both reading and writing speed were the same 118 Mb/s.
Toshiba Canvio Slim II 500GB Portable External Hard Drive, Black...
The Canvio Slim II lets you store your files in a centralized place next to your computer, giving you easy access to...
Safeguard your valuable data Preloaded easy-to-use backup software, o Schedule automatic backup File, folder and full...
PC and Mac Compatible Toshiba Canvio Slim II Portable Drives are preformatted NTFS for Windows 8, 7, and Windows XP....
Seagate Seven Portable Drive Review
Ultrathin portable drive from Seagate. The name Seven was chosen because the drive is only 7mm thick. This device is the thinnest external hard drive on the market at the moment. If you are looking for a thin and cool-looking drive, then Seagate Seven is the answer. What can you expect from such an ultrathin hard drive? With USB 3.0 device offers great performance. In our testings transfer speeds went up to 113,7 Mb/s writing speed and 96,43 Mb/s reading speed. Seven Portable includes helpful backup software (Seagate Dashboard) for Mac and Windows computers. This portable drive comes only in one capacity: 500GB. The product warranty is 3 years. Product dimensions are 0,3 x 3,2 x 4,8 inches (0,7 x 8,1 x 12,4 cm) and it weighs only 3,2 ounces (91 grams). Competitors in size and portability for these devices can only be Western Digital external hard drives (Link). The drive is Preformatted using the exFAT file system, which means you can use the drive for both Windows and Mac without a hassle. 
Last update on 2020-08-20 at 15:37 / Affiliate links / Images from Amazon Product Advertising API