We all want to make the best decision when purchasing phones, computers and similar everyday gadgets. In this process, simpler things, such as cables for charging your phone are chosen with much less care. Picking the best micro USB cable for your device helps save some money and avoid potentially very problematic situations, but may also prove to be a very tedious task, but we are here to give you all the help we can in this search. Since many of us stock up on more and more different devices, we have also looked at cables with lightning and type-c cables.
We have picked what we think to be the best micro USB cable for your smartphone, whether it is an Android phone with a Micro-B connector, an iPhone with its Lightning connector or one of the newest phones that use type-C connectors.
Table of contents:
[su_list icon="icon: bookmark" icon_color="#1b1c20″]
[/su_list]
All of the cables shown in the table above have a USB A 2.0 or 3.0 connector (which are compatible) on one end, and the connector(s) in the table on the other end. First three cables in the table are the cheaper yet reliable, middle-ground choices, the next four are more expensive, but accordingly, have extra features and the last two are one of the best cables currently for type-C devices specifically.
Main Criteria to Consider When Buying the Best Micro USB Cable
Connector type of the Best Micro USB Cable
The vast majority of Android smartphones today use a Micro-B connector to connect to other devices or chargers. Meanwhile, portable Apple products (iPhones, iPads, iPods) use the brand-specific lightning connector. In addition to the previous two, the USB type- c standard is used more and more, because of its faster data transfer and charging speeds, and reversibility (doesn't matter which side of the connector is up), but currently, not many devices use it. All three connector standards have noticeable visual differences, thus making sure you buy the right cable is only a question of looking at your phone or the cable you already own.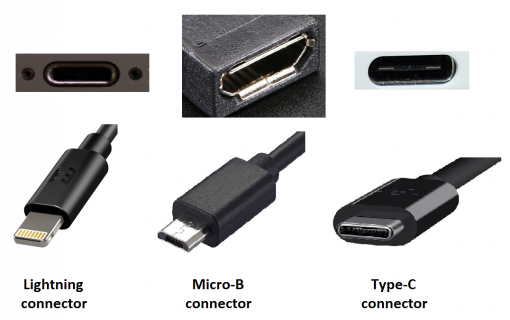 The USB connector can either be a USB 2.0 or USB 3.0, the only difference here being the huge difference in data transfer speeds – USB 3.0 is theoretically 10x faster than 2.0 (in reality it is slightly less than 10x). USB 3.0 cables are accordingly slightly more expensive and, depending on how often you'd use the cable for transferring data, may not be super important – many people store and move their data solely on the internet these days, so keep your own needs in mind.
The durability of the Best Micro USB Cable
The place on the cable most prone to breaking is where the wire attaches to the connector, so a good cable should have this part made out of strong, durable materials, have a smart design to reduce stress, or both solutions combined. In this article, all the cables we look at are sturdy, made out of strong materials and are backed up by high customer ratings with very rare exceptions. But even a sturdy cable won't survive long if you don't treat it correctly, which is why we added some tips below to help you prolong the lifespan of your cables.
Length of the Best Micro USB Cable
Both long and short cables have their pros and cons. Short cables (1ft/30cm and less) may prove more useful if you spend a lot of time in an office environment, where having less clutter and wires in your workspace is necessary, at the same time a cable too short may cause a whole array of problems when charging.
Long cables (6ft/2m and up), on the other hand, would be more useful when traveling, where sockets may not be as close as lounging areas, or just useful if you want to use the phone while it's charging and don't have a socket nearby, however, we can go back to the clutter issue in your workspace. Also, as it is discussed further, long cables can slow down the charging time of your phone.
3ft / 1m cables are the middle ground here if neither of the previously mentioned problems concerns you too much.
The size of the connector housing
Some phone cases are thick and have a tiny opening around the connector inlet, so a connector with wide housing will not reach the inlet through the case. All cables on our list except the swivel cord have relatively small connector housings and should not cause any problems with the vast majority of phone cases, however, if you own such a problematic case, be careful which cable you pick.
Charging and data transfer speeds
While the difference in data transfer speeds is very small between cables themselves, there are sometimes other, much more notable features of a cable that may change this. For example, USB 3.0 supports much higher data transfer speeds than 2.0, although this isn't much of a concern unless you have a type-C connector on your device, that can drastically increase data transfer speeds.
As for picking the best micro USB cable for charging, companies try to use different materials and diameters of wires to reduce the resistance of the cable. Even the length can affect how fast your phone gets to 100% – to simplify, the electric current has to go through much more metal in a longer cable, thus a larger part of this energy is wasted in heating the wire because of its higher resistance. At the same time, a thicker wire will reduce charging times, since (again, simplified) a larger amount of charged particles can travel through the bigger cross-section of a thick cable. Overall you could feel a big difference only in super-cheap cables that manufacturers make out of the thinnest wire possible to save resources, but other than that charging speeds mainly depend on what amount of power your phone can handle and what your charger can dish out.
Best Micro USB Cable: All-Around Good Choices
[su_box title="1. Fasgear USB cable 3-packs" box_color="#6139ef" radius="5″]
Cheap and reliable
These cables by Fasgear are the cheapest choice on our list of the best micro USB Cable (per cable) but don't think that these cables are going to break in a week. The nylon braiding will protect the cables from damage and extend the lifespan of the cable, and even if one of them breaks, you will have more to replace it with, since Fasgear sell three of their cables for the price that most sellers would give you just one.
The cable has a micro-B connector, so you can use it with most Android devices. Note that while the cable will fit the vast majority of phone cases, the cable doesn't have super-narrow connector housing, so if you own a case with tiny openings for connectors, this cable may prove to be problematic to use. Other than that this would be a good investment all-around, considering the low price and decent durability.
[/su_box] [su_box title="2. Anker PowerLine" box_color="#6139ef" radius="5″]
Durable, diverse and affordable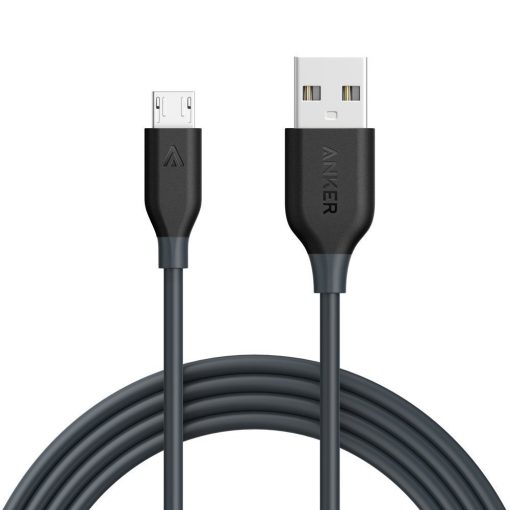 Anker cables are known to be of high quality – very durable, accordingly more expensive, but still affordable. Bulletproof fiber and solid plastic connector heads make Anker cables one of the sturdiest on the market, which, alongside reasonable price, is why tech outlets like The Wirecutter have picked it as one of the best cables out there.
Anker cables come in a variety of lengths and can be purchased in multi-packs of three, five or six cables, which can save you a decent sum of money. Similar options are available for either of the three connector types – micro-B, Lightning, and type-C. The multitude of different options for buying these cables is why we've added links only to singular cables, but you can easily explore more options by scrolling through the item descriptions.
[/su_box] [su_box title="3. Rampow Nylon-braided" box_color="#6139ef" radius="5″]
Well crafted and affordable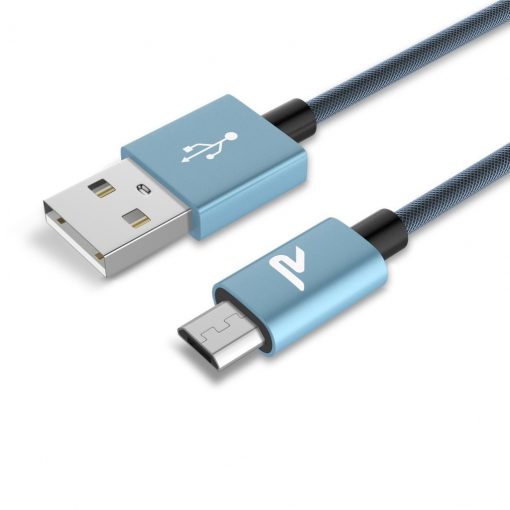 Being one of the highest-rated USB micro cables on Amazon, Rampow cables are pretty sturdy, with the nylon braiding protecting the cable from damage as well as tangling and sturdy connector construction to keep the connector head from getting loose or breaking altogether. Rampow is so confident in their product that they provide a lifetime warranty, that you can register for here. With Rampow cables, you won't have to trade durability with looks either – different designs and colors of the braiding are available, making a thing as mundane as a cable to stand out and look good.
This is also the first cable on our list to provide connectivity to devices using the type-C connection. The type-C cable has a USB 3.0 plug to ensure that you get all the speed this new technology can provide. At the moment the type-C cable is available only in black/gray, but as the popularity of the type-C connectors grows, Rampow is probably going to add more design options.
[/su_box]
Best Micro-USB Cable: Picks with Additional Features
[su_box title="4. Syde Metal" box_color="#b660c2″ radius="5″]
Virtually indestructible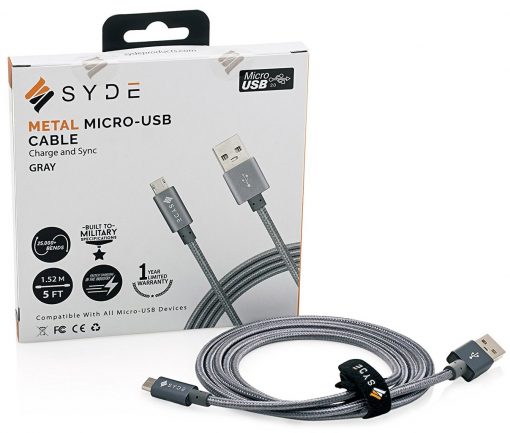 The best micro USB cable is indestructible. Many people struggle with having these fluffy pets and working cables (including charging ones) at the same time. If you are one of these people, the Syde Metal cable is just the solution for you. Syde cables are extremely durable – the military grade, double nylon braiding makes the cable almost indestructible in everyday life, with the connector heads not falling behind in quality.
The added strap to keep it from tangling in addition to the limited 1-year warranty with a possible refund add more to the quality of this cable, making the relatively higher price seem less and less of an issue. The 5ft cable is available for Android phones, iPhones, and phones using the type-C connector.
[/su_box] [su_box title="5. iXCC Element series dual" box_color="#b660c2″ radius="5″]
Durable, practical for people with both Apple and Android devices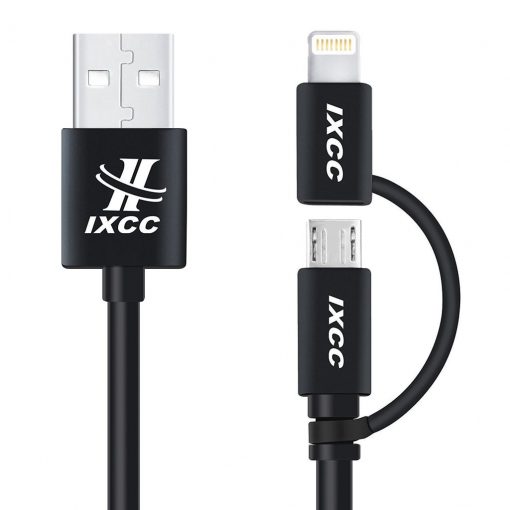 With the biggest phone manufacturers trying to add to and perfect their devices, choosing between one particular device may be hard for one person, let alone one family. If you own both Apple and Android devices and want to avoid a clutter of cables, this is the most practical choice for you. The iXCC Element series comes with a Lightning cable adapter integrated into the design of the cable – it is attached to the micro-B connector head with a strap, making interchanging the connectors very simple. No need for a pile of different cables or tiny adapters that get lost easily.
iXCC ensures this cable to be very durable and provide a super long 2-year warranty. When buying, note the exceptions for the Lightning connector in the description of the item.
[/su_box] [su_box title="6. Bambud Flowing" box_color="#b660c2″ radius="5″]
A sturdy eye-catcher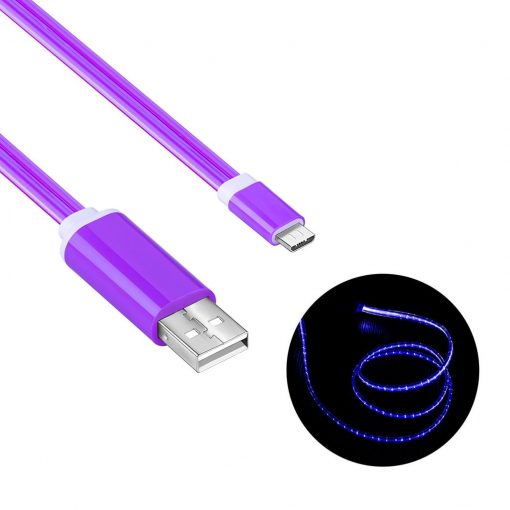 If you're into getting the coolest-looking gear out there, then Bambud Flowing is a USB cable you might consider. This cable has LEDs planted underneath the transparent surface around the cable, that light up when the cable is in use. This may seem like a feature you'd trade durability for, but don't worry – the cable is sturdy and tangle-free, plus it comes with a 2-year warranty and a 45-day refund/replacement warranty.
You can purchase a cable with a micro-B, Lightning or type-C connector, however, the type-C connector has the same USB 2.0 connector on the other end as the other two options, so it might not use all the potential that this type of connection can provide.
[/su_box] [su_box title="7. SwivelCord" box_color="#b660c2″ radius="5″]
Practical, with an interesting design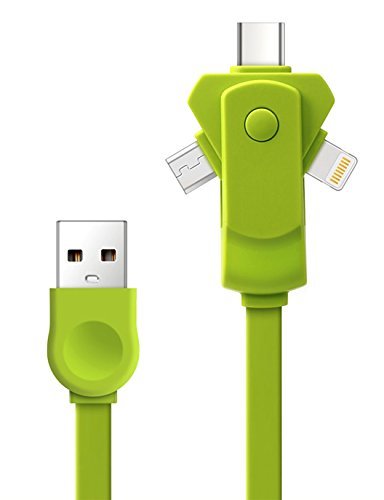 Scrolling through hundreds of similar cables is not the most interesting activity, but sometimes you can come across something fascinating. One such thing is swivel cord, which has all three connectors that we are looking at in this article – micro-B, Lightning, and type-C combined into one connector head that definitely stands out with its practical and cool-looking design. The manufacturer also ensures durability, however, gives a short 1-month money-back warranty.
As of right now, though, the actual durability is hard to determine on a wider scale, since it has very few reviews from buyers and as such this product could be considered more of an experimental purchase than a 100% practical one. Another thing to notice is that the connectors themselves will probably not fit a thicker phone case because of how close the bulky connector housing is to the connectors. Overall this cable is definitely an eye-catcher and may very well prove itself to be super-useful with the only risk being the short warranty and low user feedback.
[/su_box]
Best cables specifically for type-C
[su_box title="8. iXCC type-C" box_color="#f7a649″ radius="5″]
Sturdy and reliable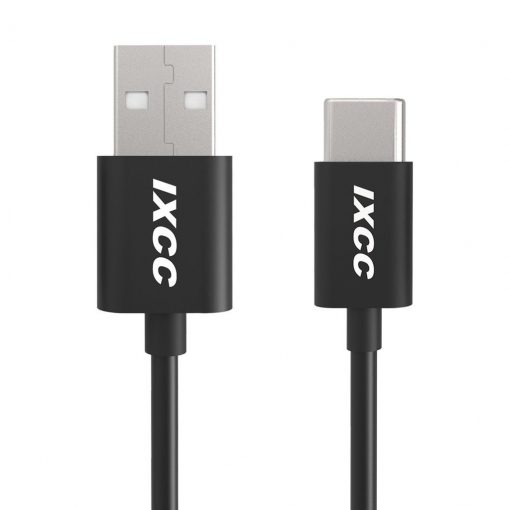 This type-C cable by iXCC, alongside all other iXCC products, is promised to be very sturdy and will last a long time, with a 2-year warranty to back up the claim. Other than that and a reasonable price there is not much else to this cable other than the basic benefits that the type-C connection provides – higher data transfer speeds, reversible connector that is easier to plug in and the standard 56kOhm resistor to ensure safe and fast charging. Only comes in 6ft/2m length.
[/su_box] [su_box title="9. Aukey type-C" box_color="#f7a649″ radius="5″]
One of the cheapest, but still durable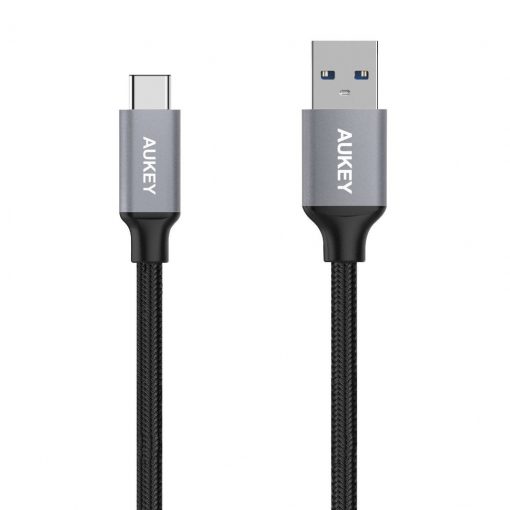 New technology is always extremely expensive, so it is nice to find a manufacturer willing to sell these newer products at lower prices. The Aukey type-C cable is one such example, based upon it currently being the cheapest type-C cable with good customer reviews. While singular Aukey cables are not the cheapest choice, the multi-packs allow you to purchase a pile of decent type-C cables at $6 per cable tops, even when these packs are not on sale.
As with our previous choices, low price doesn't mean low quality here either – the cables are pretty durable, with nylon braiding to protect them from wear and tear, and also come with a pretty long 2-year warranty. The cable also has a USB 3.0 connector to ensure high data transfer speeds, making the low price even more appealing.
[/su_box]
Tips for prolonging cable life
A well-made cable will last you longer than a cheap piece of junk, however, the way you treat any kind of cable may increase its life much more than any bulletproof material or revolutionary design. Here are a few tips to make your cables last longer:
Store the cable in a way that reduces damage
Bending is the main way any cable is damaged – the process slowly deteriorates the insulation as well as the wires inside it, not to mention any connections between the cable and connectors. To avoid such damage, wrap cables you don't currently use in a circle instead of folding it as this reduces damage on particular points and distributes the stress of the cable being bent to its entire length. There is a short video below showing roughly how any cable should be stored, the only thing to add there is maybe having a strap to hold the cable coil together instead of having it hold itself together, to also reduce stress.
[su_youtube url="https://www.youtube.com/watch?v=OKgqR0e4gcE"]
The main principle is to try to bend and pull USB cables as little as possible, which can lead to a million different case specific tips, for example, don't have an extension cord weighs a cable down, don't stretch a cable too far as this applies a lot of stress to the connector head, don't let a more insulated, heavier cable hang freely from the table and so on. Even things as simple as avoiding the nasty habit of wrapping a cable around your finger may drastically increase the lifespan of the cable.
Remove the connector head correctly
This may be a revision of a simple everyday tip for most people using electronics, but should nonetheless be reminded – you should never pull out a cable by holding it by the wire, you always hold the plug to reduce stress to connectors and cable connections as well as not breaking the socket! Although it may seem that a micro USB cable slides out of its socket very easily the same principle applies to these cables as well – when removing the cable from either a charger, a computer or your phone/tablet, hold it by the connector head. This drastically reduces stress on the most vulnerable part of any USB cable, which is where the wire enters the connector head, thus prolonging the cable life a lot.

Since the connector itself can dislodge from the connector housing, you should remove the cable from any socket as rarely as possible, for example, leave the cable connected to the charger unless you need the cable for anything else. Also, don't move the connector side to side or remove it from its socket at an angle to avoid the same issue as before.
The Best Micro USB Cable – Buying Guide – Summary
For devices using the micro-B connector, our pick for the best micro USB cable would be a Rampow cable – reliable and not too expensive when bought in a multi-pack, this cable will last for a long time and will look good while doing it, not to mention the incredible lifetime warranty. If you're looking for the sturdiest, damage-resistant cable regardless of price, Syde Metal is your absolute best choice because of its military-grade protective measures, that make it almost indestructible. Anker PowerLine cables would be the second best when it comes to durability and the absolute best if you're not going to throw your USB cable under a tank anytime soon and want to save some money for it.
In this article, we didn't really focus on Lightning cables, but the Anker Powerline stands out here again with durability and reasonable price. The iXCC Element series USB cable stands out as well, which, considering the overwhelming amount of devices that use the micro-B connection as opposed to Lightning cables, may prove handy to anyone using an Apple product.
For type-C devices, the cheap Aukey type-C cables might be the best choice currently solely because of the low price that is complemented by decent durability, with Rampow type-C and the iXCC cable being good choices for type-C devices as well, considering their affordable price and high durability. As the popularity and amount of devices using the type-C connection grows, so does the amount of additional gear for them, so we will most likely revisit type-C cables.
With hundreds of different cables to go through, there is no one answer to what kind of cable would be perfect for your needs. However, we hope that one of our top picks for the best micro USB cable is what you found to be the most fitting for you and will last you a long while. Are you in need of more gadgets for your phone? Check out our review of the best lightning cables.
[amazon_link asins='B06XGBKPYD,B06WP9HL7M,B06WP9HMNP,B017TJN22C' template='MyCopyOf-ProductGrid' store='ishddmag-20′ marketplace='US' link_id='58b1cb4d-1585-11e7-ba8f-2b286ffaf62a']