High-end productivity or gaming computer is a great choice if you want a future-proof PC that will run for years and run anything you throw at it. For 3065$ I have built an ultimate gaming/productivity PC that will work great for both: gamers and professionals.
This build includes only top-tier components like the latest AMD Ryzen Threadripper 1920X processor that has 12 cores, mighty GTX 1080 TI video card, 32GB of RAM and 1TB Samsung 960 EVO M.2 SSD. Let's see some more details about it!
Little bit more about this 3000$ build
I made this build as future proof as possible using only newest and up to date. Everything is built around this rig's hearth – AMD Ryzen Threadripper 1920X. It's an absolute beast! For the video card, I have chosen the best you can get – GTX 1080 Ti. This PC build features no hard drive and no M.2 SSD meaning it's super fast and produces zero noise. An only objective update for games would be adding a second GTX 1080 Ti and using them in SLI mode.
I made this rig suitable for both – gamers and content creators meaning it's great for multi purpose use. See all components below.
See our other builds:
PC Components
Processor – 
AMD Ryzen Threadripper 1920X

The heart of this build is AMD Ryzen Threadripper 1920X processor. AMD is on the roll with Ryzen series, these processors offer a lot of performance for not a lot of price (If compared with Intel). There is simply no reason why you should get Intel instead of AMD.
We have chosen this processor because it's a beast, an absolute overkill for at least next 3 years to come. AMD Ryzen Threadripper 1920X has a 12 physical cores and 24 threads which is clocked at base 3.5Ghz and can reach 4Ghz max turbo core speed. This processor will provide you with massive processing power. Intel processors may be a bit more superior with higher clock speeds when it comes to pure gaming (better single-threaded performance). However, when it comes to multitasking and overall system performance, AMD Ryzen dominates Intel. 
To make things simple, AMD Ryzen Threadripper 1920X processor is one of the world's top 5 best-performing processors. It will deliver way more processing power than you would ever use at least in next 5 years or so. Yes, this is a strong statement, but absolutely true.
---
Motherboard – 
MSI 
X399 GAMING PRO CARBON AC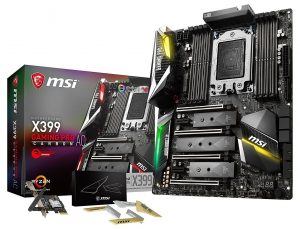 To run AMD Ryzen Threadripper 1920X you need a TR4 socket that's in the X399 motherboard. Our choice is MSI X399 GAMING PRO CARBON AC. Although we will use only one video card in this build, MSI X399 supports up to 4-Way NVIDIA SLI and 4-Way AMD Crossfire. Basically, this motherboard features everything you would ever need and all latest technologies like 3x TURBO M.2 with M.2 Shields, USB 3.1 GEN2 and much more. It also has integrated heat sinks, Dual-band Wi-Fi adapter that can deliver up to 867 Mbps. For added styling, this motherboard also features RGB LED lighting to make your rig look sleek.
Overall it's a top-shelf motherboard that features everything, supports up to 128GB of RAM and up to 4 video cards in SLI.
---
RAM – Corsair LPX 32GB DRAM 3000MHz

For RAM, I have chosen Corsair LPX 32GB DRAM 3000MHz. This kit features two sticks of 16GB of RAM. 32GB is more than enough for both – gaming and productivity software. In this PC build, more RAM won't increase your performance much. As I mentioned 32GB is already an overkill.
In 2017 99% of games don't need more than 8GB of RAM. However, if there still is a need for more RAM, you can always upgrade your computer with extra RAM sticks. The motherboard supports up to 128GB of RAM.
As for clock frequency, 3000MHz is also more than enough, you don't need anything higher. In fact, the performance difference between higher and lower clocked RAM sticks is only theoretical. In practice, you are looking at 1-2fps at max.
---
 Video Card – 
EVGA GeForce GTX 1080 Ti FTW3

For a video card, we have chosen EVGA GeForce GTX 1080 Ti FTW3. For a single video card setup, GTX 1080Ti is absolute king. This is the best video card for gaming up to date. You don't even have to go exactly with EVGA GeForce GTX 1080 Ti FTW3, you can choose what ever non-reference card you want as basically there is no difference in performance – 3fps at max. Therefore, choose what ever GTX 1080Ti looks more appealing to you. We have chosen exactly this model because EVGA has proven itself as a brand that makes quality products and you can be sure that it will run great.
Of course, to maximize performance you can go with SLI build by using two GTX 1080s, but that would cost around extra 400$. Another factor is that we want to pair our Ryzen Threadripper 1920X with the best GPU up to date. Therefore, the best choice is GTX 1080 TI. You will always be able to upgrade your system by adding second GTX 1080 Ti.
---
Power supply – 
EVGA SuperNOVA 850
G3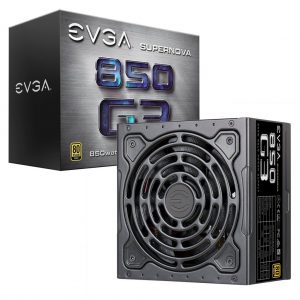 When it comes to power supply, you can always rely on EVGA brand. They make one of the most reliable and durable power supplies on the market. 850W will power all your components with ease, even if you later add a second video card. It has a ton of features to save power and a whopping 10-year warranty!
You can find the same wattage power supplies on the market for half the price. However, you definitely don't want to save money on a power supply that's made by an unknown brand.
---
CPU cooler – 
Corsair Hydro Series H100i v2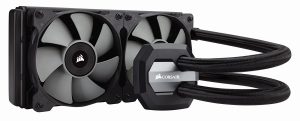 The AMD Ryzen Threadripper 1920X is one large processor that uses 180W of power. Definitely, there will be a heat dissipation from this processor. To cool it properly and increase its performance, you need a top-tier CPU cooler. Our choice is Corsair Hydro Series H100i v2. It's a liquid cooler that features two fans and a very low noise level.
---
Solid State drive – 
Samsung 960 EVO Series – 1TB PCIe NVMe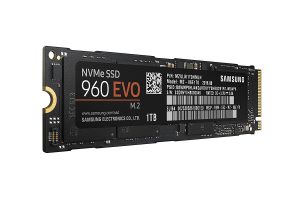 Hard drive era is long gone, also SATA SSDs are in the history. For storage, we go with Samsung 960 EVO 1TB M.2 SSD. It can reach mind-blowing data transfer speeds: sequential read of 3200MB/s and write 1900MB/s. For example, an average SATA SSD would deliver around 400-550MB/s.
Samsung 960 EVO provides you with super-fast boot up and game loading times. All your games, apps, productivity and creativity software will open incredibly fast. Data transfers will also take no time if you are using external SSD. It also produces zero noise and doesn't take up a lot of space when compared with SATA SSD or hard drive.
Some of you may think that 1TB of storage is not enough. However, let's be honest – most of us don't even use 500GB of storage on our computers. This PC will be mostly used for working with it or playing games. For CAD files and various games, you don't need terabytes of space. Even more, today there are so many different ways to store your data like cloud storage, NAS and much more. There's really no point of having an HDD unless you want to store some media files or heavy documents in it. If you think that you do need a hard drive, you can always get one for a relatively cheap price – for around 100$ you can get a very well performing drive like Seagate Firecuda.
---
Case – Corsair CC-9011101-WW Crystal Series 460X RGB
At last, there is a PC case. I think Corsair Crystal Series 460X RGB is one of the best choices not only cause it looks great, but it has three in-built air flows to ensure optimal airflow, customizable RGB lighting to fit your build as well as clever overall layout.
It has a tempered glass side and front, so you can see all your rig's internals like video – card and motherboard. Customize all components with similar RGB LED lighting to make your build unique.
Final words
Overall there is nothing much you can to this build. It will run anything and do it great. 4k gaming? Photoshop, video editing or streaming? You name it! With its AMD Ryzen Threadripper 1920X processor, you are looking for years and years until there will be any need to get a new computer. You are also left with tons of possible future upgrades like more RAM and SLI GTX 1080 Ti. However, that's not even necessary for now as this computer is overkill for any task you throw at it.
Would you use different components? Got any ideas how to improve this build but still fit in the 3000$ budget? Share it below!