If you want to keep your clothes wrinkle and dust free, you can always opt for a fabric steamer. Unlike traditional flat irons which require an ironing board, a clothes steamer is simpler to use. Just hang your clothes, turn it on, then start steaming. Also, you can use it not only for your clothes but also your bed sheets and curtains.
And as the holidays approach, a lot of discounts and deals for fabric steamer are seemingly everywhere. Which of these is the best choice? Here is a list of the Top 7 best fabric steamers available on the market today.
Best Fabric Steamer Comparisons Table
| | | | | |
| --- | --- | --- | --- | --- |
| | Fabric Steamer | Continuous Steam | Heat Time | Check price |
| Under 200$ | High-end | High-end | High-end | High-end |
| Rowenta Master Valet | | 1 hour | about 1 min | |
| J-2000 Jiffy | | 1.5 hour | 2 min | |
| Under 100$ | Mid-range | Mid-range | Mid-range | Mid-range |
| Steamfast SF-407 | | 45 min | 45 sec | |
| Conair Turbo Extreme | | 15 min | 40 sec | |
| Sunbeam Handheld Garment | | 15 min | 45 sec | |
| Under 50$ | | | | |
| Epica Powerful 800 | | 12 min | 2 min | |
| PureSteam | | 10 min | 2 min | |
1. Rowenta Master Valet Review


The Rowenta Master Valet has an elegant design which is evident to the kind of build of the product. It is perfect for steaming garments, curtains, slipcovers, upholstery, and others. The product comes with a set of accessories, namely, a steam bonnet, a fabric brush, and a lint pad.

Rowenta Master Valet Features and Specifications

It has a "Tilt and Roll" system, a feature which allows you to easily bring it from one place to another because of its built-in wheels and handle.
Removable 81-ounce water tank
It has a removable transparent water tank that enables you to see the remaining water level of the steamer. The water tank has the capacity of 81 oz which gives you 1 hr of continuous steaming.
Adjustable height and built-in hanger
The height of the Rowenta Master Valet is adjustable for your comfort and for easy storage. There is also an included built-in hanger so you can easily steam garments.

Also, one of its cool features is that you can turn it on/off using a foot pedal.

2. Steamfast SF-407 Review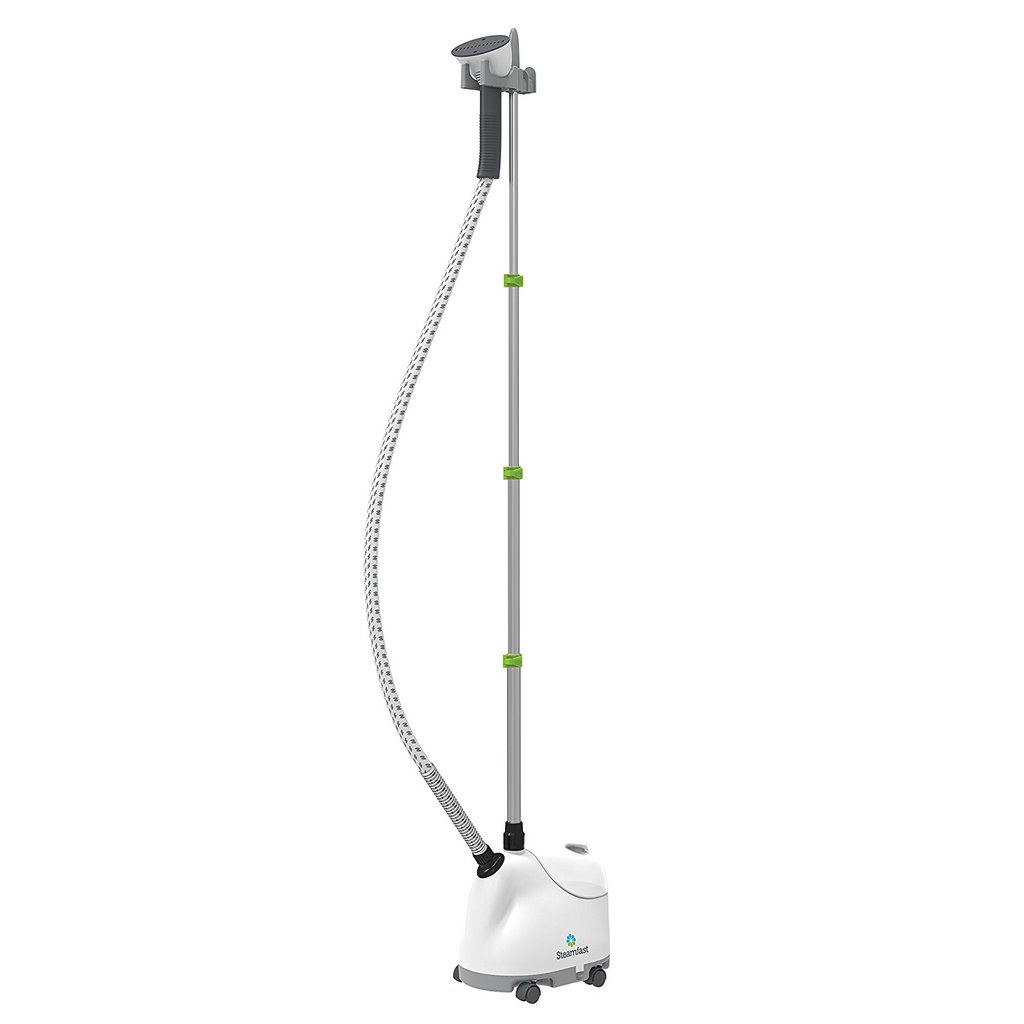 The Steamfast SF-407 is another great product if you are looking for a fabric steamer for your clothes. It can be used for delicate fabrics, upholstery, and drapes.

Steamfast SF-407 Features and Specifications
Adjustable and detachable pole
It has a pole that can be adjusted to different heights for better comfort and storage.

It has a fabric brush accessory that can be attached to the Steamfast SF-407 for brushing lint, loose threads, and hairs.
Hanger hook for your clothes
It has a hanger hook for you to be able to hang your clothes for easy steaming.

It has a removable water tank capable of holding 40 oz of water.

3. Epica Powerful 800 Watt Handheld Steamer Review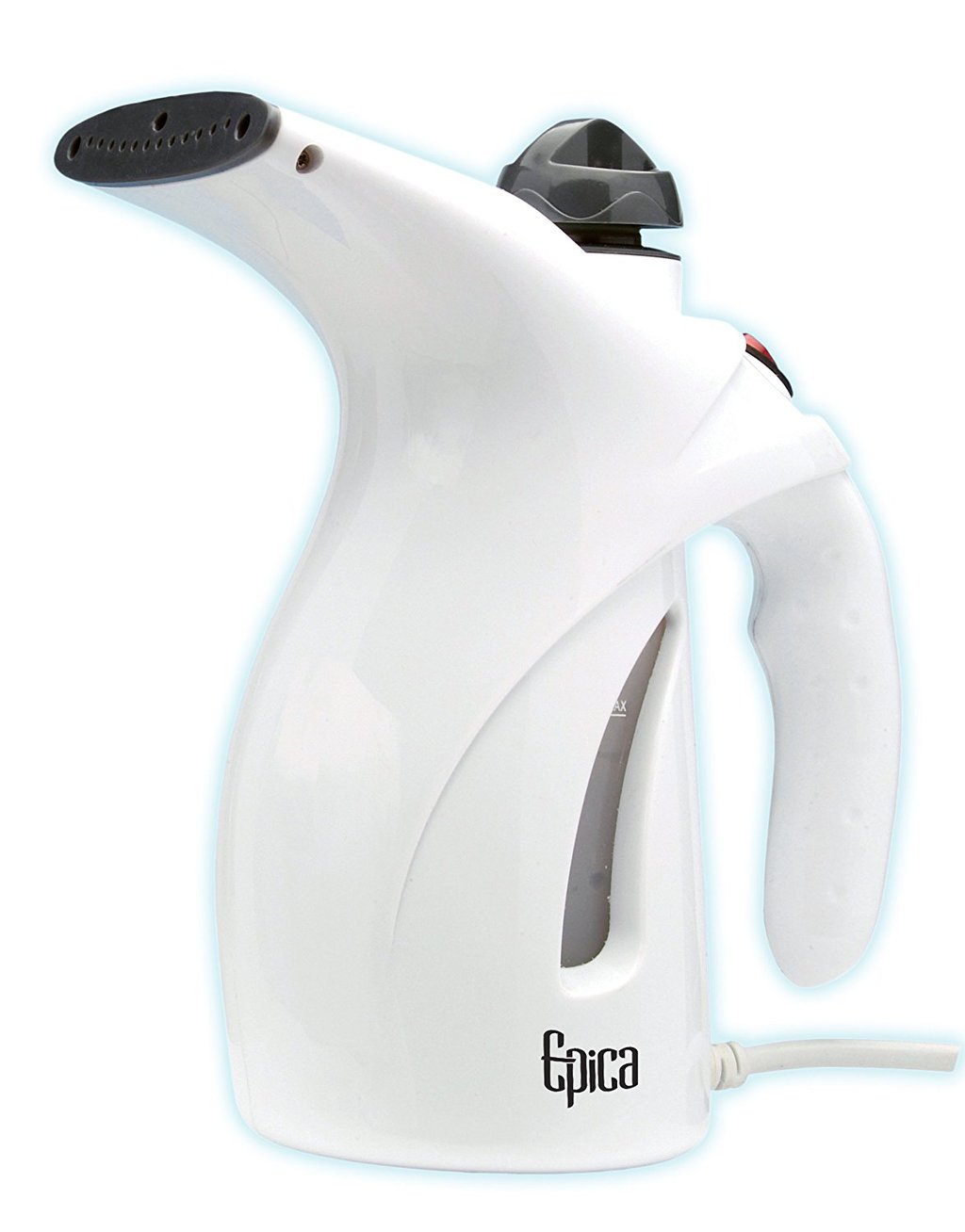 Epica Powerful 800 Watt Handheld Steamer, as the name suggests, has a full 800 W of power capable of removing wrinkles and dust from your clothes. It has a compact design that could fit your bag or suitcase for a fast and convenient use.

Epica Powerful 800W Features and Specifications

The Epica Handheld steamer is capable of removing odors from beddings and upholstery by its sanitizing property.

The product is lightweight and even weighs less than a regular iron.

It can deliver a continuous steam of up to 12 minutes. It can also heat up within 2 minutes, so you don't have to wait for it to reheat.
Onboard power switch for better control
The product has an onboard power which you can use to turn off the steamer, unlike other products that need to be unplugged before you can turn it off.

It has a convenient and easy-to-use water tank that can fill up to 7 oz of water.
Lint remover and fabric brush
It includes a lint remover and fabric brush perfect for sweaters and corduroy pants.

4. PureSteam Portable Garment Steamer Review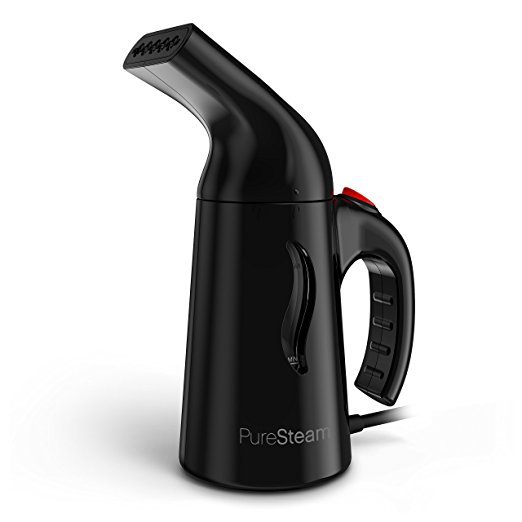 The PureSteam Portable Garment Steamer, just like the other fabric steamers above, can effectively remove wrinkles from your clothes. But the size of this product is small enough to be carried around everywhere you go.

PureSteam Steamer Features and Specifications

This product has a unique nozzle design that has a fast-heating water tank. In just a span of two minutes, it can reach the needed temperature. The steam can produce can last up to 10 minutes.

Because of the build of the product, you can bring it anywhere you want and have wrinkle-free clothes in no time. With the included 8-inch cord, you can easily take it with you.
Safe for all fabric types
This product is safe to use for all types of fabrics.

5. J-2000 Jiffy Garment Steamer Review

The J-2000 Jiffy Garment Steamer is a fabric steamer perfect for light commercial use or at home. It can remove wrinkles from clothing. It can even be used to remove wallpaper and for steaming beddings and table linens.

J-2000 Jiffy Garment Steamer Features and Specifications

It has a unique high-impact plastic housing and wheels for mobility.

It can hold up to a ¾ gallon of water. It also heats up easily in just two minutes for 1.5 of steaming time.

It has a no-drip valve system that prevents spilling while filling it with water.

6. Conair Turbo Extreme Review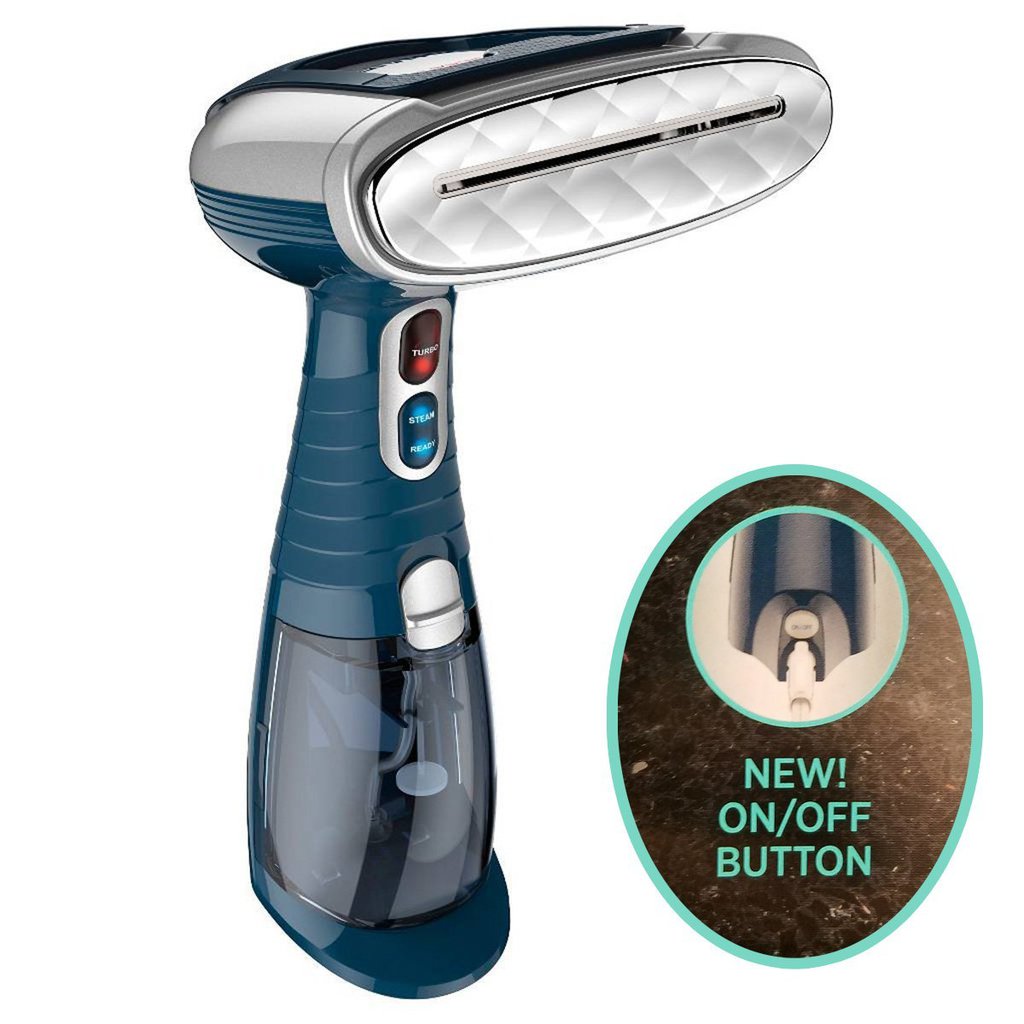 The Conair Turbo Extreme is capable of removing wrinkles from your upholstery and garments giving it a professional look.

Conair Turbo Extreme Features and Specifications
Turbo button for easy use
It has a turbo button that you can press to produce a hotter and more powerful steam.
Designed for professional results
It makes use of an aluminum plate for professional results just like a traditional iron and ironing board can give. The quilted pattern makes it easy to glide over the fabric. There is also a built-in creaser for pleats and folds.

The design and build of this fabric steamer truly stand out from the rest. And with a stand-up design, it is easy to store.

7. Sunbeam Handheld Garment Travel Steam Press Review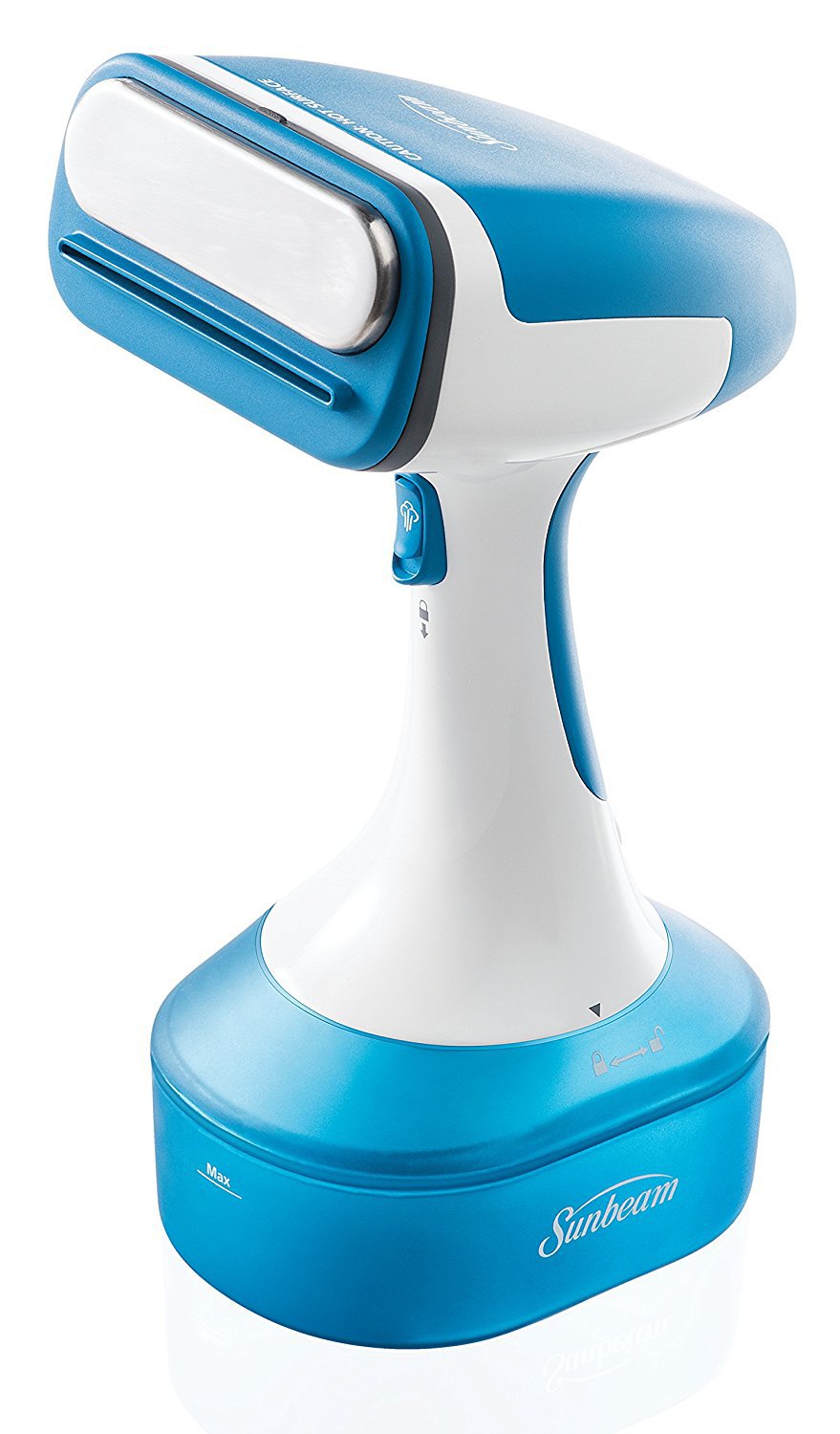 Another fabric steamer that you can try, this product can also help you remove wrinkle from your clothes and at the same time sanitize them.

Sunbeam Steam Features and Specification

It has a compact design capable of standing on a flat surface, perfect for traveling.

Not only does it remove wrinkles from your clothes, it also sanitizes them, removing any bad odors. It can also kill any dust mites that live on your beddings.
15 minutes of continuous steam
It produces heat in less than 45 seconds and capable of 15 minutes continuous steam.

It has a steam trigger with lock-down for constant steam.
Conclusion
With the top 7 fabric steamer mentioned above, which of these is the best choice? The answer depends on your preference. While all of them do the same thing, look for the fabric steamer which you think can suit your needs.