Our need for storage and bigger capacity is increasing rapidly. Cloud backup is an option, but when it comes to keeping personal data safe external hard drive is a better option. In order to save your time and money, it's crucial to choose the right product, and it will be much easier to do after reading our buying guide.
There are three main purposes for an external hard drive: to expand storage capacity, to backup digital data, and to share information between computers. Desktop external hard drives are based on 3.5 inch internal hard drives, but the laptop (external/portable) hard drives are based on the 2.5 inch internal hard drives.
It took us over a month of work to put this article together.
It took hours of reading buyers guides, product reviews, testing, comparing, checking software and backing up to determine best external hard drives. Many aspects were taken into consideration, like price, capacity, size, performance, built quality, overall user reviews, warranty, included software and many others, which leads to a massive amount of data to go through.
To make things clear, this article will be just about best desktop external hard drives, including NAS. Most of other sites mix portable, external and SSD drives in their Best External Hard Drive listings. We made separate articles to ease life for readers. Desktop external hard drives and NAS are stationary, meant for home users and small businesses. If you need some extra storage to take with you, then read Best portable hard drives. If you are looking for a cheap and small storage device under $100, then our Top 6 – 1TB portable drive list could help. Also, Best SSD is separated because SSD drives are much faster and a lot more expensive. It`s a different story.
Our Top Recommendations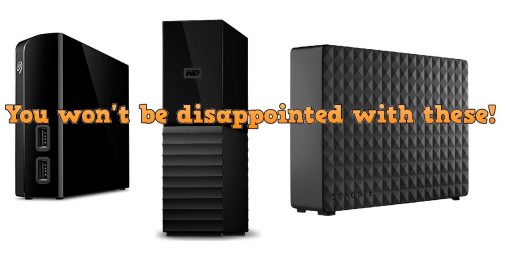 The two best external hard drives we loved the most are WD My Book 6TB and Seagate Backup Plus 8TB. Both has a combination of big capacity, excellent performance, reliability and affordable price, although Seagate Backup Plus 8TB is more expensive.
The WD My Book has the lowest failure rate, and it has a two-year warranty backed up by quality customer support. Fast speeds via USB 3.0 and USB 2.0 compatibility. Small price per GB ratio and useful software included. There are also two other version – WD My Book for Mac and WD My Book Duo which has two internal hard drives and max capacity up to 12TB. 
Also, Seagate Backup Plus Hub has a two-year warranty and very similar read/write speeds. Both USB 3.0 and USB 2.0 is supported. With Backup Plus you will also get 200GB of free OneDrive cloud storage for two years, after registering it online.
What would be the best alternatives? Both Seagate Expansion Desktop 5TB and Toshiba Canvio Desk 6TB could be a deal. Both of them would give you about the same features and performance for a similar price.
In case you need at least RAID1 so you don`t lose data when an internal hard drive fails, we recommend Qnap Turbo TS-251 or Synology DiskStation DS214se, which is one of the cheapest NAS. Both of them will bring you more apps and features than WD My Book, but they are a bit slower. 
More powerful devices like LaCie 5Big Thunderbolt, IoSafe Solo G3 and G-Technology G-Speed Studio XL 8-Bay is an opt if you are willing to pay a premium.
Content
Our Top 10 external HDD picks
As this article is quite ample, we have made this responsive table, so you can read product review just by clicking on its name.
In case you still didn't find the external hard drive that suits your needs check out these awesome alternatives:
1. WD My Book 6TB –  The Best Budget External Hard Drive With Excellent Performance
WD 6TB My Book Desktop External Hard Drive - USB 3.0 -...
Included WD Backup software makes backing up what's important to you easy and fast
For Mac compatibility this Hard Drive requires reformatting. Refer to Application Guide for guidance on this
Easy to use WD Backup software makes protecting what's important to you easy
Model number -WDBBGB0060HBK-NESN
Product dimensions (LxWxH) – 5.5 x 1.9 x 6.7 inches, (17 x 14 x 4.8 cm)
Capacities 3TB, 4TB, 6TB, 8TB
Weight – 2.3 pounds (1.04 kg)
Warranty – 3 years
At first glance, WD My Book 6TB may look like a plastic-clad desktop drive that's not too large. It could easily fit near your desktop, Xbox One or laptop.
There are three chassis drive vents, which means it really does not need much fan cooling. It could also work as one of those scratch disks that are useful for graphic purposes. There's also a floating mechanism inside, which makes it easy for you to hear what's going on in the drive while you're using it.
In front, there's not a lot to see but you'd be interested to know that the curve in front pretty much looks like the spine of a book, and the chromed logo would be the only thing noticeable even without looking harder. There is also an indicator light on the front. The biggest downside of the plastic shell is that fingerprints and scratches will stick easily on it.
There's a USB 3.0 mini-connector on the back, a jack for the AC Adapter and also the Kensington Lock. Identifying labels and the power button are also located at the back of the WD My Book.
Reliability – Will it last long?
While the drive is quick, you should keep in mind that it's also not made for constant use. Its main promise is to keep your data safe, so don't bombard it with too many files in just a few minutes. The drive is not meant for using it 24/7.
That said, it's definitely one of the most reliable products when it comes to automatic or manual backups—even those that are done part-time. Reported drive failure rate is about 5 percent.
Performance – How fast is it?
It has Top end single-drive desktop storage device performance.
You can expect the WD My Book 6TB to save a file that's around 1.2GB for just a matter of 10 seconds. Testing with Black Magic on Windows Wd My Book measured 150Mb/s read and 139Mb/s write via USB 3.0 port. With throughput speed of about 150 MB/s the hard drive is well suited for typical desktops external hard drive tasks, like media file storage and backups. The drive will get the job done for any home user and included software definitely ease the job for users. WD My Book 6TB works fast when used with USB 3.0 equipped PC. USB 2.0 PCs also work as fast as USB 2.0 port can (mostly 40 seconds for 1.2GB files).
WD have included four softwares with WD My Book and My Book for Mac – Acronis Ture Image, WD Smartware, WD Utilities and WD Security. The drive will work with all Windows versions (including Windows 10) and iOS versions. 
WD SmartWare allows to make and manage backups. Users can select to backup specific file types or folders and set up the backup frequency. Also Wd Smartware Pro is available for 30-day trial or $20 license. Wd Smartware Pro provides additional backup options for any USB drive and offers integration with Dropbox for cloud backups. 
Acronis True Image provides a complete system recovery solution which can take regular snapshots of the entire system. 
WD Utilities include features like sleep timer (can power drive off after a period of time), SMART data collector and drive diagnostics tools. 
With WD Security you can create a password to access the drive and secure your files. 
Things you should know
When you look at price per GB, the 4TB model is few bucks cheaper than 6TB. Inside WD My Book there is WD Blue internal hard drive with 5400RPM.  We recommend going for 6TB because the price difference is not much for 2TB of capacity. Models up to 1TB can bet both 5400RPM & 7200RPM, and models that are 2TB and above are 5400RPM. 
Out of the box, the drive is formatted in the NTFS file system, to use it with MacBook or iMac you need to reformat it. The drive is compatible with Time Machine after formatting. 

WD recommends not putting WD My Book on their side because cooling depends on convection. Notice that the external drive is not bus-powered and it has external power supply. It goes into sleep mode if you don`t use it for a while.

WD My Book is a great option for Xbox One. You just need to plug the drive into an USB 3.0 slot on the back of the Xbox One. It will immediately recognize it as an external storage device. Xbox One will ask if you want to format the drive or change its name.
2. Seagate Backup Plus Hub 8TB

– 

Best High Capacity External Hard Drive
Model number – STEL8000100
Product dimensions (LxWxH) – 7.8 x 4.7 x 1.6 inches
Capacities – 4TB, 6TB, 8TB
Weight – 2.3 pounds (1.04 kg)
Warranty – 2 years
Seagate Backup Plus Hub 8TB is one of the most versatile hard drives around and is known to provide lots of space. It's also very easy to use and works in sync with social networking which makes it one of the most up to date products around! Backups Plus offers very similar performance to WD My Book. Inside 8TB version it has Seagate Archive 8TB internal hard drive, it`s one of the biggest consumer grade single-drive storage. Seagate`s included software is more user-friendly and intuitive than WD`s.
Backup Plus HUB Performance – How fast is it?
Although Seagate Backup Plus Hub 8TB is meant for capacity, not performance and read/write speeds shows that it performs very close to WD My Book. While moving 4TB file to drive it reached just 182Mb/s of reading and 191Mb/s of write. So if you are looking for a decent speed and big capacity, Backup Plus Hub can be the right deal. It`s one of the fastest single-drive storage devices among USB 3.0. Few drives are faster than Seagate Backup Plus and WD My Book, like Seagate Backup Plus Fast and Elgato Thunderbolt Drive+. But they all use special caching techniques, RAID0 setup or SSD storage, which also adds a lot to the price tag. 
Backup Plus HUB Reliability
Everyone's on Social Media these days so it's great to know that there's an external hard drive that could work with your social media needs. The fact that it copies file fast makes it a really good buy + you can make sure that your files get duly protected.
While WD My Book`s failure rate is about 5 percent, Seagate seems to be more problematic with a failure rate of 8 percent. 
Backup Plus HUB comes with Seagate Dashboard software. Seagate Dashboard is very user-friendly and intuitive backup software. Users can easily set up continuous or scheduled backups, save/share photos and videos on social network sites like Facebook and Flickr. With social share feature, users can download and save pictures posted on social media accounts.
With Seagate Dashboard you can also test the drive and make sure that it functions well, also control LEDs – turn them on or off.
Seagate Dashboard`s app users can backup mobile devices to drive itself or cloud via Wi-Fi. Users will also have the choice to select what kind of files to backup from their mobile devices and ability to add backup plans. This can be very useful for people who have many tablets and smartphones around the house or office.
After installing a pre-loaded NTFS driver for Mac users can freely use the drive for both Windows and Mac without re-formatting. 
Things you should know
Seagate does not provide any diagnostic tool like WD does, so to monitor your drives health you have to rely on free software, like HD Tune. 
It`s much harder to potentially damage Backup Plus than My Book because it stands flat on the surface. Be careful, because corners are very pointy, Kimber Streams from Thewirecutter writes that she accidentally nicked her finger while handling the drive. Drive will easily catch up fingerprints and scratches, because of glossy material. 
3. Seagate Expansion 5 TB Review – awesome all-rounder
Model number – STEB5000100 (5TB)
Product dimensions (LxWxH) – 7.1 x 4.7 x 1.6 inches (18 x 12 x 4 cm)
Capacities – 2TB, 3TB, 4TB, 5TB, 8TB
Weight – 2.1 pounds (0.95kg)
Warranty – 2 years
Next up is the Seagate Expansion 5 TB (STEB5000100), which we consider our runner-up for the best external hard drives. It also holds the distinction of being the Amazon Bestseller when it comes to external hard drives. Learn more about it below. Read our Seagate Expansion full review. There are also 2TB(STEB2000100) , 3TB (STEB3000100) and 4TB (STEB4000100) versions. 

Performance
There were a couple of errors that Seagate Expansion has encountered during tests. However, it worked well with USB 3.0, sometimes it didn't work with USB 2.0 port. 
Another problem is its wall-wart adapter—which isn't good whether aesthetically or based on functionality.

Reliability
Some people in the comments section of Thewirecutter article complains that their Seagate Expansion Desktop drive died fast, in less than a year. At the same time drive is very popular and it`s more likely that someone says something bad about a very popular product than unpopular, so you decide. Though not as fast as Seagate Backup Plus 8TB and WD My Book 4TB, it sure could hold well on its own
Out of the box, Seagate Expansion is converted in NFTS file system but it can be converted to HTS+ to use it with Mac. Seagate has a backup installer which allows you to backup files before any conversion gets done, and the software also makes it easy for you to back up files from your social networking accounts by installing the app on your smartphone.
Aside from what was mentioned, the software also allows you to download photos from Flickr or Facebook—just check the dashboard and you'll come across this option.
Made of black polycarbonate, Seagate Expansion 5TB has perforations on its chassis that allow the drive to cool easily. There is also a port for the USB 3.0 and you could see the Seagate logo at the corner, and there's also a jack for the AC Adapter.
4. Toshiba Canvio for Desktop Review – The Best External Hard Drive from Toshiba
Toshiba 6TB Canvio Desk Desktop External Hard Drive (HDWC260XK3J1)
Expand your Digital Storage - High capacity storage in a compact desktop design
Versatile: fits your space - Versatile (vertical or horizontal) orientation that fits your space in your home or office.
Safeguard valuable data -Preloaded easy-to-use backup softwareSecure backup with password-protected data encryption (up...
Model number – HDWC350XK3J1
Product dimensions (LxWxH) – 6.57 x 5.1 x 1.63 inches
Capacities – 3TB, 4TB, 5TB, 6TB
Weight – 2.2 pounds
Warranty – 2 years
Well, Toshiba Canvio Desk is one of those surprising drives that made the bestsellers list. For one, it doesn't have RAID capacities and NASes. But, one possible reason why it's favored by a lot of shoppers is the fact that it easily allows you to save data, and not only that, it also lets you stream and access the files, and share them on your social networking accounts, too! In 2015 Toshiba launched a new version of this drive with 6TB capacity and 3-year warranty.
Performance
Using Toshiba Canvio means you have two choices as to how you upload or download your data. For one, you could make use of a drive and a file manager attached to Canvio through the desktop, or you could also try to upload or download the software. It might be best to go for the mapping technique, though, as it provides seamless transferring of data compared to other techniques.
Read and Write Speeds are kind of slow with the Canvio, though—and this is something that's important for most consumers. You might also not be happy to know that uploads and downloads could take as long as—get this—14 minutes! That kind of downgrades the whole thing because that kind of speed was prevalent for earlier models—as early as 2004 or 2005, and if you have a lot of things to do, you really wouldn't want to spend that much time just uploading and downloading files.
Reliability
Both Toshiba and HGST (Western Digital subsidiary) is well known for their hard drive reliability. HGST offers just internal hard drive, but Toshiba also has external/portable hard drives. What's great about the drive is that it allows you to connect to it even when you're away from home, which is quite important since life is really busy these days. This happens with the help of an Alphanumeric PIN that you, the user, would set up next to the drive's toggle button. You also have to use this both locally and remotely, so that in that way, you could be able to access the Canvio Cloud, also known as the Western Digital Cloud.
Take note though that you need to have a good internet connection. Bandwidth is important here, and if you know that your internet connection is unsteady, you'll probably just get disconnected over and over again—and that's not really good for your drive or for the computer/laptop.
The software has been formatted for Windows but could be converted to HFS+ for the Mac.
Canvio's software also has small maintenance interface that you can see and access from a desktop widget. This then allows UI options, such as Full System Backup, File/Folder Upload, and capacity for music, movies, images, videos, and other types of files.
Each of these categories opens up windows that allow for smaller categories (i.e., music: pop, country, rock, etc.) and allows various players to show up onscreen, too. As for photos, you'd get to see thumbnails in albums instead of each and every photo at once.
There are also three options available from the Share category, and these are 1) Manage existing schedules, 2) Backing up files and folders in order for private sharing, and 3) Uploading files and folders for sharing on the network.
The software also allows for full system backup so you could backup the whole computer and would also provide you with a recovery system for crashes and backups.
Setting up could be another problem, though, because it gets a bit too slow—especially if you are using Windows 7.
Toshiba Canvio has a fixed drive that somehow looks like one of those tower desktops. It weighs 2.66 lbs and is considered sturdy and sleek, with a non-detachable stand for its hard drive.
Canvio has its own web portal that will help you know if there are any available updates, and could also help you get in touch with fellow Canvio users so that if you have any questions, you could just go ahead and ask them.
You could configure email notifications with the help of this product, and you could also join a Windows workgroup and manage SSL settings, as well. You could also monitor the temperature of the device, together with the status of the hard drive—so you'd know exactly what's going on and what you're dealing with.
Various services could be enabled with the help of the drive, too. These include the iTunes server, the media server, BitTorrent, Remote Access, SSH, Apple Networking FTP, and HTTP/HTTPS. This means you have the right to manage these devices in sync with each other—or for however you want them to work.
5. A Super Strength IoSafe Solo G3 – Undestroyable External Hard Drive
Product dimensions (LxWxH) – 11.0 x 5.0 x 7.1 inches
Capacities – 2TB (SK2TB), 3TB (SK3TB), 4TB (SK4TB)
Weight – 15 lbs
Warranty – 1 year with data recovery service. Can upgrade to a 3-5 year.
IoSafe Solo G3 is the most indestructible external hard drive, it could survive a disaster. If you need to make sure that your data is well secured, then this would be the best external hard drive for you. It is designed to survive fire and water damage. Also, this hard drive looks good and offers stellar performance. 
Data Protection is ensured with the help of IoSafe Solo G3 because of excellent encryption and USB 3.0 capability, together with such ingenuous design!
The worst thing about this external hard drive is it`s weight, to make sure your data will be safe from fire and water, this device weighs 15pounds. Shipping weight is 18,4 pounds. 
Performance
IoSafe Solo has one of the speediest USB 3.0s around that could be praised a whole lot because it works wonders—it transfers 1.2GB worth of files in just 14 seconds and up to 45 seconds in PCMark7. It costs more though, so that might be a problem for some, but when it comes to durability and performance, there's no doubt that this drive is amazing.
Reliability
The drive works fast so no problem about performance. You may not be able to bring it everywhere, though, because of its size, but if you're going to be working at home, there's really no problem. For me, the biggest reliability issue of Solo G3 is that – it is single-volume storage device with only one internal hard drive. In case the internal drive is damaged you can lose data. IoSafe Solo G3 comes with 2-year warranty.
IoSafe Software is on NFTS with scheduled backups. However, you could convert it to HTS+ if needed. It also easily transfers and backs files up without any hassle. IoSafe support page.
Weighing 15 pounds, IoSafe Solo G3 is considered as a mammoth of external drives not just because of its weight but because of what it can do. It also measures 17.2 x 10.5 x 8.3 inches and actually weighs like desktops—so you know, it's not really portable, but perfectly works with your PC. It has a perforated design with gray slabs, is sleek, and also has a metal chassis. The drive also has a USB 3.0 port, with on/off switch and an AC output and has been integrated with a Kensington Lock that provides better security. Drive comes in three capacities – 2TB; 3TB and 4TB.
The good thing, though, is that although it's big, it actually works silently. Beneath the metal housing is a ceramic material that prevents the drive from being damaged by excessive heat. It could actually withstand up to 30 minutes of extra heat—and no other drive could do that!
One of the best things about IoSafe Solo G3 is that it has this Data Recovery Service (DRS– datasheet) that works like an insurance for your files (up to $2,500 towards data retrieving). Basically, if something happens to your files, you could bring it to the recovery section of your device and the people there would recover your files for you. This way, both your data and the drive would always be safe! It's also upgradable for up to 3 to 5 years!
6. G-Technology G-Drive Review – Excellent and Fast External Hard Drive for Both Mac and Windows Users
Product dimensions – 9.25 x 5.12 x 1.89 inches
Capacities – 3TB, 4TB
Weight – 2.94 lbs
Warranty – 3 years
Ports – Thunderbolt and USB 3.0 ports
G-Technology G-Drive has a speedy 7,300 mechanism and is able to transfer files quickly because of its USB 3.0 Port—and it even works better than a 5,000 RPM drive with SSDs that are also faster. It might be the middle child of all drives because while it's not perfect, it's also not so bad—and is actually favored by many. It basically needs its own time to shine.
Performance
The great thing about G-Technology G-Drive is that transferring files could be done in just a matter of 10 seconds and it also provided great numbers for the AJA Test, with 120 Mbps Write Speed, and 121 Mbps Read Speed. It's like it works with 7,200 RPM that makes it perfect for media work.
The drive is also backward compatible with slim USB 2.0 devices. The best thing is that it has the peak transfer points of Thunderbolt. It also works great with Amazon Prime, so if you want to watch videos and listen to music because it would work seamlessly.
Reliability
G-Technology is quite reliable with its fast transfer speeds and the fact that you could stream shows and movies with it. The problem though is there may be times when you'd feel like there's not enough space for all your needs.
The drive is stackable, but the thing is you could only add a couple of MB-sized drives on it, so what good would that do? Sure, it may free up some space but everyone knows that it's not enough, especially since most files these days—especially videos and media—could be around 1GB or so.
But, since you could use the drive with USB 2.0, it's also a good thing because you know that it's kind of made for most devices—and is not just exclusive to one device alone.
The Software has been formatted as HFS+ but could also be converted to eSATA or NFTS for it to work on Windows Devices. The Software is also responsible for allowing the device to work with lots of media usage, as well.
G-Technology G-Drive is a mid-size drive that measures 0.51 x 5 x 3.25 inches and is made of both plastic and aluminum with a matte silver aluminum finish. These also cover the aluminum systems inside, keeping them safe from damage in the future.
Aside from that, the drive is not really adorned—which gives it its classic, sleek look and allows light to be relative to its face. The drive is really portable—it fits in one's computer bag or a jean pocket.
Even though it only holds 1TB than those with 5,400 RPM but has a smaller capacity than 120GB SSDs—for some reason. It brings forth quicker backups, especially with drag-and-drop mechanisms.
Best High Capacity External Storage Devices with Two or More Internal Drives
More often they are called as Network Attached Storage (NAS), but the main function is the same, to be an external storage device.
Computer storage space can be a precious commodity and one that is necessary to ensure the continued functionality of your machine. But before you start feeling as if you are going to be forced to delete files that you really do not want to trash, consider these top five best desktop external hard drive runner up`s, ranging from the simplest design to the most complex of systems. So you don`t need to spend hours in research for the best external hard drive.
Honestly speaking, external hard drives are not just a luxury these days but more of a necessity. Without a good, reliable external hard disk drive, you won't be able to save all the files you need, listen to the songs you like, watch the movies you want, and work on what you have to work on.
But how exactly do you know which external hard drive to use when there are so many choices in the market? The answer is – Read on. 
7. Synology DiskStation DS216j Review – Best Budget NAS
Product dimensions – 8.88 x 3.94 x 6.5 inches
Capacities – up to 16TB
Weight – 1.9lbs
Warranty -2 years
Ports – two USB 3.0 ports
Hard Drive bays – 2
This NAS is a budget-friendly, dual-bay model and therefore does not include features like those of other higher-end models. Its design is somewhat outdated and it uses plastic housing, but it uses the most current DSM 5.0 OS, which includes multitudes of apps and tools for you to use.
Recommendations
This NAS is best suited to single-user environments. It performs best when it is only asked to do one task at a time. Multitasking is not one of its strengths. If you are looking for a home-use NAS for your family, where there will only be a few users and a minimal amount of stress.
Uses the best operating system – The DS214j runs the latest version of the operating system DiskStation Manager, which adds greater functionality and user-friendliness to this NAS. This OS is web-based and makes available a wide variety of tools and apps that make the server much more functional and valuable. As an added bonus the design of the UI is very clean and easy to understand, making setup a snap.
Less-than-impressive hardware – The processor is a Marvel Armada 370, which is functional, but minimal. It only comes with 256MB of un-upgradeable DDR3 memory and has no USB 3.0 ports, only 2 USB 2.0 ports, and a single gigabit network port.
8. The G-Tech G-Speed Studio Thunderbolt 2 Review – Meant for professionals
Product dimensions – 8.36 x 7.94 x 10.08 inches
Capacities – up to 32TB
Weight – 15lbs
Warranty – 3 years
Ports – two Thunderbolt 2 ports
Hard Drive bays – 4
This four-bay NAS is one of the fastest storage devices available and its maximum capacity of 24TB is certainly impressive. It uses an internal power supply, so you don't have to bother with the cord-and-brick setup and has two Thunderbolt 2 ports.
While testing with MacBook Pro in RAID5 configuration G-Tech G-Speed Studio R Thunderbolt 2 sustained read speed of 460Mb/s and write 270Mb/s.
Related: Best Thunderbolt Devices
Size – This storage device is large and it is not stackable, so those who work within small or cramped spaces may want to factor this into their considerations when trying to decide if this G-Speed is the right product. Also, the design is rounded, meaning that it cannot be positioned on its side.
Recommendations
The speed that this NAS offers makes it a great choice for video editors and other individuals who need their technology to work quickly. The impressive storage capacity allows for it to be used to house entire libraries of photos, music, and other types of media, which is exactly what you need if you've found that your current setup is filling up quicker than you thought it would. Those in professions that tend to generate a lot of these types of files would be well-served by this large amount of space.
It is recommended most to those who have to deal with a lot of information and need quick performance, such as photographers, editors, and scientists, as well as owners of businesses involved in those industries. This really is one of the best external storage solutions for professionals.
Design – The G-Speed has an awesome design that makes it incredibly easy to switch out drives; you simply open the top lid by pressing down on it and then you can pull the drives up out or put other drives in.
Uses RAID 5 – RAID 5 is the default configuration for the four drives, which is exactly what you want. RAID 5 balances performance and storage space and are the best at protecting data in the event of a drive failure. HOWEVER, it can support other RAID setups—RAID 0, RAID 1, and RAID 10. And should you ever want to change your configuration, you simply have to download the software from G-Tech's website and it will walk you through the process after it has been installed.
Takes care of itself – Great news—you don't have to worry about the RAID setup. The G-Speed is a hardware RAID system, which means that this storage device does not require the host computer's involvement in the device's setup.
Loud – If you prefer to keep a quiet working environment, then you may find the G-Speed a bit disturbing. There is always a constant, low hum (courtesy of the fan) and a lot of metallic sounds when the device is doing a lot of work or being booted up.
Size – This storage device is large and it is not stackable, so those who work within small or cramped spaces may want to factor this into their considerations when trying to decide if this G-Speed is the right product. Also, the design is rounded, meaning that it cannot be positioned on its side.
9. QNAP Turbo NAS TS-251 Review
Product dimensions (LxWxH) – 8.86  x 4.02 x  6.63 inches
Capacities – up to 2X4TB, 4GB DDR3 memory
Weight – 2.82lbs (net); 5.11lbs (gross)
Warranty -2 years
Ports – one USB 3.0 and two USB 2.0 ports
Hard Drive bays – 2
The TS-251 is a two-bay compact NAS that allows users to create their own personal cloud as well as their own media center, which they can use for offline and real-time HD video transcoding and video streaming via DLNA, AirPlay, and Plex. Users can hook up their hard disk drive to an HDTV via HDMI cable and supports USB 3.0. Its upgradeable memory option allows this NAS to grow with you as you accumulate more files and data. This model also has 4-bay version TS-451. They practically the same but you can gain bigger capacity with TS-451.
Recommendations
The TS-251 is a great NAS for home use. It's easy to set up, offers plenty of protection, tons of apps and features, and it can be used as a media center. However, large groups or companies should look for alternatives as the TS-251 simply cannot keep up with demands of that caliber.
Lots of apps – The TS-251 comes with a lot (seriously, we mean A LOT) of apps that make it incredibly easy to back up, sync, share, and organize files, as well as remotely access them. They allow you to do so much with your NAS and for newbies who may not know what they can do with such a product, the numerous apps can guide their way.
Flimsy plastic housing – The TS-251 offers some terrific features, especially for a NAS of this price, but one place in which the low price shows is in the housing, which is made of cheap-looking white plastic. We would have preferred a sleek metal casing, as the plastic is rather flimsy and does not hold up to wear and tear.
10. WD My Book Duo Review – Excellent Performance, High Capacity
WD 12TB My Book Duo Desktop RAID External Hard Drive - USB 3.0 -...
2 Bay, 12TB Personal Cloud Storage includes 2 x 6TB HDD
User selectable RAID 0/1 or JBOD lets you configure your drive for more speed (default setting: RAID 0), data protection...
High capacity external storage and backup; Ultra fast, optimized data transfer speeds; Protecting your data with...
Product dimensions – 3.9 x 6.2 x 6.5 inches
Capacities – up to 16TB
Weight – 3 lbs
Warranty – 3 years
Ports – two USB 3.0
Hard Drive bays – 2
Model number – WDBLWE0160JCH-NESN
WD My Book Duo is a fast, reliable and secure way to add storage to your computer without spending all savings. This product is meant for both home and office, bundled with useful software and offers RAID0, RAID1, JBOD data management. It has two WD Red drives. My Book Duo is available in four capacities -4TB, 6TB, 8TB and 12TB. Price varies according to capacity. The device is backed up with a 2-year warranty.
Design and features
Wd My Book Duo consists of a gray slick plastic shell that wraps around it from one side to another. The back and top consists of a black matte plastic. It is a compact 2-bay storage device (it has two internal hard drives in it, which can be changed easily).  It has three USB 3.0 ports at the bac, one of them is micro-USB port. On the front, it has three led indicators for power and bay 1 and 2 status. The connections can be used to charge or transfer data from mobile phones, tablets or other devices. Also on the rear panel, there is a reset button, Kensington lock slot, and power jack. Drive uses 12V DC- direct current. Also, no-fan ventilation is located on the rear bottom of the enclosure.
To replace two WD Red hard drives inside you just need to press button located on top of the drive.
Wd My Book Duo includes the same software as Wd My Book – Acronis True Image, WD Smartware Pro (30-day trial, $20 for license), WD Security and WD Utilities, Dropbox integration, except WD Smartware. The WD Smartware can be downloaded from Western Digital website.
Performance
There are four configurations available for WD My Book Duo – RAID0, RAID1, JBOD with one disk active and JBOD with both disks active.
The Very impressive performance with RAID0 configuration –  read up to 255 Mb/s and write up to 230 Mb/s. In RAID1 configuration read speed was 149Mb/s and write 150Mb/s. Read and write were nearly identical in JBOD configuration with one disk active – read 152Mb/s and write 152Mb/s. The biggest speed was achieved in JBOD configuration with both disks active – read 265Mb/s and write 235Mb/s. With this kind of performance, Wd My Book Duo is an excellent choice for home or small businesses.
Alternative External Storage Devices
[icons icon="alert" color="#dd0000″] LaCie 5Big Thunderbolt Review – Lightning speed for Mac
Seagate Barracuda XT 3 TB 7200RPM SATA 6 Gb/s 64MB Cache 3.5 Inch...
Massive 3TB capacity provides plenty of room for downloading PC games or storing many hours of high - definition video...
The first comprehensive non - hardware solution to accessing 3TB capacity by using Seagate DiskWizard software
The 7200 - RPM performance platform complements powerful combination of extreme storage and top - end desktop perfomance
[icons icon="alert" color="#dd0000″] G-Technology G-Speed Studio XL 8-Bay Review – External Hard Drive For Experts
Product dimensions – 9.9 x 7.4 x 14.2 inches
Capacities – 64TB
Weight – 18.5 lbs
Warranty – 3 years
Ports – 2x Thunderbolt ports
Hard Drive bays – 8

Model number – 0G03769
G-Technology G-Speed Studio XL 8-Bay is perfect for creative artists, photographers, videographers, and even scientists who need a lot of external storage, and who needs to have said storage connected to their Windows PCs or Macs at all times! Studio XL offers massive capacity up to 64TB.
Design and Features
Shaped like an irregular cylinder in black, and measuring 9.9" x 7.4" x 14.2"/ 252.5 x 188 x 360.7mm, G-Technology G-Speed Studio XL is another one of those large external hard drives. The G-Technology logo on its back is also backlit and there's also a Kensington Lock Port that you'll see.
2 Thunderbolt Ports are available, together with a standard 3-Pin Jack and a Power Button. There's also an internal power supply so you wouldn't have to deal with large power bricks that may just cramp your style.
The round side chassis also provides more power and better ventilation for the drive. There are hot-swappable disks, but they are not stackable.
The drive has locking sleds with 4 hard drive mechanisms that allow for more speed and capacity and could work for 6-TB enterprise class drives to make a total of 18TB (In RAID configuration to protect data). This means it would still be easy for you to access data even if the drive has been slightly broken, but after that, there would be no more drive failure protection for you.
Performance
As you could see, Speed is part of the name of the product. In fact, it could transfer files as big as 1.2GB in just 2 seconds—definitely faster than any other drive out there! It also has read speed of 512 Mbps and write speed of 563.9 Mbps.
It has also some of the highest drive capacities ever and could help you save your files in a variety of libraries, video archives, and footages—making you feel like you have a studio of your own!
The only problem is that it's quite pricey, so that might be a drag.
The software is formatted for HFS+, which means it's originally meant for the Mac. However, you could have it converted to NFTS or eSATA if you're going to use it for Windows. To find out more you can read – datasheet; product manual and G-Tech product guide.
As it's formatted as HFS+, it will work on Mac OS. You can be sure that it would help you edit photos, videos and music, and just pretty much work with media and large files. Drive is meant for professionals who need to work with massive amounts of data.
[icons icon="alert" color="#dd0000″]Apple Time Capsule Review – Best External Hard Drive For Mac
Apple Time Capsule 2TB ME177LL/A
Back up a lifetime's worth of memories with AirPort Time Capsule, a wireless hard drive that works seamlessly with...
It's also a full-featured Wi-Fi base station with the latest 802.11ac technology and simultaneous dual-band support.
Choose from 2TB and 3TB models.
Product dimensions – 3.85 x 3.85 x 6.6 inches
Capacities – 2TB, 3TB, 4TB
Weight – 3.3 pounds
Warranty – 2 years
Ports -Gigabit Ethernet WAN port, USB, Three Gigabit Ethernet LAN ports
Hard Drive bays – 8
The Apple Time Capsule 2TB works as both NAS Device and Wi-Fi Router. This then makes way for effective solutions for both Mac and Windows networks—all in wireless forms, that is! Best external hard drive for Apple fans.
Design and Features
The Apple Time Capsule 2TB is a bit large but comes in a housing of strong polycarbonate in white porcelain—which is good when it comes to aesthetics. It also weighs a bit more than its contemporaries in the market, but that also makes the drive sturdy and hard to damage.
The drive has a smooth face with a single indicator light for WAN and Power Connectivity, and there are also no vents on the surface that could scar the drive. At the back of the device are three LAN ports, a USB-hard drive accessible port, and a port for the Internet Connection. This is kind of strange for some, but you have to understand that more than just being a hard drive, this product is also a Wi-Fi Router, thus, the number of ports.
Setting up the device could be done manually and you could also access the AirPort Wizard that could help you out with what needs to be done to the Apple Time Capsule.
Performance
Performance-wise, you can look at the Apple Time Capsule in two ways.
First, there are its Wi-Fi Router capacities. Guest Networking is supported, which is not available for most routers. This way, you could create separate networks while installing the drive on one network alone. Guests could also access the network without having to see your private files, storage devices, and even printers. If you're a parent, you could also limit your child's access to the device.
However, it could be confusing when the drive asks you to join an existing network or open up a new one—which may make you feel like third party applications could access your device, and it would also not be good for the drive to have more than one wireless application connected to it. Extension capacity also has been available for other routers before, so there's really nothing new about that. This could work for small offices or homes, though.
You could also connect your Apple TV to the Time Capsule so you can transfer files from one of the devices to the next. You could also stream movies and shows while using the device, too.
As for being a NAS or a Hard Drive, you'll be glad to know that you can access the drive from both Mac and Windows devices—even if it's an Apple Device. You'll see user connections and storage capacity on the first tab of the device and you could also see archive features from the second tab in the internal hard drive. You have to make sure, though, that you have already enabled file sharing to and from internal and external drive devices, and you've also got Windows File Sharing activated, as well.
You then have to open a Windows Workgroup to connect the hard drive to Windows. Based on tests, you could do this easier if you're using a Vista laptop, or from the System Preferences of the Mac Drive. Backups could easily be done once you do that and are perfect for businesses because it automates client machines entirely—that could save you a whole lot of time.
Reliability
When it comes to reliability, it's safe to say that Apple Time Capsule 2TB is quite reliable—that's true, but it does not differ much from its predecessors or contemporaries in the market.
See, Apple Time Capsule kind of works like the AirPort Extreme with an inbound kind of delivery (because it has this internal and external connection) and could only give 61 Mbps of power when it's a couple feet away from the router, compared to 80 Mbps that its predecessor has.
When placed vertically, though, the Apple Time Capsule works great and could give up to 99 Mbps of power. It copies and transfers files fast, and uploads and downloads are a breeze, too, which makes it a good product for those who deal with a lot of media in their computers and drives.
However, when you use it as NAS alone—with Wi-Fi Router capabilities turned off—it works a little too slow, and read and write speeds are too slow, too, with just 5.3 Mbps of speed—definitely slower than its contemporaries.
The Software is meant for both Windows and Mac, so you do not have to worry about any conversions. It's also responsible for the drive being quiet and of high capacity, but at the same time, also slows down speed when Wi-Fi Router is not turned on.
The problem with the server, though, is that though this is an Apple Product, it really does not work as an iTunes server which could be quite a hassle because it means you'd still have to look for a separate server of the said kind.
As the drive has been formatted for both Windows and Mac, it is definitely compatible with the Mac—you don't really have to get it converted or formatted, which is quite convenient for you.
[icons icon="alert" color="#dd0000″]Seagate Backup Plus Hub for Mac
Product dimensions – 1.61 x 4.65 x 7.8 inches
Capacities – 4TB, 8TB
Weight – 2.34 pounds
Warranty – 2 years
Ports – Two USB 3.0 ports
Model number – STEM8000400
Another Seagate device on our selection, this one is considered a bestseller because it's a good USM connector for each additional interface. Social Media Photos could also be saved and is also compatible with the Apple Time Machine—if the Time Machine is used as a router. Overall one of the best external hard drive for Mac lovers, cheaper alternative to Apple Time Machine with bigger capacity.
Design and Features
See, this one is something that could really make any bestseller list. Just like Seagate 8TB, this one is portable and compact, painted in silver, with removable USM Interface Adapter on one end. You can then have this adapter swapped with USB 2.0 or 3.0 and you could also share these adapters with others. The drive fits right in your pocket, too, which makes it a good alternative for all those heavy drives you have heard of earlier.
While the drive only has a 1TB capacity, it is formatted for both Time Machine and HFS+ and you could also install the Seagate Installer—included in the package—which could help you access and save files from Facebook or Flickr.
Performance
When it comes to performance, Seagate Backup Plus works in such a way that it could copy 1.2GB of files in 19 seconds—a bit slower than its contemporaries, but definitely a whole lot faster than the Toshiba Canvio. However, with the FireWire, it could go up to 45 seconds, which could be a drag considering transfer speed should be faster when the FireWire or Thunderbolt is around.
When it comes to sustained output tests, the drive didn't go as well as expected, especially when video editing and graphic designing are done. It's still nice, though, as it has 279 read speed and 376 write speed, so that's still a good thing. It might be good to add a high-speed desktop class drive or SSD if you're going to be dealing with graphics, though.
It's a good economical choice, though, because it has a good GB per dollar ratio—so you'd know you're getting your money's worth, and it contains lots of space—so you can be sure that your files have somewhere to go. It's as strong as other generic models, so it's better to go for it than cheaper ones that you're not even sure about.
Reliability
Backup is the name of the game here, and Seagate Backup Plus is reliable for that. The only problem, though, is that the drive could be damaged in a matter of 2 to 3 years—and you may also need more space, so chances are, you'd really need to buy something else sooner than you'd expected.
Anyway, if you won't be loading it with too many files—especially ones you have not checked for viruses, you can be sure that it will work properly—and you can just buy another one when you feel like it's time.
You could also use iPhoto with it even without installing the program. However, you have to make sure that you don't upload and download too many photos because iPhoto also lags with this drive if used too much. After all, Seagate is not an original Apple Device and you have to treat it with a lot of caution.
It's good though that the drive works together with Time Machine, and not over it—so they don't really overtake one another, making the drive even better.
The Seagate Backup Plus Software has been formatted as HFS+, so it automatically works for the Mac, especially when Time Machine is around.
The Software also allows you to install the Seagate Dashboard, as well.
As the drive has been formatted for both Windows and Mac, it is definitely compatible with the Mac—you don't really have to get it converted or formatted, which is quite convenient for you.
Since it is formatted as HFS+ and works great with Time Machine, you'd know that this drive is definitely compatible with the Mac. With USB 3.0, you can use it with MacBook Prop, MacBook Air, iMac, and Mac Mini. For older Macs, you could just use the USB 3.0 Port.
[icons icon="alert" color="#dd0000″]Drobo 5N Review – Best External Hard Drive from Drobo
Drobo 5N 15TB: Network Attached Storage - 5 Bay Array - 15TB Storage...
Highly scalable network storage array with 64TB filesystem support
Gigabit Ethernet connectivity. Supports myDrobo Platform, DroboAccess encrypted-end-to-end remote access, and DroboPix...
Battery-backed memory to protect against power interruptions with built in internal power supply
Product dimensions – 14 x 10.25 x 14 inches
Capacities -up tp 64TB
Weight – 13.75 lbs
Bays – 5
The Drobo 5N Drive is considered as a hard drive enclosure that kind of looks like a RAID Array. The best thing about it is that it allows you to reuse some of the old internal hard drives you may have scattered around the house. Storage is upgradable and also has mixed-drive capacities—with USB 3.0 port, too!
Design and Features
Drobo 5N looks pretty much like the first generation Drobo from years gone by. It's a black metal box that's styled in a minimalist, classic manner that could accommodate internal SATA hard drives that are desktop-class. It also allows drive mechanisms to work on each sled even before they get installed.
Based on configuration, Drobo does not really come with internal drives that work on RAID. This means that pairs of identical drives are taken by the device which makes maximum storage open up while maintaining both speed and capacity—which is more than you can say for most drives.
Aside from the original 2TB drive, you could add 1 more TB of space or a couple of GB-sized ones without ruining the performance of the drive as a whole. Useful capacity is just 1TB or even a couple of GBs, anyway, which makes the drive pretty realistic because it does not offer more than what you need. If you're going to add more drives, though, make sure that they're around the same capacity as the original disk for them to work in sync with each other.
You'll see a blinking red light near the chassis in the event that any of the drives fail. What you can do then is pop out the bad drive, and replace it with a new one—or do not replace it at all, if you want. This also ensures that the enclosure of the drive will last a long time.
Performance
The performance of the Drobo 5N is based on where you put and work on each drive. For the PCMark5 test, the drive got a score of 4,226 points—which is already good, especially for a mid-rank drive.
Holding backups for both the PC and the Mac only take a short time to do, which is also convenient for you. However, read and write speeds could be a bit slow, but not too slow—58 seconds for a 1.2GB file is already good enough, anyway.
One of the best things about the Drobo, though, is that it keeps downloads that have been around for years in one place—so you could easily segregate them and choose to keep only what you really need. It allows you to use internal hard drives, as well and protects your files the best way possible.
The Drobo 5N drive has a 3-year warranty.
The Drobo 5N Software has been formatted to work on both the Mac and the PC—you won't need to do any kind of conversion anymore.[/tab]
Reliability
The Drobo 5N is reliable, but not so much when you have to transfer large amounts of files—it cramps the system down. If you have extremely large files with you, you may have to add higher-performance RAIDs for the drive to be able to keep up with your needs.
[icons icon="alert" color="#dd0000″]WD MyCloud EX2 Review – Massive capacity up to 16TB for affordable price
Product dimensions – 3.9 x 6.1 x 6.75 inches
Capacities -up tp 16TB
Weight – 3.4 lbs
Bays – 2
WD MyCloud EX2 is an easy to set up the drive with great industrial design, with remote access capacities and excellent read speeds and a lot of great qualities available in the Cloud Portfolio.
Design and Features
WD MyCloud EX2 has a diskless configuration in a 2-bay NAS with populated unit ships, 512 MB Memory, and 1.2GHZ Processor. It also has a dual Ethernet Port with USB 3.0 that has twice the power of usual Ethernet devices and could work for offices and homes, at the same time.
Light Press is found on the drive bay atop the device. This has a lot to do with drive placement in the chassis since they sit vertically, instead of on top of one another like with most devices. A Plate is the one responsible for keeping the drives in place but also makes the drive look like a fat book.
The problem though is that it has plastic handles that easily rip and could make the process of pulling the disk from the bay a little too frustrating.
Performance
The good thing about WD MyCloud is that set-up is quite easy. You'd only use the cables in the packaging and could also get help from the Installer Dashboard. A local web-based app could also be launched so you could get help from people around you who own the drive, too.
You get easy access not only to WD MyCloud but also to EX4 Learning Center and EX4 Public Share. There's loads of Free Space on the homepage as well as real-time monitors of cloud devices and activities, so you'd know exactly what's going on with the drive.
Functionality is similar to Consumer NAS and FTP, with media streaming capacities and the chance to add third-party applications or add-ons. You could also extend features sets to make them work with Git, WordPress, and Joomla—so they could be used for educational purposes.
This also includes advanced iSCSI features together with SNMP and iPV6 support, as well as volume virtualization, making it a bit more advanced than some contemporaries.
Remote Access Control is also available and codes could be generated by clicking the UI's Generate Code button in the mobile app—which is also downloadable from the cloud. You could also generate activation codes for you to log-in in a windowless manner to the cloud, or to the drive's website itself, or the MyCloud App if desired.
Recovery of lost files is also possible through hot-swapping, and lights could tell you when the drive is in a discarded state already—which is good so you'd know when to do some improvements.
The array could be rebuilt automatically, but read and write speeds are slow—at only 56 to 60 Mbps. However you could transfer 1GB of files in just 15 to 30 seconds, so that's good, too.
Reliability
The drive is reliable, but the problem is that it could be quite complicated with all those passwords and code generations. Otherwise, and if you could understand codes, there's really no problem.
Mac Compatibility
Compatibility is not an issue since MyCloud EX2 has already been formatted for both Mac and Windows—but not for all Operating System Versions.
Warranty
The drive has a 3-year warranty.
The WD MyCloud EX2 Software has been formatted for MAC OS X Snow—and later incarnations, as well as for Windows XP S3 and later incarnations. EXT4 is the Native File System and the USB drives could work for Linus EXT2, 3, 4, and FAT/FAT32, HFS+J, and NFTS, as well.
Compatibility is not an issue since MyCloud EX2 has already been formatted for both Mac and Windows—but not for all Operating System Versions.
How We chose The Best External Hard Drive?
Why trust us? 
Why should anybody trust our top picks, especially knowing that we earn a small commission if someone buys through our links? We will just select the most expensive products and earn bigger commission, right? No! It`s not that simple because if someone returns the product back, we earn nothing. So we are interested in giving recommendations and reviews about the best products available.
Why buy through our links? Simply to support what we do, we put a lot of hard work, time and thought in each of our articles. 
Also, we would like this site to be a full-time job for us, to invest time in it and see it grow, but time = money, so your support is how we make a living. Know that all of your support is very much appreciated. 
How Much External Storage Space Do You Need?
There's something you have to keep in mind before choosing the best external hard drive and it's this: How much storage space do you really need?

This could be tricky as it really depends on the kind of work and lifestyle that someone has. However, there are certain categories that will help you understand how much space you'll need. You can learn more about them below.
Photos
A lot of people are obsessed with taking photos these days, and it's not hard to understand why. For one, it's a way of checking out their looks, and it also helps them capture memories. And, there's also the fact that there are a lot of photo-sharing social networking sites right now, just like Instagram and Snapchat.

If you have a phone with HD camera, each photo may get around 4 to 16MB of space—more if you're using a professional camera or if you're a photographer. Usually, 16MB/photo is just the minimum amount for photographers. 
This means that:
1. For over 4,000 photos, you'd need 16GB of space;
2. For over 8,000 photos, you'd need 32GB;
3. For over 16,000 photos, you'd need 64GB, and;
4. For over 32,000 photos, you'd need 128GB—and so on!
Music
There are also a lot of music lovers who know the importance of space. Some people just can't go by a few minutes without music, and for that, they'll need lots of space.
For roughly 200 songs, you'll need around 1GB of space—but that still depends on how long and clear the song is.

However, you could also just opt for Streaming Apps, such as Spotify or Pandora. These are available for just 80 to 100MB, and that's good because at least, you wouldn't have to download each and every song—except for ones you really want, so you'll also get to save some space.
Videos, Apps, and Games
A smartphone without an app is like a burger without the patty. It just would not be complete. And as you well may know by now, apps are upgraded constantly. Say, a 41MB app could reach 80MB in just a few days because of updates and in-game downloads.

On the other hand, videos could take around 100MB to 2GB of space, or more, depending on how long the video, show, or movie is.

The great thing about eBooks and other reading materials is that they do not take up much space. 1GB is already good for a lot of them.

However, if you're the type who always has to take his work home with him, of course, you can expect that you'd be using more—especially when you have to deal with slideshows and spreadsheets.

So basically, you'll need at least 500 to 1TB of space, but to be sure, it's best to just go for external hard drives that have around 1TB to 8TB of space if you can.
What to Look When Buying External Hard Drive?
Again, not every external hard drive is created equal. You have to make sure that you'll get only the best. Apart from the reviews in this book, you do have to know what exactly you're looking for—and you'll learn about it in this chapter.
Hard Drive Speed
When it comes to external hard drives, speed is all about the speed of disk rotation—which could tell you a lot about how the drive reads data. This could be around 4500 to 15000 RPM. You should then opt for those with 7500 to 15000 RPM so you know that your data would easily be backed-up and protected.
Remember, file transfer would be hard when your drive doesn't have the right amount of space.
There are also certain terms you need to keep in mind when it comes to speed. First, there's eSATA, which means you're dealing with the purpose-dedicated interface. This means the drive has high transfer rate with speed of 1.5 to 6GBPS.

Next is USB 3.0, which these days are an important aspect of hard drives. It's not available for older models, though, and if you want to convert older models, you have to make sure that you have the right cord for it.

And of course, there's also Thunderbolt which is known to be the fastest when it comes to data transfer. Some people even prefer this over USB 3.0 because it could reach 10GB speed in just a short amount of time.
Storage Capacity
This is the GB or TB size of an external hard drive—and it would be so wrong to choose MB sized ones only so keep that out of your mind!

Anyway, 2 to 8TB of space would already be more than enough for your storage needs. If you're a little short on budget or don't want to use a lot, you can opt for 16 to 32GB ones, but then again, TB-sized drives are sturdier and could last for a long time—which means you wouldn't have to buy over and over again over the years.
Device Dimensions
There are only two types of dimensions that you need to be aware of and these are 1) Desktop, and 2) Portable.

Desktop Drives are those that could remain near computer desktops and are quite fragile compared to their contemporaries. They are large in size so it's not advisable for you to take them out or bring them with you wherever you go.

Meanwhile, portable drives are perfect for those who have high mobility needs and those who are minimalists and hate large items around them. Since they are portable, there's also a high risk that they might get damaged.

What's good is that they could work with either USB 2.0 or 3.0 and their software protects data from being damaged, even if the drive gets damaged physically.
Format
As for the format, you could expect external hard drives to come in either 1) External Solid State drive, or 2) External HDD formats.

External Solid State means that there are no moving compartments in the drive—which also means that they're the most damage-resistant compared to any other drives in the market, whether in large or compact sizes. Basically, they are Solid State Drives in enclosure. However, the problem is that cost for 1TB is very high, external solid state drives are very expensive.
External hard drives with old school hard drives (3.5-inch HDD) in them are the most popular and cheapest ones. They have higher storage capacity compared to external SSD drives. When knocked down hard, it might suffer from impact-related damage (as all HDD's do). 
Why some external drives need AC adapter but some has only USB port?
It's because there are two form factors, external drives with bigger 3.5-inch internal hard drives, also need external power supply. But external drives with smaller 2.5-inch internal drives (usually called as portable external hard drives) can be powered via USB-port. The smaller form factor 2.5-inch internal hard drives are usually used in laptops. As now there are affordable 2.5-inch internal drives with capacity up to 5TB portable external drives have become extremely popular. Of course there are 2.5-inch drives with even higher capacity but then affordability goes away. 
RAID Security
When talking about external hard drives, you have to understand that security is mostly about the number of drives that work while a file is being saved.

RAID actually stands for Redundant Array of Independent Discs and is available in either 0, 2, 5, or 6 formats.

When RAID is 0, it means all of the data are saved on one disc only. This means that in the event that the disc gets damaged, it would be so hard to recover data. For those with limited data, it would be good to go for RAID 2, while RAIDs 5 and 6 mean there would be a lot of discs that store data—making it easier for you to recover data in case something goes wrong.

The only problem with RAIDs 5 or 6—or more—though, is that data transfer gets to be slower. RAID 0 transfers fast—you just have to make sure that you keep it safe at all times.
What Makes a Good Desktop External Hard Drive?
What if all you need is a Desktop External Hard Drive? How would you know that the drive you've been eyeing is good? How would you know if you have to look for something else?
Well, it's easy. In this chapter, you'd learn everything you need to know about desktop external hard drives and what to look for in them!
Capacity for Storage

Before anything else, you have to know what the drive's storage capacity is. Usually, desktop external hard drives come in 2GB to 4TB forms. There are some drives with two chassis, though, which creates 8TB storage divided into 2 drives—but some people really don't think that this is needed as 4TB is already enough for them.

For desktop external drives, you can also opt for 1 to 2TB only, especially if it's mostly for handling files or documents, and a few movies. After all, you could get portable drives for all your other files, and could just leave the desktop external drive at home.  
Portability and size
Again, we're talking about desktop external drives here—so you can always opt for big ones that you can just leave home, instead of fancy, small ones that you could bring with you. Realistically speaking, desktop drives are not flimsy. You don't really need the aesthetically great ones as you'd just be leaving them at home, anyway.

It would be nice to look for one with a built-in fan, though, so you can be sure that it would be safe from temperature-related problems especially if you're going to be using it frequently.

Choose solid materials such as aluminum or durable plastic to be sure that your drive won't easily get damaged.
Data Transfer Speed
People these days don't like waiting for a long time when it comes to saving and transferring files. It would be good if your desktop drive works with USB 3.0 so that you could save files over 1GB in just 10 to 15 seconds or so. You could also go for eSATA, Firewire or Thunderbolt (Thunderbolt works 10GB files in just a short amount of time, but is pricier than its contemporaries) so you'd get to save files—even large ones—easily and in just a short amount of time.

Take note, though, that some desktop drives do not work with today's computers—especially those that are in USB 2.0 or 1.1—so make sure to test before buying.
Ease of Use and Reliability
To make sure that usage would be easy and uncomplicated, make sure to choose a drive with a software that's already included in the package—and make sure that it also has a warranty of at least 2 years, just to be safe.

Using the drive is also easy as you'd mostly be using it for saving or backing up files, but for other special purposes, just go ahead and consult the manual.
Data Safety
Choose external hard drives with hardware-based encryption because it's more dependable than encryption based on software.

However, since desktop drives are being talked about here, it would also be okay to go for software-encrypted drives. Encryption is basically needed to keep your files private, so it's always best to make sure that you think about it—and you don't just choose cheap drives that won't even keep your files safe.
Solid State Drives
Meanwhile, if you're going to use solid-state drives, make sure that you have enough budget because they're really quite pricey—and are just between 64GB to 512GB. It might be better to have the SSD inside the computer—and not outside.
Compatibility
And of course, you have to know whether or not the drive is compatible with the Mac. Always check the manual and ask for assistance. Or better yet, read reviews in this book—and those you'd see online just to be sure.
External hard drive Care and Maintenance
Learn about how to care for and maintain the state of your external hard drives. Let's start with maintenance tips first.
Here are 10 important tips that you should keep in mind to make sure that your external hard drive would be at its best all the time!


1. Make sure there's proper air ventilation so that the drive wouldn't get too hot or too cold and so you'd also get to make sure that there's less dust buildup. Low air ventilation would also shorten the life of the drive—and that's not what you'd want to happen.

2. Make sure that you clean dust from the drive each week. It's something that most people forget because they think the dust would just clean itself up, but in reality, you should be the one to take care of it. The more you clean the drive, the better because then, dust wouldn't really build up that much.

3. Each month, run the Check Disk (CHK) function to recover lost files and check for bad sectors.

To do this, go to My Computer. Right, Click the partition you want to check then select Properties, followed by Tools. Run Error Check followed by Check Disk. Press Check Now and then select Scan for Attempt and Recovery of Bad Sectors, and Automatically Fix File System Errors. Make sure to check ALL errors to recover bad sectors.

4. Defrag the disk at least every two weeks. This kind of refreshes your drive so that it could easily be reformatted and so you could make sure that your files are kept safe.

To defrag the disk, just go to My Computer and then Right Click on it. Select Defragment > Properties. Go to tools and then look for Defragmentation Tools. Choose Disk Defragment Utility, followed by Defragment Now. Then, look for the Disk Defragmenter button and look for the partition that you want to be cleaned.

5. Make sure to remove junk files from the hard drive. These are those that are in the recycle bin that you have not really emptied. Take note that these files still take up space—and might even damage your drive, so please get rid of them. These files include recent documents, temp files, prefetch files, cookies, and the like.

6. Do backup your data regularly—not just when you feel like it, or when it's already too late. This way, you could be sure that important data would not just disappear from your drive just like that. You might also want to buy data recovery tools, just in case your files get damaged or deleted accidentally.

7. Make sure to uninstall software that you do not even use so that the hard drive would not suffer much and there'd be enough space for everything that you need.

8. Don't exceed the hard drive's limits. Make sure to leave some space and don't just install and save without thinking about the limits of the drive.

9. Make sure to protect the drive—and the disk itself—from being hit because it may cause physical and internal damage.

10. Protect the hard drive from internal shutdown by using UPS. This prevents sudden failure once the drive has been shut down without saving data.
External Hard Drive Common Issues—Answered!
Meanwhile, here are common issues you may encounter with the external hard drive—and what you have to do about them! 
Problem: Physical Trauma:
Some drives are quite fragile that sometimes, even simply tapping them or having them lightly fall down the floor or the table could be a problem.
The Solution:
What you can do here is make sure that you keep the hard drive in its case after it has been installed on the computer. If you need to move it—and hopefully, this is just to move it to another case—treat it with a lot of caution and do it as lightly as you can. Or, you can also make use of equipment such as:
1. Denatured Alcohol/99% Alcohol. This cleans CPUs and heat sinks of drives and also leaves very little residue. This means short circuits could be prevented. This might even help you recover the drive when you drop it in water!
2. Vaseline/Petroleum Jelly. This is extremely useful because it allows electricity not to go on while you're working with electronics and also has anti-oxidant properties that allow the drive to function even when corrosives are around, plus it also prevents plastic from desiccating or cracking. It also works as a lubricant for hinges, chassis, or slow-moving parts of the computer.
3. Neoprene. Having neoprene sheets with you is extremely helpful because it provides extra and instant ventilation for your hard drives. Laptops and drives without neoprene sheets may experience early failure because of the lack of air, so make sure you have these with you.
4. White Erasers. White Erasers could clean corroded parts of the drive, together with metal points because they do not leave conductive particles and they don't damage electronics, too.
5. Anti-ESD/Electrical Tape. These could protect and insulate electronics especially when being soldered together. It could also cover exposed wiring.
6. Epoxy or Superglue. These could also keep wires and parts together, but be careful with epoxy as it tends to leak.
7. Sugru. Sugru is somehow considered as a magical substance because it's originally rubber but could harden when exposed to air. It prevents electronics from failing and getting damaged.
8. Lint Free Cleaners/Coffee Filters. These could be used to clean heat filters and could even be wiped off with soap and water!
9. Cotton Buds/Q-Tips. You can use these to clean fans and hard to access places on your hard drive.
10. Mineral Oil. This could be used for metal parts or screws that need to be lubricated, and for heat sinks, as well.
Problem: File Fragmentation:
Take note that hard drive damage does not cause file fragmentation. However, the problem lies in the fact that there may be too many files installed in the drive which then causes wear and tear for the drive.
The Solution:
The easy answer is defragmentation. See, it's a form of maintenance—as you may have read earlier—that you should do at least every two weeks. Even if your drive is running on NFTS, it's still important to defrag just to be sure and safe
Aside from defragmenting the drive, you could also make use of important defragmentation tools, such as the ones listed below:
1. Defraggler. This is a great device because it provides a list of health data and fragmented tools for your disk so you'd know exactly what you're dealing with, and it might even be better than the Windows Disk Defragmenter.
2. Windows Disk Defragmenter. However, you also shouldn't put Windows Disk Defragmenter out of your mind. It still works great because then, you wouldn't have to install a third party application—which would save you more space.
To use this, just choose Start, followed by All Programs, then Accessories, System Tools, and finally, Disk Defragmenter.
Then, choose the Computer and then right click on a partition. Select Properties > Tools > Defragment Now. Wait for the disk to launch.
Press both Windows and R and wait for the program to run. Type dfrgui and then press Enter.
3. Auslogics Disk Defrag Free. This is a bit similar to Defraggler but what's good is that it optimizes the file system faster so it could be a natural part of the drive, with 8% fragmentation accuracy—better than Windows' 4%.
Problem: Excessive Heat:
Hard drives are also susceptible to suffering from too much heat because they're meant to work under optimal temperatures. The temperatures then range from a drive by drive basis—so you have to make sure that you stay within it—otherwise, excessive heat may be experienced by the drive.
The Solution:
Open up the case of the drive and check for accumulated dust. Clean it up. Make sure to use a compressed air can to get to the nooks and crannies of the drive and then check if there are any fans or chassis working. Place it on a flat, hard surface so it would get proper ventilation. Make sure to clean regularly to prevent this from happening again.
Problem: Power Surges:
Remember that there is not always a constant flow of electricity. At times, electricity may spike up beyond normal which could be a problem for the drive—and other electronic devices and could eventually fry the drive. Yikes.
The Solution:
What you can do here is use a Surge Protector. Surge Protectors work in such a way that they measure the difference between electric and potential energy so that it could divert power surges away from your device. While they may not work 100% at all times—just like other devices—you can at least be sure that they'd lengthen the life of your drive and keep it secure for the most part.
The Problem: Frequent On and Off:
You know, devices often suffer from being turned on and off constantly. It basically just causes wear and tear—and that's not really good for the drive.
The Solution:
There really is not much that could be done here, but you could try sending the drive in hibernation or plugging it out of the PC—and turning off the PC—while you're not around.
What to Look Forward to in the Future
As times change, you could also expect external hard drives to improve. There will definitely be changes—lots of them. Here's what you could expect from external hard drives in the future.
Flash Memory
Let's start with the drive's flash memory.
Even these days, you could already see that flash memory has been changing a lot, especially with innovations from Samsung and Intel—their work mostly develops 3D NAND.

Basically, there is a one transistor per cell architecture of memory. For instance, Micron, a big partner of Intel, thinks that 4GB drives may die this year and 32GB drives may be the minimum ones. 1TB drives are deemed to work just like the old flash drives of the past couple of years and would be cheaper (of course) then 32GB drives up until 2019.

Triple Level Cell technology has also come to fruition the past year—and is deemed to improve even more in the next couple of years. Triple Level Cell or TLC Flash are used in applications related to mass storage—which is not just limited to hard drives. Old flash memory cells only had 1 to 2 flashes in them—and TLC, as the name suggests, has three. This makes it easy for voltage to circulate and for data to be kept safe, and sloppy outputs also would not be around anymore.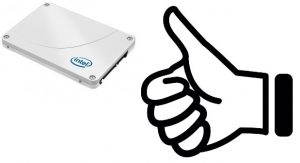 There are also Multi-Level Cells (MLCs) that have more than 3 flashes, and also takes twice the density of the same space. There are also significant changes that you'll see in terms of aging or production of the cell performance. This might mean slower reads or writes, though, and you have to be aware of that.

There are also 8 levels of voltage per cell that TLC brings—which means it may even handle more data than MLC. This means if MLC is going to compete with TLC, it has to level its price with its quality—or else people may just rely on MLC for all time.

However, the maturation of driver technology always relies on speed and reliability issues—and right now, it is obvious that TLC has got it. Another great thing about it is that there should be a three-layer basic error management system.

The said system works this way: First, there's Low-Density Parity Check (LPDC) where errors are accounted for in a mathematical manner. This system has been around ever since the 60s but was not mostly used until the 90s. Now, it is adapted to the technology used to make Wi-Fi work, as well as Digital TV and Ethernet. This also has a tracking volume that's used for most files.

After LPDC, there's a semiconductor that handles temperatures so that the drive won't blow up because it's too hot. This way, the life of the drive would be lengthened, too.

And finally, there is a chip with a RAID-like mechanism that works to detect errors that are deemed unrecoverable and make a switch to another part of the drive. This way, the less desirable characteristics of the drive allow for more writes during its lifetimes—so the user could maximize its use.
Developments for the Hard Disk
When it comes to hard disk developments, one thing is prevalent: capacity. A drive with bigger capacity means that it has gone through a lot of improvements—even at low costs. There are even times when the differences happen in just a couple of weeks or months.

For example, Seagate introduced a 4TB drive earlier last year and by the end of the year, the Seagate 8TB drive was also put out on the market. This just goes to show that drive managements work consistently to improve their products, especially when it comes to Shingled Magnetic Recording (SMR). What happens here is that tracks on the disk are overlapped so that they could be separated by follows. This way, you could get to rewrite multiple tracks at once by means of improving the writing operations. However, you can expect manufacturing techniques still need to be managed clearly.

Now, when the SMR is successful, it also means that other mechanisms of the machine would get to be successful, too. This way, even if tracks are extremely thin, you'd see that the head gets to pick up noise, and so multiple heads get to be around.

There's also such a thing as Heat Assisted Magnetic Recording where lasers are strapped to the heads of the disk before any data gets to be recorded. This then provides less interference for magnetized areas and is said to come to fruition by 2017.

Helium could also be used. Drives manufactured by Hitachi are said to have great storage capacity because there is low air-viscosity that allow packers to be close together. These techniques are then adapted by manufacturers all over the world, making it a base for their drives—and other technological products.
Enterprise Storage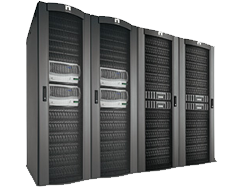 Over the next five years, it's said that storage devices would use both hard disk and flash. This would happen because it's predicted that flash would no longer need disk capacity to store data, and hard disks also won't need to approach the performance of the flash.

Hybrid Models won't just be a thing of the far future—but more of the near future. Developmental and architectural techniques are both being used in cloud services that allow systems to be more virtualized and distributed so that large, flexible systems could be created. This also means that newer models would be able to break away from SAN/NAS storage systems that could then create better performance for the drives.

Even experts are having a hard time identifying this new breed of drives. Sometimes, they call it software-only storage, and there are also times when they call it the software-defined data center. The class of application will then be the defining factor that's provided over the cloud or within the organization. HPC Requirements will then be able to access information that would make workload easy.
Storage in the Future
Experts know that in the future, there would be no more signs of a disruptive technology that would be able to break the duopoly of flash and disk and there would be a market for existing and competitive techniques.

There would be low margins for operating and there'd be a vast market commodity for the drives. However, there should be a drive between solid-state rotating media and the manufacturers. Niches also have to be exploited to see what would work, and given the fact that apps and devices are constantly evolving, you can be sure that this would not be a problem as people would continuously want to save a lot of files, therefore, signaling the need for bigger drives.

Safe to say, the future of external hard drives mean cheaper, faster, and better drives—and that's exactly something you'd want to look forward to.
Last update on 2020-08-20 at 15:37 / Affiliate links / Images from Amazon Product Advertising API