Are you tired of dealing with the bugs around you? Do you often have mosquito bites? Are you looking for a bug zapper that can do the job perfectly? Not sure what to look for and where to start? Well, look no further because we may have a solution.
When looking for the best bug zapper, some key points to keep in mind are the price of the product, its efficiency, its portability, its energy consumption, its durability and knowing which bugs have infested your life.
We know what a big hassle it is to live in a world with bugs, but with technological advancement, we have reached an age where science has a solution for almost all of our problems. Certainly, bugs are no longer an issue. Nowadays, electronic bug zappers have become widely used to remove bugs rather than chemicals and foggers which have a deteriorating effect on the user's health and environment. Most of these devices, if not all, use UV light and other attractants to lure bugs and electrocute them. Here are the top 17 bug zappers.
These may assist you in finding a solution for those pesky bugs.
17. Livin Well Bug Zapper Review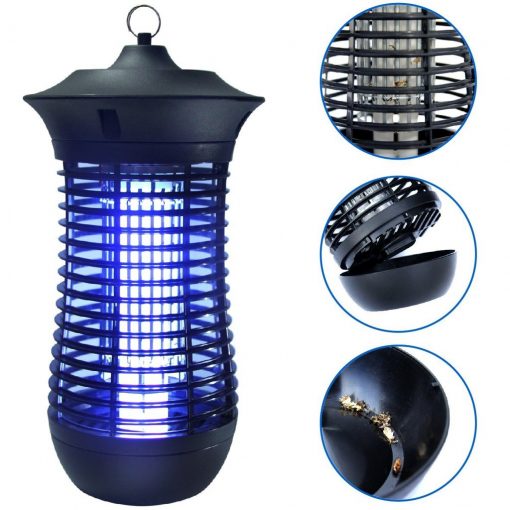 Livin Well Bug Zapper is an efficient product. It is designed for outdoor use and is highly effective. It has a large coverage of 1700 sq ft and is long lasting, making it a good investment. It does not produce any odor, sound or toxic and is easy to clean as it is detachable. The tube may require replacements after extensive use. It is also waterproof.
The bug zapper uses UVA light to lure and eliminate pests and is made from an ABS-resistant material, giving it a solid foundation. Also, it is aesthetically satisfying with its matte black outlook and radiant light, making it a good outdoor accessory. It does get the job done, though there have been a few reviews disliking the bug zapper.
---
16. Zap-It! Bug Zapper Review
The Zap-It! is different from other bug zappers due to its very obvious shape. Enjoy sports? Want to get a good workout while killing bugs? The Zap-It! racket is for you then. It may not be designed to look appealing, but it kills bugs immediately within contact with a powerful 3000-volt grid. It is chargeable through a USB cable and has a light attached to it to assist you in zapping bugs in dark places. Now, a 3000-volt grid may seem hazardous in case of human contact, but not to worry because as it's activated, a triple mesh layer protects you from being zapped.
You will be required to move around with it and it won't be active 24/7 unless activated, but it provides a lifetime warranty in case this product doesn't appeal to you. It is a good investment to solve your bug problems.
---
15. Feewer Solar-Powered Electronic UV Bug Zapper Review
This LED-powered bug zapper by Feewer, which specializes in light technology, uses solar energy to power a UV light which draws and kills bugs. It is safe for animals as well since it provides light during the night, serving a dual purpose. Since it uses renewable energy, it is a one time purchase, reducing some burden off your expenses and bills. Live stress-free, knowing that you will not have to recharge it or turn it on or off, making it efficient.
It can be installed indoors or outdoors with a few steps by simply hanging it on a porch or staking it in the ground. With a one-year warranty, this product is ideal as it is energy and cost efficient. Get rid of your everyday hassle of waging war against bugs and let the bug zapper do its work while you carry on with your day, carefree.
---
14. Hoont Powerful Electronic Indoor Bug Zapper Review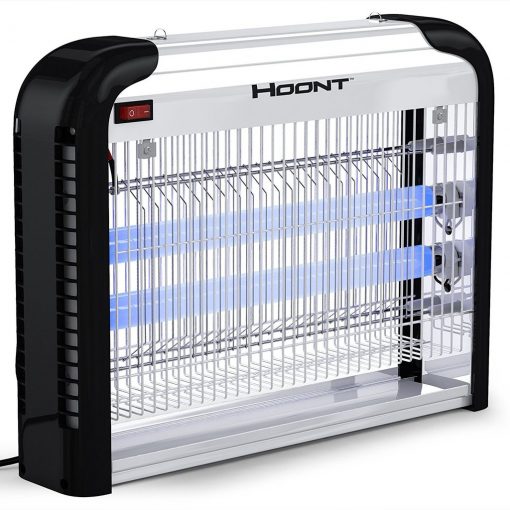 It uses a high-intensity UV bulb, covering 6000 sq ft and operating round the clock. It has detachable rings to keep it at a safe distance from kids and pets, and it does not clog up, making it easy to clean. It is toxic and odor free and electrocutes pests to death.
It may be a little expensive if your budget is tight and incurs maintenance costs with its cleaning. It may also be hazardous to children and pets if not kept at a safe distance. However, it is pleasing to look at, making it a good indoor or outdoor accessory. It gets the job done with care in terms of its placement.
---
13. GLOUE Bug Zapper Electronic Insect Killer Review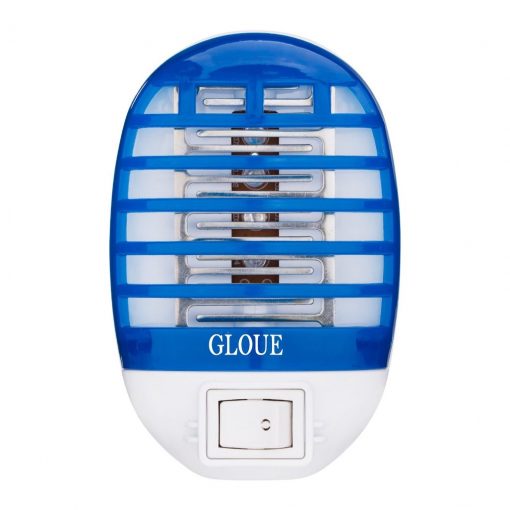 This small yet deadly bug inhalator is relatively cheaper than the rest of the bug zappers on this list. Don't judge it based on its size; it covers 16 square meters, using an LED light to lure and kill bugs. It can be installed easily and is more effective at night. It needs to be cleaned and should not be touched with bare hands, which may be a downside to it, but the company does offer a full refund if you are not satisfied. Also, it is chemical and odor free, making it safe to use around the house.
With regard to its price and usage, this bug zapper is highly effective and has good reviews. It may not be aesthetically pleasing, but this small bug zapper is highly efficient and easy to use. With the relaxation on its price, you can save money or spend it on buying another one to maximize the effect of the zapper, leaving you with a safe, healthy and bug-free living space.
---
12. Stinger 3-in-1 Kill System Review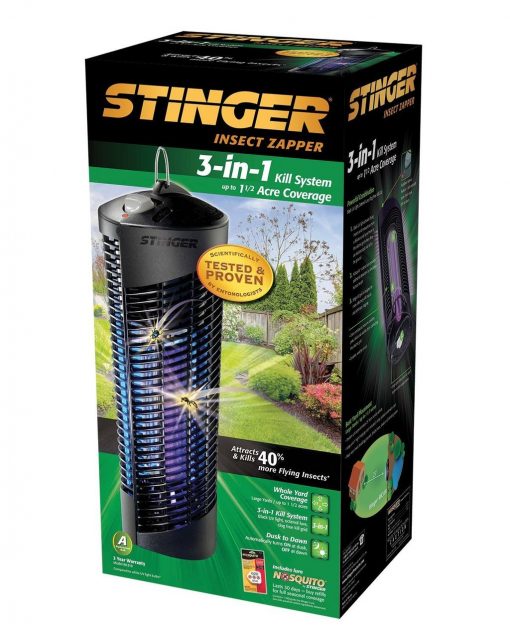 This 3-in-1 bug inhalation system is scientifically tested with a 3-year warranty. It has smart energy settings and is clog resistant, making it efficient. It is safe to use and covers up to 1.5 acres. It uses the UV black light instead of the UV white light to lure and kill bugs and can turn itself on and off automatically during peak hours when bugs may lurk around, that is, it has a smart sensor and provides 24/7 coverage. It also operates as an emergency flashlight.
The only downside of this bug zapper is that it has a very bright light, and recharging can be a hassle. However, it is fairly priced in accordance with the effective job it performs and has great reviews. In terms of its design, it is simple and cylindrical, allowing it to work better with the black light and capture more bugs. With its 3-in-1 feature, you can sit back and relax, knowing that your investment paid off.
---
11. Ylovetoys Non-Toxic Mosquito Killer Lamp
This bug zapper is definitely one of the more unique-looking ones on this list. It irradiates bugs without the use of chemicals or radiation; it simply uses lights and fans for a healthier way of getting rid of the pest, making it safe to use around infants, pets, and pregnant women. What sets this design apart from the rest is that it takes a humanized approach to getting rid of bugs, with sensors turning on and off during peak bug activity time periods.
It is built using ABS flame retardant material and features a USB power cord and power adapter. Once captured in the mesh fabric, the bugs are contained so that they do not escape, storing up to 1000 bugs. Its rounded design and humanized feature allow more bugs to be captured and put to rest, giving you a more relaxed and bug-free life.
---
10. Stinger Flat Panel Bug Zapper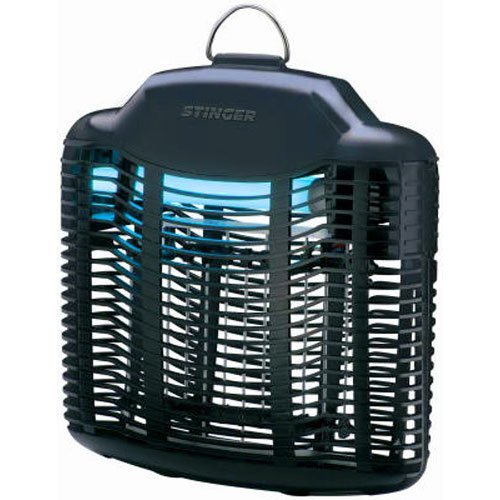 Fun fact: it is designed by Kaz Inc, the company responsible for the first electric vaporizer in 1926 and, alongside insect control, specializes in fans, humidifiers, and air and water purifiers.
It does not use any chemicals and, instead, uses its LED light. It is powerful enough to attract and eliminate bugs. On top of that, it is long lasting, researchable, cordless and comparatively cheaper than most bug zappers. It is a high-quality product, which is long lasting and has large area coverage. Have faith in the company which has been operating successfully for a long time now. It may not be aesthetically pleasing, but it is easy to use and gets the job done, giving you an insect-free and relatively healthier life.
---
9. SereneLife Waterproof Bug Zapper Review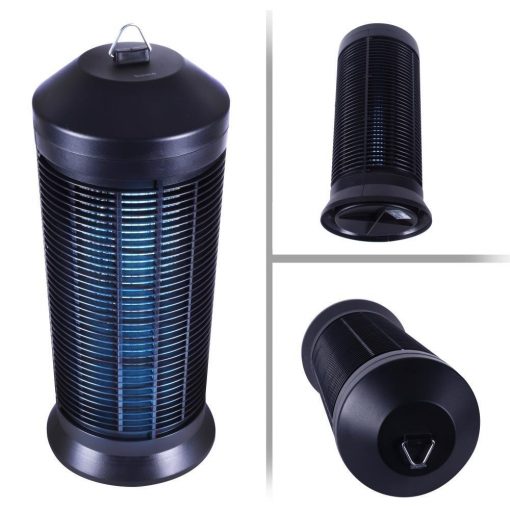 The SereneLife Waterproof Bug Zapper is highly effective and eliminates any and every unwanted pest.  It is easy to operate and is waterproof, giving it the advantage of being placed in the garden and not being damaged or being a hazard to anyone due to rain or any water source. It is aesthetically pleasing, so it can be placed inside the home or as a garden accessory with its jagged and durable design. It has a wide coverage using its UV light, which helps to attract and kill the pests. It is easy to operate and is eco-friendly. No harmful chemical or odor is released.
The only downside to this bug zapper is that it is relatively expensive. However, it is a one-time investment, as there are good reviews about it and since it is waterproof, it is long lasting and gets the job done, making life easy and bug-free for you.
---
8. X-CHENG Bug Zapper
The X-CHENG Bug Zapper has a 5-star rating on Amazon. It emits rays at a controlled frequency to lure and eliminate bugs by electrocuting them, making it a quick death. It is energy- and cost-efficient, consuming little energy, making it economical. It does not release any odor, sound or toxin that could be potentially harmful, giving you a relaxing and bug-free life. It is small and can be easily placed indoors or outdoors. It is simple and rounded, allowing it to emit rays at a more accurate 360-degree angle.
Due to its price being relatively low, you can save a large portion of your money as this bug zapper takes care of your daily hassle of dealing with bugs with just a few dollars. You may also purchase another one to multiply its effect if the bug infestation is large or if your living space is big.
---
7. Bantianjun Solar Bug Zapper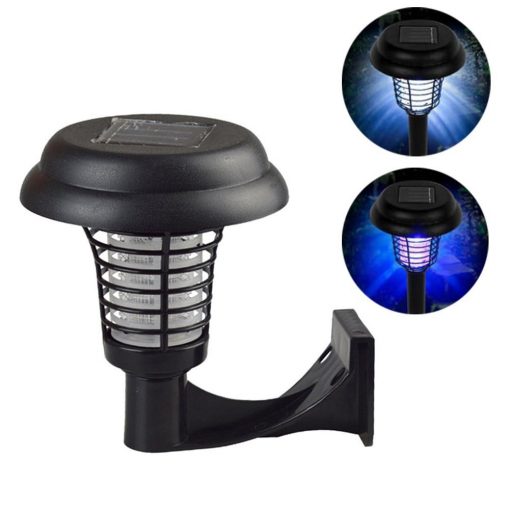 The Bantianjun Solar Bug Zapper has a 5-star rating and retails at a reasonable price, making it cheaper than most bug zappers. It uses a UV light along with electric shocks to kill bugs. It is aesthetically pleasing due to its simple and matte exterior. It has 2 modes: one with a white light to eliminate the land bugs and the purple light to zap bugs. It is environmentally friendly due to it being solar powered, making it economical as well.
This would allow you to save money and spend it on other things and if you are not satisfied with its service, you can return the bug zapper within 30 days of its purchase. It causes no odor or pollution. It is a relatively cheaper bug zapper which gets the job done effectively.
---
6. Hoont Indoor Robust Mosquito and Fly Trap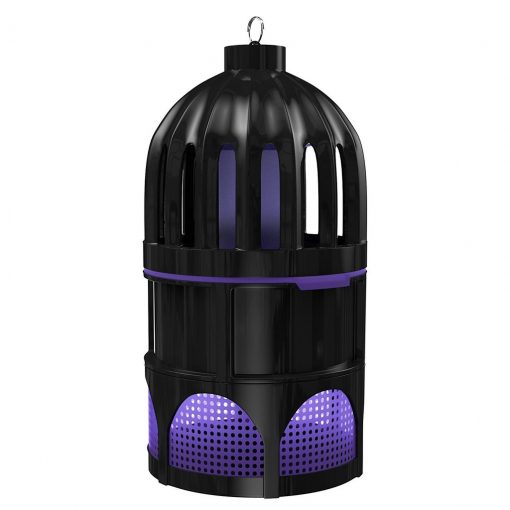 By simply switching it on, the trap uses 8 UV LED lights to lure the bugs within 500 sq ft and zaps them quickly, leaving no sound or odor behind. It can operate round the clock and is said to be long lasting. Another plus about this bug zapper is that it has low energy consumption, making it economical as well.
It is a good and aesthetically pleasing device, which can be very helpful around the house to get rid of unwanted bugs, with minimal costs and a one-time investment that will last long.
---
5. Luditek 2-in-1 LED Bug Light Bulb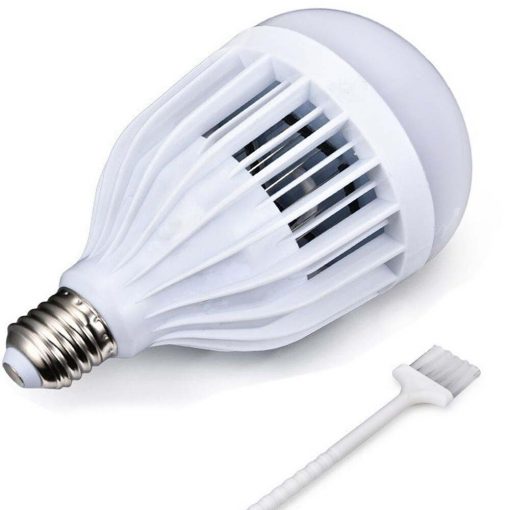 This innovative technology combines a light bulb and a bug zapper. Using efficient means through an LED light and UV rays, it attracts bugs nearby and kills them so that you will not have to deal with them. It is economical due to its conservation of energy. It is also easy to install and comes with a cleaning brush.
It is relatively cheap and highly effective. It does require the bulb to be cleaned, but its economic value outweighs the mere maintenance costs attached to it. It may not be aesthetically pleasing, but it is surely a quality product, eliminating the bugs that may have invaded your personal space. Relax and rest easy knowing that this bulb will make your life less stressful by removing the bugs from your life.
---
4. Hoont Powerful Electronic Indoor Bug Zapper Bulb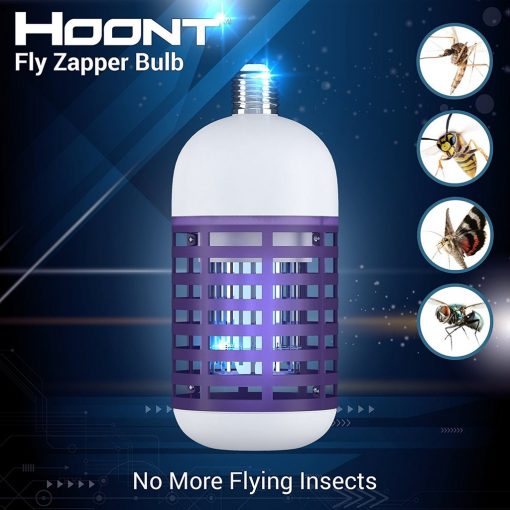 The Hoont bug zapper bulb can be installed both indoors and outdoors as long as the area remains dry. Using a high-intensity UV bulb that consumes only 7 W of power, it kills bugs effectively within a 360-degree and 500 sq ft radius with minimum maintenance cost and no pesticides. The bugs are killed and land on the tray after being zapped which can be removed and cleaned. It operates regularly, meaning that you just have to leave this bulb on and rest easy.
The only drawbacks may be that you will be required to change the bulb after it's stipulated lifespan ends, clean the tray every now and then, and shell out more money than you would have liked. However, you will have gotten rid of the bugs that have infested your life.
---
3. Arenaron Electric Bug Zapper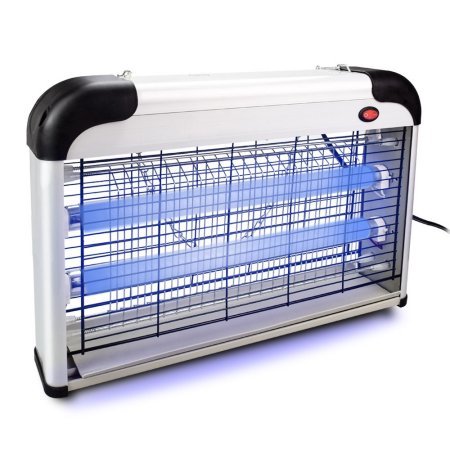 This bug zapper has good reviews on Amazon. It lures bugs and eradicates them quickly and efficiently.  It covers a fairly large area of 360 nm in wavelength using UV bulbs. The bugs around its 6000 sq ft radius are no match for it. It does not release any toxins, so it is not a hazard to your health and is easy to clean by removing the tray. It can be used both indoors as well as outdoors.
The only drawbacks may be that you can hear the 'zap' noise when a bug gets caught up in it, and it requires the tray to be cleaned. Otherwise, it is a fair price to pay for an efficient and useful product to rid yourself of the bugs that may be lurking around you.
---
2. Flowtorn BK-15D Electronic Insect Killer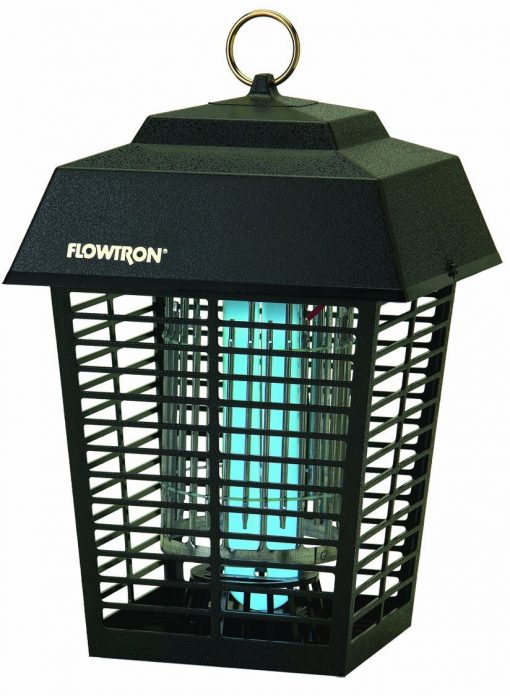 Flowtorn specializes in making outdoor environment control products. This particular model of the bug trap is available in various price ranges, depending on the coverage of the land. It does not clog up, making it efficient. It kills bugs quickly and efficiently. Keep in mind that it should not be used within 25 feet of human activity, and it should not be hung on any household entity. It uses a 15-watt bulb and operates continuously. It is often used with mosquito-attracting cartridges, which are replaced on a monthly basis.
Depending on how much you are willing to spend and the radius of your land, this bug trap does seem to do the job pretty well. For this particular model, it is recommended to be used outdoors due to its area coverage limitations and a shorter power cord, but if you require a much larger coverage, then other models are available for a higher price.
---
1. Electronic Fly Killer Sconce, 80 W, SS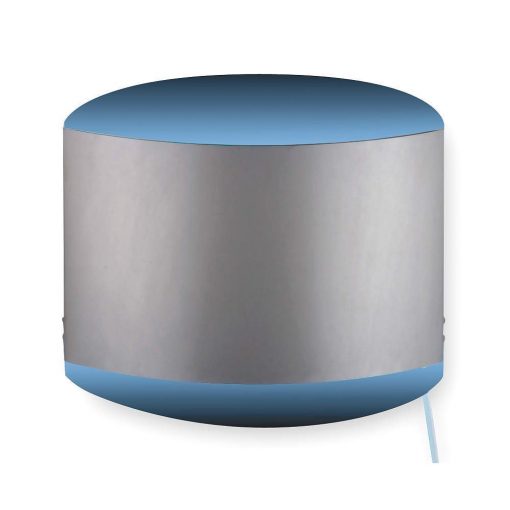 This small, aesthetically-pleasing, scone-shaped pod is one of the best sellers at Amazon for bug zappers. It retails at a high price, making it the most expensive on this list. However, this pod is worth its price. Made up of 2 lamps with 120 volts (a total of 80 watts), it covers 1200 sq ft. It also has a stainless steel cover and is ideal for restaurants, lounges, and schools. One of its key features is the fly sex pheromone which attracts bugs and kills them.
This futuristic-looking bug zapper may be expensive, but it is a quick and efficient way of getting rid of bugs, ideally for large spaces, giving you and the people around you a more relaxed and bug-free environment to work and enjoy.
---
Conclusion
Bugs are countless and they need to be controlled if they take over your living space as they carry diseases with them. Weighing the costs and your benefits is essential. There are traditional methods such as bug sprays, but their odor and toxicity can be harmful to household pets and human beings, which is why this list breaks down the top 17 bug zappers with an analysis for each of them. Each consumer has different tastes and preferences as well as a set budget. Hopefully, this list assists you in making the best decision.
Related stories you may like: