Asus Prime B350-PLUS is a budget motherboard that will work great for consumers that are on a budget, yet still, need a motherboard with AM4 socket that can be used for AMD Ryzen processor.
This motherboard has a good build quality and durability, Asus have saved some money on high-end features, however, the base is good. It isn't the cheapest motherboard and neither the most expensive, it sits in the mid-range.
Specifications
The ASUS Prime B350-Plus is made for AMD's Ryzen processors. It supports such features as dual-graphics, albeit as well as CPU overclocking.

However, if it's compared with X370, it has only four SATA ports (X370 has six), two USB 3.1 ports (X370 as six). It also doesn't support Nvidia's SLI or AMD's Crossfire. This board also features only one M.2 port, where most motherboards have two. It also doesn't have USB 3.1 type-C on its back plate and features only three audio output jacks. Otherwise, this motherboard does just fine. It has a peak memory speed of 3200MHz which is great for AMD Ryzen chips.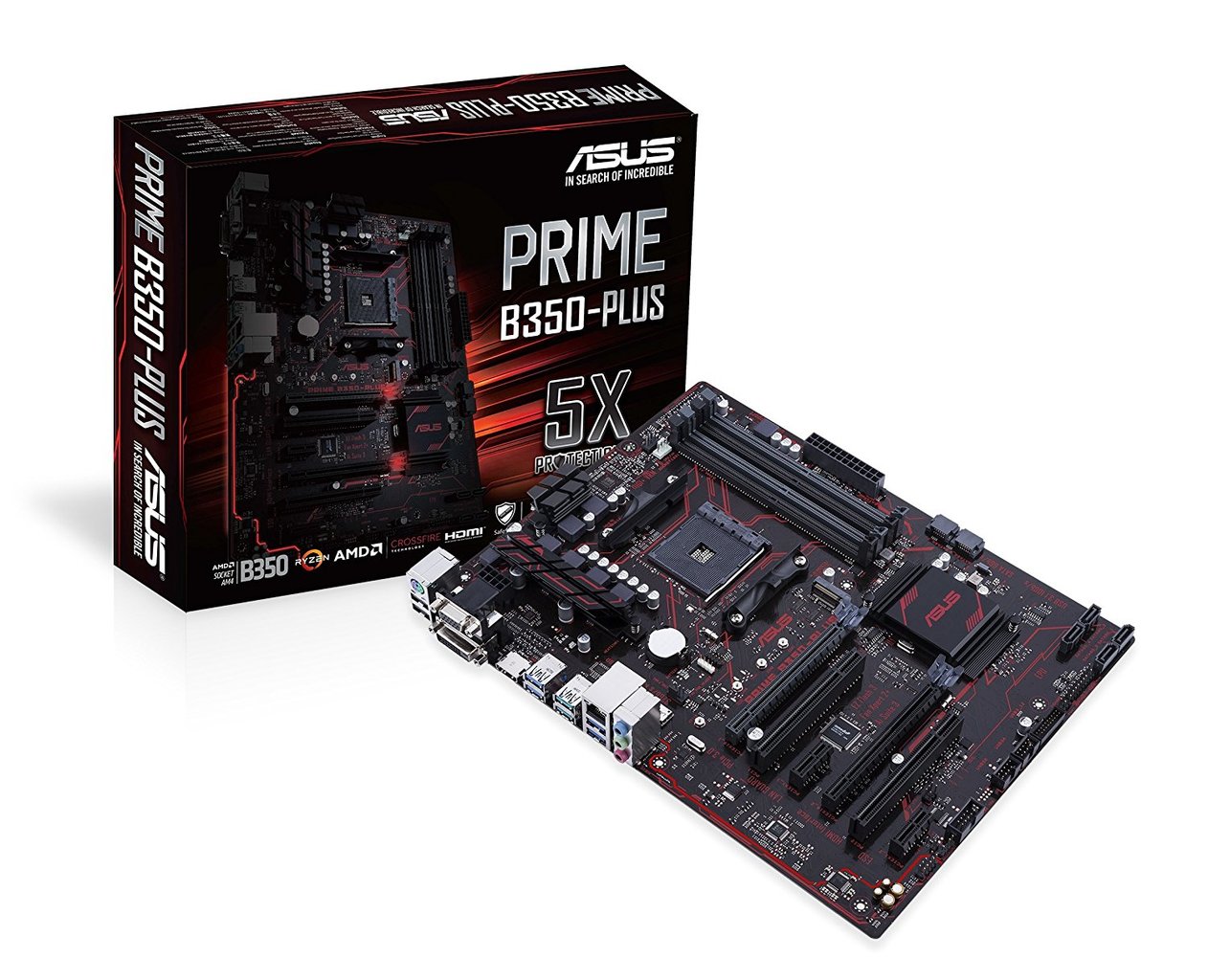 Design wise it's black with some red line accents, nothing fancy here, heat sinks are tiny. This board has three fan headers which is good for an average rig, however, not so great if you need more cooling.
Should you buy it?
Despite its lack of some features, Asus Prime B350-PLUS is still a great motherboard that doesn't cost too much. In fact, if you are in the market for B350 board, all of them will be similar and have quite the same specifications. Therefore, some feature drawbacks shouldn't limit you. You can still build a very capable rig with this motherboard if you pair it with a proper processor like AMD Ryzen 5 1600 which is excellent for mid range gaming/productivity PC build – the rig that most of the people will build using this board.
At the end, the motherboard isn't the component that affects your system's performance the most and for a cheap B350 Motherboard Asus Prime B350-PLUS is darn good.
Performance
While not being the most powerful motherboard out there even among B350 boards, it still works great. Good news is that even if this board isn't designed for serious overclocking, you can still manage to do it. We managed to overclock our AMD Ryzen 5 1600 processor to steady 3.8 GHz. However, in the result of this voltage increased to 1.45 Volts which isn't recommended by AMD as it can hurt your processor's longevity.
Verdict
Asus Prime B350-PLUS Motherboard has AM4 socket therefore, it's superb for AMD Ryzen processors. It has four RAM slots and a maximum system memory of 64GB. It will be more than ok for a casual gamer, you can also do overclocking with it. You can save a lot of money on this sub-100$ motherboard.
PROS
Good set of base features
High power efficiency
Affordable price
CONS
Doesn't have high-end features
Performance could be better
Fresh breathing CPU LED strips
This ASUS B350 motherboard doesn't have any high-end features nor super fast performance, however, fot his price range it does extremely well and at the end it's all you want from a motherboard. Paired with an AMD's Ryzen series processor, you get a cheap yet very well performing system.