Nowadays, it is normal to have up to 10 different devices in one family. Tablets, laptops and phones, gaming consoles – you name it. Thanks to different subscription plans, some devices can be used and shared with multiple people.
But when it comes to charging, when you got 10 different devices, it can be a pain in the ass, to find a free spot where to charge your device.
Moreover, sometimes you even forget which charger went to which device, which charger is yours and which device is charging the longest. You get the picture, right? Like with everything (almost everything), there is a solution for this problem. After surfing around the internet I found top rated charging stations for apple products.
So don't leave, keep reading and check some of the charging stations that can make your electronic life much easier. And as we live in this technological century, I believe that every house needs a qualitative charging station. Let's start!
Related stories:
[icons icon="star" color="#dd0000″] 
Satechi 7-port charging station
At first, it looks cool, doesn't it? Satechi did an amazing job by putting this 7-port charging station together. Yes, it is nothing fancy, if I have to mention its design, but perfectly can hold and charge up to 7 different devices and still keep everything organized. For cord management, Satechi in its charging station have included velcro straps. Of course, if you don't have up to 7 different devices, why would you buy this product? And the answer is "you wouldn't". But, if you are tech geek or simply your family have different apple products, this is a great product to have in your home.
---
[icons icon="star" color="#dd0000″] 
Bamboo charging station
If you are looking for something more, rather than just a simple charging station, then this eco-friendly bamboo charging station is just what you are looking for. Its capacity is not that big as other charging stations have, but it allows you to charge up to three phones in the front and two phones and your laptop. Its cool wood look stands out and will fit in your room just perfectly. Affordable, stylish and qualitative charging station.
---
[icons icon="star" color="#dd0000″] 
Unitek charging station
Heavy artillery right here. The Unitek charging station looks like most of the charging stations on the market, but what makes it so special, is its 10 ports for charging your devices. Additionally, this charger has built-in overheating protection. Basically, with its help you will not overcharge or overheat your devices. And if you got up to 10 different devices, you can get lost, which devices are charging long enough and which one you just plugged in.
---
[icons icon="star" color="#dd0000″] 
MobileVision bamboo charging station
What stands out at first, is its stylish bamboo and a small place for your apple watch. This MobileVision charging station allows you to charge 2 tablets, 2 laptops and up to 3 phones. What makes this product more special, is its special place for your apple watch. Not all of the charging stations out there are thinking and offering shelves for your watches. A bit more expensive than the regular charging stations, but you pay what you get. And with purchasing this product, you get a design and qualitative charging for your Apple products. 
---
[icons icon="star" color="#dd0000″] 
Lipper International charging station
This is a perfect alternative for students, who got an iPad, Macbook and iPhone. Simple, but with a cool design and qualitative material, The Lipper International charging station will help you to charge 3 phones at the same time. Moreover, why I believe it is perfect for students? Because it is affordable and has enough ports for your devices. Most of the times, the design for particular charging station looks great, but if it has 8 or more charging ports, instead of only 3 or 4, it may be a deal-breaker.
---
[icons icon="star" color="#dd0000″] 
Handmade pine charging station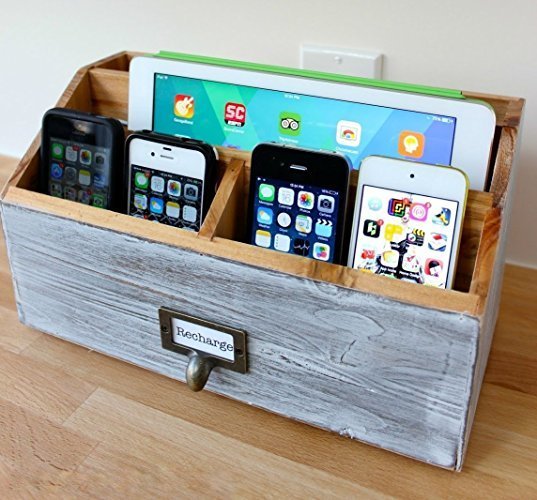 Handmade is handmade. A person has invested his time and efforts to make a particular product. Also, in this way you can be sure that you will be the only one in your neighbourhood, who got amazing and cool handmade charging station. This pine charging station allows you to charge up to 4 iPhones and an iPad.
---
[icons icon="star" color="#dd0000″] 
Juicy Power charging station
This is a perfect solution for those who got up to 7 different devices. With Juicy Power charging station, you can charge all your devices simultaneously. Its colourful base and organized section divider will let you place this charging station in your office or bedroom. Yes, it doesn't have a cool design which stands out. Not at all. Instead, this baby got fast and reliable charging station which will charge your devices without harming them and overheating.
---
[icons icon="star" color="#dd0000″] 
EasyAcc charging station
No more wood or bamboo. EasyAcc charging station will fit perfectly for business people, simple because of its casual look. And if you are concerned about maintenance of this charging station, I can calm you down – its faux leather is easy to clean and take care of. Other great feature what EasyAcc charging station has, is its organization feature. You can stash things like rulers and other desk attributes in one place.
---
[icons icon="star" color="#dd0000″] 
iPhone, iPad and Apple Watch leatherette charging station
Another great charging station for Apple fanatics. It allows you to charge up to 2 phones, your watch and an iPad. And as its capacity is a lot smaller than others, it will not take a lot of place in your office or whenever you are storing this charging station. Affordable and great product.
---
[icons icon="star" color="#dd0000″] 
Gofranco charging station
And our last contender – Gofranco 7-port charging station. Its smooth white look stands out. What makes this charging station better than others? Having a built-in protection for charging your devices. No more damaged batteries and overheated phones. Gofranco recognizes when devices are fully charged and stops charging automatically. So this is a great feature for those, who leaves their devices charging during the night.
---
Then end word
Like with everything nowadays, there is a bunch of products to choose from. Some charging stations for Apple are more expensive, some are more affordable, but at the end of the day, it's all about the quality. Here you saw top 10 apple charging stations. Now, when you got some insights, take time, look around and check what other people are saying about your desired charging station.