Since its launch back in November of 2013, Xbox One has gained great popularity among gamers, by delivering an outstanding gaming experience.
Recently Microsoft releases new Xbox One bundles quite often, and they are very popular for a reason. Usually, Xbox Bundle Deals come with capacity bigger than original Xbox One, for example, Xbox One 1TB – 5 Games Holiday Bundle.
There are tons of excellent games for Xbox One so creating a list of the best games was a tough job, but we tried our best. Our buying guide of best games for Xbox One will help both experienced gamers and people who have just bought their first Xbox console. Since we are constantly updating the list, you can be sure that it will always contain the latest and most magnificent games.
How to find what you're looking for?
To people who are new to gaming all the specific terms like RPG or FPS don't really mean much, which is why we have added a short introduction on how to understand what a game has to offer.
RPG stand for Role-Playing Game, which means a game involving one main character going through quests, gaining experience and leveling up. These games are focused more on guiding you through the world more carefully and having you explore stories, with action-packed combat being secondary. If that action-packed combat is exactly what you are looking for, action & adventure games are made for you. These games still retain many features of an RPG, like quests and leveling up characters but the focus here is more on one linear story with less exploring and more fighting.
Racing games don't really need much of an explanation, however, modern racing games provide much more customization and gameplay options than you might think at first. Sports games, similarly to racing games, do what it says on the can (FIFA and NBA games) with rare exceptions like Rocket League adding new and extravagant concepts to the genre. Platformers are 2-dimensional games that have you jumping over obstacles and fighting through separate levels. The most popular example that pretty much everyone knows would be Mario games.
Also worth noting to some people is the age rating of a game, for example, if you want to buy a game as a gift to a kid. All of these are pretty straight-forward – M for Mature (17+) means the game is suited only for adults as there can be violence, gore and possibly sex scenes. T for Teen may involve some violence, but it is far from graphic, making games with this rating suited for everyone but children before the age of 10-12. E for Everyone is, well, suited for everyone since there is no realistic violence in these games.
Our picks for the best Xbox One game
[supsystic-tables id=187]
Note that the games on our list are in no specific order since the quality of a game depends largely on one's taste, which is the main basis for including what we consider the best Xbox One games from different genres, rather than a ton of similar, well-made games.
If you don't want to slowly browse through our list, then below is a shorter list you can use to navigate our picks for the best Xbox One game:
[su_expand more_text="
Show table of contents
" less_text="Close table of contents" height="0″ link_color="#333333″]
[su_list icon="icon: bookmark" icon_color="#1b1c20″]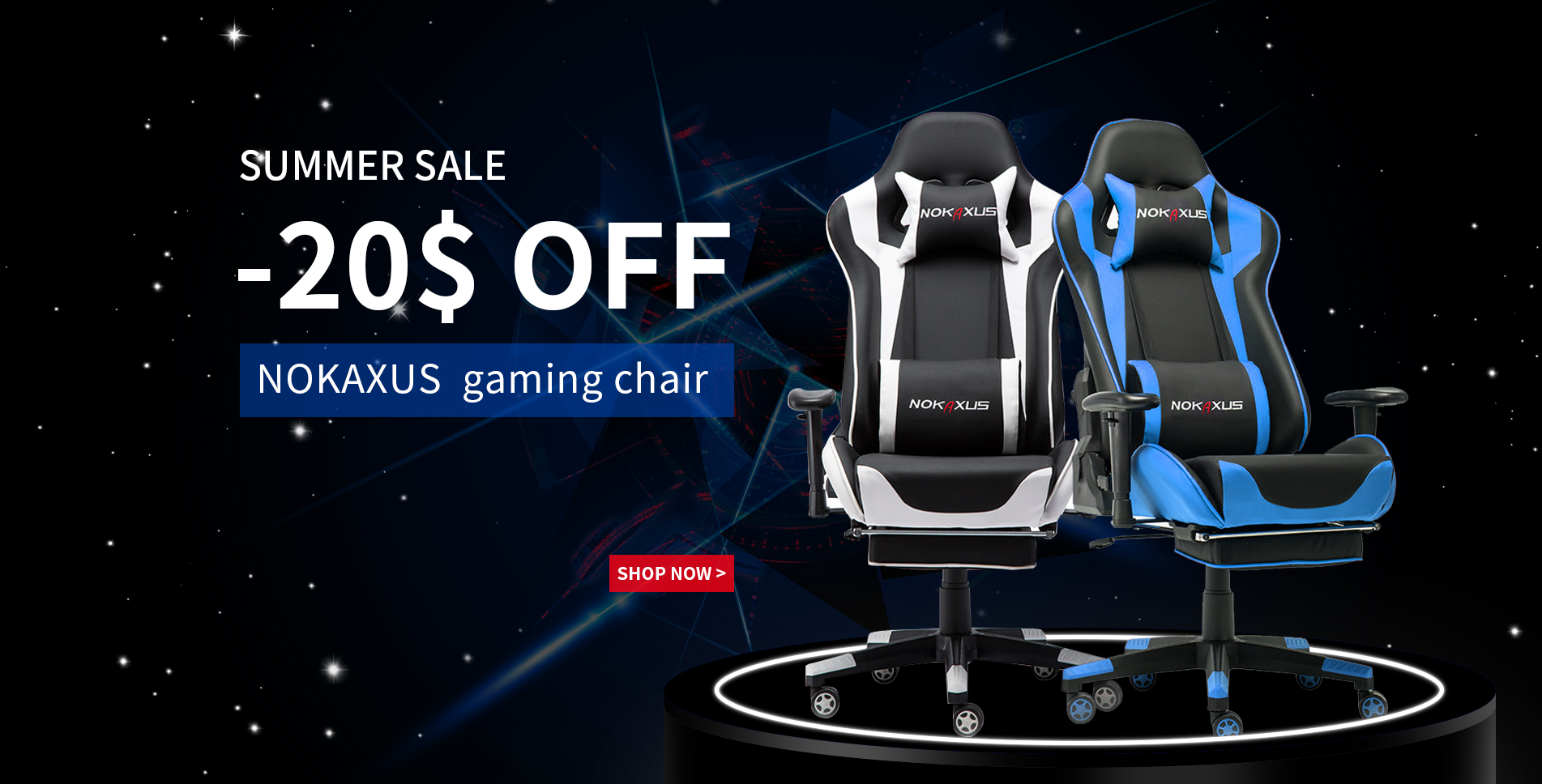 [/su_list][/su_expand]
Related articles:
[su_list icon="icon: external-link-square" icon_color="#000000″]
[/su_list]
1: Battlefield 1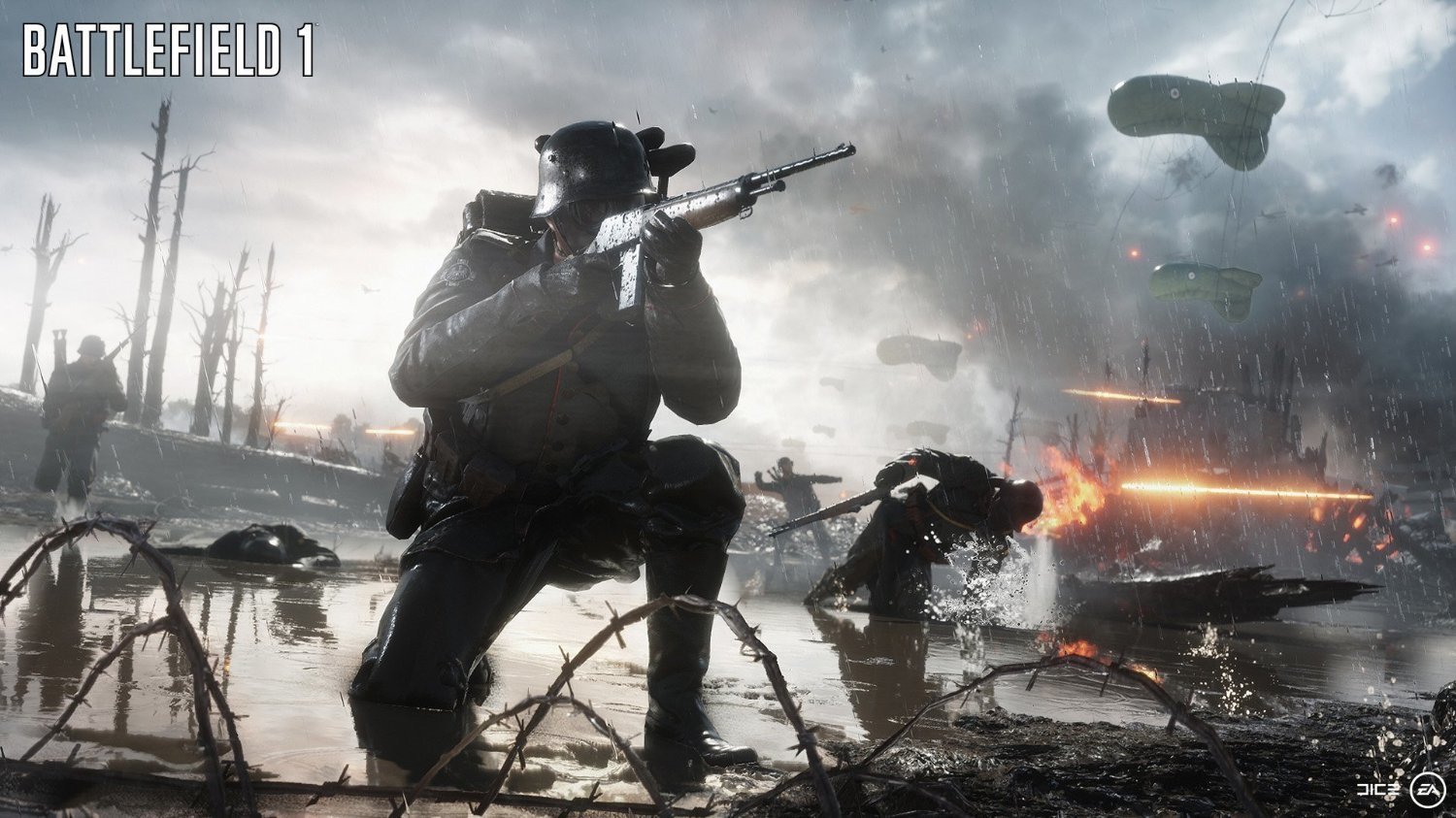 [amazonjs asin="B01F9HMO9S" locale="US" title="Battlefield 1 – Xbox One"]
This is one of the most anticipated Xbox One game last year. Yes, we all waited for Battlefield 5 and got Battlefield 1. This game doesn't go to future wars, but instead, it goes back to World War 1, which is something new because most WW games are about World War 2. Be a part of the greatest World War 1 battles ever known – from the deserts of Arabia to the heavily defended Alps, it's a war on an epic scale on sea, land, and air.
Battlefield 1 has mechanics similar to previous Battlefield games, except in the WW1 setting – having different classes to fulfill different roles in the huge multiplayer battles, unlocking different weapons and gear as you play the game and gain experience, using ground and air vehicles to change the course of battles etc. At the same time, the WW1 setting changes the specifics of all these mechanics – instead of modern, lock-on, automatic weaponry and tech you have clunky weapons and slow vehicles.
You can also play the single-player campaign, although it hasn't gotten high acclaim as the main focus of all the Battlefield games, including this one, has been multiplayer. But it's a nice addition to an already great game.
If you are into FPS games but want that experience in a more historic setting, then this is your game. While there may be more modern weapons in the game than there were in actual WW1, the game still stays true enough to the period setting while providing riveting game mechanics similar to what the previous Battlefield games have delivered.
Size: 40-45 GB
Rating: M (Mature 17+)
Release date: September 27, 2016
Genre: First-Person Shooter
Developer: Playground games
2: Gears Of War 4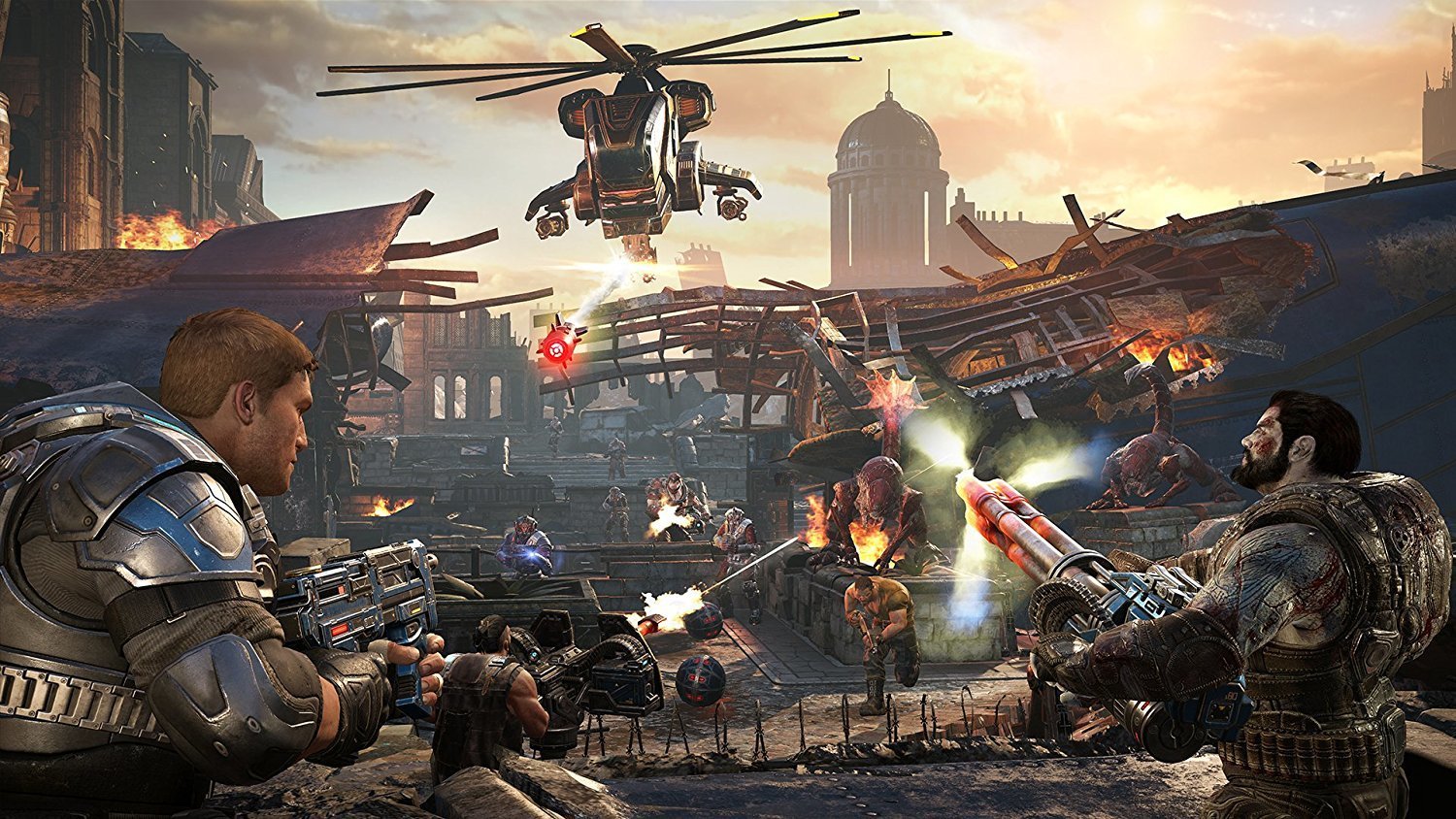 [amazonjs asin="B00ZPTMX60″ locale="US" title="Gears of War 4 – Xbox One"]
As one the best-known game franchises, Gears of War has always provided hours of fun for its fans, with the fourth installment being no exception. Gears 4 campaign starts off 25 years after the events of the first trilogy, with fan-favourite Marcus Fenix now filling the role of a mentor to his son, the new main playable character J.D. Fenix. He then goes on to fight battles against the new alien threats and side-effects of the victories achieved in the first three games.
https://www.youtube.com/watch?v=ji2aU4EdQww
Gears of War 4 is a fast paced action shooter with many different and unique weapons, some of which are new and some are well-known fan favorites, like the Lancer. Different enemies with different weaknesses make the cover based combat much more interesting, with weather effects adding to the variety of combat situations. For example, the wind from strong storms can affect projectile trajectories etc. The game provides a well-crafted story campaign that you can play with a friend either online or via split-screen. Gears 4 also has many different multiplayer game modes to choose from, each having completely different game mechanics and objectives which have also been improved and polished.
Same as previous games, Gears of War 4 will have something to offer to any player who enjoys shooters, whether it be the fun multiplayer game modes or the brand new campaign introducing new characters into the world.
Size: 54.65GB – 80GB
Game rating: M (Mature 17+)
Release date: October 11, 2016
Genre: Action & Adventure
Developer: The Coalition
3: Fallout 4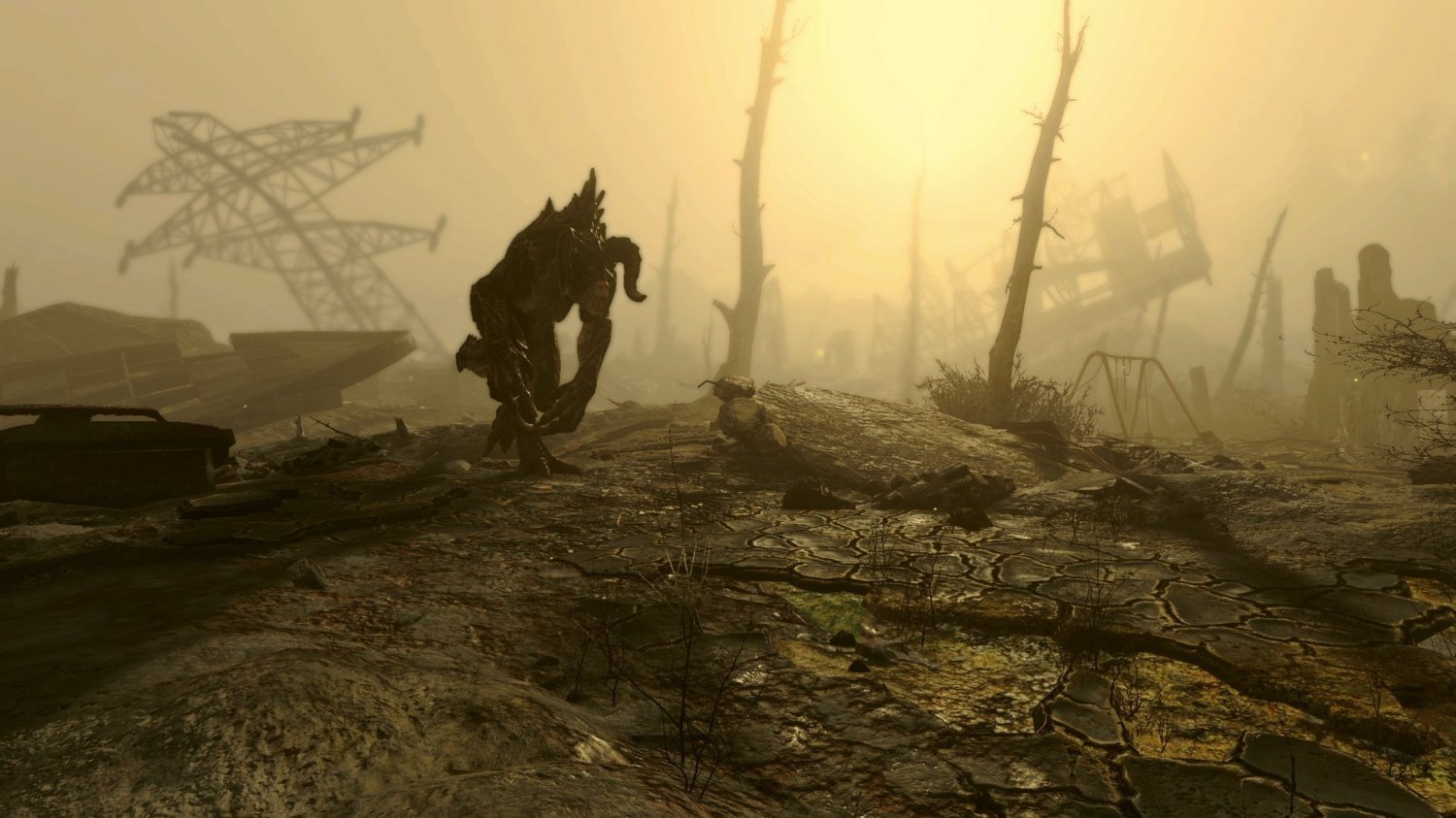 [amazonjs asin="B00YQ1NOPM" locale="US" title="Fallout 4 – Xbox One"]
Bethesda is well known for their fun and well-made RPG worlds and Fallout 4 is no exception. This game has an array of different futuristic weapons and armor, as well as many interesting stories, factions, characters and companions to have you exploring the vast game world for days-on-end. This world is filled with fascinating creatures mutated by the radiation, beautiful vistas of the crumbling 50's-themed future setting, and many factions with stories that fill every nook and cranny of the world.
Fallout 4 takes you to post-apocalyptic America, specifically the Boston area, where the survivors of a nuclear war try to survive and build new societies among the relics of the old world. You play as one of these survivors – a vault dweller, who had the chance to hide and wait out the nuclear fallout in what is basically a reinforced bunker. However, the nuclear destruction is not your only concern, as other survivors, now turned criminals, steal your baby from cryo-stasis, setting the hero up for a riveting quest, with many more side stories to follow.
The story has always been the main focus of all games in the Fallout franchise, with the fourth installment being no different. However, the developers at Bethesda gave more attention to gameplay specifics than before by making Fallout 4 a more polished, responsive shooter. They have also included features like base building, complex weapon and armor modification, and have finally given their main character a voice.
Aside from a few insignificant bugs, Fallout 4 is not just one of the best games of late, it is a must-have for anyone who loves story-based games built in intricate and interesting worlds.
Size: 30GB
Game rating: M (Mature 17+)
Release date: November 10, 2015
Genre: Role-Playing
Developer: Bethesda Game Studios
4: Titanfall 2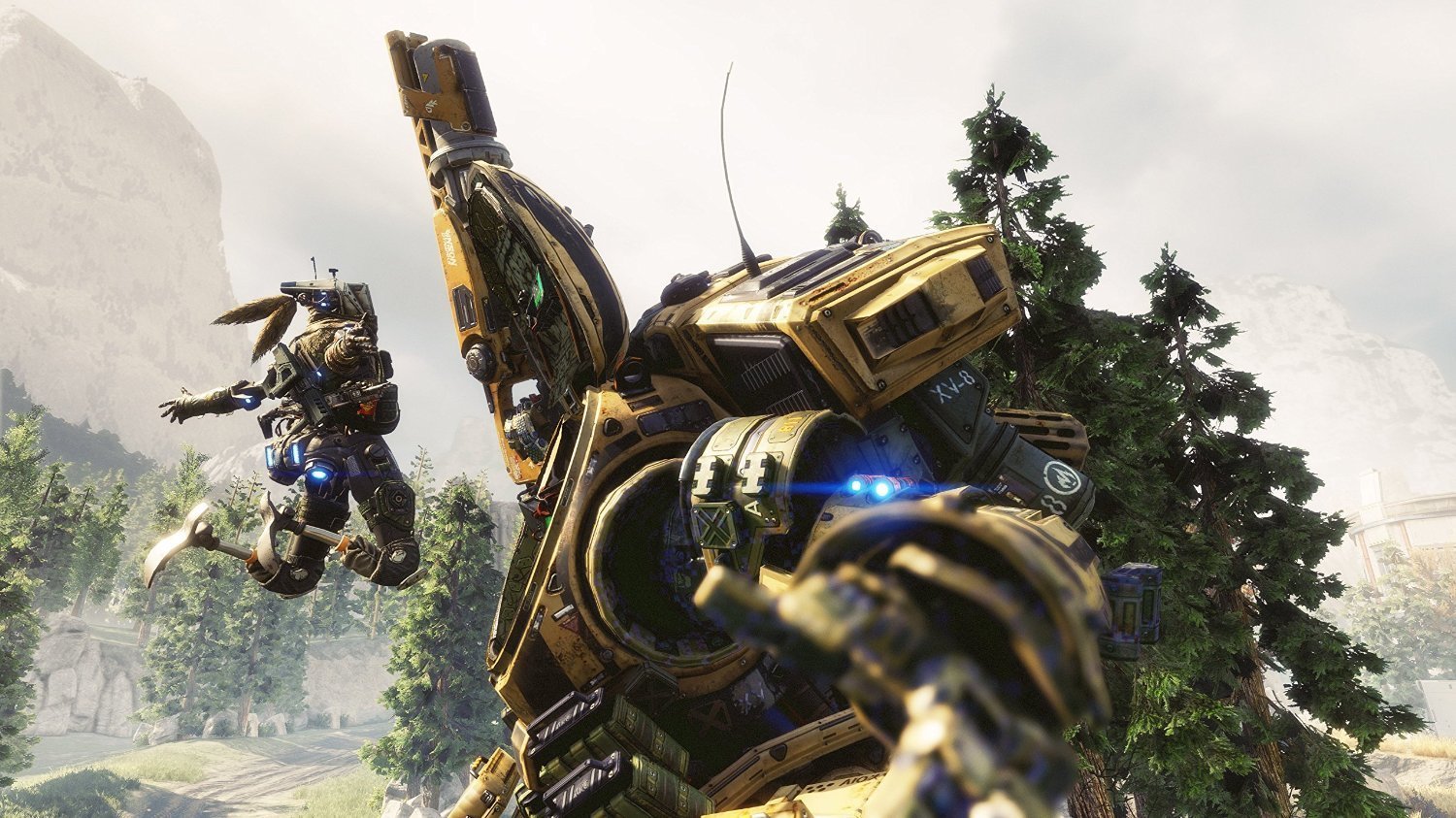 [amazonjs asin="B01GKGVIB2″ locale="US" title="Titanfall 2 – Xbox One"]
Titanfall 2 is one of the best sequels to a game we've ever seen, as it builds on everything that fans loved about the first game and fixes pretty much every major issue that gamers had with it. Not only does this game give players a huge amount of customization options, classes and game modes to choose from when playing online, it also has a single-player campaign – something that the first game never had but needed a lot. In this campaign, you play as a titan pilot Jack Cooper, who is stranded on an alien planet and finds a companion and a friend in a form of a sentient titan named BT.
The gameplay of Titanfall, similarly to the first game, mainly involves playing as a human operator, who can take care of enemies and objectives either via fast-paced on-foot combat involving parkouring through levels or by hopping into a titan, which is a huge war robot that can only be matched by others of its kind on open battlefields. Needless to say, the interaction between the two combat types is what makes the game stand out and provides a unique experience even for hardened FPS players.
The countless weapons, modifications, abilities and skins give you the option to choose your favorite way of playing the game and customize it down to the tiniest details, with a rewarding progression system that doesn't make this customization a slow grind. Titanfall 2 is a great shooter that really delivered what fans expected and added so much more to an already successful game.
Size: 42.6GB
Rating: M (Mature 17+)
Release date: October 28, 2016
Genre: First Person Shooter
Developer: Respawn Entertainment
5: Forza Horizon 3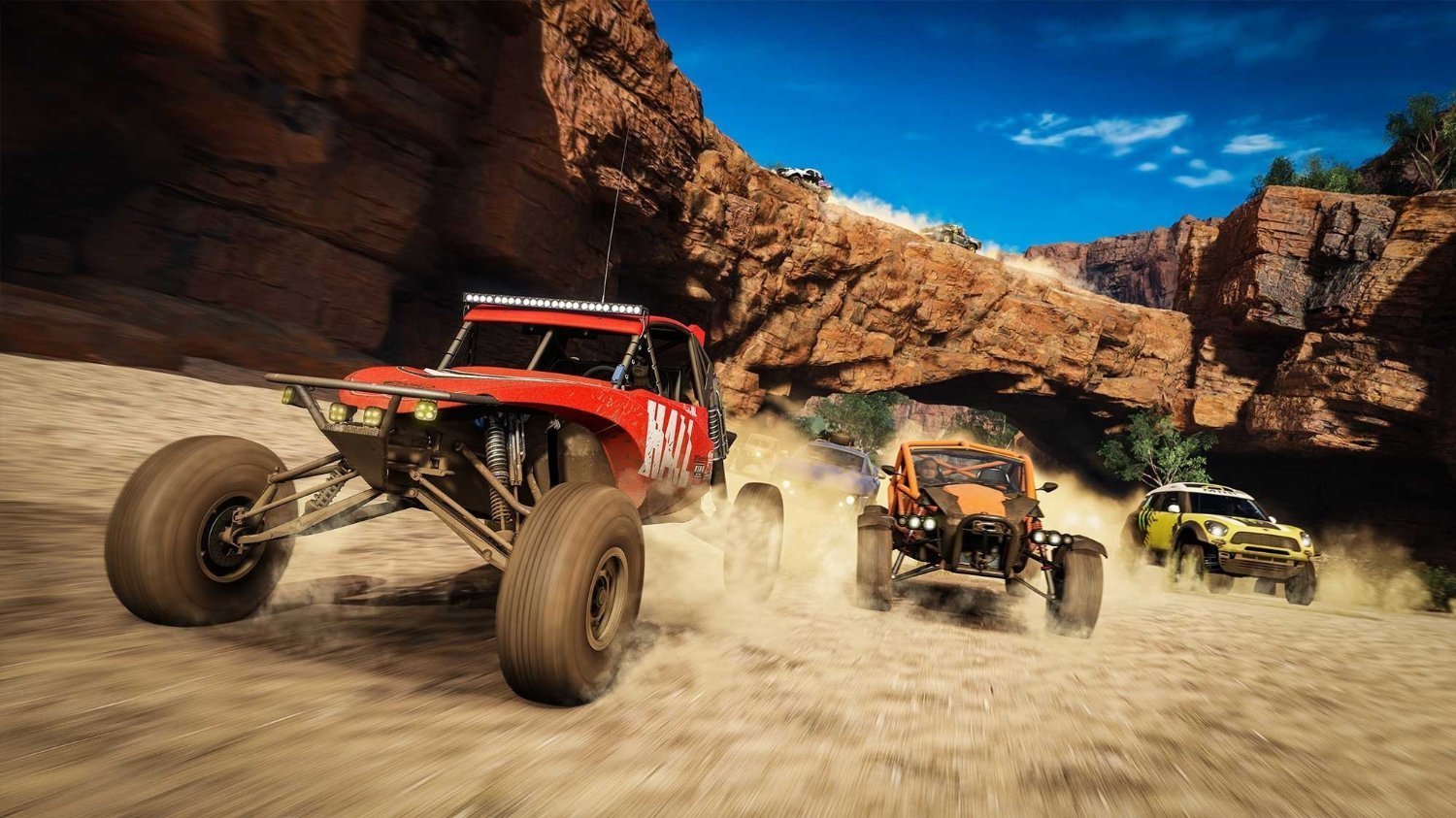 [amazonjs asin="B01GW3LREG" locale="US" title="Forza Horizon 3 – Ultimate Edition – Xbox One"]
Considered to be one of the best racing games currently, Forza Horizon 3 is a racing game full of customization options and ways to play the game as you please. This time around gamers can experience the beautiful vistas of Australia, from desert roads to forests and beaches, with high visual quality un superb lighting making the experience that much more enjoyable. The only downside of these visuals is the game being locked to 30 frames per second on consoles, including Xbox One.
https://www.youtube.com/watch?v=fTSUgXkfooA
Racing games may often seem dull and repetitive, but Forza proves that belief to be completely wrong. There are endless customization options for each of the hundreds of cars the game has to offer. The game also lets you play either optional co-op career missions with your friends or race other players in the beautiful game world in both developer or player made multiplayer races. Forza allows you to change its world so you can have the best time racing your favorite cars.
Forza Horizon 3 is currently the best realistic racing game since it covers all the needs pretty much any fan of racing games might want in their gaming experience.
Size: 46-50 GB
Rating: E (Everyone)
Release date: September 27, 2016
Genre: Racing
Developer: Playground games
6: GTA V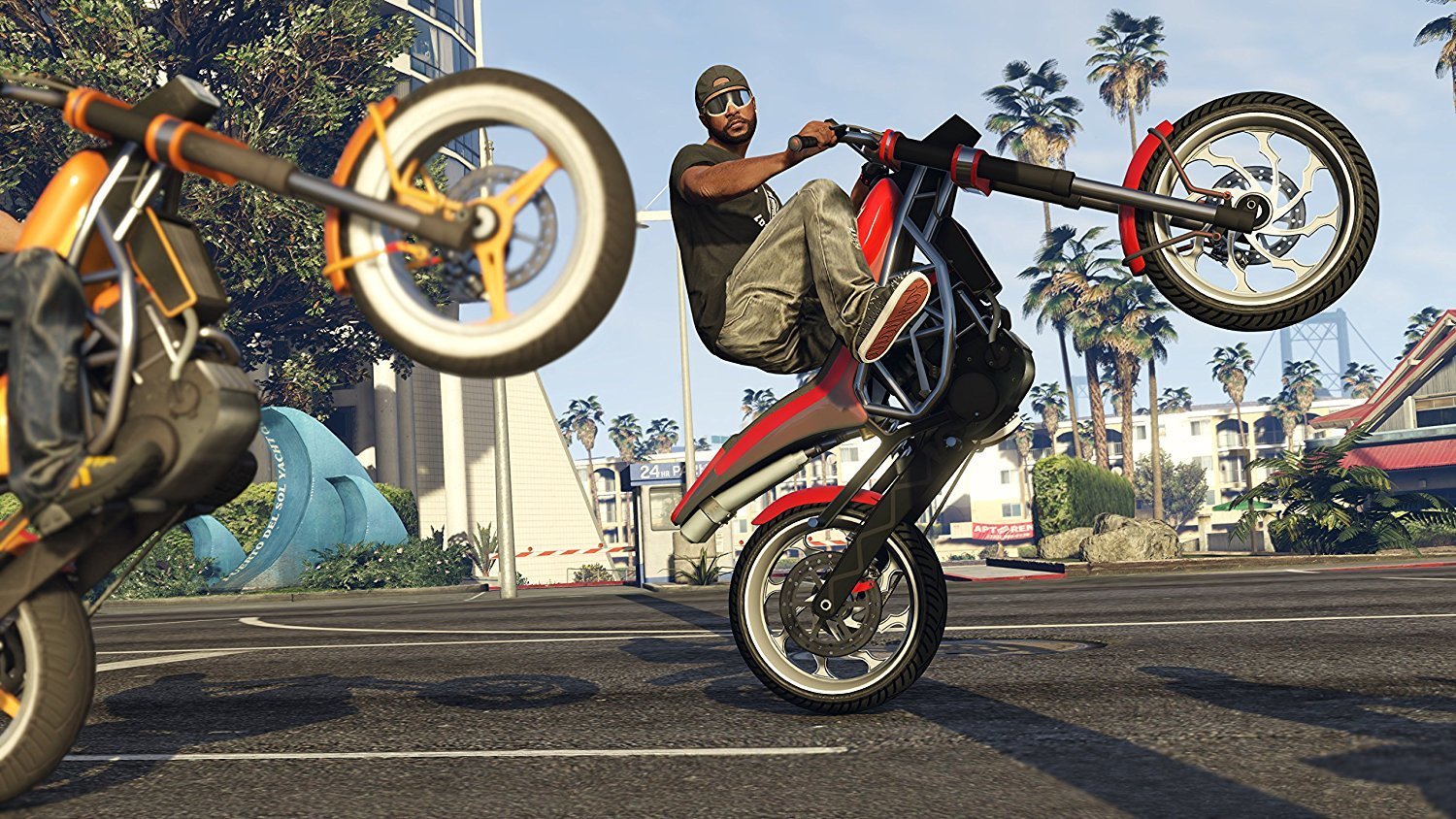 [amazonjs asin="B00KVSQAGO" locale="US" title="Grand Theft Auto V – Xbox One"]
Pretty much everyone who has any knowledge about video games will recognize this title. Grand Theft Auto V is a shooter where you play as a criminal and are given options to steal and drive cars, acquire and fire guns at everything that moves and complete countless different missions. This game has a single-player campaign where you follow the adventures of Michael, Franklin, and Trevor, as the trio try to establish dominance over the criminal underbelly of Los Santos.
But if your main focus is multiplayer, the game also has a whole array of different game modes, including racing, car sumo, capture the flag, deathmatch and much, much more. This iteration of the franchise crosses the boundaries of reality even more than previous titles, by letting you play Tron bike deathmatches, or racing with rocket-booster cars or Night Rider themed cars that can jump and deploy parachutes. The only downside is very long wait times in multiplayer lobbies, especially if you're looking to play with a large party of people.
With the game content constantly being updated and improved, GTA V can provide a huge amount of activities for any gamer, whether you like shooters, racing games or RPGs, this game always has something for you.
Size: 57.4-60 GB
Rating: M (Mature 17+)
Release date: November 18, 2014
Genre: Action & Adventure
Developer: Rockstar North
7: The Witcher 3: Wild Hunt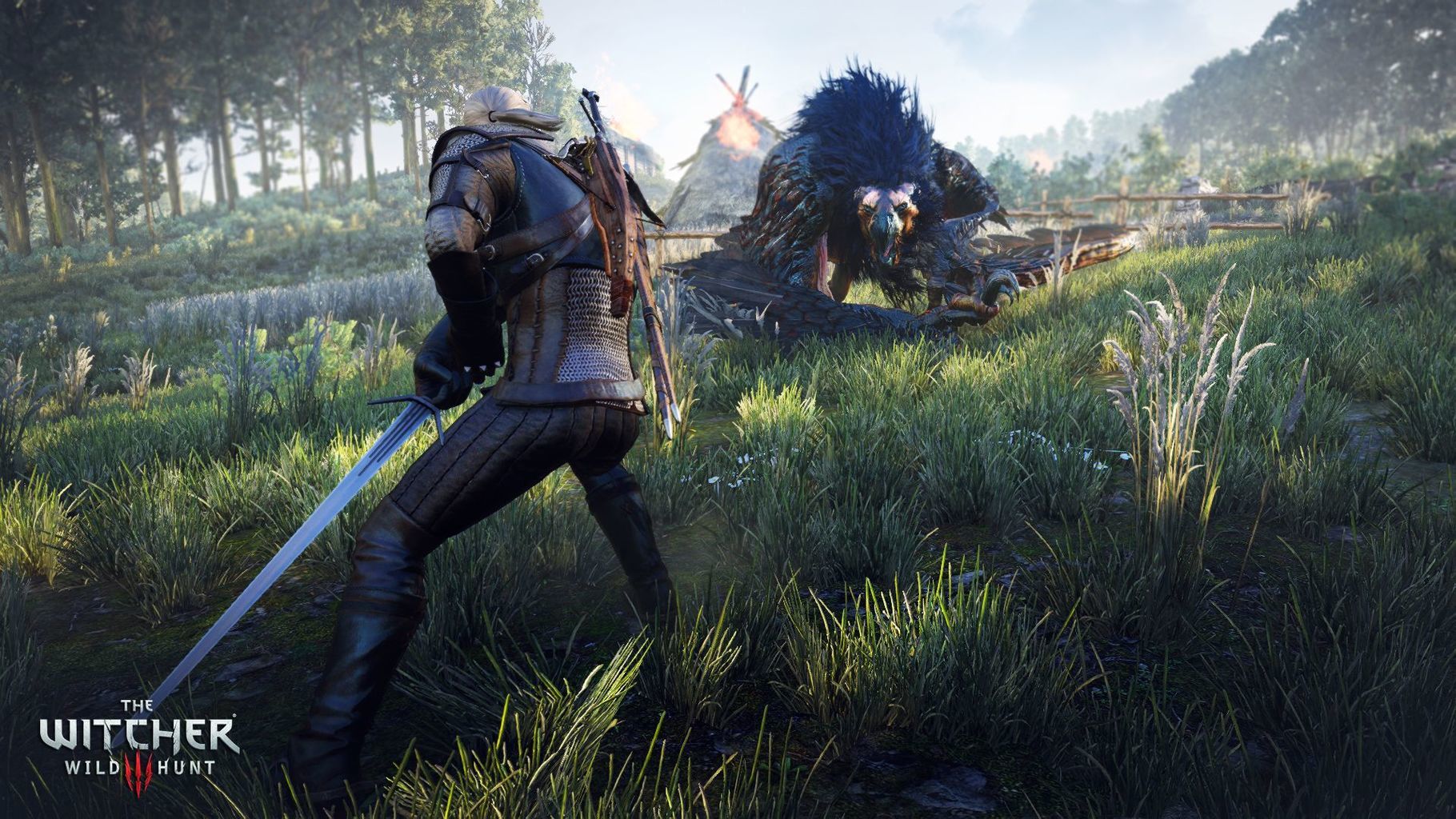 [amazonjs asin="B00WTI2HV6″ locale="US" title="The Witcher 3: Wild Hunt – Xbox One"]
The third installment in the series ramps up everything that the fans know and love about the franchise, with the well-crafted and huge world attracting many new fans. Witcher 3 is an RPG set in a medieval time fantasy setting, where you play as Geralt, who, as the name of the game suggests, is a witcher. As a witcher, Geralt has to fight an overwhelming amount of different monsters, each with unique properties, strengths, and weaknesses, while also embarking on a quest to save the world from an apocalyptic event.
As it is with all RPGs, you upgrade your hero by collecting experience, leveling up and collecting gear that you can find by either completing the countless quests, each with its own little backstory or by simply exploring the vast and beautiful game world. The Witcher lore is very rich and provides thorough explanations for everything you can find in the world.
Only real downside to the game are some bugs that some people have encountered. This game can also become a huge time-sink, so if you value leaving your house, be careful, because The Witcher 3 can make you spend hours-on-end on exploring all the adventures that the game offers.
Many reviews have deemed Witcher 3 one of the best Xbox One games to come out the past few years, which on its own is proof of how good this game is. A must-have if you like interesting worlds in story-based games.
Size: 30.4-35 GB
Rating: M (Mature 17+)
Release date: May 19, 2015
Genre: Role-Playing
Developer: CD Projekt
8: Overwatch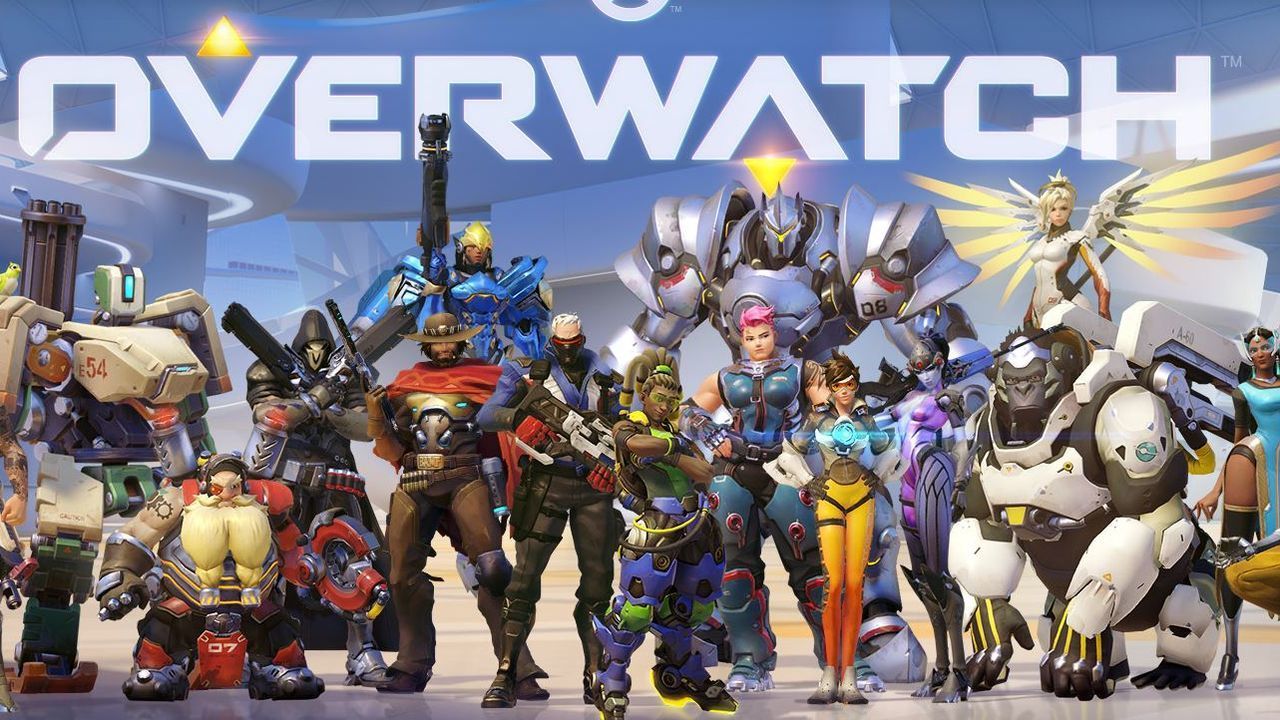 [amazonjs asin="B017L187LE" locale="US" title="Overwatch – Origins Edition – Xbox One"]
The latest huge release by Blizzard, Overwatch is a game that has re-ignited the genre that Team Fortress 2 never really made popular enough. Hero shooters, as they are called now, are games featuring a roster of different characters with vastly different abilities and properties, that you use in team fights in an FPS environment. You can play a couple different team-based game modes, including point capture, payload or king of the hill, with occasional seasonal events providing interesting spins on the main gameplay modes.
The main strength of Overwatch is its diverse heroes with different characteristics not only in-game but also in the lore that Blizzard is building around the game. When armies of omnics (sentient robots and their overlords) attacked the human race, a special task force was created, called Overwatch. After saving the world from the omnic threat, Overwatch encountered many internal issues as well as the public beginning to trust them less and less, so the organization disbanded. The game is set many years after this, where different ex-Overwatch members and different villainous characters are involved in a new omnic uprising and new conspiracies.
Overwatch is definitely a fun experience, with no two matches being exactly the same, however, the main focus of the game is still a pretty small amount of different game modes. In a way, it is focused more on competitive team play instead of a huge variety of experiences for a singular player, so keep that in mind if your focus is more on the story and character development, instead of skill development in a somewhat repetitive environment. Also, a thing that has become a bit of a meme around the game is the integration of the lore into the gameplay – you can have mortal enemies on the same team fighting for or against the same cause. Other than that and personal preference, there are no major downsides to this amazing game.
Size: 7.04 GB
Rating: T (Teen)
Release date: May 24, 2016
Genre: First-Person Shooter, "Hero Shooter"
Developer: Activision Blizzard
9: Dark Souls 3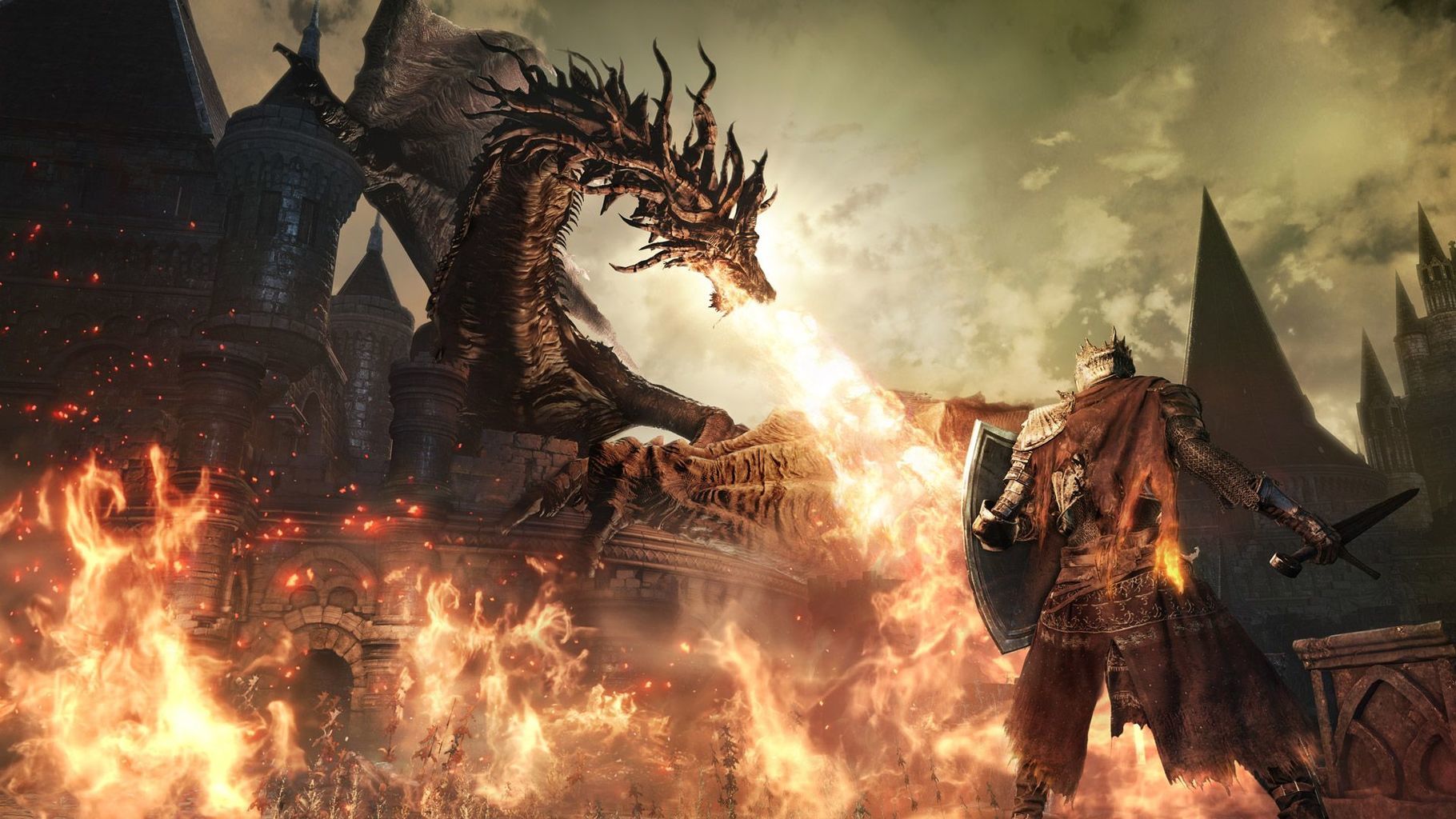 [amazonjs asin="B00Z9LUCEY" locale="US" title="Dark Souls III – Xbox One Standard Edition"]
If you want the most challenging gameplay experience you can get, Dark Souls 3 is your game. Know by any hardcore gamer as one of the hardest games to date, Dark Souls puts the protagonist in the dreary, derelict world full of dark creatures called the Kingdom of Lothric. In this game, your main objective is basically saving the world from eternal darkness by making previous saviors of the world fulfill their duty again and sacrifice themselves to keep the apocalypse from happening. How do you accomplish that? By fighting countless super-hard bosses, each of whom will take all your concentration and skill to defeat, of course.
The lore established in previous games is built upon beautifully in the third game, with even more interesting designs for weapons and armor, deep characters, and countless lore tidbits, each adding to the fascinating and mysterious Dark Souls story. And you don't have to experience this world on your own, as the multiplayer system allows you to play with your friends, as well as find random fights with other players in your game.
Since this is the last game in the series, Dark Souls 3 provides some of the most difficult boss battles ever, with recent DLCs adding even more difficult challenges to cap off an extraordinary franchise. So if this sounds like a game you might like, now is the time to join the fight and help relight the First Flame.
Size: 17.3-18.6 GB
Rating: M (Mature 17+)
Release date: April 12, 2016
Genre: Action & Adventure
Developer: FromSoftware
10: Rocket League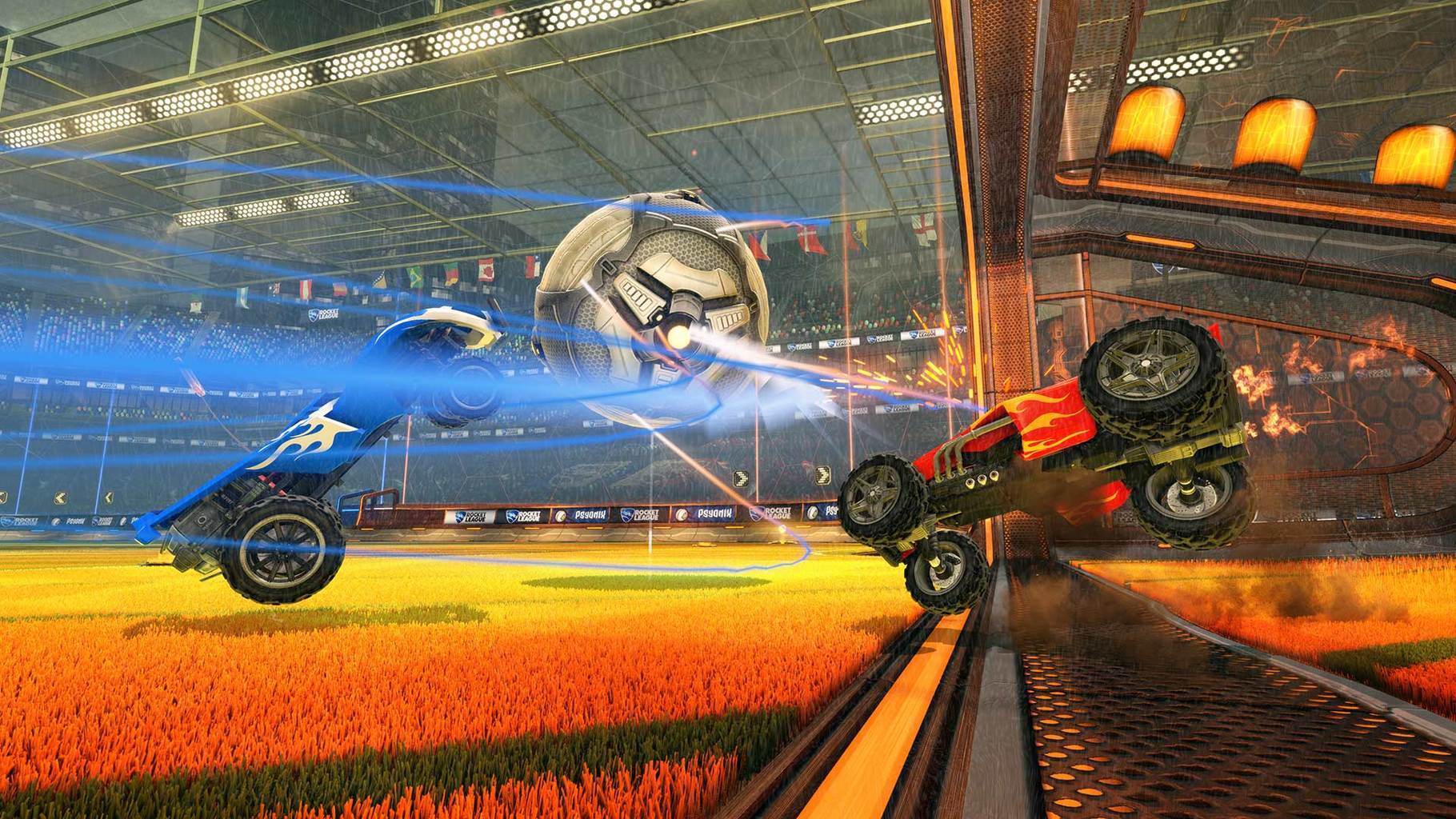 [amazonjs asin="B013XJ2M8M" locale="US" title="Rocket League Online Game Code"]
An incredibly well made indie game that transforms a seemingly childish, made up sport into a riveting experience. Rocket League is a game where you play football (soccer) with futuristic supercars. This may seem like a simple principle, but the developers of Rocket League have managed to come up with a ton of different features and game modes to make the game that much more fun.
Pick between many different arenas, choose if you want a more serious match or a match with wacky random abilities. Don't want to play football? Switch to hockey or basketball. Now you can also play the Dropball game mode, which lets you make your own goal in the opponent's floor by smacking the ball into it. The developers regularly add new and interesting features to the game, so it is never too late to join in the fun.
If you're more into competitive play, Rocket League has you covered with their fully-fleshed competitive system. The biggest issue with the game is the lack of cross-platform support for playing with PC and PS4 players, who have had the game for much longer than Xbox One players, so keep that in mind if your friends don't have an Xbox One.
Size: ~3GB
Rating: E (Everyone)
Release date: February 17, 2016
Genre: Sports
Developer: Psyonix
11: Ori and the Blind Forest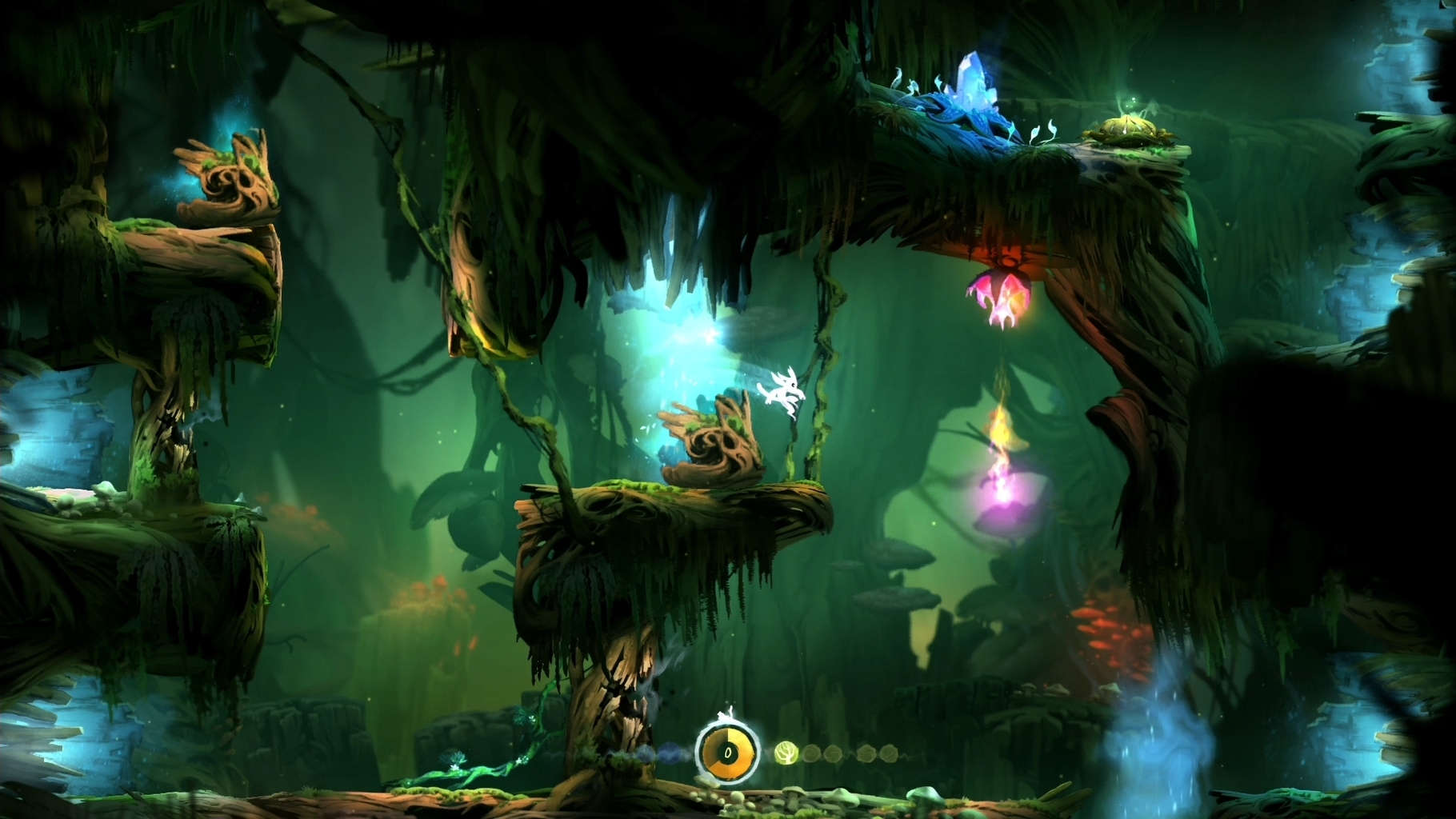 [amazonjs asin="B01EJNUMQ0″ locale="US" title="Ori and the Blind Forest: Definitive Edition – Xbox One"]
While Ori and the Blind Forest may seem as a simple, story-focused platformer, it is a very well crafted and challenging experience and will take some practice and a lot of concentration to play. While playing as Ori, the forest spirit, you will be able (and at times forced) to use a bunch of different abilities to avoid getting killed by the different enemies and cunning traps as you try to save your forest from the darkness.
Stunning visuals, music and overall vibe of the world of Ori and the Blind Forest is what made us put this game on our list. The beautiful twilight forest setting complemented by bright lights everywhere you go is what makes this game's design stand out among other similar games.
All this beauty, however, may require a decent experience with platformer mechanics to enjoy because of the challenging levels and the environment. Traversing levels will require good reflexes and concentration or frustrating repetitions of the same parts until you get them right, not to mention the dungeon escape levels where you are rushed to go through the same, if not more difficult levels.
While the gameplay may take a while to get used to, the fascinating visuals and story will lure any player right back into the world of Ori and the Blind Forest, which is why this is one of our top picks for the best Xbox One game.
Size: 7.6 GB
Rating: E (Everyone)
Release date: March 11, 2015
Genre: Platformer
Developer: Moon Studios
12: Destiny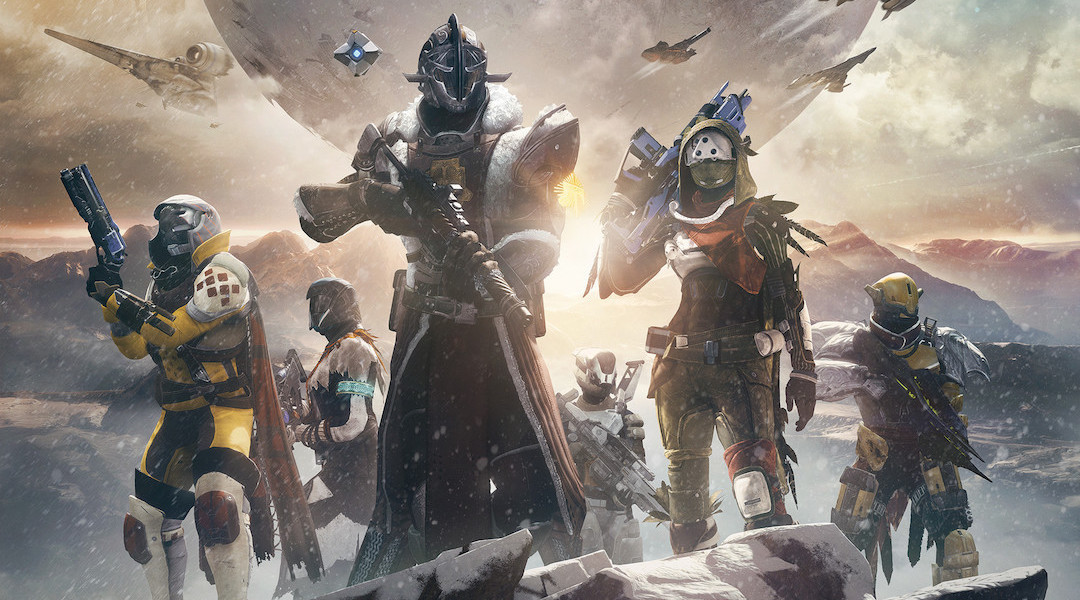 [amazonjs asin="B00CX9T598″ locale="US" title="Destiny – Standard Edition – Xbox One"]
Destiny is a somewhat unique experience that combines intense FPS combat with RPG elements in a multiplayer environment. Quests, looting and leveling your character are the main goals in this game, with well-crafted first-person shooter combat complemented by abilities being the means to achieve that goal. With many different enemies from different races and different hero classes to fight them with, every mission feels different and unique.
The futuristic world of Destiny involves huge, cosmic forces much more powerful than mankind, that are expressed as technologically highly advanced aliens wielding technology that visually feels just like magic. The worlds in Destiny are beautiful and unique, so much so that you might find yourself in the middle of combat just staring at huge spaceships in the skies or the crumbling relics of previous civilizations far in the distance.
While the combat is interesting and fun, some of the RPG elements leave more to be desired – the story isn't exactly complex and often doesn't fully explain to the player what is happening and many mechanics are not well explained either, leaving important decisions for gear and abilities up to guesswork. Also, the multiplayer system is often times not so multiplayer after all. Communicating with other players requires making a squad and trading items in Destiny is impossible.
However, these downsides are well compensated by the interesting mixture of different game mechanics that will keep you hooked and make you overlook some imperfections. Destiny is a game that surprised many with how well-crafted its world is, making this a must-have on our list. Also, the Destiny 2 is right around the corner and we will surely add it to our list if it proves to be better than its predecessor.
Size: 34.43 GB
Rating: T (Teen)
Release date: September 9, 2014
Genre: First-Person Shooter
Developer: Bungie Software
13: Middle-Earth: Shadow of Mordor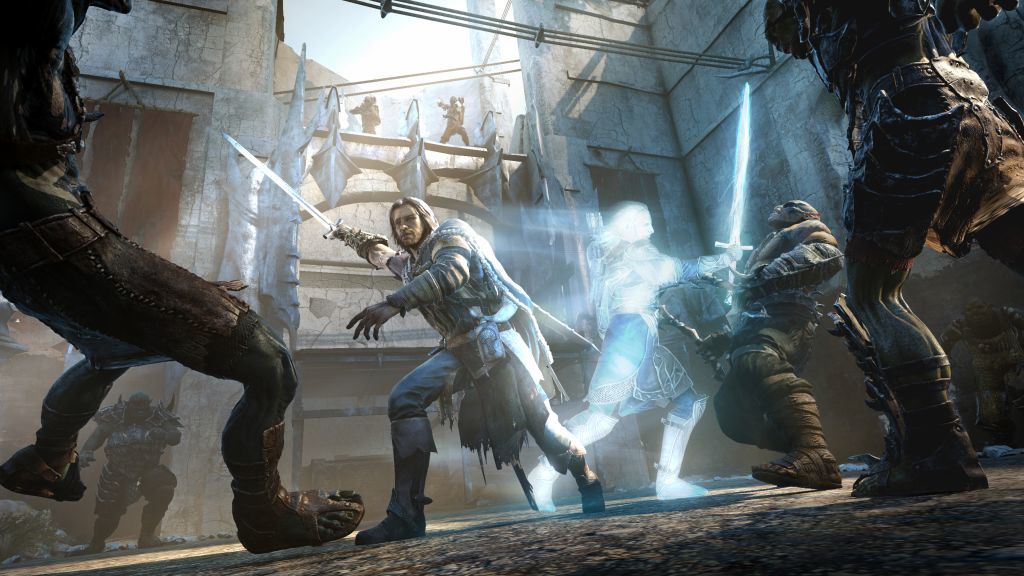 [amazonjs asin="B00WOK8Z74″ locale="US" title="Middle Earth: Shadow of Mordor Game of the Year – Xbox One"]
After seeing the Hobbit movies a couple years ago, many now seek ways to go back to their beloved Tolkien fantasy world. Middle-Earth: Shadow of Mordor gives them a chance to do so. In this game, you play as Talion, a ranger of Gondor, who gets banished from death and gets his soul combined with that of an ancient elf named Celebrimbor and together you seek to remove the powers of evil from the land of Mordor. Your quest is to kill the Hand of Sauron, which first requires cutting through hundreds of orc warriors and war chiefs.
The combat allows you to approach missions stealthily by picking off enemies one-by-one or go in guns blazing and brutally cut through piles of enemies. Either way, you get to use abilities of both a ranger and a ghost elf. Though the most notable feature of the game is the nemesis system, which crafts the future of your quests from the random encounters with orc warriors in combat. The hierarchy of orc ranks allows any random orc that kills you in combat climb higher in the ranks and you will probably soon encounter the more powerful version of that enemy. Later on in the game, you will be able to mind-control some warlords to have your own troops infiltrate and rise in the orc ranks.
The only real downside to the game is what has probably been making hardcore Tolkien fans cringe as they read the description because the story of the game is far from lore-friendly. Resurrections, ghost elf possessions and mind control, while interesting, is not something you would find in the works of Tolkien, with tidbits from those works being closer to easter eggs rather than important plot points.
At the same time, the story that is in the game is very well written and executed alongside the intense combat and the nemesis system. The interesting and unique ways you interact with the world is what lands Middle-Earth: Shadow of Mordor a place on our list.
Size: 28.43 – 36.26 GB
Rating: M (Mature 17+)
Release date: September 30, 2014
Genre: Action & Adventure
Developer: Monolith productions
14: Resident Evil 7: Biohazard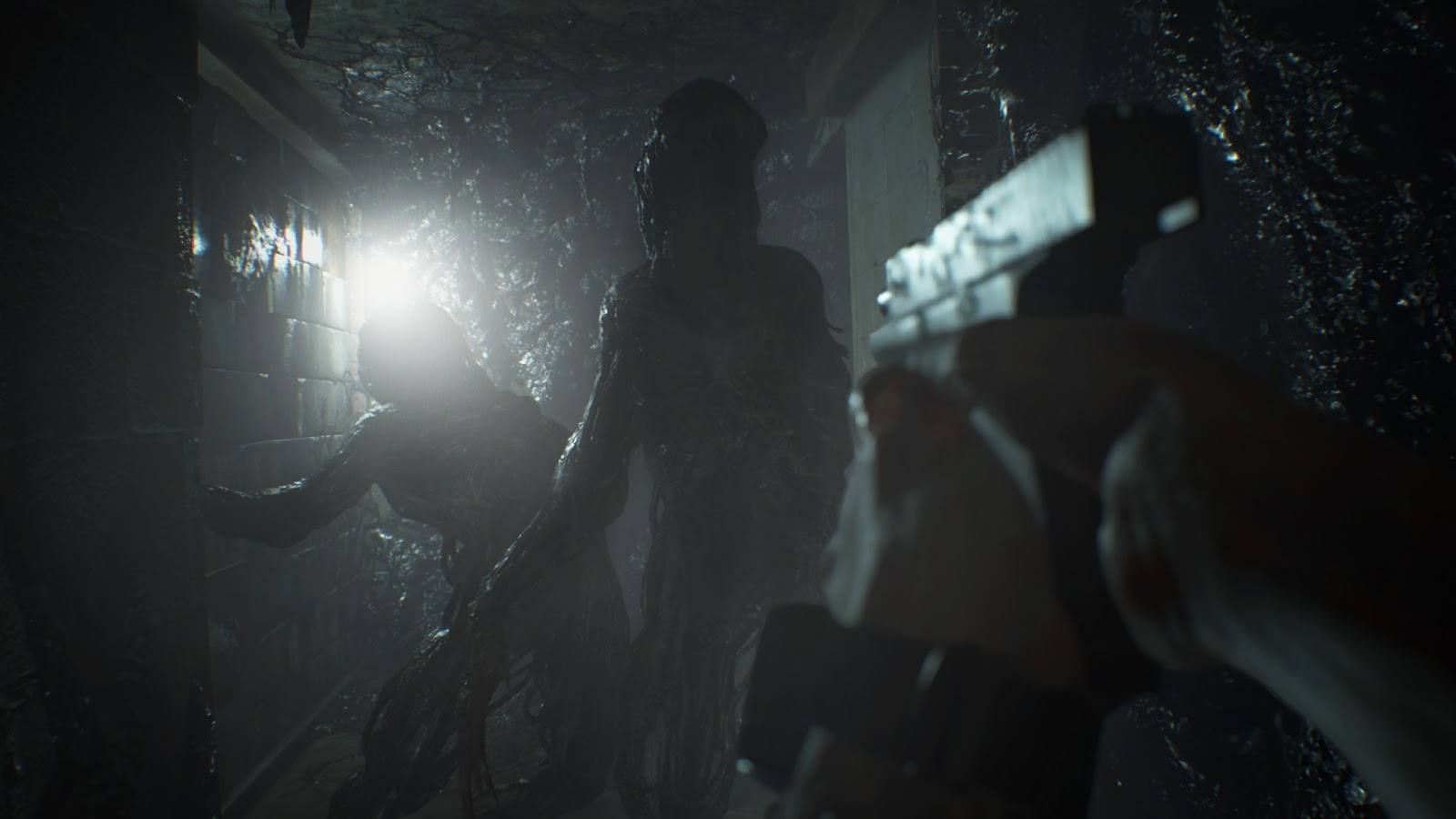 [amazonjs asin="B01GW8XLCM" locale="US" title="Resident Evil 7 Biohazard – Xbox One"]
There are many great games on our list but only one is fully focused on horror – RE7: Biohazard. With less and less successful additions to the Resident Evil franchise, Capcom has decided to go back to the roots and created a more horror-focused game. In this game, you play as Ethan Winters who is looking for his long-missing wife Mia after an unexpected message of her telling Ethan to stay away. What he finds next is a decrepit household in the middle of a swampy area, occupied by the Baker family who have gone insane due to some mysterious power.
The gameplay involves navigating areas of the derelict house, managing a small inventory with few resources, fending off horrifying monsters as you try to solve puzzles and ultimately the mystery of what has happened to the inhabitants of the house and your wife. The main downside of the gameplay is the lack of variety of enemies – you only encounter a couple of enemy types aside from the Bakers themselves, however, these encounters in the otherwise silent and spooky environment can still give you a good scare.
A brilliant game for fans of horror and fans of the franchise alike as the game manages to produce a pretty scary environment containing intense encounters with enemies. Alongside this environment, fans will find hints to previous games and familiar mechanics, making this horror experience that much more valuable.
Size: 20.21 GB
Rating: M (Mature 17+)
Release date: January 24, 2017
Genre: Action, Horror
Developer: Capcom
15: Dishonored 2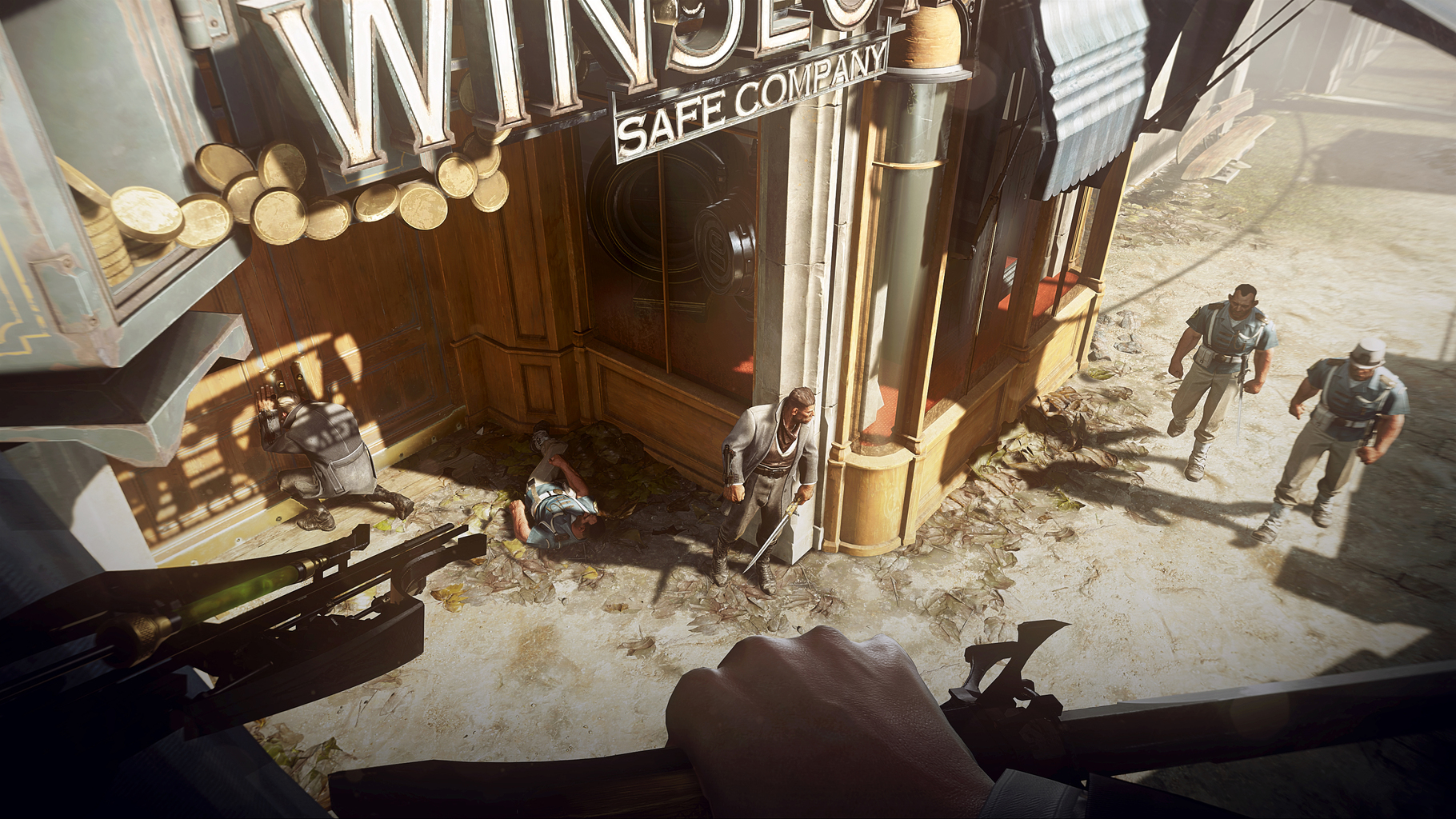 [amazonjs asin="B00ZM5ON88″ locale="US" title="Dishonored 2 – Xbox One Standard Edition"]
Most games on our list feature fast-paced gameplay with your success depending more on reflexes and reaction time, rather than meticulous exploration for the sake of achieving the most satisfying result to a mission or quest. This is why we had to have Dishonored 2 on our list since with its many different abilities and possible approaches to situations, this game allows a million different ways to play out scenarios. Want to bash down a door and brutalize everyone? Or maybe a stealthy, more peaceful approach is your thing? Or maybe you want to use the interesting game mechanics and knowledge of them to defeat the enemy? All of this is in your hands when playing Dishonored.
https://www.youtube.com/watch?v=lNFtACeifcU
The story of the game continues 15 years after the events of the first game, with the player having to choose whether he will fight the evil usurper to the throne by playing Corvo – the well-known hero of the franchise, or Emily – princess of the realm and Corvo's daughter. Both have unique skills that allow you to complete your quest whichever way you please. With the different ways you can approach situations and the ways they can play out, you will definitely find yourself going through the story multiple times to try out and see the results of different fighting methods.
If you are looking for a game with a more intellectual approach to problems or just want to be a stealthy assassin, then Dishonored 2 is the best Xbox One game for you. With a huge amount of extra content and high replayability, Dishonored 2 will definitely be worth the money and time you invest in it.
Size: 45.53 GB
Rating: M (Mature 17+)
Release date: November 11, 2016
Genre: Action & Adventure
Developer: Arkane Studios
Sports games
When it comes to the best Xbox One games, an interesting category is sports games – they seem to be very niche at first, however, there are millions of players who enjoy these kinds of games. These games let you control world famous players, manage your own sports team filled with these celebrities or just enjoy the sport you love playing in real life on your console as well. However, other games, even in the same franchise, may leave fans guessing what the next iteration will bring, while the recipe for most FIFA or NBA games is pretty much set in stone, with many competitive players being used to the formula and becoming skeptical of any huge changes. The way these sports games don't really bring anything new to the table but still remain an invaluable part of console community is why we rounded up these sports games in one separate segment.
NBA 2k17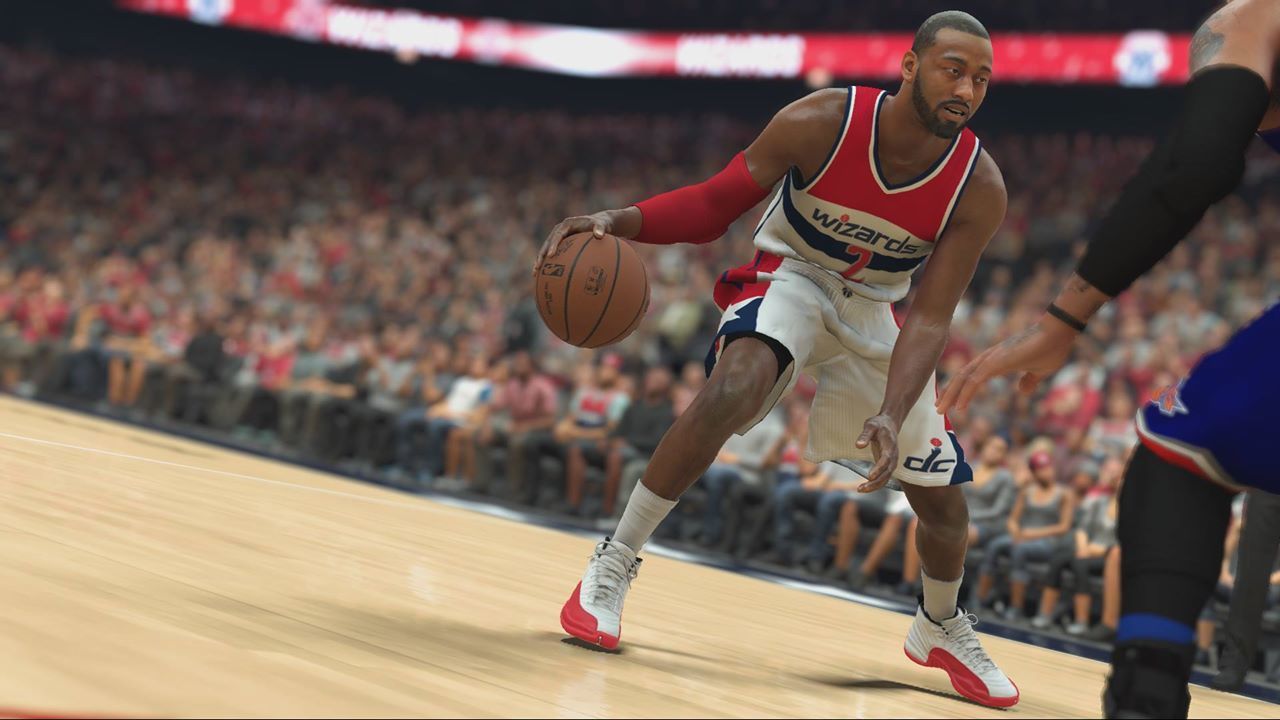 [amazonjs asin="B01HTRJGZ6″ locale="US" title="NBA 2K17 Standard Edition – Xbox One"]
NBA 2K17 is the latest game in the NBA 2K series and brings much more detail and realism than previous games with sound effects taken from real-life locations, new commentators and a managing system that can be edited to the smallest detail. With the controls now being much more polished and the linear full-on story mode being replaced by the MyCareer system with a lot more freedom, NBA 2k17 is definitely worth the cash, even if you already own previous games.
Size: 44.86 GB
Rating: E (Everyone)
Release date: September 16, 2016
Genre: Sports
Developer: Visual Concepts
FIFA 2017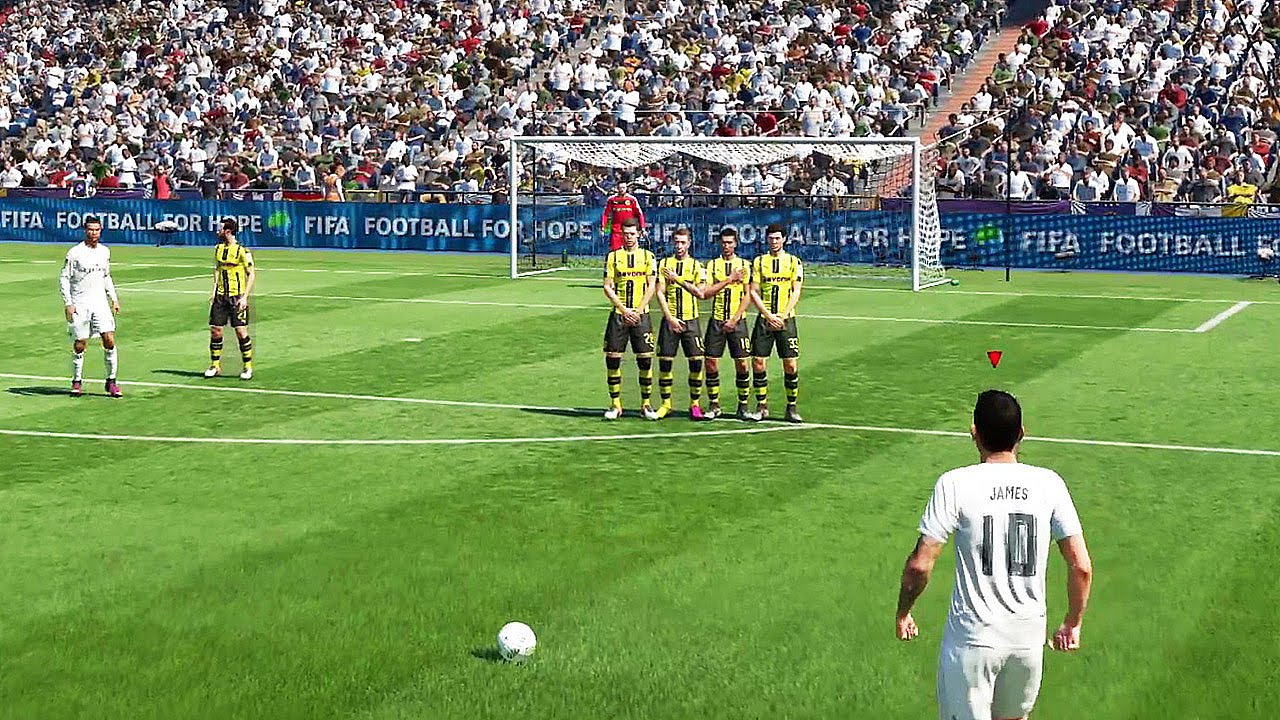 [amazonjs asin="B01GKH5Q82″ locale="US" title="FIFA 17 – Xbox One"]
FIFA 2017 is the first game in the series to have a story mode involving a rising football prodigy training and finding his way into premier league teams. As it is expected, many issues that players had before are now fixed – the game is much more responsive and provides faster gameplay, not to mention improved graphics.
Size: ~40GB
Rating: E (Everyone)
Release date: September 27, 2016
Genre: Sports
Developer: EA Canada