If you have a need to backup files in your DVD or just convert them to other formats, you will have to use a special software that's dedicated to this task. WonderFox DVD Ripper Pro is one of the best choices you can make. It's super fast, has a wide range of conversion formats and preserves the original quality, meaning the quality will be exactly the same – no redraw issues or lost frames. It not only it converts movies but also compresses them, in the result, they take up less space than they used to.
Also, you can digitally archive and watch your movies through DVD library. Now you can easily playback DVD movies on any device – smartphone, TV, tablet – you name it! We also like customization. Not only you can convert DVD movies, but also adjust their technical aspects, for example, cropping.
A combination of user-friendly interface, excellent performance, and simple usage makes DVD Ripper Pro superb. Therefore, let's learn more about it and everything it can do.
Conversion formats
One of the biggest pros of DVD Ripper Pro is its variety of output formats – more than 250 profiles. All you have to do to is simply choose your DVD, choose output file from DVD Ripper's Pro massive library and click Run. On standard video formats, you get 19 choices including AVI, MP4, MKV, WMV, MPG, MOV, M4V, VOB and much more.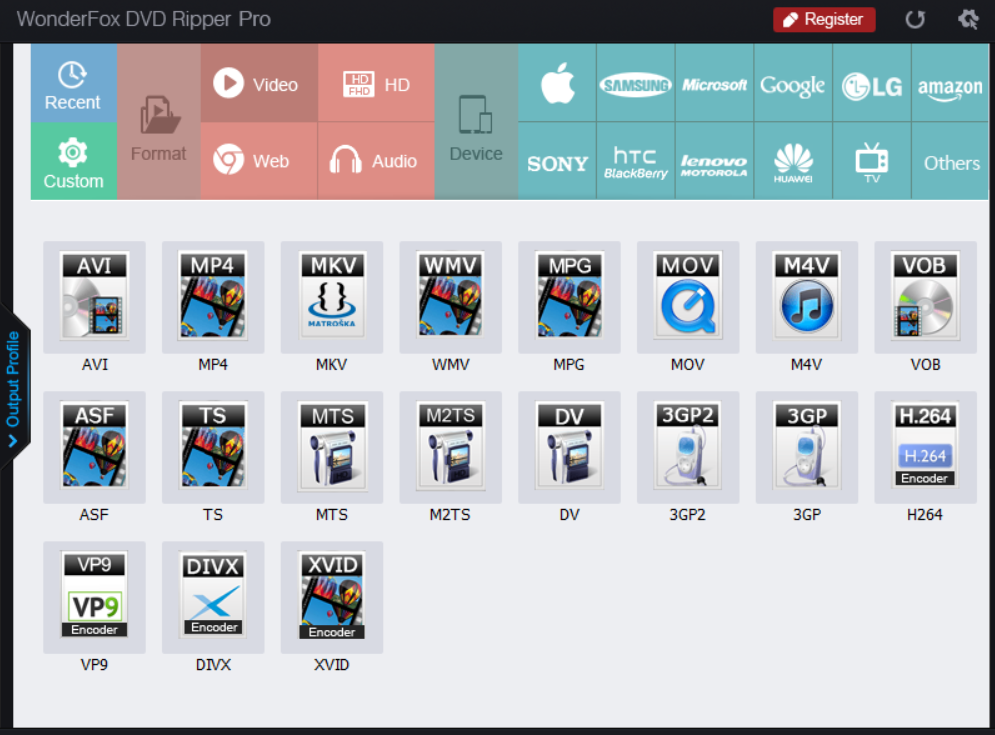 We loved the feature that now you can rip your DVD movies to any particular device or platform. There are many smartphone, tablet, TV and gaming console options for optimal playback. Being able to convert DVD movie to a format that will work the best with a specific device is something we haven't seen before.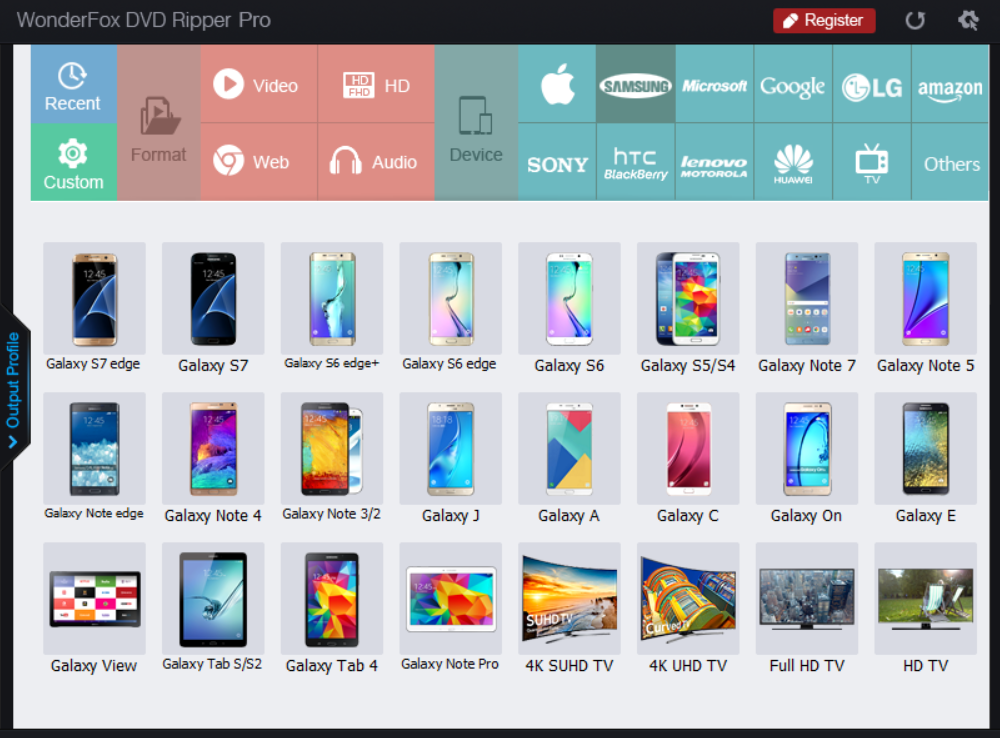 Now you can convert DVD movie to a format that will be suited for Samsung's 4K UHD TV or Galaxy A series. Also, you can convert DVD movies to an output format that's compatible with websites like Youtube, Facebook, Myspace and so on.

To make it simple, you can choose an output file format for just about anything: iPhone, Sony's PlayStation, Xbox One, LG smart TV, Sony devices and so on. You can even choose profiles for such devices as Toshiba, Sharp, TLC TVs, Projectors and Acer Liquid M smartphone. Because of this enormous library DVD Ripper Pro is definitely one of the top choices.
Features and performance
First of all, this isn't THE FASTEST DVD ripping software we have tested. However, it still performs very well. Ripping an average length movie will take about an hour which isn't bad at all. The best thing is that it's super easy to do – three steps and you're done. Also, output file size is very good. For most of the time, it won't take up more than 1-2GB, meaning movies won't take enormous amounts of space and you can later easily transfer them to your flash drive, smartphone and so on. Actually, in our tests, we found out that DVD Ripper Pro manages to create files way smaller than other competitors does.
Another concern about ripping DVDs is copy protection. This means the DVD can't be ripped/converted without a decrypter. Fortunately DVD Ripper Pro can bypass copy encryptions. In the result, you can make digital copies(for personal usage) of the DVDs you have bought. The best thing is that you don't even have to think how to activate this feature – it's used automatically.
Another cool feature is an ability to rip only movie's audio. If you liked the soundtrack or songs you can simply extract audio and you will get an MP3 file or any other audio format you choose.
The only downside we could find same as TopTenReviews did is ripping DVD's ISO file or disc image – you can't do it. For backup reasons, this would be very handy. Of course, you can always backup file into another format, but what if you want to keep original? You don't have such option.
Customization
In our opinion, a very handy feature is customization tools. Before ripping your DVD it allows you to make some adjustments like cropping the frame, trimming away footage you don't like, add filters. Of course, it's nothing like a proper video editing software, but you can still manage some simple things. You can also change resolution, frame rate. Also, there is an option to adjust the quality of output file if you want to speed up the ripping process or want it to use less space.
User interface
Once you install on open this relatively light software (around 22Mb/s) you will see the main screen asking you to select a DVD source. Next select one of three options: "DVD Disc", "ISO Image", "DVD Folder". Next, on the right choose an output format and click Run. That's it, now you just have to wait. On the bottom of the window, you can specify Output destination or folder in which you want to save your files.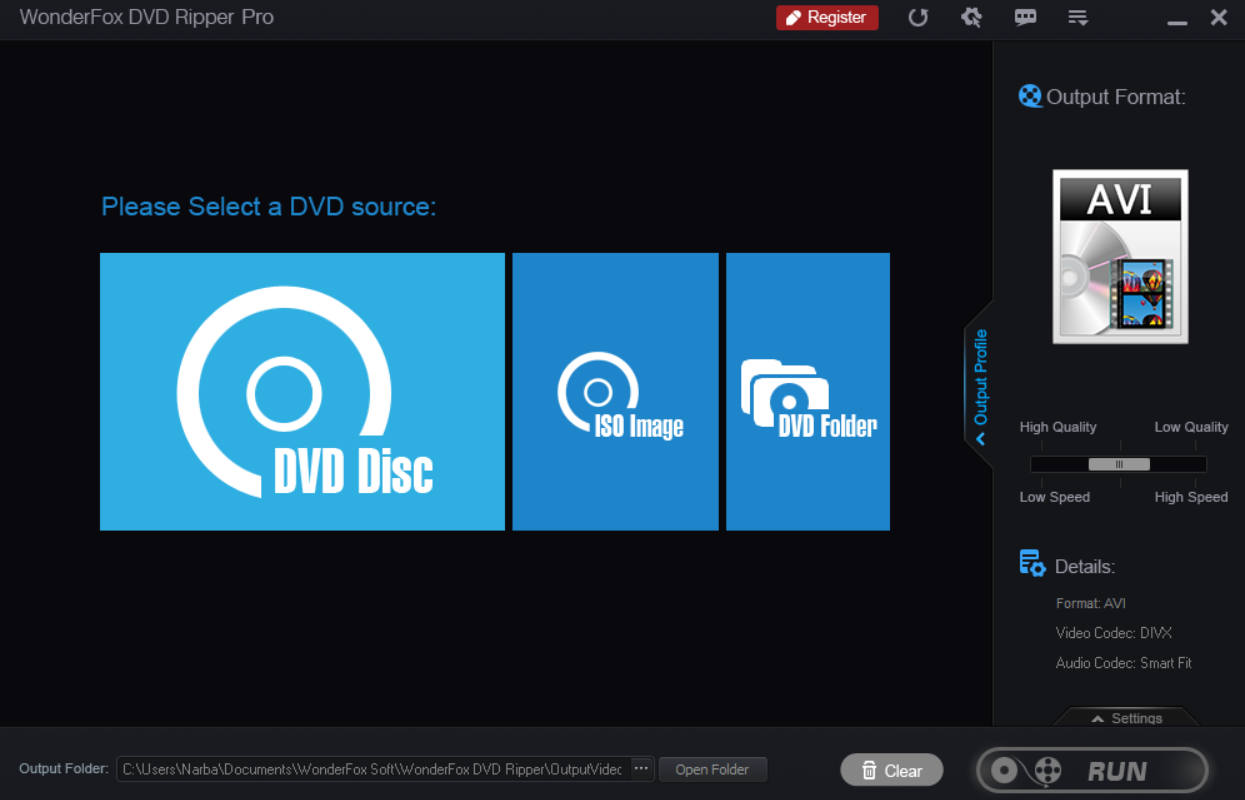 Besides the window you can see above, there's not really much. On the top right corner you can see menu, check for update, options and help center icons and that's it.
Customer Support
Overall, WonderFox DVD Ripper Pro is super easy to use. There is nothing much to not understand. However, if you're facing some problems or need a help, you can head to WonderFox website and ask for help or see possible solutions. WonderFox has:
Email – to write and contact them,
FAQs
Tutorials
First, see FAQs then tutorials and if your problem isn't yet solved, you can write to Email through their ticket system. WonderFox has it all, except live chat, but that's not really necessary as I repeat – this software is super easy to use.
Verdict
Overall DVD Ripper Pro is awesome software for managing DVDs, because it's super easy to use. 3 steps and you're done plus it offers decent performance, a variety of output formats and it's free to use. What else could you want? Overall, it's basically one of the best DVD rippers out there, if not the best.[su_button url="http://www.videoconverterfactory.com/dvd-ripper/" target="blank" style="ghost" background="#35bfff" color="#000000″ size="7″ center="yes" icon="icon: shopping-cart" icon_color="#000000″ rel="nofollow"]Download DVD Ripper Pro[/su_button]