Winchester Systems Inc has declared publicly that its Rugged Removable 1 Pluggable (RR1P) canister disk array, Air Transport Rack (ATR) format, RAID, was flown on the U.S. Navy's E-2D Advanced Hawkeye aircraft
"In order to enhance the robustness and capacity of the Winchester Systems RR1P removable canister disk array has leveraged cutting-edge CTOS technology which has really increased its performance and reliability and moreover they will also provide the aircraft instrumentation suite to keep pace with future testing of the system so that it can be developed more." said John Lemmon, program manager Capt., E-2/C-2 Airborne Tactical Data System Program Office (PMA-231), U.S. Navy.
The test aircraft contains six RR1P RAID storage units. The RR1P canister disk arrays are seated all over the aircraft so that they can easily get the data from various instruments.
In the completion of the mission, the door is opened and the rough, light, five pound aluminum canister of 24SSDs to 19.2TB of the information is removed and is shifted to the ground for its analysis. After that a new canister is installed and the vehicle is ready for the redeployment.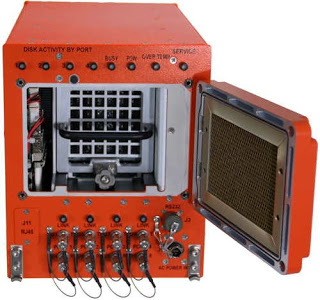 Rugged Removable 1 Pluggable (RR1P)
canister disk array
Northrop Grumman Corporation has taken the contract for designing the RR1P Winchester Systems and Wyle was responsible for final integration of the system. The main aim of this project was to attain the enhanced performance in capturing the data and also to improve its capability so that it can work more effectively.
The RR1P canister disk array has been tested successfully to handle the rough environments like MIL-STD 810G for vibration, temperature, altitude, rapid decompression and explosive atmosphere; MIL-STD-461F for EMI; MIL-STD-704A for aircraft power; and RTCA-DO-160 for humidity.
Now RR1P canister disk array is able to handle surveillance and instrument data and easily shifted from a vehicle to a ground station within few minutes and gives the high performance transportable data around 19.2TB. It comes with one year factory warranty to the customers.