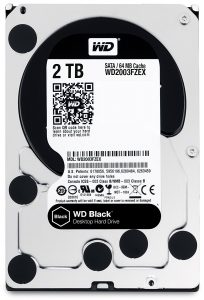 Having a well-maintained backup of your files is the first thing you have to secure before beginning a project. There is always a need for it because unintended deletions can happen, files can actually be lost in messy folder structures, or you might want to revert to a previous version of a document, or you suddenly feel nostalgic and want to see a photo you have already deleted. In any of the above cases, you'd turn to your latest backup for a solution. But the question now is this: Where is it located? There are a lot of high-capacity internal hard disk drives available, both offline or online, and below you'll get to read the WD black review.
[one_half]View on Amazon
[/one_half]
For the best security and reliability, you should always have your backups stored offline in a high-performance mechanical hard disk. It is cheaper, has wider compatibility, and by design, works without an Internet connection.
One of the best in this hard drive class is Western Digital Black, previously branded "Caviar." With 500GB, 1TB, 2TB, 4TB, 5TB, and 6TB models, this SATA3-interface, 3.5-inch mechanical hard disk drive delivers strong performance consistently even for high-volume file transfers. Each model uses a dual-core processor, offering processing capabilities that are better than what single-core processor hard drives provide. It is also cheaper the higher you go in capacity with £0.10 per 1 GB for the 500GB model, £0.06 per 1 GB for the 1TB model, £0.05 per 1 GB for the 2TB model, £0.04 per 1 GB for the 4TB model, and so on.
WD Black Compared to other WD Hard Drive Series:
| | | | |
| --- | --- | --- | --- |
| | WD Green | WD Blue | WD Black |
| RPM | 5400-5900 | 7200 | 7200 |
| Capacity | 500GB – 6TB | 80GB – 1TB | 500GB – 4TB |
| Interface | SATA III | SATA III & PATA 100MB/s | SATA III |
| Form Factor | 3.5″ | 3.5″ | 3.5″ |
| Cache | 64MB | 8-64MB | 64MB |
| Warranty | 2-Year | 2-Year | 5-Year |
| Notes | Slower | Fastest | Fast |
| | Lower TDP | Average noise | Noisiest |
| | Quieter | Highest Density | Highest Endurance |
WD Black is quite fast too, with an average read/write speed of 282 MB per second. This is almost unheard of for any mechanical hard drive, and all WD black review units tested have 7,200 RPM spindle speed with 128 MB cache. These numbers do not vary per capacity model, unlike in other hard drive brands where spindle speed is often sacrificed for more data platters. The 4TB model, with five 800 GB platters, performs just as quickly as the small 500GB model.
Only 6TB model has 128MB cache, other capacities has 64MB cache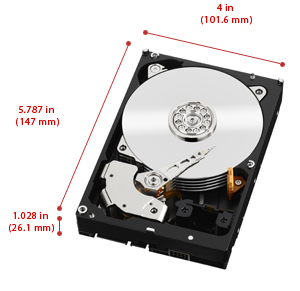 With its excellent numbers, WD Black HDD is best used as primary storage or primary backup. The 4TB and above models perform exceptionally well in handling large file transfers and are perfect for media projects that require a lot of storage and quick file accessibility. As backup storage, you can use it once and replace it after five years, as per the manufacturer's warranty, or include it in your automated backup routine. WD Black has both the lifespan and endurance for any style of use. If you're going to buy one, though, you should go for the high-capacity models. They perform better than the others and are cheaper per 1 GB.
If you require fast and reliable hard disk drive (HDD), try WD black, review it for yourself, and see it pass all your tests. It is perfect solution for media storage because of it`s fast read/write speeds, it is built for performance-requiring games, and it can endure light impacts/ vibrations, thanks to WD's StableTrac Technology. It is one of the best internal hard disk drive for power users available today. Western Digital Black support page.
Western Digital Black HDD Model Numbers:
Model #
Interface
Form Factor
RPM Class
Capacity
Cache
WD6001FZWX
SATA 6 Gb/s
3.5 Inch
7200
6 TB
128 MB
WD5001FZWX
SATA 6 Gb/s
3.5 Inch
7200
5 TB
128 MB
WD4003FZEX
SATA 6 Gb/s
3.5 Inch
7200
4 TB
64 MB
WD3003FZEX
SATA 6 Gb/s
3.5 Inch
7200
3 TB
64 MB
WD2003FZEX
SATA 6 Gb/s
3.5 Inch
7200
2 TB
64 MB
WD1003FZEX
SATA 6 Gb/s
3.5 Inch
7200
1 TB
64 MB
WD5003AZEX
SATA 6 Gb/s
3.5 Inch
7200
500 GB
64 MB
WD4001FAEX
SATA 6 Gb/s
3.5 Inch
7200
4 TB
64 MB
WD3001FAEX
SATA 6 Gb/s
3.5 Inch
7200
3 TB
64 MB
WD2002FAEX
SATA 6 Gb/s
3.5 Inch
7200
2 TB
64 MB
WD1002FAEX
SATA 6 Gb/s
3.5 Inch
7200
1 TB
64 MB