The latest trend in laptop storage is M.2 SSDs, which provide similar speeds to SATA SSDs but take up much less space. Although 2.5-inch SATA SSDs might be the thing of the past in a few years, some manufacturers still introduce new 2.5-inch SSD models.
One such model is the Western Digital 3D NAND SSD, which thus far seems quite fast and reasonably priced. We took a look at all the information and feedback currently available about this drive to find out how viable it is and whether you should consider getting one.
Blue 3D NAND Specs
[supsystic-tables id=388]
[amazonjs asin="B073SBZ8YH" locale="US" title="WD Blue 3D NAND 500GB PC SSD – SATA III 6 Gb/s 2.5″/7mm Solid State Drive – WDS500G2B0A"]
[su_row][su_column]
[su_box title="PROS" box_color="#179f16″ radius="4″]
[su_list icon="icon: plus-square" icon_color="#179f16″]
Currently, transfer speeds closely match some of the fastest SATA SSDs
Quite reasonably priced for said performance
[/su_list]
[/su_box]
[/su_column]
[su_column]
[su_box title="CONS" box_color="#9f1619″ radius="4″]
[su_list icon="icon: minus-square" icon_color="#9f1619″]
Some alternatives are simply faster/cheaper
[/su_list]
[/su_box]
[/su_column]
[/su_row]
Breakdown of Features
WD Blue 3D NAND is a 2.5-inch SATA III solid-state drive that is 7mm thick. The Blue 3D is available in the standard 250GB, 500GB, 1TB, and 2TB capacities, all of which come with a 3-year warranty. The drive's price ranges between 30 and 40 cents per GB (depending on capacity) on most retailer sites, which is average for this type of SSD.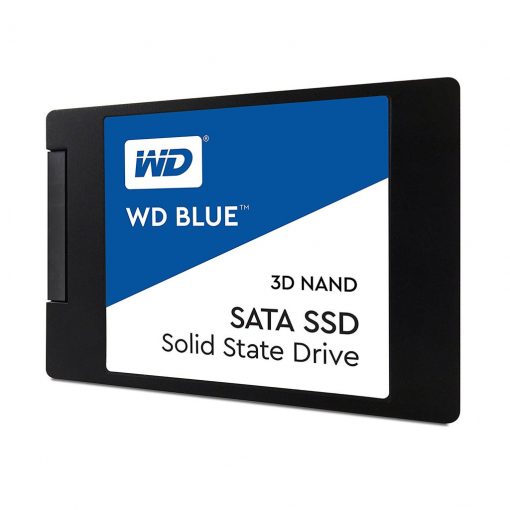 With sequential read/write speeds of 495MB/s and 418MB/s, respectively, (UserBenchmark) the Blue 3D NAND aligns with some of the fastest SATA SSDs on the market. Its random performance is also quite high – 29MB/s 4k read and 74MB/s 4k write. It's worth noting that this SSD is only a few months old and these benchmark results are aggregated from very few tests, which makes them less reliable. We will stay tuned for any changes in the future when people catch onto this new drive and produce more benchmark results. For now, the Blue 3D seems very promising and may potentially become one of the best SATA SSDs out there.
SanDisk Ultra 3D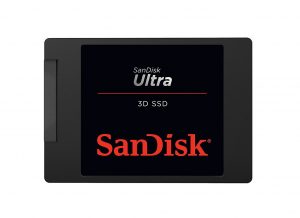 When WD Blue 3D NAND came out, SanDisk (a Western Digital subsidiary) also released a new 3D NAND SSD – the SanDisk Ultra 3D. It just so happens that both of these are actually the same drive. You can expect similar transfer speeds from the Ultra 3D, as well as a similar price. There are some minor firmware/hardware differences (like the Ultra 3D's nCache feature) but these don't make a huge difference. Basically, if you can get one of the drives for less money, that should undoubtedly be your choice.
Free drive management software is available for both drives – WD SSD Dashboard for the Blue 3D NAND, and SanDisk SSD Dashboard for the Ultra 3D. As you might imagine, both management tools are basically the same, though it still wouldn't hurt to use the tool that is appropriate for your drive.
Alternatives
[supsystic-tables id=389]
[supsystic-table-diagram id='143′]
For comparison, we chose two of the fastest drives from the Blue 3D's price range – the Samsung 850 EVO, which is considered by many as the best SSD out there, and the Mushkin Reactor, which is a lesser-known SSD that is both one of the cheapest and the fastest SSDs simultaneously. For more SSD alternatives, check out our 2.5-inch SSD recommendations, or, if you're willing to consider purchasing an HDD as well, see our 2.5-inch storage drive top list.
Samsung 850 EVO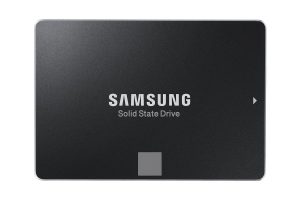 As the primary choice of most SSD users, the 850 EVO delivers high transfer speeds as well as longevity for a reasonable price. All EVO SSDs come with a 5-year warranty and are available in 250GB, 500GB, 1TB, 2TB, and even 4TB capacities. This SSD achieves one of the highest performance benchmarks of its kind – 504/397MB/s seq. read/write and 36/76MB/s random 4k read/write.
The difference between the Blue 3D NAND's and the EVO's prices is quite small since the EVO is usually priced at 32-42 cents per GB (varies between capacities and retailers). All in all, the EVO has been the exemplary SSD for years, so the fact that the WD Blue 3D SSD can match both the EVO's speed for a slightly lower price is impressive on its own. For now, though, it's probably worth paying $10-20 more for the 850 EVO's extra 2 years of warranty and performance edge.
[su_button url="http://www.amazon.com/gp/product/B00OBRFFAS/ref=as_li_tl?ie=UTF8&tag=ishddmag-20&camp=1789&creative=9325&linkCode=as2&creativeASIN=B00OBRFFAS&linkId=3325fe3f98962edf12d9d2469d4ed869″ target="blank" style="stroked" background="#C92228″ size="5″ center="yes" rel="nofollow"]View on Amazon[/su_button]
Mushkin Reactor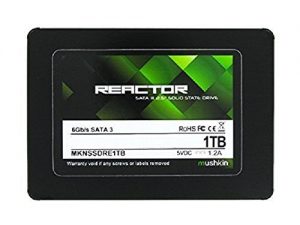 Among all the major manufacturer SSDs, the Mushkin Reactor is an underdog that has managed to outperform some of the best-known drives on the market and manages to also be cheaper. The Reactor will cost, on average, 3-4 cents per GB less than the Blue 3D across all capacities, those being 240GB, 250GB, 480GB, 500GB, 960GB, 1TB, and 2TB. All Reactor SSDs come with a 3-year warranty.
This affordable drive has surprised many with its performance – 496/402MB/s sequential read/write and 21/78MB/s 4k read/write speeds. When compared to WD's SSD, the Reactor provides roughly the same performance (as of right now) for a lower price. The only concern with Mushkin's drive is simply brand recognition and the quality concerns associated with it, which might not have any basis in reality. So, if you're heart will be more at ease with a well-known manufacturer SSD, WD might be worth the extra cost, otherwise – save money and get the Reactor.
[su_button url="http://www.amazon.com/gp/product/B071DVJSJK/ref=as_li_tl?ie=UTF8&tag=ishddmag-20&camp=1789&creative=9325&linkCode=as2&creativeASIN=B071DVJSJK&linkId=52500ba8f811b6de78dd06543e170ace" target="blank" style="stroked" background="#C92228″ size="5″ center="yes" rel="nofollow"]View on Amazon[/su_button]
Verdict
There is still some uncertainty about the future of the WD Blue 3D NAND drive. What will its benchmarks even out to after a while? How long will this drive last in everyday use? Will WD again update their SSD lineup to a flat-out better and cheaper model after a year?
Regardless, the drive's future seems bright since it is already priced reasonably and has thus far shown very high performance for the said price. Hopes are that the Blue 3D will become the long-awaited, worthy competitor to the 850 EVO by bringing the high WD drive quality to the SSD scene. Currently, the Blue 3D is definitely worth considering because it is simply a well-rounded SATA SSD.
[su_button url="http://www.amazon.com/gp/product/B073SBQMCX/ref=as_li_tl?ie=UTF8&tag=ishddmag-20&camp=1789&creative=9325&linkCode=as2&creativeASIN=B073SBQMCX&linkId=96e219167cfda20e0907608edf89b6d6″ target="blank" style="stroked" background="#C92228″ size="5″ center="yes" rel="nofollow"]View on Amazon[/su_button]