Modern technology always keeps pushing its own boundaries – things like smartphones being as powerful as our PCs were around 10 years ago is one great example of this. But computing power isn't the only thing being rapidly developed and improved, as our storage devices grow in size and performance as well.We decided to take a look at the largest hard drives and solid-state drives in the world as of now, to give you some perspective of how far we've come over the years of tech development and what is in store in the future.
We decided to take a look at the largest hard drives and solid-state drives in the world as of now, to give you some perspective of how far we've come over the years of tech development and what is in the store for the future.
Top 5 Largest Storage Drives
[su_box title="The Biggest Drive Ever – an SSD" box_color="#2eaebb" radius="0″]
1. Samsung PM1633a (16TB)
No products found.
No products found.
If you know the basic differences between magnetic storage (HDDs) and solid-state storage (SSDs), you'll know that SSDs are generally smaller than HDDs (or cost more per GB, at least). So, you'd expect the largest drive in the world to be an HDD, but surprisingly, it's a solid-state drive. The 16 TB PM1633a was first announced in mid-2015 at the Flash Memory Summit in California, and even a couple years after, it still remains the largest storage drive in the world. Not only can it hold 16TB of data, all of that capacity has been packed into a small 2.5″ form factor SAS drive, using 3D NAND technology. 3D NAND basically means that rows of transistors used to store information are stacked vertically like files in a cabinet, rather than laying beside one another on a flat surface
Performance doesn't disappoint either, with 1200MB/s read and 900MB/s write speeds reaching close to the limits of the 12Gbps SAS port. Needless to say, such a massive SSD is targetted at enterprise data centers, where capacity per physical space is an important concern.
The PM1663a's price is accordingly too high for any normal consumer, with most industry technology retailers selling it at around $10'000 (around 60 cents per GB, which isn't actually that bad). Not that anyone would really need 16 TB of super-fast data storage for personal needs anytime soon. Still, it's reassuring to know that the tech industry is pushing forward in all fields of computing, not just performance.
[/su_box]
[su_box title="WD's Helium Technology" box_color="#2eaebb" radius="0″]
2. HGST Ultrastar He12 (12TB)
Western Digital is one of the two major hard disk drive manufacturers in the world, with HGST being its daughter company in charge of developing helium drives. Ultrastar He12 is their latest creation (with larger drives in the making), coming in at 12 TB of storage at 7200RPM.
Helium technology has been crucial to increasing hard disk drive capacity in the last few years. The way it works is in the name – rather than having filtered air within the drive's casing, the casing is hermetically sealed and filled with helium. The main benefit of the drive platters spinning in a less dense gas is the ability to reduce aerodynamic forces on the platters, thus allowing more platters to be put into one drive, in turn increasing its capacity. It also reduces the amount of energy required for the platters to spin, reducing power consumption, alongside a few other useful side-effects.
Same as all the other drives in this list, the main focus of the Ultrastar series is making reliable drives for work in data centers and other enterprises. The first shipments of the drive were sent out in April 2017.
[/su_box]
[su_box title="Seagate's Helium Technology" box_color="#2eaebb" radius="0″]
3. Seagate Enterprise Capacity Helium Drive (12TB)
The main competitor of WD in the field of HDDs is Seagate, and it has no intentions to pass the role of industry leaders to WD. So, they have created their own line of helium HDDs, with their latest creation also reaching 12TB capacity. While the drive itself uses the innovative technology, Seagate clearly didn't spend much time making up a catchy name, hence the name of their Enterprise Capacity 3.5″ Helium Drive.
Although WD was first to release a 12TB drive, Seagate's industry-level beast is promised to be much faster and much more reliable. In fact, its maximum sustained transfer speeds of 261MB/s are one of the fastest in the industry. Same as WD, Seagate plans to push forward their research in helium drive technology and release larger drives pretty much every year. Even though regular consumers won't get much use of these drives, you can still expect 14 TB and 16 TB drives in the near future from both manufacturers.
[/su_box]
[su_box title="Literally Beast Drives" box_color="#2eaebb" radius="0″]
4. Seagate Guardian Series (10TB)
Even though for the most part, the largest drives are usually reserved for enterprise usage, you can actually get close to an industry-leading industrial-sized HDD. This is because of Seagate's BarraCuda, IronWolf, and SkyHawk 10TB hard drives, which you can buy for a reasonable price of around $400-450.
While all three drives are roughly in the same price range, only the BarraCuda is designed for personal data storage. The IronWolf is designed more for 24/7 usage in NAS data networks, while the SkyHawk comes with extra software for surveillance needs. The drives are also speedy, at around 200 MB/s sustained transfer speeds.
10 TB of storage may be way too much for most average users, but it may come in handy in the very near future, where 4k video and VR experiences might be as normal as MP3 files are now.
[/su_box]
[su_box title="Already an Enterprise Favourite" box_color="#2eaebb" radius="0″]
5. WD Red (10TB)
Another example of WD and Seagate reaching for that top spot in the industry. However, this drive is designed mostly just for use in NAS systems, and less so for personal usage. The main difference is just some optimization for long-term continuous use, as well as reduced noise.
Other than the size and some NAS-specific optimization, there's nothing exceptional about WD Red 10TB. Still, the existence and accessibility of a 10 TB drive are within themselves signs of how far magnetic storage has come, not to mention the perspectives of the growing solid-state storage.
[/su_box]
The Future
If only 16TB of storage being the largest drive in the world seems underwhelming, don't worry, because the near future holds much greater breakthroughs, especially in the field of solid-state storage.Samsung 32GB V-NAND 4th generation drive sometime in 2017
While helium technology adds 2 gigabytes to hard disk drives every 1-2 years, the largest solid-state drives need just a year or two in order to grow twice in size. For example, the Samsung 32 TB V-NAND 4th generation drive was announced in 2016 and planned to come out sometime in 2017. This model will improve upon the technology that the PM1663a (the 16 TB SSD) uses, showing just how far this technology can be pushed.
32 TB still not enough? How about 60 TB? Seagate already showed off their 60 TB solid-state monstrosity in August of 2016. Although it's a 3.5″ drive, as opposed to the much smaller 2.5″ 32 TB drive that Samsung is planning to release, the information density is still much larger than any other solid-state drive ever.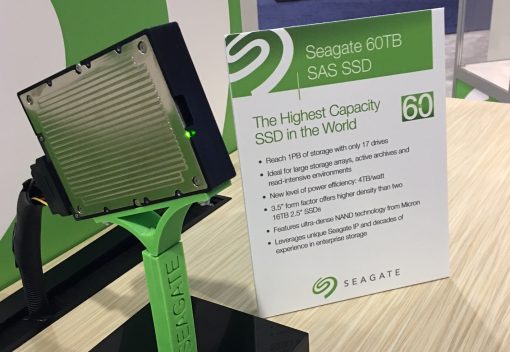 All of these insanely large hard drives are far from being useful to an everyday consumer today, but they show the progress of computing technology with one simple number. Who knows, maybe in 10 years we'll work with terabytes upon terabytes of super-high-definition video and virtual reality games and experiences. Either way, we can already be sure that the storage device industry will definitely be ready to provide huge amounts of storage for all that data.