Even with technologies like solid-state storage and erasure coding becoming more and more prominent, many casual users, as well as professionals choose RAID solutions to have quick and reliable storage for their data. This is why you can still find interesting and very useful RAID systems and products, like the Sony Professional RAID system, which is a portable, durable, and versatile RAID storage device.
Specs
[supsystic-tables id=294]
[amazonjs asin="B01JH1HOBA" locale="US" tmpl="Small" title="Sony PSZ-RA4T/BQ 4TB 2-Bay Thunderbolt 2 Portable Pro RAID Array, RAID 0, 1, and JBOD, Up to 440 MB/s Transfer Speeds"]
[amazonjs asin="B01KEVWMT6″ locale="US" tmpl="Small" title="Sony PSZ-RA6T 6TB (2x 3TB) 2-Bay Thunderbolt 2 Portable RAID Array, RAID 0, 1, and JBOD"]
[su_row][su_column]
[su_box title="PROS" box_color="#179f16″ radius="4″]
[su_list icon="icon: plus-square" icon_color="#179f16″]
Delivers high transfer speeds (350-390MB/s benchmarks)
Up to 6TB of RAID capacity
Very durable case
Very reasonable price, considering the high performance and durability
[/su_list]
[/su_box]
[/su_column]
[su_column]
[su_box title="CONS" box_color="#9f1619″ radius="4″]
[su_list icon="icon: minus-square" icon_color="#9f1619″]
Quite bulky
Uses a separate power source
[/su_list]
[/su_box]
[/su_column]
[/su_row]
Breakdown of Features
Sony Professional PSZ-RA RAID systems are portable RAID devices with two possible capacities – 4TB and 6TB. The promised data transfer speed for this device is 440MB/s for both sequential write and read in RAID 0 mode (the fastest mode). Sony Professional RAID has one USB 3.0 port (uses a USB-B connector) and two Thunderbolt 2 ports (supports a daisy chain of up to 6 devices). This RAID device comes pre-formatted in exFAT and has a 3-year warranty.
Sony Professional RAID is preconfigured to RAID 0 out of the box, but this can be easily changed to RAID 1 or JBOD via the configuration buttons on the back of the device. Both have to be held simultaneously for a long time in order to change the RAID mode, so don't worry about accidentally destroying all your data. All configurations are hardware-based, meaning they will use their own onboard controller to function correctly. This system uses two 3.5-inch 7200RPM drives to achieve the promised read/write speeds and to store your data safely.
While Sony Professional RAID doesn't include any software features out of the box, Sony recommends its clients to download Memory Media Utility software in order to manage the drive's capacity, format, RAID mode, and other basic features.
Design and Alternatives
The one feature that makes Sony's RAID device so special is the durable and portable case. As large and heavy as RAID systems can be, a simple 2-drive system can be placed into a compact, durable case. Add a simple handle to it and you have yourself a portable RAID array that you can use anywhere you want.
The metallic case itself is pretty durable, with a rubber enclosure protecting the array from external damage and shock, alongside a couple other, internal protective measures, like vibration dampeners and a layer of rubber between the drives to reduce shock damage. Although it's meant to be very portable, Sony Professional RAID still uses a separate power source, same as any other array.
[supsystic-tables id=295]
For comparison, we picked two other portable RAID arrays – LaCie Rugged RAID and WD My Passport Pro. LaCie Rugged RAID drive, same as all the other LaCie Rugged drives, features a rubberized protective case that is rated IP54, meaning it's protected against dust and water splashes. LaCie Rugged comes with a Thunderbolt 2 cable integrated into the case (also powers the RAID), as well as a USB 3.0 port (uses the separate power adapter). It is also much smaller, being closer to a regular hard drive in terms of size than the toolbox that is Sony Professional RAID.
However, the smaller size also has less to hold, as the max promised sequential speeds of LaCie Rugged RAID is 230MB/s read/write, which is much less than Sony's 440MB/s. Also, you can get LaCie Rugged only in 4TB capacity. LaCie's software package is much more fleshed out than Sony's since it features a drive management tool, an encryption tool, and backup software.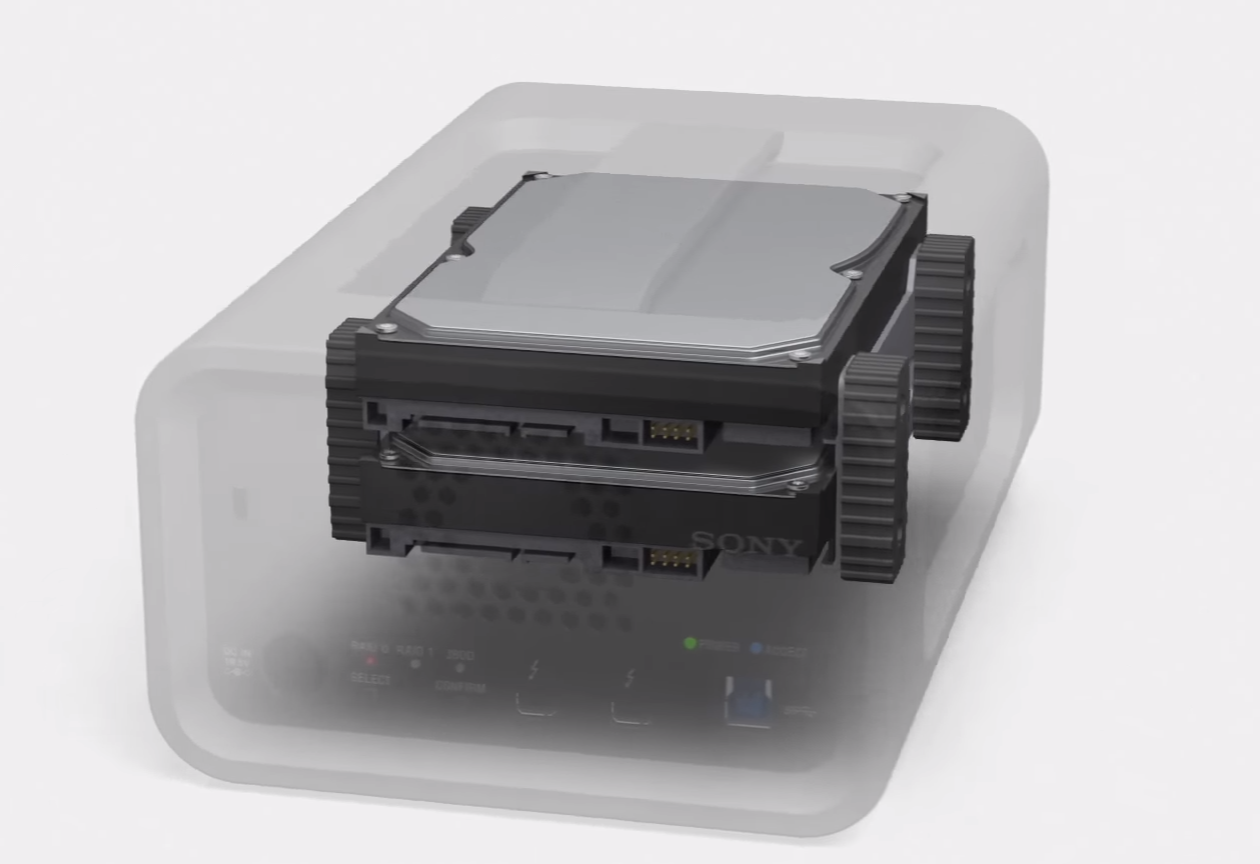 It's a similar story with the WD My Passport Pro portable RAID array, as it is also much smaller than Sony Professional RAID (only slightly thicker than LaCie's drive) and is accordingly much slower and holds less data – 2TB and 4TB capacities are available with 233MB/s promised read/write speeds in RAID 0 mode. There's not much to WD's drive in terms of software either, and it's clearly marketed only at Mac users since it only has a Thunderbolt 2 connector and comes pre-formatted for HFS+.
Sony Professional RAID beats its closest competitors in terms of performance and capacity but is much bulkier and larger than the two other RAID arrays. When it comes to protective measures, it's less protected from dust and water than the LaCie Rugged RAID but is on par in terms of shock resistance. Meanwhile, the WD My Passport Pro simply features a metallic case and some basic protective features. Pricewise, all three competitors are in the same ballpark – around 6-10 cents per GB for the My Passport Pro, around 10 cents per GB for the LaCie Rugged, and 9-11 cents for Sony's RAID device.
Overall, WD's RAID array is the cheaper and simpler alternative for Mac users, LaCie's Rugged RAID offers a bit more in terms of durability and a lot more in terms of software, with both of these drives being lightweight alternatives (in terms of both size and performance) to Sony Professional PSZ-RA RAID.
User Experience
While there aren't many people who've reviewed Sony's portable RAID (it's quite a niche product, even for RAID), pretty much all reviews are positive, acknowledging the high transfer speeds, the durable case, and the portability of the whole device.
Most reviewers have found the RAID array's real-life speeds to be around 350-390MB/s, which doesn't exactly reach the ideal promised speeds of 440MB/s but is still way faster than any of Sony's portable competitors. Pretty much the only critique involves the separate power adapter, which makes the device a bit more clunky to carry around.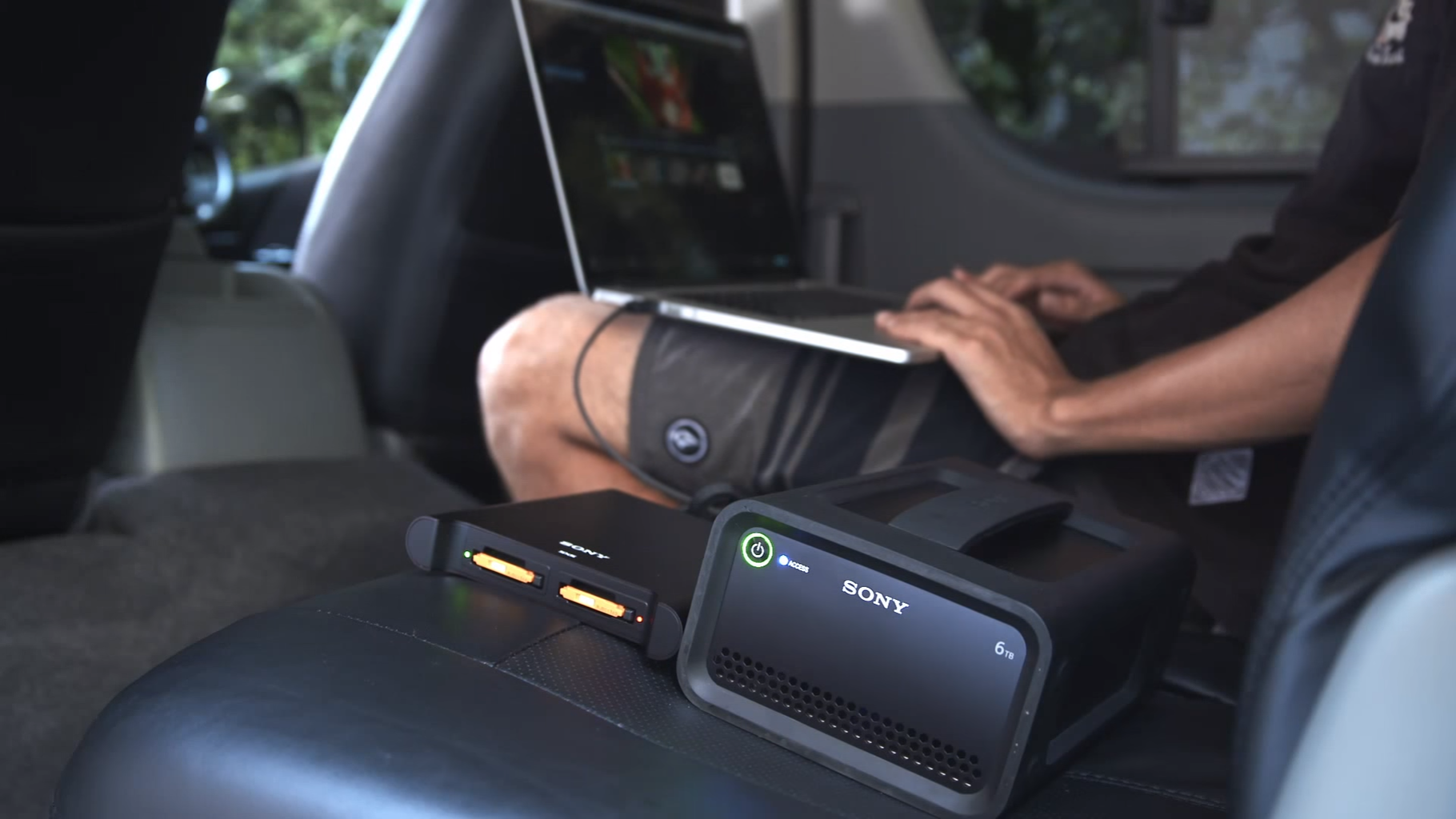 Verdict
Sony Professional RAID PSZ-RA are highly durable drive arrays that manage to deliver the highest performance among portable RAID devices. Up to 6TB of capacity, alongside vastly faster performance makes this device a clear choice for professionals who are ready to carry a bit more weight into the field. It's simply an excellent device that does its job well and doesn't even cost much more than its alternatives. Overall, a great product that we would definitely recommend to people in need of a fast and reliable portable storage solution.