Were you hoping to rock that formal dinner and impress your boss with not only your words but also your perfect dressing? Did it get ruined? Were you looking like you had just come out of the boxing ring? Ah, we can guess. It was a bad shave day, and you had cuts all over your face. Shaving is an art and to make sure you do it right, you need the perfect kit.
We are here to help you do that! Read through this article and get to know about the best shaving sets available for men.
BestSeller Men Shaving Kit
1. Van Der Hagen Men's Luxury Review
For all those who are new to the shaving business, this is the ideal shaving set. No need to embarrass yourself by having shaving cuts all over your face. Van Der Hagen is committed to serving its customers with nothing less than the best, and its 'Luxury' shaving set proves just that.
Things we Liked
All the add-ons! This set comes not only with a shaving brush but also a razor stand, soap, mug and other such items to provide comfort to the user.
Badger hair bristles are a unique addition to the brush.
Perfect for beginners as it is simple to use.
Things We Didn't Like
Weaker quality of the brush.
2. Van Der Hagen Shaving Kit Review
Van Der Hagen is back with yet another brilliant product ready to impress and satisfy its customers' needs. It is specially designed for those who have trouble using the high-tech and difficult sets and is very simple and easy to use. This set is great in quality and price!
Things We Liked:
All the additional equipment like a hand-dipped ceramic bowl, hypo-allergenic soap and shave brush.
The brush has boar bristles which are perfect for tough hair.
Simple to use and affordable. It is ideal for users who cannot handle elaborate and difficult sets and prefer simplicity.
Things We Didn't Like:
Brush quality is not great.
3. Miusco 100% Pure Badger Review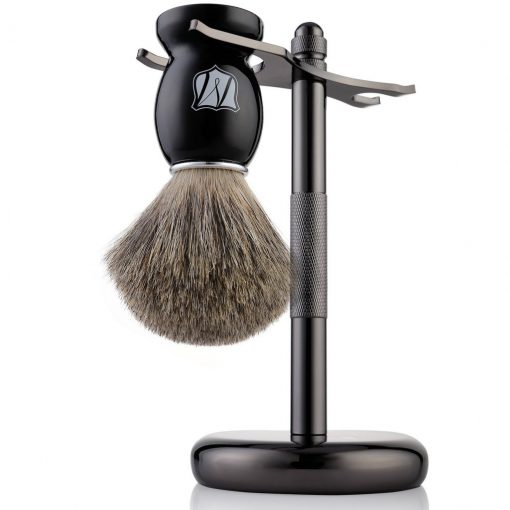 The Miusco 100% Pure Badger shaving set proves that it cares about its customers. Unlike your average shaving set, it doesn't focus only on removing hair but also ensures skin protection. The brush quality is great and removes hair gently without leaving marks on the face.
Things We Liked:
The razor stand is a great plus! It helps the user reduce chances of getting bacteria because the brush stays on the stand, dried and clean.
The bristles are made of pure badger hair.
No infection and soft skin.
Things We Didn't Like:
Due to the pure badger hair, this price is slightly high.
4. 3-Piece Double Edge Single Razor Kit Review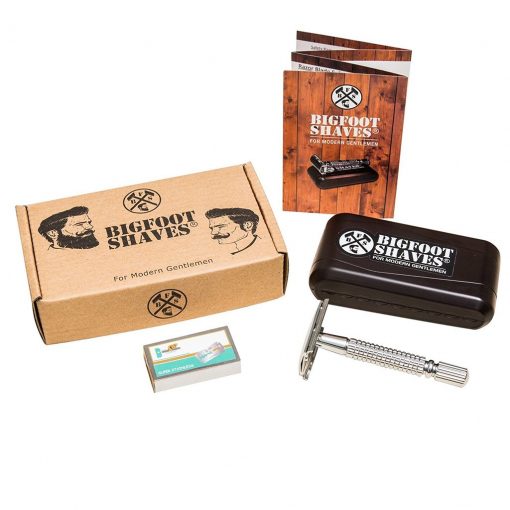 Stainless is the best quality steel present, and that is exactly what is used in the making of this product. It is perfect for users who wish to spend money on products that last for a longer duration. The material used to make this product helps it get a smooth and clean shaving experience.
Things We Liked:
Warranty provided by the company is great and allows the user to build trust with the manufacturer.
Best quality product available.
Double-edged blade doubles the fun.
Things We Didn't Like:
For users who are new and inexperienced, the razor might slip and leave cuts if used in haste.
5. Fento Badger Hair Shaving Set Review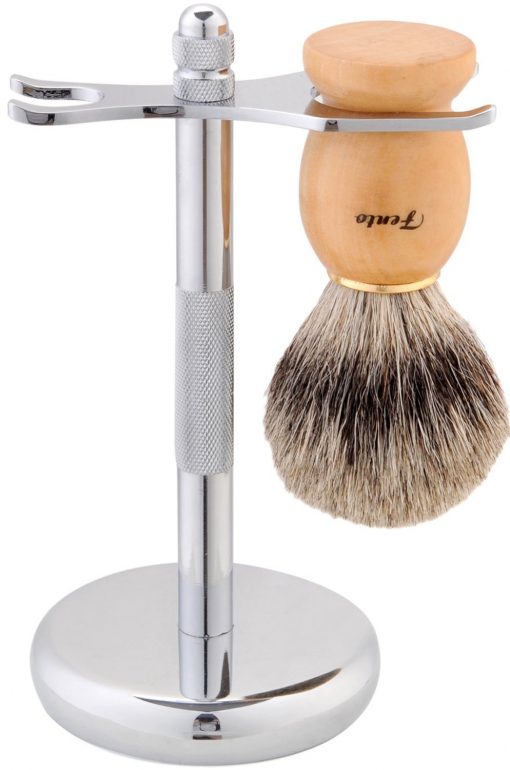 Fento came back with another brilliant product for all its dedicated users. It aims to fulfill every demand of its users by this shaving set. It is made using the best quality material, and all the additional equipment provided with it makes it a definite must-have!
Things We Liked:
The stand allows the brush to stay dry and bacteria-free.
The badger hair on the brush allows a smooth and clean shave.
It is a complete set with a brush and razor, and the customer doesn't have to spend more money.
Things We Didn't Like:
The holders on the stand are less than the requirement.
6. Smart Home Shaving Gift Set Review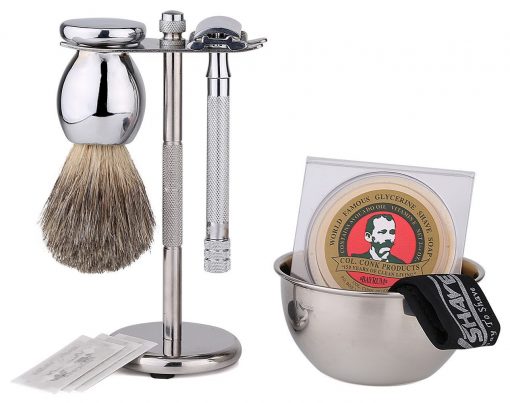 This set is perfect for you. The manufacturer thought of every possible need of the user and aimed to fulfill it. It provides additional blades and a box to keep them in along with a razor stand, brush, double-edged razor, and hairbrush. It is the ideal product for a gift and comes with a spare gift box. This modern set is the perfect choice for everyone!
Things We Liked:
Upgraded, high-quality and modern set which allows the user to have a great shaving experience.
All the added equipment enhances the experience.
Very affordable and makes great use of one's small budget.
Things We Didn't Like:
Brush quality might be weak.
7. Parker 96R Safety Premium Shave Set Review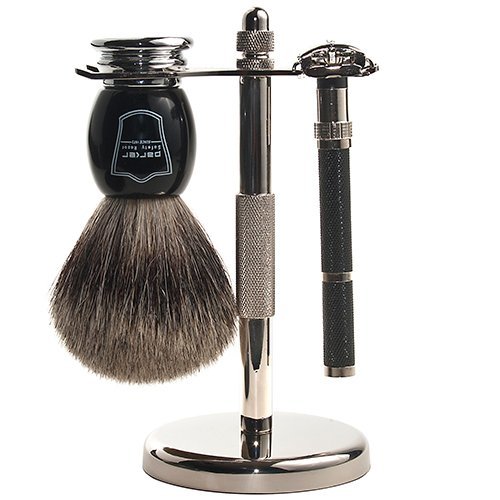 As the name suggests, this shaving set is safe and secure. It is made of brass and has a light weight. It leaves a perfectly smooth and soft skin. This shaving set is ideal for users who do not wish to get distracted by too many high-tech options and difficulties. It is simple to use and easy to shave with. The Parker 96R is your ideal safety razor.
Things We Liked:
Lightweight tools.
Simple and secure usage.
Removable blades which make it durable and long term.
Things We Didn't Like:
Keeping the product in good condition requires extra care.
8. AKPOWERTM Shaving Brush Set Review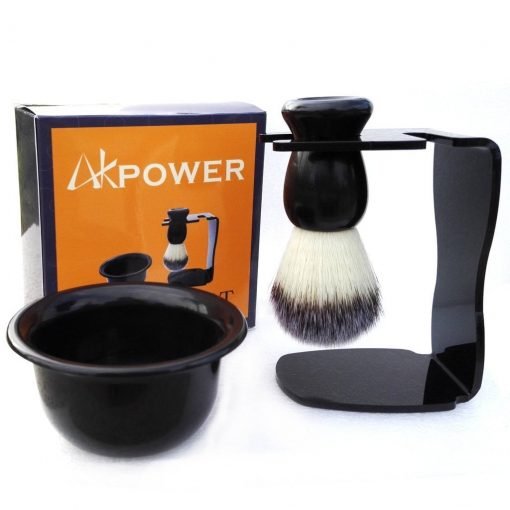 This shaving set is made using only the best material available and is durable and ensures a smooth experience to the user. It comes with add-ons like a shaving brush, soap bowl and brush stand to enhance the experience. It is ideal for users who prefer simplicity and a traditional shave!
Things We Liked:
High-quality stand which stays for a long time and protects the brush from bad smell and bacteria.
The brush has badger hair which smoothens the skin and removes hair properly.
Strong grip on handle due to its specific coat and material.
Things We Didn't Like:
The plastic bowl that comes with it doesn't last long.
9. Parker 29L Review
The Parker 29L is a great choice for men who choose simplicity. It has a perfectly thin and stylish razor set. It has a safety razor with it that comes with a butterfly opening and makes it easy to change old blades and add new ones. The handle provides a stronger grip and creates an amazing experience. This razor is ideal for users who prefer compact sets.
Things We Liked:
Allows the grip to be strong and secures the experience.
High-quality product and material.
Aesthetically pleasing and smart-looking product.
Things We Didn't Like:
The hairs on the brush aren't soft.
10. Vintage Shaving Soap Kit Review
The Vintage Shaving Soap Kit is the perfect choice for all customers. It is made out of a high-quality shaving brush. This allows a pain-free and smooth shaving experience. Another plus point is the bowl that is made out of stainless steel, which is undoubtedly the best steel out there. This keeps the soap clean and out of bacteria's reach.
Things We Liked: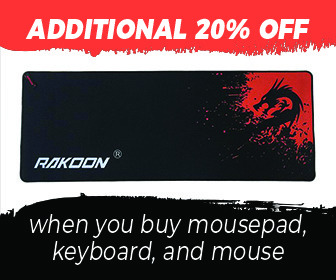 High-quality brush allows the user to create a thick lather.
Pain-free and safe shaving experience.
The bowl is an added plus point, making this product all the more desirable.
Things We Didn't Like:
The bowl could have been bigger and more spacious.
11. Perfecto Deluxe Shaving Kit Review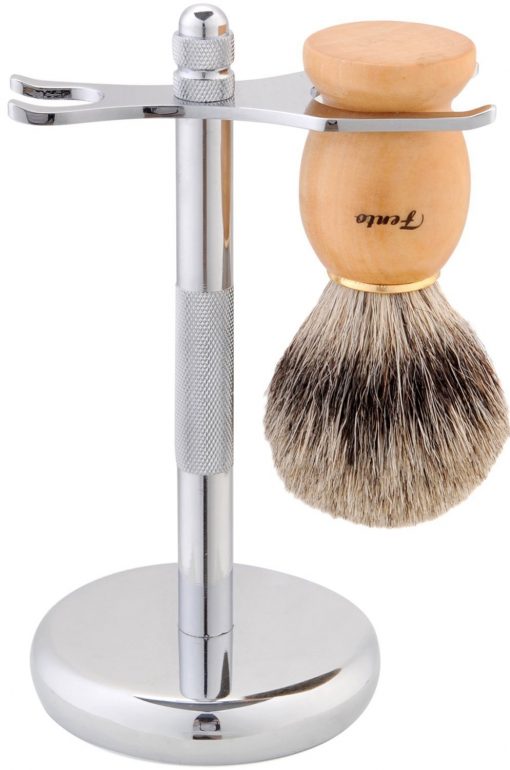 This kit lives up to its name and is indeed perfect for every customer who wishes to have a smooth shaving experience. The brush is made using badger hair and removes the hair completely without mishaps. High-quality material and best designing are used in making this product. It is long lasting and durable.
Things We Liked:
Durable and low in price, making it a must-have for every customer!
Badger hair on the brush assures a smooth shave.
High-quality material used in its making.
Things We Didn't Like:
Had a stand been added, this would have been more beneficial.
12. Colonel Conk Shave Kit Review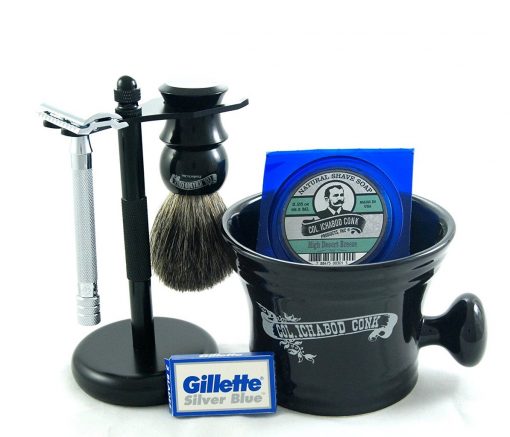 This shave kit is a must-have for everyone! It has everything you need to enjoy a perfect shaving experience. It comes with a razor and its stand, shaving brush with badger bristles, a bowl and soap and easy-to-change extra blades for backup!
Things We Liked:
The handle of this razor is pretty long, giving the user enough space to be comfortable using it.
All the add-ons! This is a wonderfully compact and well-designed kit.
Badger hair bristles to smoothen the shaving experience.
Things We Didn't Like:
Price might be high comparatively but is justified if one looks at all the additional equipment.
13. GBS Men's Grooming Set Review
This shaving set is exquisite, high quality, upgraded and a definite must-have! The lather created is thick and very rich. It comes with a shaving mug and enhances the overall experience of the user. The shaving soap and mug are all made using high-quality products and nothing less than the best!
Things We Liked:
The shaving bowl is designed perfectly and allows a comfortable experience.
The shaving soap is made using completely natural products.
The gift box is a great addition with the kit.
Things We Didn't Like:
The brush stand can break easily.