Seagate Innov8 is the high-end external hard drive, where the form meets the function. Innov8 is for those users who own the newest tech, want the flashiest and all around high-end performance external hard drives, and for those who need a large HDD on the go, cos with the 8 TB storage, capacity is the thing you will never lack with this Seagate monster.

Introduction
Innov8 is a Desktop type external hard drive because it uses 3.5-inch drive and not a 2.5-inch drive like other portable external hard drives, although it has a feature from smaller portable HDDs, which is not needing an external power supply, cos the USB Type-C connector provides not only data connection but the necessary power for it too.
Seagate is bulky, being 8.2" long, 4.85" wide and 1.42" thick (208mm x 123mm x 36mm) makes it quite large, and not it is not light too, weighing in at 3.3lb (1.5 Kg), but as I said, Innov8 is the place where function meets form. This external hard drive is not something slim and lightweight like Seagate Backup Plus Ultra Slim, and you will not forget it somewhere cause it was small, Innov8 makes you notice it everywhere you put it. Not because of the size alone but the outstanding design as well.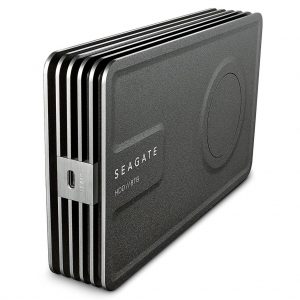 Breakdown of the Innov8  features
With the last statements about its size, how can you call it "portable"?
Well, yes it is not as handy as its other, smaller brothers, but with its 8 TB capacity and added software features like OneDrive service, who would really care that it is big. With the combined power of the added software and the plug and play feature it works great.
Innov8 comes with Seagate Dashboard which handles your data backup and is integrated into social platforms, which allows you to share your multimedia files easily. It comes with Lyve software compatibility, which lets you backup every video and photo taken in one place and views them from any device (You simply need a Lyve account and add those devices to it, and it will be backed up to the hard drive). And of course, with the purchase of Innov8, you will have a 2-year subscription to OneDrive (200 GB) cloud storage.
But my personal favorite is that this external hard drive is cross-platform compatible, as I tend to use both Windows and Mac. It makes my life a bit easier for sharing important content across these two giants faster and easier.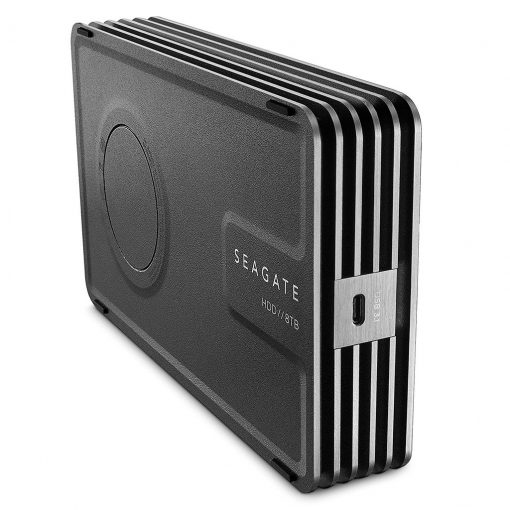 First impressions
From the moment you look at the box it came in, you get a feeling that Seagate put all their effort into making the best external hard drive they can, cos even the packaging felt like out of the ordinary and made with extra care. Although inside you only have the hard drive, type-c cable, and a warranty guide.
From the first look it felt and looked like you could destroy a house with it and it would not even have a scratch on it. The aluminum enclosure by itself is a manufacturing art piece and clearly made to be much more durable than other portable drives.
For years now I have been using Seagate products for myself, and they have never really failed me (just a few times cause of my clumsiness when I destroyed them), and Innov8 made me feel even more confident about Seagate`s quality.
The setup itself is easy, cos it is plug and play and it did not cause any headaches for me when first connecting to either Windows and Mac, with a bit of signing into apps being the only thing that took a bit extra time, but for those who don't really need them could just ignore these features.
Again with the size, for me personally it was not an issue, cos I tend to carry around a large amount of tech every day and the drive just occupied another pocket in my bag, and on the table, I somehow did not really notice the extra brick. But for those users who like to travel light and fast, the size could be an issue, cos it will not fit everywhere and you will clearly notice it.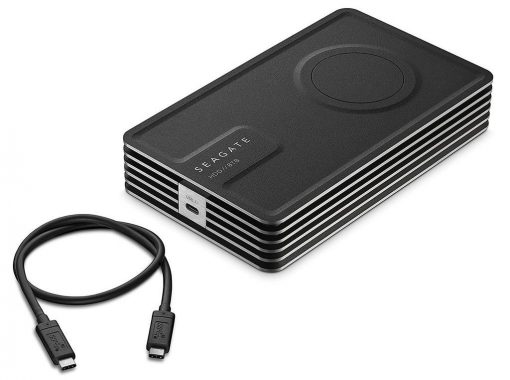 The advantages of the Innov8
The first thing to mention should definitely be the durability of it. The aluminum enclosure does an excellent job of protecting the external drive. A few times already I have dropped it (by accident, of course, cos who would try to damage their sensitive data on purpose) and it held together great, and works as good as the first time.
The enclosure gives a bit of relief, cos in the daily rhythm you do not need to worry about the drive getting damaged by accidental drops and losing your beloved data cos of a clumsy friend or family member.
Software and platform compatibility is another great thing about Innov8, mainly cause it makes your life a bit easier, with data backups from different platforms making sure you will not lose something you clearly don't want to lose and make it a lot easier to share data across different platforms.
Its sequential read capabilities were another thing I was actually kind of surprised by, as it managed to get up to 194 MBps, but the sequential write capabilities were disappointing, only going up to about 137 MBps.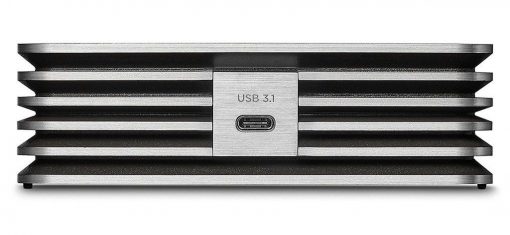 The disadvantages of the Innov8
There are not many disadvantages, some may put the size in the disadvantage box, but clearly, its biggest failure is its greatest strength. I am talking about one Type-C USB connector. First of all, the wire itself was kind of short (sorry, I did not measure it) and is good for laptops, but a couple times it was a bit more hassle when plugging into my desktop PC that is under the table.
Innov8 may not work with older type-c ports, as I learned it the hard way, cos the drive doesn't have an external power adapter since it uses the type-c connector for power and data transfer at the same time. However, older models of the ports provide less power than what the Seagate drive needs and there is not a solution that I could find that could fix this. Another bump was the previously mentioned write capability, as I was disappointed a bit with getting only around 130 MBps out of this 7200RPM drive, and a lot of times it dropped even lower. The price itself is a disadvantage, cause it costs about $350 and clearly, it was aimed more at those who needs to carry around a lot of data daily or just need a large external hard drive and are in touch with the latest tech.
[su_row][su_column]
[su_box title="PROS" box_color="#179f16″ radius="4″]
[su_list icon="icon: plus-square" icon_color="#179f16″]
Great design
Durable enclosure
Type-C connector
No external power cable
Software package
Great sequential read performance
[/su_list]
[/su_box]
[/su_column]
[su_column]
[su_box title="CONS" box_color="#9f1619″ radius="4″]
[su_list icon="icon: minus-square" icon_color="#9f1619″]
The price
Sequential write performance
Type-C connector (in few situations)
[/su_list]
[/su_box]
[/su_column]
[/su_row]
[su_button url="http://www.amazon.com/Seagate-Innov8-Desktop-USB-C-STFG8000400/dp/B01ER48934/ref=as_li_ss_tl?ie=UTF8&qid=1496395423&sr=8-1&keywords=seagate+innov&linkCode=sl1&tag=ishddmag-20&linkId=6f5e838bcd29fe009fcfa361284f63d0″ target="blank" background="#fa6900″ size="7″ center="yes" icon="icon: shopping-cart" icon_color="#fbfbfc" rel="nofollow"]View on Amazon[/su_button]
Conclusion
Seagate Innov8 is a great "portable" external hard drive, with the design being simple but at the same time as beautiful as possible, it looks really nice even when just sitting on the table.
With few disadvantages and a lot more advantages, the huge price for me felt like a secondary problem, cos mostly you are paying for those software features (OneDrive alone costs about 100$) and the extra safekeeping and backup capabilities make it worth the cost. Cross-platform use is really easy and fast, ensuring you can share your files.
All-around daily capabilities are great even with the weak writing speeds, and the durable enclosure allows you to not think about losing your data accidentally, but the connector may be a headache in other situations. Or maybe if you are interested in some smaller portable hard drives, make sure you check out this one out – PNY Turbo as it is one hell of a thumb drive.