The Seagate FireCuda Gaming 3.5-inch SSHD is from Seagate's Firecuda family, and it features both – a hard drive and 8GB NAND type flash memory that work together via intelligent firmware. Unlike Seagate FireCuda Gaming 2.5-inch SSHD, the larger desktop version features higher data transfer speed and is made for use in a system that's built for gaming or managing demanding software and applications.
All Firecuda models have a five-year warranty wich is considerably more than Barracuda drives. Despite it's extended warranty and SSD flash memory, it's just like any other hard drive with 64MB of cache, 7200rpm spindle speed, and SATA 6Gbs/s connection.
A closer look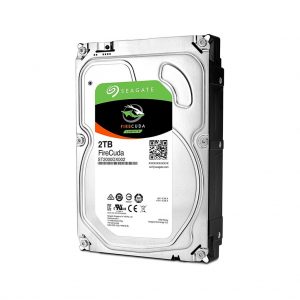 While the name "Firecuda" is relatively new and not heard in the past, it's just a rebrand of Seagate's Solid State Hybrid Drive line-up. Firecuda is the fifth generation of SSHD Seagate has made. It's made keeping gamers in mind, although it can handle anything you throw at it.
To your computer, there is no difference whether your drive has only SSD memory or mechanical spinning disk, all it sees is one large chunk of memory, for example, 2TB. The firmware that's inside your Firecuda makes the difference as it has to decide which files to store on SDD. Each SSHD has a different method or algorithm how to do this, but the physical principle is the same – the most frequently used data will be stored in flash memory, and data you don't use that often will be on the hard drive.
To say things more exact – the data will not be "saved" on flash memory but duplicated there. Note that the file always exists on hard drive and firmware can decide in every moment that to switch files from HDD to SSHD. The selection process for files is what makes Firecuda different – it uses a caching algorithm where latency plays a huge role. This algorithm is more efficient than most competitor SSHD's on the market.
Features
[su_list icon="icon: arrow-circle-right" icon_color="#19169f"]
Adaptive Memory technology that over time learns about your frequently accessed data and decides what to store on flash memory
Multi-tier caching technology – increases performance helping files load faster
Capacities of up to 2TB should satisfy everyone's needs
One of the fastest desktop hard drive on the market
5-Year Warranty
[/su_list]
[amazon_link asins='B01IEKG2HM,B01LWRTRZU' template='MyCopyOf-ProductGrid' store='ishddmag-20′ marketplace='US' link_id='7f4e87f2-677f-11e7-9b11-fbc3c3efb628′]
Specifications and performance
The 3.5-inch Seagate Firecuda comes in two capacities – 1TB and 2TB, has a cache of 64MB and unlike the 2.5-inch version a spindle speed of 7200 rpm. Surprisingly the 3.5-inch Firecuda features lower Load/Unload Cycles than 2.5-inch version.
[supsystic-tables id=290][su_spacer]
The 3.5-inch Seagate Firecuda is a very well performing drive. We managed to reach a sequential read speed of 216.9MB/s and write speed of 211.4MB/s. These numbers are definitely not disappointing and are way higher than on nay traditional hard drive.

However, testing Seagate Firecuda on benchmark software like CrystalDiskMark is not objective as it tests random sectors of the drive. Seagate's firmware algorithms can't deal with such tests, so we also did some testing with PCMark 8, because its test methods are closer to real-world action.
So what's the conclusion on Firecuda performance? Well, we found that 8GB of NAND type flash memory is not enough. If you do various tasks on your computer, the performance of your drive may even worsen. The 8GB flash memory can only work with small amount of application data. If you throw many different applications to it, Firecuda probably isn't your best choice. However, if you just launch Windows, use some work and one or two games, you will be more than happy with performance Firecuda can deliver.
Should you buy it?
If you are building your system and you're limited with your budget, an SSHD is a way better primary drive than traditional hard drive. Just remember, the speed of it will vary depending what you do with your drive. If you frequently work with many applications, an SSHD will lose its purpose, and you won't see a significant difference between an SSHD and traditional hard drive. However, if all you do is launch Windows, use office, and maybe few games, Seagate Firecuda is a good choice.
If we are talking about pricing, it's not that expensive. If we compare it with WD Black 2TB, then Firecuda 2TB is cheaper for almost 30$! As for performance, Firecuda shows better sequential read/write speeds. So it's definitely a good choice.
Verdict
The 3.5-inch Seagate Firecuda SSHD is a great choice for a primary drive if you are on a tight budget and even better choice for a secondary drive if you're using an SSD as your first workhorse. If you are building a high-end system, the only way to go is using an SSD as a primary drive and SSHD as secondary. And as a secondary drive, Firecuda offers good data transfer speeds and a healthy five-year warranty.
Solid State Hybrid Drive with its mechanical disk and NAND type memory is ideal for those who don't know what to store on an SSD and what to store on the hard drive as you can't manually save anything on the flash memory. The firmware decides what to store on SSD and what to save on HDD depending on how frequently you use specific data. So it's definitely more beginner friendly.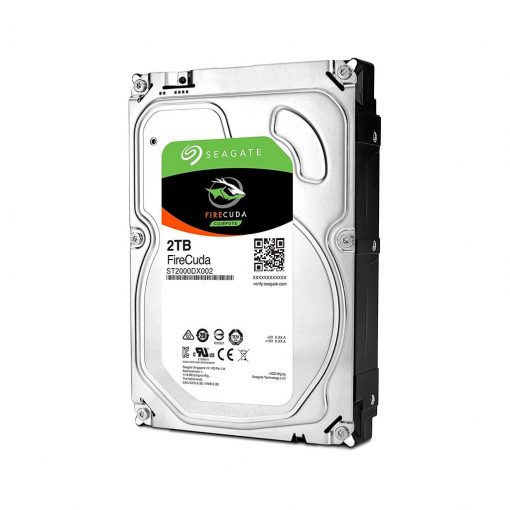 [su_button url="http://www.amazon.com/Seagate-FireCuda-Gaming-Solid-Hybrid/dp/B01IEKG2HM/ref=as_li_ss_tl?_encoding=UTF8&pd_rd_i=B01IEKG2HM&pd_rd_r=XYCNADMQ19XFYHNTYMPV&pd_rd_w=Lam8q&pd_rd_wg=3GX18&psc=1&refRID=XYCNADMQ19XFYHNTYMPV&linkCode=sl1&tag=ishddmag-20&linkId=b573cd852f016713e7e485f1e69198c9″ target="blank" style="stroked" background="#164b63″ size="8″ center="yes" icon="icon: shopping-cart" rel="nofollow"]View on Amazon[/su_button]