The SanDisk Extreme PRO is a high-performance and high-capacity driven USB flash drive that has no compromises but still managed to do everything well. This flash drive features an aluminum casing and sequential read speed of 260MB/s and write speed of 240MB/s, which makes it very competitive with other high-end USB flash drives. Not only this drive looks good and performs well but also comes with a lifetime limited warranty.
Related: Best USB 3.0 Thumb Drives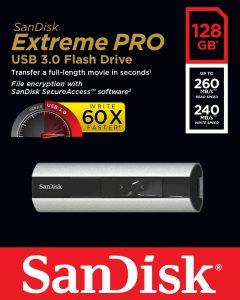 [su_button url="http://www.amazon.com/gp/product/B00HR7FWUC/ref=as_li_qf_sp_asin_il_tl?ie=UTF8&tag=ishddmag-20&camp=1789&creative=9325&linkCode=as2&creativeASIN=B00HR7FWUC&linkId=6aa5b589e1694e27a3f31f6166f4c06e" target="blank" background="#1113cd" size="7″ center="yes" icon="icon: shopping-cart" icon_color="#fbfbfc" rel="nofollow"]View on Amazon[/su_button][su_spacer]
Performance and technical specifications
The SanDisk Extreme PRO is made with a performance in mind. Maybe it's not made to be super fast, but it still competes very well with flash drives like PNY Turbo and Lexar JumpDrive P20, as well as Patriot Supersonic Rage 2. SanDisk claims that Extreme PRO can reach sequential read speed of 260MB/s and sequential write speed of up to 240MB/s. That's not bad for a so sleek looking device.
We did some testing with a PC running Windows 10 that has the following specifications:
CPU – Intel i5-6500
RAM – 8GB
SSD – ADATA SU800 512GB
We tested this drive by transferring many different size files starting from 1GB to 10GB and did some benchmark testing. In the result, we got an average read speed of 231 MB/s and write speed of 208 MB/s. This result is very competitive. If you're looking for a fast USB flash drive, here is one exactly for you. In fact, most of the people will be more than happy with SanDisk Extreme PRO performance.
SanDisk Extreme PRO specifications:
Available capacities – 128GB
Interface – USB 3.0 that's backward compatible with USB 2.0
Warranty – lifetime
Weight – 0.64 ounces
Feature breakdown
If you have decided to get yourself a SanDisk Extreme PRO, you won't get a bare flash drive. There are a ton of features that comes with this drive to enhance your user experience. One of them is SanDisk SecureAccess Software that's made to protect your privacy. The with this software you can protect your specific file or whole flash drive. You get 128-bit AES encryption, that lets you password protect your sensitive files so no beside yourself can access them. It has a super easy interface, just drag and drop your files into the vault and they will be safe.
SecureAccess isn't the only software you get. There also is RescuePRO Deluxe Software. It's a data recovery software that allows you to recover deleted files. It comes super handy if you accidentally delete something. With RescuePRO Deluxe, you don't have to worry about a thing. Just keep in mind that data recovery usually takes a long time.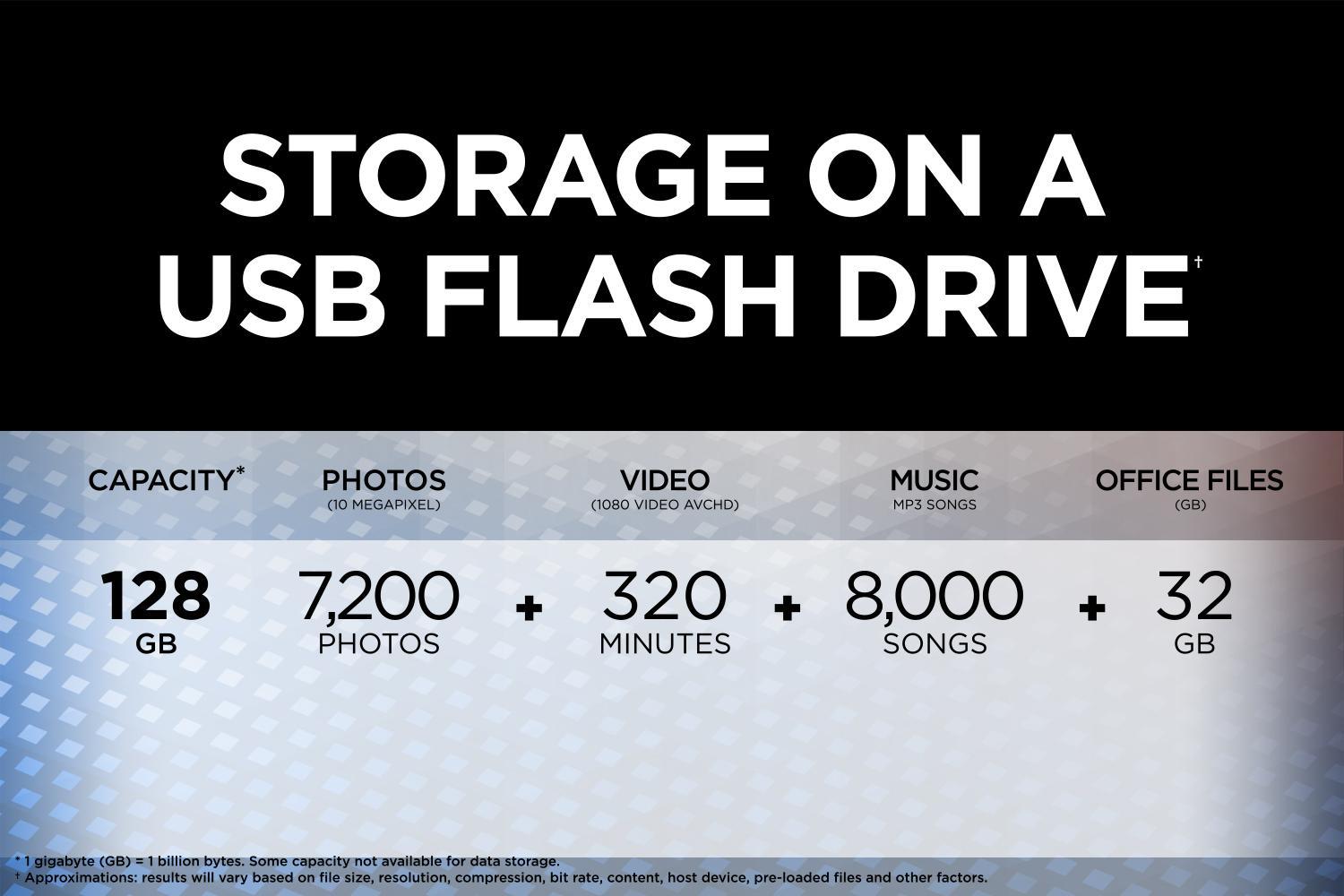 Fast data transfer speeds and 128GB of capacity we can also call a great feature as most flash drives don't feature that. With the whopping 128GB, most us will be more than happy.
Should you buy SanDisk Extreme PRO?
If you're looking for a stylish yet very solid looking USB flash drive that has a high capacity and fast data transfer speeds, you can't go wrong with Extreme PRO. Yes, it is a bit more expensive than similar drives, but then again do those competitors offer everything that Extreme PRO does? Probably not.
Who should buy it? Just about everyone. It's a superb drive for demanding consumers and specialists as photographers, video editors and even gamers. Another great bonus is its lifetime warranty. SanDisk Extreme PRO is not like the most mainstream drives offering only 2 years of warranty. This makes Extreme PRO a very future proof flash drive, which will be usable for many years to come.
[su_row][su_column]
[su_box title="PROS" box_color="#179f16″ radius="4″]
[su_list icon="icon: plus-square" icon_color="#179f16″]
Fast data transfer speeds
lifetime warranty
Sturdy build quality
Sleek looking design
[/su_list]
[/su_box]
[/su_column]
[su_column]
[su_box title="CONS" box_color="#9f1619″ radius="4″]
[su_list icon="icon: minus-square" icon_color="#9f1619″]
Only one 128GB capacity
Pricey
[/su_list]
[/su_box]
[/su_column]
[/su_row]
Design
The SanDisk Extreme PRO is one of those very attractive and slim looking devices that are pleasant to hold in hands. One of the main reasons why we love it is its aluminum metal casing, that makes it feel very durable. To protect USB 3.0 connector, a slider mechanism is used. It works very well and snaps into both positions very well with its click-action feel.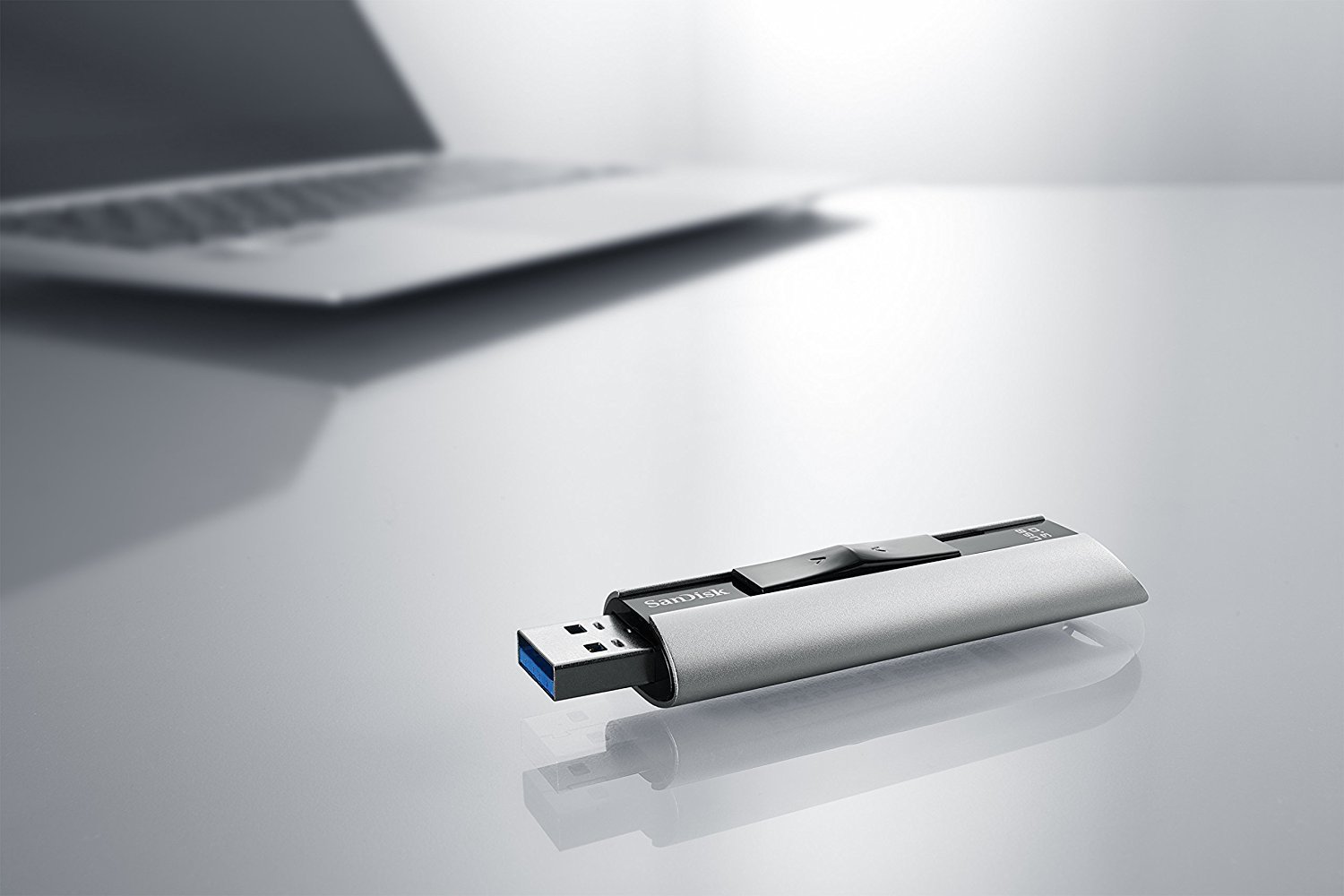 The casing is in silver color with a black stripe that goes through the whole flash drive. On this strip, you can find a SanDisk branding and lettering of "USB 3.0." Overall this is one of the best-built USB flash drives we have tested.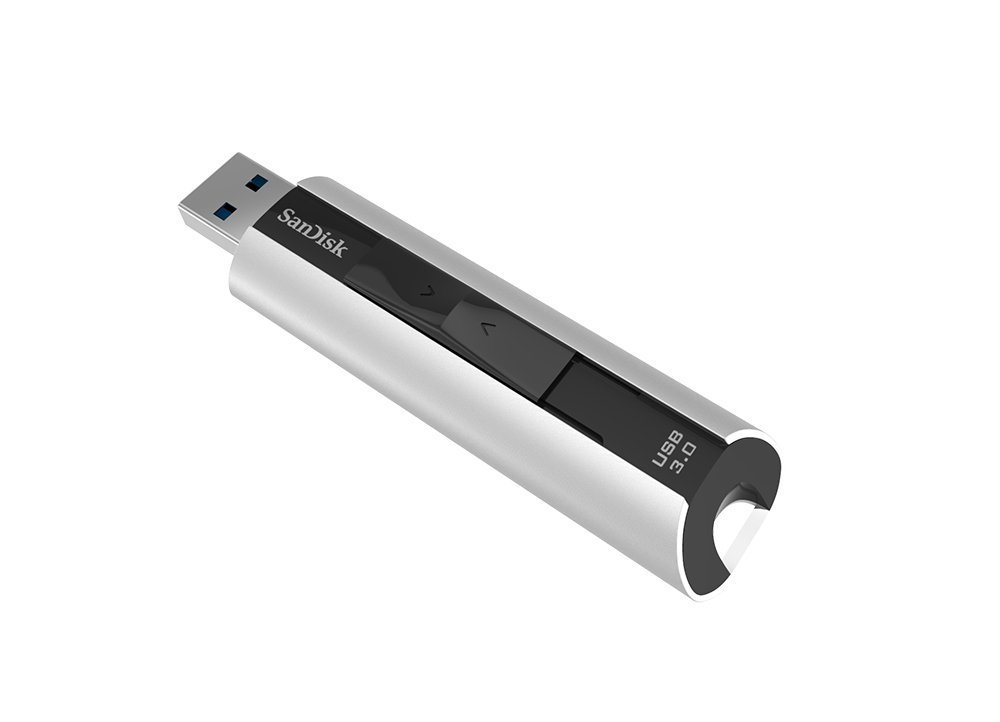 Verdict
The SanDisk Extreme PRO is a USB flash drive that has been made with a performance- in mind as well as design. It's a high capacity drive that comes only in one version – 128GB. It's aimed towards the most demanding consumers as well as professionals who need a reliable and fast performing USB flash drive for their daily job as Extreme PRO can exceed data transfer speed of 200MB/s for both read and write.
Not only this flash drive looks good and performs well but it also comes with a healthy lifetime warranty and two additional software to enhance your user experience.