Looking for a flash drive that has everything you would want from a USB flash drive? You are in need of high-end performance, data security features, stylish design, but don't want to step into too large price range? If so, Sandisk Extreme cz80 is one of your best bets. With a read speed of up to 245MB/s and write reaching 190MB/s, this drive can match with devices like Lexar JumpDrive P20 and Patriot Supersonic Rage 2. Not only you get superb performance, but also SanDisk SecureAccess Software that includes a 128-bit AES encryption as well as password protection so you can be sure that none else besides you can access this thumb drive.
Related: Top 8 Best USB 3.0 Thumb Drives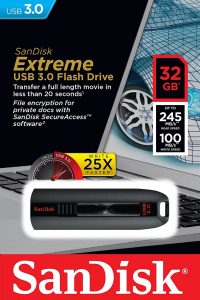 [su_button url="http://www.amazon.com/gp/product/B00KT7DOSE/ref=as_li_qf_sp_asin_il_tl?ie=UTF8&tag=ishddmag-20&camp=1789&creative=9325&linkCode=as2&creativeASIN=B00KT7DOSE&linkId=edaa596f44b1f3efab9e366ea6c6fce2″ target="blank" background="#1113cd" size="7″ center="yes" icon="icon: shopping-cart" icon_color="#fbfbfc" rel="nofollow"]View on Amazon[/su_button][su_spacer]
Performance and technical specifications
One of the Sandisk Extreme cz80 key features is performance. It's definitely way above average in terms of read and write speeds.  We did some testing with a PC running Windows 10 that has the following specifications:
CPU – Intel i5-6500
RAM – 8GB
SSD – ADATA SU800 512GB
We tested this drive by transferring many different size files starting from 1GB to 10GB and did some benchmark testing. In the result, we got an average read speed of 198 MB/s and write speed of 181 MB/s. It stands well against competitors like Lexar JumpDrive P20 that offer higher read speeds, but lower write speed. Sandisk Extreme cz80 performs really well for its price range.
Sandisk Extreme cz80 specifications:
Available capacities – 32GB, 64GB, 128GB
Interface – USB 3.0 that's backwards compatible with USB 2.0
Warranty – 

Lifetime limited

Weight – 0.64 ounces
Should you buy it?
With Sandisk Extreme cz80 we can undoubtedly answer:"Yes, it's worth buying." This drive offers a wide range of capacities so everyone can find their right fit. There are a 128-bit AES encryption and password protection and excellent performance. To top it out, Sandisk Extreme cz80 comes with lifetime warranty and has very clean and solid build. Yes, it's not the cheapest drive out there and costs a bit more than a mid-range thumb drive, but then again it's not a mid-range drive. It's a great drive for a great price, perfect if you want up to tech device but don't want to step too high in the price range.
If you are willing to sacrifice some performance for extra storage capacity, get a cheaper device, take a look at SanDisk Ultra +Cloud.
[su_row][su_column]
[su_box title="PROS" box_color="#179f16″ radius="4″]
[su_list icon="icon: plus-square" icon_color="#179f16″]
Excellent performance for a flash drive in this price range

Robust yet good looking design

Lifetime limited warranty
[/su_list]
[/su_box]
[/su_column]
[su_column]
[su_box title="CONS" box_color="#9f1619″ radius="4″]
[su_list icon="icon: minus-square" icon_color="#9f1619″]
There are no real minuses to this drive. The only thing we can imagine while it's affordable, you can find thumb drives with similar or a slightly worse performance for a lower price.
[/su_list]
[/su_box]
[/su_column]
[/su_row]
Design
Design wise Sandisk Extreme cz80 is very straightforward and classy. We loved the simple yet sturdy build that features capless design instead using a sliding mechanism. Unlike other drives with sliding mechanisms that tend to be hard to push, for example as with PNY Pro Elite, Extreme cz80 has made it right in the sweet spot – it's not too hard and not too lose.

The drive comes with only one color variation which is black with red lettering of "SanDisk" and "USB 3.0." As many drives do, also SandDisk Extreme features a keychain hole, and a blue LED activity indicator, USB 3.0 header is blue as always.
We loved this clean well build device, seems like it's made for many years to come. There is a lifetime warranty that explains some things.

Verdict
Sandisk Extreme cz80 is a superb flash drive for daily use. It features very fast read-write speeds and is pleasant to hold its hands, use it day by day. It doesn't really have any minuses. The only thing we could image is that Sandisk Extreme cz80 is slightly more expensive than similar performing drives (usually a bit slower), but then again why not to pay few bucks more for a device you really like?
We definitely think that Sandisk Extreme cz80 is very future proof, it won't become old and slow performing few years after you have bought it. This drive can also keep your files safe with its SecureAccess Software that features 128-bit AES encryption. You can also make specific folders password-protected. Overall this is a highly recommendable USB flash drive.