While the gaming industry pushes forward with more daring and polished projects, some of us just want to enjoy the good old classic games that we played as kids. PlayStation consoles have been a huge part of a lot of people's childhoods, and it's clear that many gamers want to go back to those days and play some PS2 or PS3 games. But does PS4 have backwards compatibility or has this piece of modern technology strived so much for perfection that it forgot about how vital nostalgia is? Find out the answer in our article about PS4 backwards compatibility.
PS4 Backwards Compatibility With PS1 and PS2
There are currently no emulation or access to PS1 games on PS4 since emulating a technology this old would cost a whole lot and Sony understandably doesn't want to invest. The current generation might never get to enjoy the original PlayStation.
PS2 was released way back in 2000, so you would imagine that it's quite a simplistic console when compared to the modern PS4s and Xbox Ones. It is easy enough to emulate for PS4 that you can find a few of PS2 titles that can natively run on a PS4. However, this list isn't updated that often and the existing list is pretty short, plus the PS2 games you may already own on a disc will not run on a PS4 since you have to buy the digital, emulated version from the PlayStation Store. Here is the short list of PS4 backwards compatible PS2 games (as of May 2017):
[su_row][su_column]ADK Damashii Alter Echo Ape Escape 2 Ape Escape 3 Arc the Lad: Twilight of the Spirits Bully Dark Chronicle Dark Cloud Destroy All Humans! Destroy All Humans! 2 Eternal Ring Fahrenheit FantaVision Fatal Fury Battle Archives: Volume 2 Fu'un Super Combo Grand Theft Auto III Grand Theft Auto: San Andreas Grand Theft Auto: Vice City Harvest Moon: A Wonderful Life Special Edition Harvest Moon: Save the Homeland Hot Shots Tennis Jak and Daxter: The Precursor Legacy Jak II Jak 3 Jak X: Combat Racing Kinetica The King of Fighters '98: Ultimate Match The King of Fighters 2000 Legaia 2: Duel Saga Manhunt The Mark of Kri[/su_column]
[su_column]Max Payne Metal Slug Anthology MX vs. ATV Unleashed MX vs. ATV Untamed Okage: Shadow King Panzer Elite Action: Fields of Glory PaRappa the Rapper 2 Primal Psychonauts Puzzle Quest: Challenge of the Warlords Red Dead Revolver Red Faction Red Faction II Resident Evil – Code: Veronica X Rise of the Kasai Rogue Galaxy Samurai Galaxy Samurai Shodown VI Siren Splashdown: Rides Gone Wild Star Ocean: Till the End of Time Star Wars: Bounty Hunter Star Wars: Jedi Starfighter Star Wars: Racer Revenge Stuntman: Ignition Summoner Summoner 2 Twisted Metal: Black War of the Monsters The Warriors Wild Arms 3[/su_column][/su_row]
PS4 Backwards Compatibility With PS3
If Sony managed to emulate at least a few PS2 games on PS4, they would surely be able to the same with the newer PS3 right? Well, it's not that simple since the PS4 was built upon an entirely different architecture to become more compatible with PC processor technologies. This is why making an emulator would cost way more money than what Sony is willing to cough up, so there is no native emulation for PS3 games on PS4.
However, the customer demand for some form of backwards compatibility fueled the creation of PlayStation Now, which is a subscription service that allows you to play a whole bunch of PS3 games on PS4 via a streaming service. With PlayStation Now, you primarily play games on Sony's servers and the control input, as well as the game footage output, is broadcast over the internet to your system. As opposed to the list of PS2 emulated games, the list of PS3 game titles are accessible through PlayStation Now has new additions pretty much every month. The latest additions are posted in video form on PlayStation's YouTube channel.

Here is the alphabetical list of the more popular games on PS Now as of May of 2017. NOTE that some of these games may disappear from PS Now because they need to be updated (Not looking for a specific game? Skip the list.):
A
[su_row][su_column]Air Conflicts: Pacific CarriersAir Conflicts: Secret WarsAir Conflicts: VietnamAlex Kidd in the Miracle WorldAlien RageAlien SpidyAll Zombies Must Die!Alone in the Dark: InfernoAlpha ProtocolAltered BeastAnarchy: Rush HourAnna- Extended EditionAnomaly: Warzone EarthArcana Heart 3[/su_column]
[su_column]Arcania: The Complete TaleArmageddon RidersArt of FightingAssassin's CreedAssassin's Creed BrotherhoodAssassin's Creed IIAssassin's Creed IIIAssassin's Creed RevelationsAssassin's Creed: RogueAsura's WrathAtelier Ayesha: The Alchemist Of DuskAtelier Escha & Logy: Alchemists Of The Dusk SkyAtelier Rorona Plus: The Alchemists Of ArlandAtelier Shallie: Alchemists Of The Dusk Sea[/su_column][su_row]
B
[su_row][su_column size="2/5″]Back To BedBack to the Future: Episode 1 – It's About TimeBaseball Stars 2Baseball Stars ProfessionalBatman: Arkham Asylum GOTYBatman: Arkham CityBatman: Arkham OriginsBattle FantasiaBattle Princess Of ArcadiasBattle vs ChessBejeweled 3Ben 10: OmniverseBen 10: Omniverse 2Bentley's HackpackBeyond: Two SoulsBig Sky: InfinityBionic Commando RearmedBionic Commando Rearmed 2BioShock[/su_column]
[su_column]BioShock 2BioShock InfiniteBit.Trip Presents… Runner2: Future Legend of Rhythm AlienBladestrom: NightmareBlazBlue: Calamity TriggerBlazBlue: Chrono PhantasmaBlazBlue: Continuum ShiftBlazBlue: Continuum Shift ExtendBlazerushBlood KnightsBloodRayne: BetrayalBodycountBomberman UltraBorderlandsBorderlands 2Borderlands: The Pre-SequelBound by FlameBraid[/su_column][/su_row] [amazon_link asins='B00JQHU9RC,B00Q03M3LA,B00886WO7A,B001P2IS2O' template='MyCopyOf-ProductGrid' store='ishddmag-20′ marketplace='US' link_id='a9ee3f22-35b7-11e7-8074-6bcd59826a95′]
C
[su_row][su_column]Capcom Arcade Cabinet: All-In-One PackCastlevania: Harmony Of DespairCatherineCel Damage HDChampion Jockey: G1 Jockey & Gallop RacerChime Super DeluxeChoplifter HDComet Crash: Bionic Bundle[/su_column]
[su_column]Command & Conquer: Red Alert 3ContrastCostume Quest 2CounterSpyCrash CommandoCrazy TaxiCritter CrunchCuboid Ultimate Bundle[/su_column][/su_row]
D
[su_row][su_column]DamnationDark MistDark Souls IIDark VoidDarksidersDarksiders IIDarkstalkers ResurrectionDaytona USAde Blob 2Dead IslandDead Island: RiptideDead or Alive 5Dead or Alive 5 UltimateDead Rising 2Dead Rising 2: Off the RecordDead Space 3Deadliest Warrior: LegendsDeadliest Warrior: The Game (No DLC)Death Track: Resurrection[/su_column]
[su_column]Deception IV: The Nightmare PrincessDeus Ex: Human RevolutionDevil May Cry 4Devil May Cry HD CollectionDirt 3Dirt: ShowdownDisgaea 3: Absence Of JusticeDisgaea 4: A Promise UnforgottenDisgaea D2: A Brighter DarknessDogfight 1942Doki-Doki UniverseDon Bradman Cricket 14Double Dragon NeonDuke Nukem ForeverDragon's LairDragon's Lair II: Time WarpDynasty Warriors 7Dynasty Warriors 8Dynasty Warriors: Strikeforce[/su_column][/su_row]
E
[su_row][su_column]Earth Defense Force 2025Earth Defense Force: Insect ArmageddonEat Lead: The Return of Matt HazardEat Them!EchochromeElefunkEl Shaddai: Ascension of the Metatron[/su_column]
[su_column]Enslaved: Odyssey to the WestEntwinedEternal SonataEufloriaEverybody's GolfEveryday Shooter[/su_column][/su_row]
F
[su_row][su_column]F.E.A.R. (Campaign Mode)F1 2010F1 2011F1 2013F1 2014F1 Race StarsFeary: Legends Of AvalonFarming Simulator 2013Farming Simulator 15[/su_column]
[su_column]Fat PrincessFighting VipersFinal ExamFinal Fight: Double ImpactFlowFlowerFrogger ReturnsFuel Overdose[/su_column][/su_row]
G
[su_row][su_column]Galaga Legions DXGenji: Days Of The BladeGo! PuzzleGod of War HDGod of War II HDGod of War IIIGod of War: AscensionGod of War: Chains of Olympus[/su_column]
[su_column]God of War: Ghost of SpartaGolden AxeGravity CrashGreg Hastings Paintball 2Grid 2Grid AutosportGrip Shift v2.0Guacamelee![/su_column][/su_row]
H
[su_row][su_column]Hakuoki: Stories of the ShinsengumiHamilton's Great AdventureHamsterball UnleashedHeavenly SwordHeavy Fire: AfghanistanHeavy Fire: Shattered SpearHavy RainHitman 2: Silent Assassin HDHitman: Blood Money HD[/su_column]
[su_column]Hitman: Contracts HDHohokumHot Shots Golf: World InvitationalHouse Of The Dead 4How To SurviveHunter's Trophy 2: AmericaHunter's Trophy 2: AustraliaHustle Kings[/su_column][/su_row]
I
[su_row][su_column]IcoInfamousInfamous 2Infamous 2: Festival of Blood[/su_column]
[su_column]Injustice: Gods Among Us Ultimate EditionInterpol: The Trail of Dr. ChaosInvizimals: The Lost Kingdom[/su_column][/su_row]
J
[su_row][su_column]Jeopardy!Jeremy McGrath's OffroadJetpack Joyride DeluxeJimmie Johnson's Anything with an EngineJoe Danger 2: The Movie[/su_column]
[su_column]JourneyJudge Dee: The City God CaseJurrasic Park: The Game – Ep 1-4Just Cause 2[/su_column][/su_row]
K
[su_row][su_column]Kane & Lynch 2: Dog DaysKatamari ForeverKillzone[/su_column]
[su_column]Killzone 2Killzone 3Knytt Underground[/su_column][/su_row]
L
[su_row][su_column]Lead and Gold: Gangs of the Wild WestLeague BowlingLearning With The Pooyoos: Episode 1LegasistaLego Batman 2: DC Super HeroesLego Batman: The VideogameLego Harry Potter: Years 1-4Lego Harry Potter: Years 5-7[/su_column]
[su_column]LemmingsLinger In ShadowsLocoRoco CocorecchoLone SurvivorLost Planet 2Lost Planet 3Lost Planet: Extreme ConditionLumines Supernova[/su_column][/su_row]
M
[su_row][su_column]MachinariumMadagascar 3: The Video GameMafia 2Magician LordMagic OrbzMagrunner: Dark PulseMagusMahjong Tales: Ancient WisdomMamorukun CurseMars: War LogsMass Effect 2Matt Hazard: Blood Bath and BeyondMega Man 10Mega Man 9Mercury Hg[/su_column]
[su_column]Metal SlugMetal Slug 2Metro: Last LightMirror's EdgeMortal Kombat Komplete EditionMotoGP 13Motorcycle ClubMotorStorm: ApocalypseMotorstorm RCMouseCraftMX vs. ATV: AliveMX vs. ATV: ReflexMX vs. ATV: SupercrossMX vs. ATV: UntamedMXGP: The Official Motocross Videogame[/su_column][/su_row]
N
[su_row][su_column]NBA 2K14NBA JAM: On Fire EditionNi no Kuni: Wrath of the White WitchNights into Dreams[/su_column]
[su_column]Ninja Gaiden 3: Razor's Edge with Online PassNinja Gaiden SigmaNinja Gaiden Sigma 2Numblast[/su_column][/su_row]
O
[su_row][su_column]Oddworld: Munch's Oddysee HDOddworld: Stranger's Wrath HDOf Orcs and MenOlliolliOperation Flashpoint: Dragon Rising[/su_column]
[su_column]Operation Flashpoint: Red RiverOrder Up!Overlord IIOverlord: Raising Hell[/su_column][/su_row]
P
[su_row][su_column]Pac-Man Championship Edition DX+ Full VersionPainkiller: Hell & DamnationPapo & YoPayday: The HeistPidPixelJunk EdenPixelJunk MonstersPixelJunk Racers: 2nd LapPixelJunk ShooterPixelJunk Shooter 2[/su_column]
[su_column]PixelJunk SidescrollerPiyotamaPlanet MinigolfPlanets Under AttackPoker Night 2Port Royale 3: GoldProteusPuppeteerPure ChessPuzzle Agent[/su_column][/su_row]
Q
Q*bert Rebooted
R
[su_row][su_column]R-Type DimensionsRag Doll Kung Fu: Fists Of PlasticRagnarok Odyssey AceRaiden IV: OverkillRainRainbow MoonRatchet & Clank Future: A Crack in TimeRatchet & Clank Future: Quest for BootyRatchet & Clank: All 4 OneRatchet & Clank: Full Frontal AssaultRatchet & Clank: Into the NexusRealms of Ancient WarRecord of Agarest WarRecord of Agarest War 2Red Dead Redemption: Undead NightmareRed Faction: ArmageddonRed Faction: GuerrillaRed Johnson's ChroniclesRenegade OpsResident Evil 4Resident Evil 5: Gold Edition[/su_column]
[su_column]Resident Evil 6Resident Evil Code: Veronica XResident Evil: Operation Racoon CityResident Evil: RevalationsResident Evil: Revalations 2Resident Evil: The Umbrella Chronicles HDResistance 3Retro City RampageRetro/GradeRicochet HDRideRiff: Everyday ShooterRise of the ArgonautsRise of the Guardians: The Video GameRocket KnightRocketbirds: Hardboiled ChickenRotasticR-type DimensionsRune Factory: OceansRune Factory: Tides of DestinyRunner 2: A Flat Out Run Of The Rhythm Alien[/su_column][/su_row]
S
[su_row][su_column]Sacred CitadelSaints Row 2Saints Row IVSaints Row: The ThirdSam & Max: Beyond Time and Space – Ep 1Sam & Max: Beyond Time and Space – Ep 2Sam & Max: Beyond Time and Space – Ep 3Sam & Max: Beyond Time and Space – Ep 4Sam & Max: Beyond Time and Space – Ep 5Sam & Max: The Devil's Playhouse- Ep 1Sam & Max: The Devil's Playhouse- Ep 2Sam & Max: The Devil's Playhouse- Ep 3Sam & Max: The Devil's Playhouse- Ep 4Sam & Max: The Devil's Playhouse- Ep 5Samurai ShodownSavage MoonSega Bass FishingShadow of the ColossusShatterSherlock Holmes: Crimes and PunishmentShock TroopersSid Meier's Civilization: RevolutionSilent Hill HD CollectionSiren: Blood Curse Episode 1-12Skullgirls EncoreSky FighterSkydive: Proximity FlightSlender: The ArrivalSly Cooper: Thieves in TimeSmash CarsSnakeballSniper Elite V2Sniper: Ghost WarriorSniper: Ghost Warrior 2Soldner-X 2: Final PrototypeSoldner-X: Himmelssturmer[/su_column]
[su_column]Sonic & Sega All-Stars RacingSonic Adventure 2Sonic CDSonic GenerationsSonic the FightersSonic the Hedgehog 4: Episode ISonic the Hedgehog 4: Episode IISonic UnleashedSound ShapesSpace AceSparkle 2Spec Ops: the LineSpelunkyStarhawkStarwhalStealth Bastard DeluxeStealth Inc: A Clone in the DarkStick It to the Man!StriderStrong Bad's Cool Game For Attractive People – Ep 1Strong Bad's Cool Game For Attractive People – Ep 2Strong Bad's Cool Game For Attractive People – Ep 3Strong Bad's Cool Game For Attractive People – Ep 4Strong Bad's Cool Game For Attractive People – Ep 5Super Hang-onSuper Mega BaseballSuper Puzzle Fighter II Turbo HD RemixSuper SidekicksSuper Stardust HDSuper Street Fighter IV: Arcade EditionSwarmSyberiaSyberia 2Söldner X2 – Final PrototypeSöldner-X: Himmelsstürmer[/su_column][/su_row]
T
[su_row][su_column]Tales from Space: About a BlobTales From The Borderlands – Ep 1 & 2Tales Of Monkey Island: Chapter 1-5Tekken Tag Tournament 2The Awakened Fate UltimatumThe Book Of Unwritten Tales 2The CaveThe DarknessThe Darkness 2The Guided Fate ParadoxThe House of the Dead 3The House of the Dead 4The House of the Dead Overkill: Extended CutThe King of Fighters '94The King of Fighters XIIIThe Last GuyThe Last of UsThe Last of Us: Left BehindThe Legend of Heroes: Trails of Cold Steel IIThe Lego Movie VideogameThe Raven: Legacy of a Master Thief[/su_column]
[su_column]The Sims 3The Sly CollectionThe SwapperThe Walking Dead: The Complete First SeasonThe Walking Dead: Season Two Ep 1 & 2The Witch And The Hundred KnightThe Wolf Among UsThomas Was AloneTitan AttacksTokyo JungleTokyo Twilight Ghost HuntersTomb Raider: UnderworldTour De France 2015Toy HomeToybox TurbosTrineTruck RacerTurbo: Super Stunt SquadTwisted MetalTwo Worlds 2[/su_column][/su_row]
U
Ultra Street Fighter 4Uncharted 2: Among ThievesUncharted 3: Drake's DeceptionUncharted: Drake's FortuneUrban Trial Freestyle
V
Velocity UltraVesselVirtua Fighter 2Virtua Fighter 5 Final Showdown
W
[su_row][su_column]Wakeboarding HDWarhammer 40,000: Space MarineWarhawkWay of the Samurai 3Wheel of FortuneWhen Vikings Attack[/su_column]
[su_column]White Knight ChroniclesWhite Knight Chronicles 2WRC 4: FIA World Rally ChampionshipWRC 5WWE 2k15[/su_column][/su_row]
X
X-BladesXBlaze Code: EmbryoXCOM: Enemy Within
Z
Zen Pinball 2: ClassicsZeno Clash IIZombie Tycoon 2: Brainhov's Revenge
PlayStation Now – Sony's Not So Well Received Answer To PS4 Backwards Compatibility
PlayStation Now allows you to play PS3 games on your Windows PC as well as your PS4 (although you'll still need a DualShock 3 or 4 controller) and save time on installing games since the games are streamed over the internet as opposed to being downloaded (like a YouTube video). Your progress will be saved on PlayStation's servers, so if you decide to abandon the service for a while, your saved games and trophies will not disappear. To start off, PlayStation gives a 7-day free trial of the PlayStation Now service, letting you decide whether it's worth your money or not.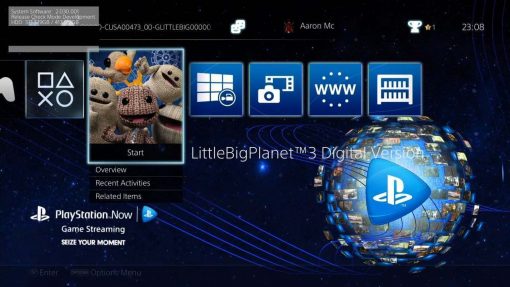 No need to download games and the ability to play them on different devices is nice and all, but where's the catch? Well, the $20 per month subscription fee (most expensive 1-month subscription) is one, alongside the need to rent games to play them (many games are free with just the subscription, but not all). Many have compared the payment system to Netflix. A good gaming experience with such service requires a decent internet connection – at least 5 Mbps with Sony advising a wired connection for that speed to be constant. As of August 7th, 2017, the service will no longer be available on PS3 itself, with a bunch of Sony TVs leaving the roster of devices supporting PS Now as well.
The bad reception of PlayStation Now among gamers who enjoy classical titles is also to a degree fueled by the early promises of full PS4 backwards compatibility with PS1, PS2 and PS3 games that they may already own. Instead, they got a subscription service with a rental service underneath, containing only PS3 titles, with the previously mentioned short list of emulated PS2 games being underwhelming. The huge amount of fan-favorite classic PS titles being denied from PS4 owners is frustrating, especially with Xbox One backwards compatibility providing almost full emulation of their earlier console games. Sony could have invested into making the complex emulator for PS3 to be more customer-friendly, but instead, they made a costly service for their most hardcore fans who understandably expected more.
There is a short PlayStation Now FAQ list on PlayStation's website, so check that out for some more specific questions.
Related articles:
[su_list icon="icon: external-link-square" icon_color="#000000″]
[/su_list]