If you are the proud owner of a PS4, the chances are that you wish to protect your precious gadget from all sorts of harm. The first component that usually gets damaged is the controller and especially analog sticks.
Don't worry, you can continue treating your controller like you always do. Just make sure you take precautions to protect it. One such precaution is investing in PS4 analog stick covers. Such an item will ensure that your analog sticks do not wear out with constant use, which plays an integral role in providing an extended life to your controller.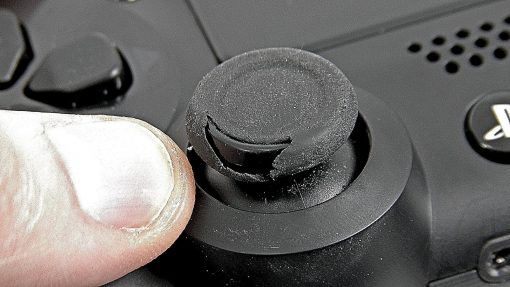 Best PS4 Analog Stick Covers
There is an abundance of PS4 analog stick covers for you to choose from in the market. Since everyone has different preferences, it will be wrong to dub any product as being universally best for all of the gamers.
Therefore, we have made a list of the Best PS4 Analog Stick Covers.
1. Grip-iT Analog Stick Cover Review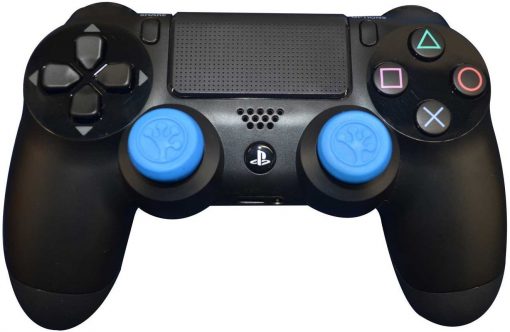 If you are looking for style, durability, and comfort, Grip-iT Analog Stick Covers is your best bet. This product is available in a set of four and comes in two colors, namely blue and black.
Not only are they immensely comfortable to use, but they are also made to ensure that your thumbs do not slip from the analog during the crucial parts of the game. The thumb grip also succeeds in enhancing the sensitivity of the analog, thereby leading to a better performance.
Compared to other items on the list, the Grip-iT Analog Stick Covers is on the pricey side, though the value-added features make up for the high cost.
The fact that the Grip-iT Analog Stick Covers is easy to attach is bound to be a source of convenience for you. The material used in the making of the product is high quality and has led to the product being durable. Enjoy the competitive edge provided by these thumb grips.
2. Pandaren Thumb Grip Thumb Stick Noctilucent Review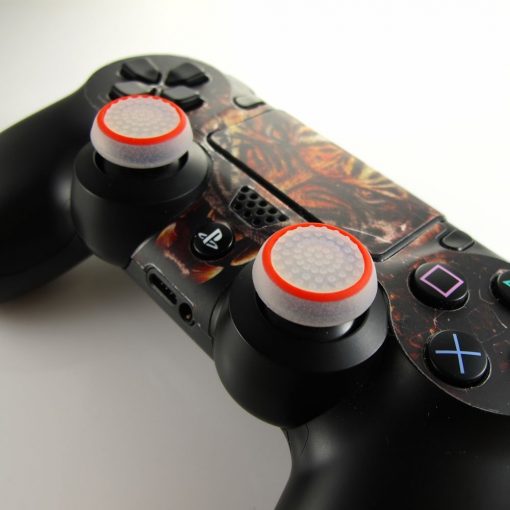 The Pandaren analog stick covers come in a pack of 16 and serves to be highly affordable. The fact that it can absorb light and then light up in the dark has been lauded by many.
Such a cool feature can be enjoyed by the masses since the product is compatible with PS2, PS3, PS4, Xbox 360 and Xbox One controllers. Moreover, the added accuracy and sensitivity provided by the Pandaren covers is translated into superior performance for you.
The PS4 analog stick covers are available in eight colors, giving you the freedom to decide amongst an array of possibilities. The fact that they are easy to put on and that they don't slip has been appreciated by many.
3. Mudder Replacement Analog Stick Covers for PS4 Review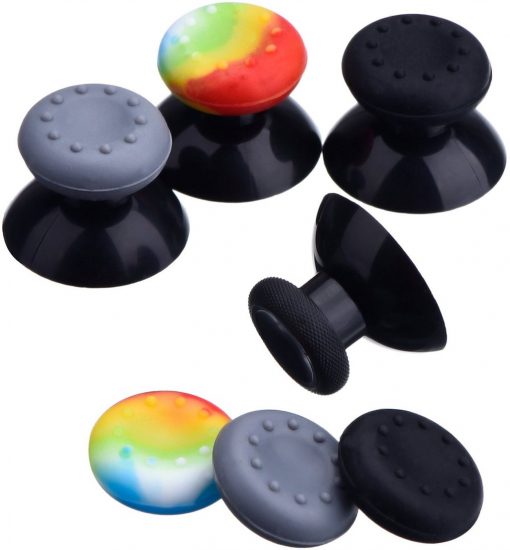 Do you wish for your PS4 analog stick covers to enhance the look of your controller? If so, you will appreciate the ten different colors and styles of the thumb grips offered by Mudder. The affordable price when combined with the fact that Mudder replacement covers are compatible with PS2, PS3, PS4, and Xbox 360 make this product a likely choice for many.
These analog stick covers for ps4 succeed in providing enhanced sensitivity and ensure that your fingers don't slip. Thereby, these grips perform all the vital functions with an added benefit of being aesthetically pleasing.
4. BW Replacement Silicone Analog Thumb Stick Cover Review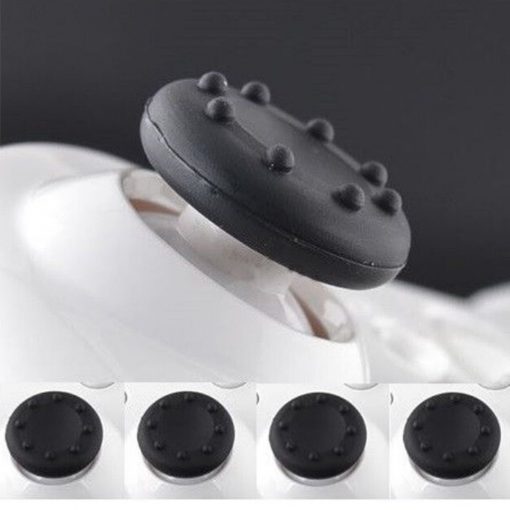 This product is available in black and includes five pairs of analog stick covers. It can be fitted onto the controllers of PS3, PS4, Xbox 360, Xbox One and Nintendo Wii.
These PS4 analog stick covers are marked by an easy installation process as well as high quality due to the use of silicone in the making of the thumb grips. Such a material ensures both durability and comfort. You can use these concave caps to enhance your grip on the controller.
5. Fosmon Analog Stick Cover Review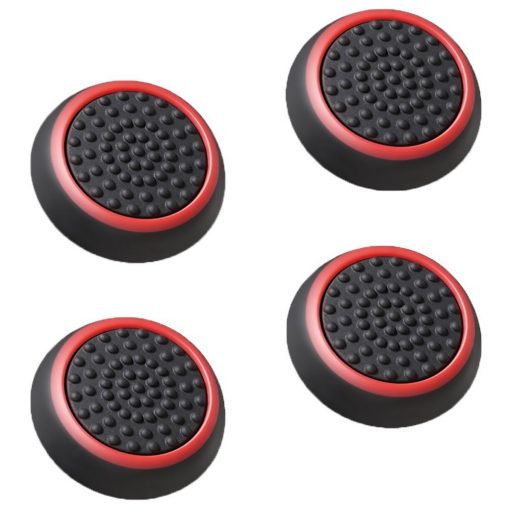 These PS4 thumb grips are one of the cheapest products on the list, yet they succeed in delivering enhanced grip and sensitivity. The product includes two pairs of thumb grips available in 8 colors.
Not only is this product compatible with PS4, but it can also be used effectively on PS3, PS4, Xbox One, Xbox One S and Wii U. If you are looking for a primary product with a comfortable grip, these thumb grips will do the trick.
6. Kelux Thumb Cover for the PS4 Review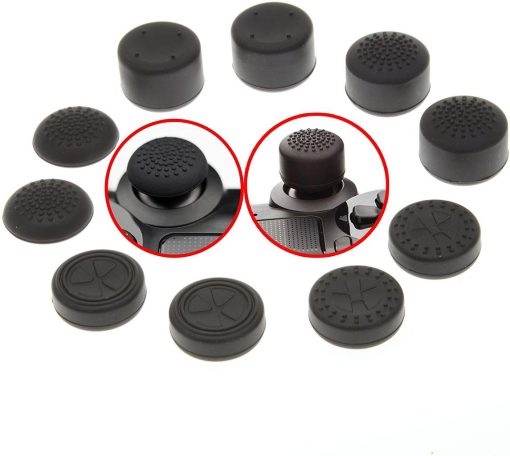 This product is available in a pack of 10 and includes two sets of concave and three sets of convex analog stick covers to provide you with a holistic package. Moreover, the inclusion of two low, four high, and four medium high thumb grips allows you to change the caps as per the requirement of the game.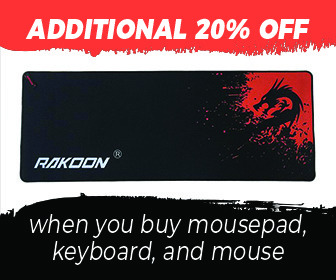 This product not only serves to enhance your performance by improving your grip and accuracy, but it also proves to be immensely durable due to the use of high-quality rubber. If you want various cap options that are easy to install, this product will yield satisfactory results.
7. XFuny Luminous Thumb Stick Grip Caps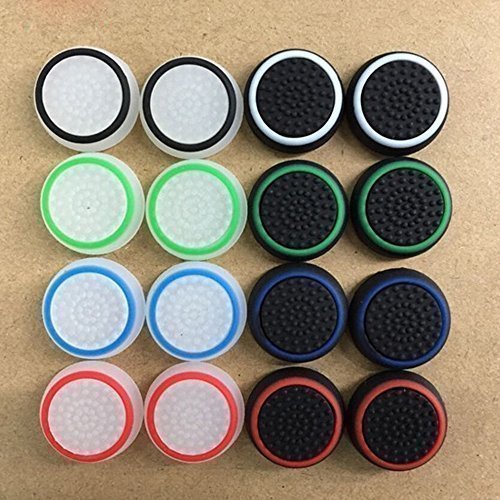 This product includes four pairs of white thumb grips that can light up in the dark, allowing you to play even after lights out. These PS4 analog stick covers are compatible with the controllers of PS3, PS4, Xbox 360 and Xbox One. These concave caps are easy to put on and allow you to enjoy a firm grip and a comfortable experience.
The durable nature of the product along with the delicate design lets you bring in your A game as you play with your friends.
Verdict – Found PS4 Analog Stick Cover?
While any of these products will provide you with satisfactory performance, at the end of the day, main features for analog PS4 stick covers are material quality and design.
If you are a novice, opt for the Kelux Thumb Grips since they will allow you to try all kinds of styles and choose one which you are comfortable with.
Regardless of which one you choose, make sure you equip your PS4 controller with analog stick covers. Ensure your comfort as well as the durability of your joystick.