Toshiba has been exploring the SSD market for a while now but, similarly to many other manufacturers, has moved from the bulky 2.5-inch SSDs over to making the compact M.2 NVMe drives.
This has left the OCZ Trion 150 as the most reasonable SSD choice from Toshiba. This SSD is relatively affordable and provides respectable performance. In this review, you will find out the specifics of this SSD, its feature set, performance, and its best alternatives.
Trion 150 Specs
[supsystic-tables id=393]
[amazonjs asin="B01B4NUKDS" locale="US" title="Toshiba OCZ Trion 150 960GB 2.5″ 7mm SATA III Internal Solid State Drive TRN150-25SA3-960G"]
[su_row][su_column]
[su_box title="PROS" box_color="#179f16″ radius="4″]
[su_list icon="icon: plus-square" icon_color="#179f16″]
Rather affordable on some retailer sites
Advanced warranty is promised to improve customer experience
[/su_list]
[/su_box]
[/su_column]
[su_column]
[su_box title="CONS" box_color="#9f1619″ radius="4″]
[su_list icon="icon: minus-square" icon_color="#9f1619″]
Lower than average transfer speeds
Planar TLC Flash will last for a shorter time
[/su_list]
[/su_box]
[/su_column]
[/su_row]
Breakdown of Features
Toshiba OCZ Trion 150 is a 2.5-inch SATA 6Gbps internal SSD, standard 7mm thickness. It comes in 120GB, 240GB, 480GB, and 960GB capacities, all of which feature a standard 3-year (OCZ special ShieldPlus) warranty. Although easy to find, the smaller 128GB and 240GB versions are outdated and therefore extremely expensive, in comparison to the larger models. 480GB and 960GB Trion 150 models are priced at roughly 30-33 cents per GB, depending on the retailer. Meanwhile, the smaller capacities are sold for upwards of 70 cents per GB – on some retailer sites, the 480GB version is cheaper than the 240GB one.
The Trion's sequential performance is rather decent, reaching 499MB/s seq. read and 335MB/s seq. write speeds (UserBenchmark). However, it's random performance leaves more to be desired – 26MB/s 4k read and 53MB/s 4k write speeds are not horrible but are towards the lower end of SATA SSD spectrum. Although slightly slower than other SSDs, the Trion 150 will still be a huge upgrade to any hard drive.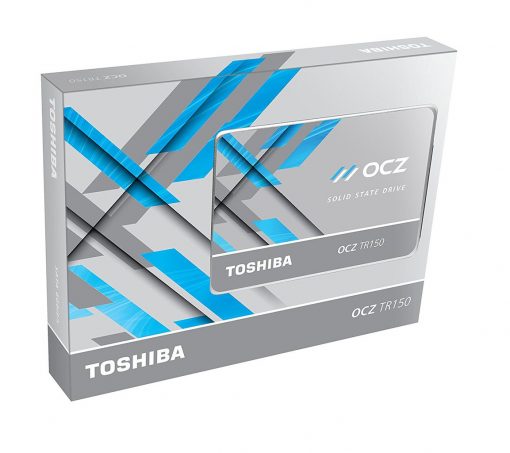 While the Trion 150 is able to deliver acceptable performance, its longevity, in comparison to other SSDs, may also be a bit of a letdown. This is because it uses planar (2D) TLC Flash memory, which is prone to wear out sooner than it's more premium alternative – MLC Flash, as well as the newer type of SSD NAND storage – 3D TLC. This is because the two latter options put less strain on singular memory cells, either by storing less data in one cell or by using larger cells that allow easier access to it. In short, the use of TLC NAND makes the Trion seem like an outdated drive, especially considering the somewhat average price.
There isn't anything really noteworthy concerning the inner-workings of this SSD. OCZ does provide a free SSD management tool called SSD Utility. This software will allow you to monitor the specs and health of the SSD, as well as fine-tune some features, such as overprovisioning and interactions with your operating system.
Alternatives
[supsystic-tables id=394]
[supsystic-table-diagram id='146′]
In picking the closest alternatives to this and most other SSDs, we focus on price over all other things. Adata Ultimate SU800 is one SSD that is quite similar to the Trion 150 in many ways, including price. A much more impressive and interesting alternative is the Mushkin Reactor that is also priced similarly to the Trion but achieves much higher performance. However, these are only two options of many, so it might be worth checking out articles such as our best and fastest SSD recommendations, as well as our 2.5-inch SSD and HDD top list.
Adata Ultimate SU800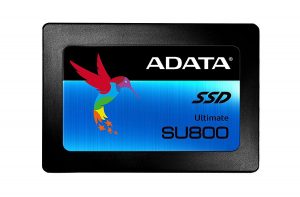 This SSD by Adata delivers respectable performance for a relatively low price (only larger capacities). It comes in 128GB, 256GB, 512GB, and 1TB capacities with a 3-year warranty. The SU800's smaller capacities range between 30.5-41 cents per GB, which is not nearly as cheap as the 1TB model, priced at roughly 27 cents per GB.
The 493/324MB/s sequential read/write and 27/63MB/s 4k random read/write speeds are far from impressive, but will still provide a huge boost over any hard disk drives. The use of more advanced caching allows the SU800 to be a bit quicker than the trion, and the use of 3D NAND grants it greater longevity and power efficiency. Overall, the SU800 is a bit more advanced than the Trion and even costs a bit less, however, for casual usage, both SSDs will perform well.
[su_button url="http://www.amazon.com/gp/product/B01K8A29E6/ref=as_li_tl?ie=UTF8&tag=ishddmag-20&camp=1789&creative=9325&linkCode=as2&creativeASIN=B01K8A29E6&linkId=652e0b392dd56185d4db3a0bf186a5f7″ target="blank" style="stroked" background="#C92228″ size="5″ center="yes" rel="nofollow"]View on Amazon[/su_button]
Mushkin Reactor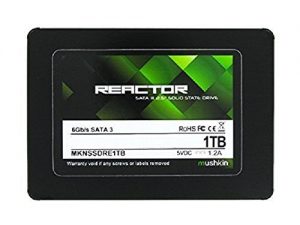 Among all the huge brands like Toshiba and Samsung, a new competitor by the name of Mushkin has managed to create one of the best SATA SSDs. The Reactor is available in 240GB, 250GB, 480GB, 500GB, 960GB, 1TB, and 2TB capacities, all with a 3-year warranty. Being priced at around 26.5-35.5 cents per GB, the Reactor is also one of the cheapest 2.5-inch SSDs.
This MLC drive reaches staggering benchmarks for its price tag – 497/415 MB/s seq. read/write and 25/81MB/s random read/write speeds. In short, Mushkin Reactor is cheaper, faster, and more reliable than the Trion 150, considering the Reactor's use of MLC Flash and other performance and longevity-boosting features. Only a massive discount on the Trion would make it viable in comparison to the Mushkin SSD.
[su_button url="http://www.amazon.com/gp/product/B071DVJSJK/ref=as_li_tl?ie=UTF8&tag=ishddmag-20&camp=1789&creative=9325&linkCode=as2&creativeASIN=B071DVJSJK&linkId=52500ba8f811b6de78dd06543e170ace" target="blank" style="stroked" background="#C92228″ size="5″ center="yes" rel="nofollow"]View on Amazon[/su_button]
Verdict
Although the Trion 150's price is relatively rather low, it offers too little for today's market. Its feature set is quite limited and even if Toshiba had decided to keep its inner workings a secret, the lower benchmarks speak for themselves. Plus, if it uses planar TLC as claimed, it will almost definitely stop working before most other, more modern 3D NAND SSDs would.
The Trion could do just fine as a simple SSD upgrade, especially if you can get a discount on it, since its most glaring downsides may be harder to notice in casual usage. Still, there are better alternatives out there right now (like the Mushkin Reactor or Crucial MX300), which simply offer more performance and longevity for a lower price.
[su_button url="http://www.amazon.com/gp/product/B01B4NUKDS/ref=as_li_tl?ie=UTF8&tag=ishddmag-20&camp=1789&creative=9325&linkCode=as2&creativeASIN=B01B4NUKDS&linkId=f2f867f63128e59744e02bf02fcc608c" target="blank" style="stroked" background="#C92228″ size="5″ center="yes" rel="nofollow"]View on Amazon[/su_button]