These days, we create, use, and store tons of data by the minute. The only way to not get lost among hundreds of file names and different storage devices is to create your own orderly way of storing your files right up to volume level.
Unfortunately, doing this with Windows' native Disk Management is quite clunky, and many of its options involve deleting/temporarily transferring data between operations. Fortunately, you can download free partitioning and data management software, like MiniTool Partition Wizard, that lets you manage different properties of partitions and entire drives with ease.
Continue reading this MiniTool Partition Wizard review to find out if it is the right data storage program for you! This review will cover both MiniTool Partition Wizard Free and MiniTool Partition Wizard Pro.
What Are MiniTool Partition Wizard and Partition Wizard Pro?
Minitool Partition Wizard is a free software for managing various properties of existing partitions, moving and copying them, creating new partitions, measuring the status of drives and partitions, etc. Basically, it makes management of entire data volumes as easy as managing separate files or folders with many different tools for different needs.
However, Partition Wizard is a demo version of the full Partition Wizard Pro software. Partition Wizard Professional edition delivers even more advanced features, like building a new bootable drive, transferring data between different partition maps, recovering deleted/lost partition data, a whole bunch of extra options for dynamic partition users, etc. Priced at $39, the Partition Wizard Pro will grant access to many more additional features for more advanced users.
Minitool Partition Wizard Setup and Interface
Our testing of Partition Wizard 10.2 and the 10.2 Pro versions was conducted on a laptop running Windows 8.1. The setup was as simple as with most other software, and involved simply picking a location to install to and picking start menu and desktop shortcuts. As a side-note, after the first launch, at least with the version we downloaded, the program uninstalled itself and reinstalled to upgrade to a newer version. It has a user-friendly interface that makes everything easily understood and simple.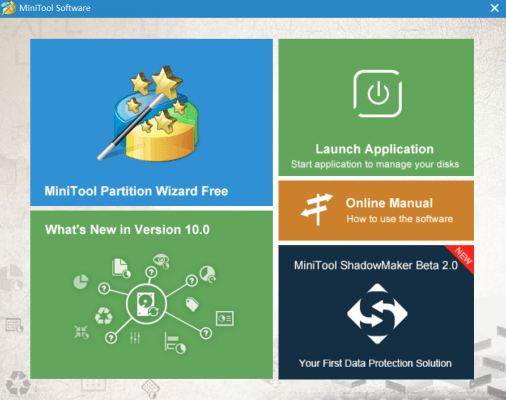 Opening the software (in our case, at least) required administrator privileges, which makes sense, as you use this software to fiddle with the basis of your whole file system. The program first opens a launcher window that lets you access information about current version, manual, etc., as well as the software itself. After opening Partition Wizard itself, we were presented with a window featuring an action panel, a list of all connected drives, and their partitions in both map and list form, as well as the regular toolbar and menu bar.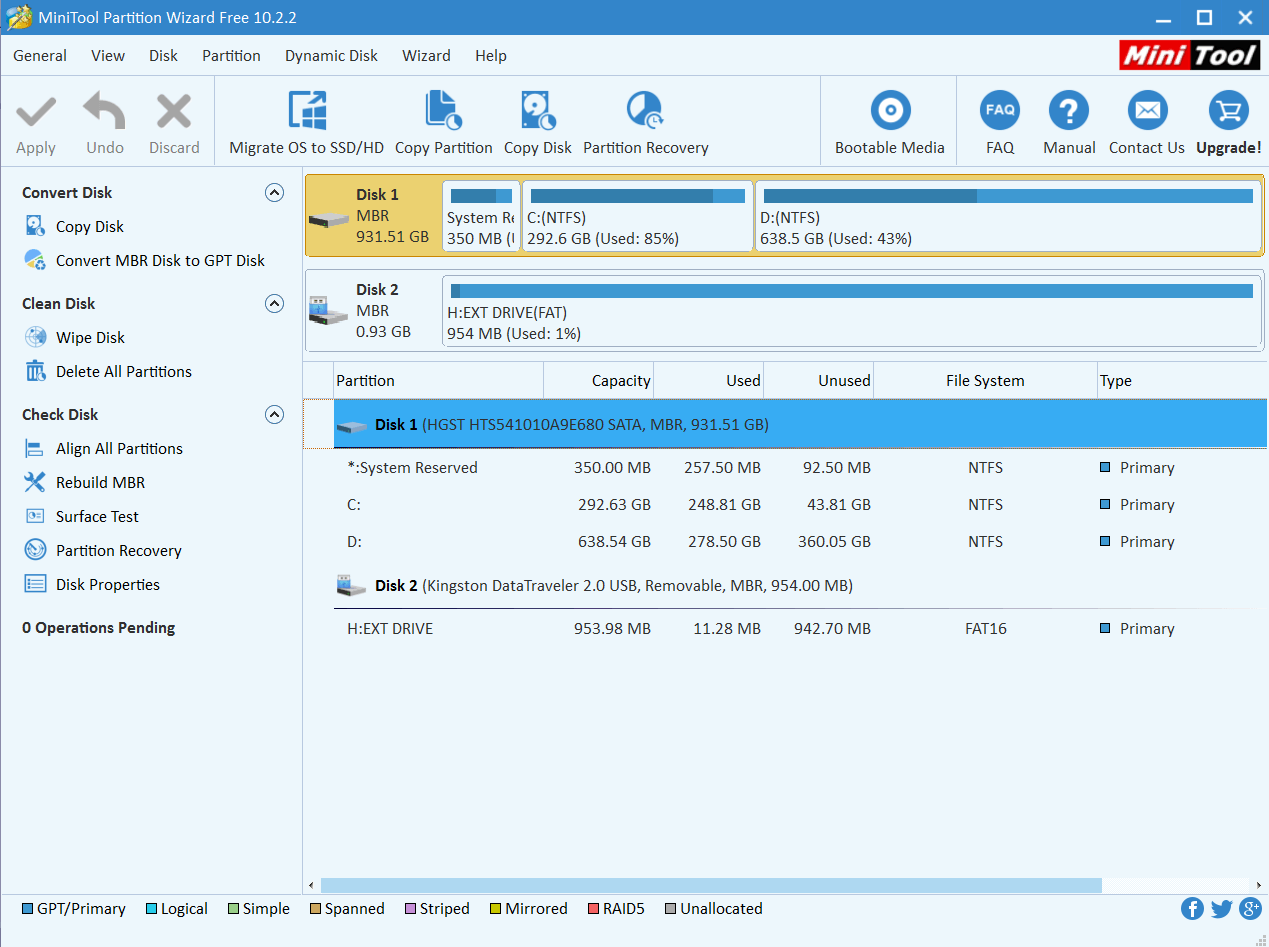 The action panel on the left gives you all the options that the options under menu bar would give you, aside from refreshing the disk information, view options, and some debugging info tools. Basically, you can just work with the panel on the left as it seems to divide its options into more understandable categories. Overall, the main window is easy to understand and use, so nothing to critique about its practicality.
If you're not too educated in how partitions and drive formats work, the manual of this program has you covered. The manual covers all universal and Partition Wizard-specific options and explains them in a simple enough language for a novice user to understand. There's still some technical lingo here and there but most of it is explained elsewhere in the manual, although the English itself is only just about good enough to deliver the idea. Same as with the program itself, the large amount of options is a bit confusing and difficult to navigate at first.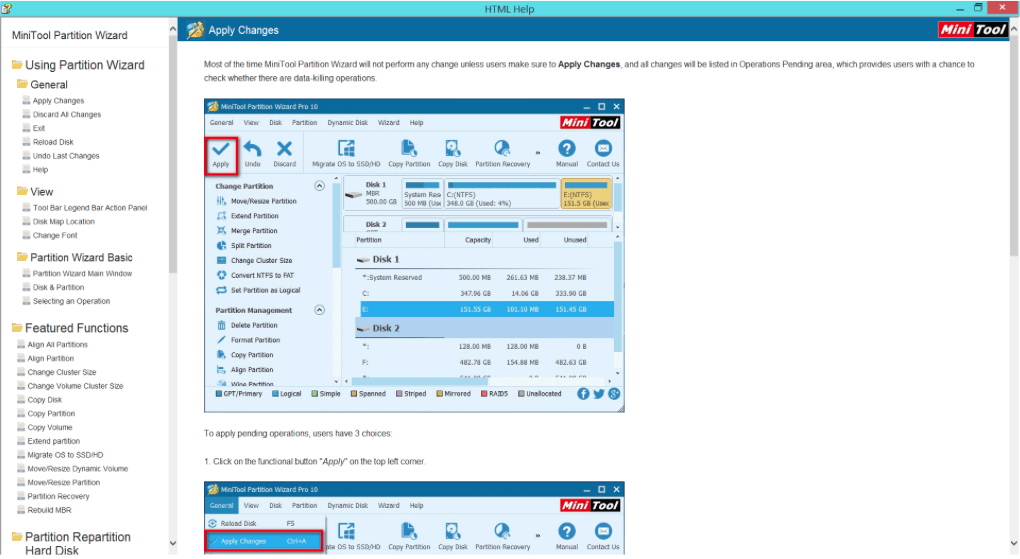 The options list is vast, so we won't go into much detail as to how each one works and what it does since it's explained in the help menu. Most options are pretty straightforward and do what it says on the can, with any misunderstandings being covered in the help menu. However, we would advise you to look through the help page of whatever operation you want to use since there are a couple issues you can run into, like any unchecked partitions under Partition Recovery getting deleted after the process.
Basic Disk Options:
Migrate / Copy OS to SSD/HD – copy the system partition with or without remaining partitions to a different drive
Copy Disk – copies all content of a hard drive to a different one
Convert GPT to MBR – change partition mapping to the older one without data loss
Wipe Disk – wipes all data on the drive and makes it unrecoverable
Delete All Partitions – deletes all partitions off a drive without extra wipes for security
Align All Partitions – matches digital to physical data storage to increase performance (modern Windows OSs do this automatically)
Rebuild MBR – repairs bootable media if it's damaged
Surface Test – check your drive for bad sectors
Partition Recovery – recover data from damaged or accidentally emptied partitions (free version only scans for lost data, Pro version needed to restore the data). Remember to mark all partitions that you need, not just the one you want recovered!
Disk Properties – disk size, sectors, bytes per sector, etc.
Initialize to MBR / GPT – changes the partition mapping of a new drive
​
Basic Partition Options:
Create Partition – create, choose the size of, and name a new partition (from unallocated space only)
Move/Resize Partition – use unallocated space to change order/size of a partition
Extend Partition – add free space from other partitions to the chosen one
Merge Partition – merge two adjacent partitions into one without data loss
Split Partition – split one partition into two smaller ones
Convert FAT to NTFS – change the format of a partition without data loss
Set Partition as Logical / Primary – change the type of a partition in order to bypass the 4-partition limit of the MBR partition map, or to change it back
Delete Partition – simply delete the partition and all of its contents
Wipe Partition – completely erase all data and formatting of a partition and make it unrecoverable
Format Partition – change the format of a partition (data on it will be lost!)
Copy Partition – copy all data contained in a partition to unallocated space elsewhere
Align Partition – aligns only selected partitions digital storage to physical storage
Set Label – add/change your personalized name for the partition
Change Drive Letter – change the letter assigned to the partition (i.e. E:, D:, F:, etc.)
Hide/Unhide Partition – make the selected partition invisible and inaccessible in File Explorer, Unhide to make it accessible again
Set Active/Inactive – choose which partition should be booted from
Check File System – find and identify issues with recognizing a partition or to simply see its file system and other data
Explore Partition – see a simplistic visualization of the partition's files and folders
Surface Test – check for bad sectors only within the limits of selected partition
Partition Properties – check the file system, used space, sector size, etc. of the partition
Pro Version Options: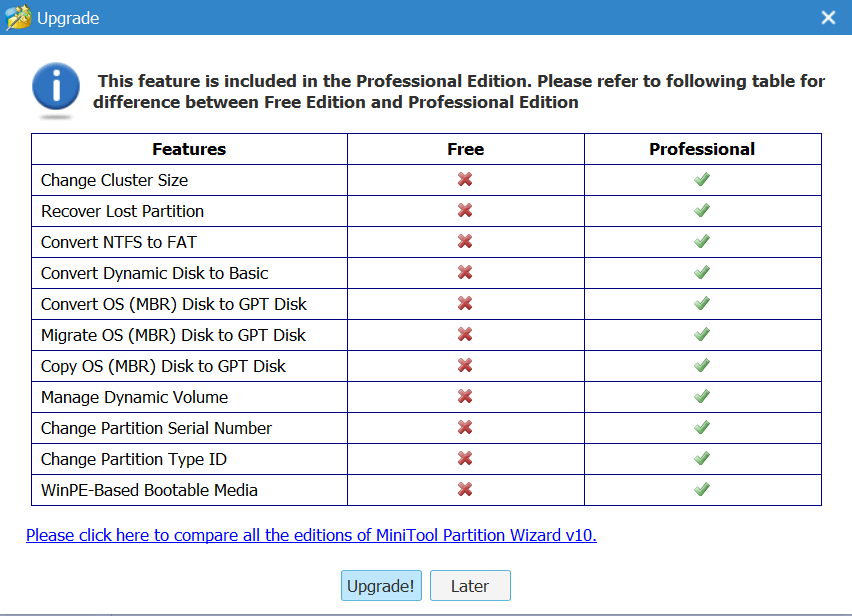 Functionality
When you choose one of the many actions that the Partition Wizard has to offer, it will be added to the Pending Operations list at the bottom of the Action Panel. This allows you to review actions before applying them and to make sure you don't accidentally format or delete partitions that you need, for example. Needless to say, when you're working with huge chunks of important data, such additional protective measures are helpful.
In our tests, we split, merged, reformatted and tested partitions on an HGST Travelstar 1TB 5400RPM HDD and a quite old 1GB Kingston flash drive. All of these actions didn't take long at all, with splitting off a 200GB partition off an existing one took roughly 10 seconds longer than splitting off a 100GB partition (1 minute, 40 seconds). Merging them back together took roughly 1:30 for both.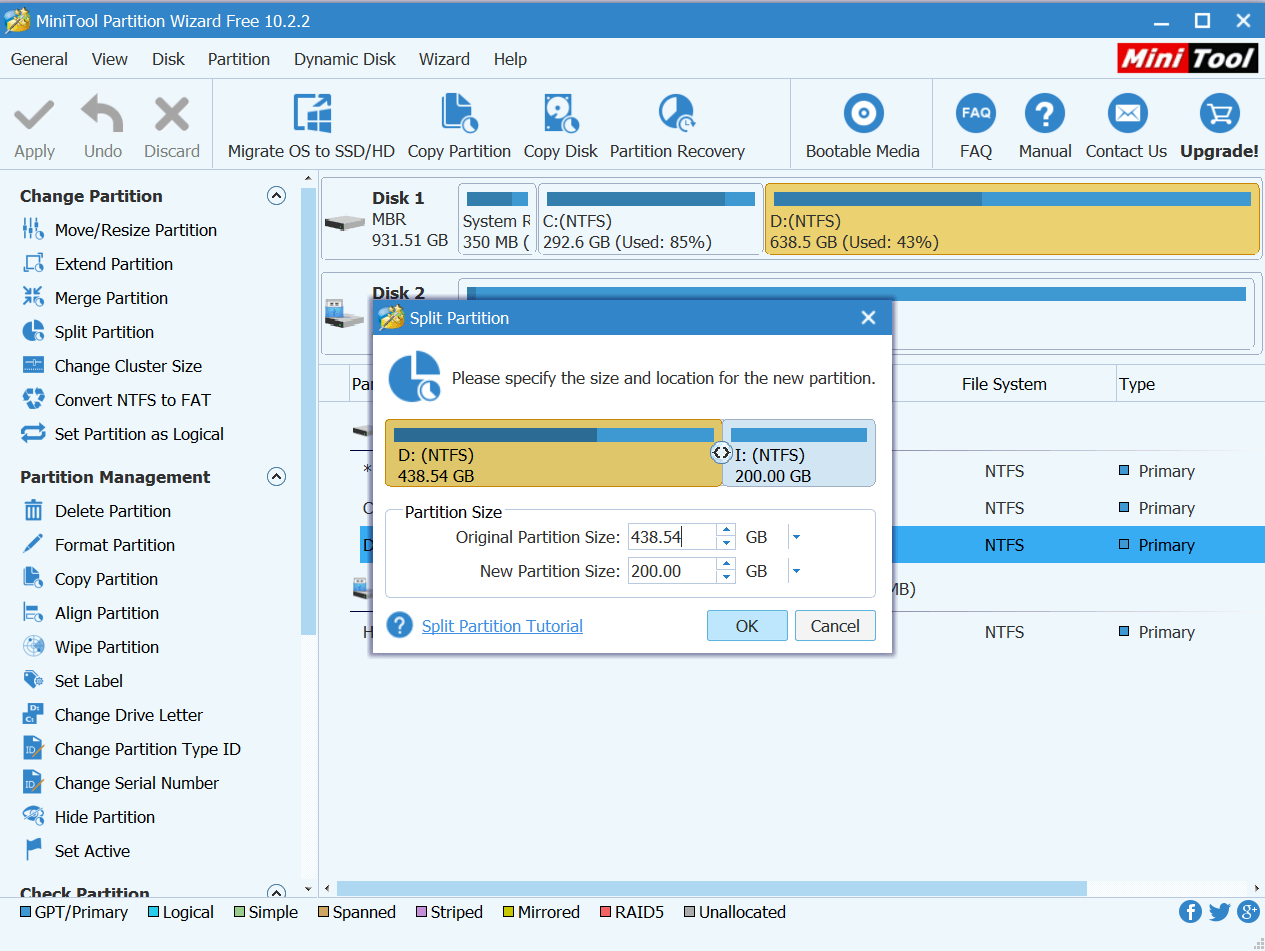 Similar actions with the 1GB flash drive as well as full partition recovery (from a deleted partition) with that drive took less than 10 seconds. A surface test of the 1TB HDD took around 2 hours and 50 minutes, which is understandable as the software has to check all sectors on the drive. All other, more simplistic actions we tested, like renaming the drive, assigning a new letter, changing cluster size took only a couple seconds.
The only issue that we ran into was Partition Wizard creating a virtual drive with the partition's letter when we split a larger partition into two. This, however, was most likely related to the fact that we split the partition that ran Partition Wizard itself, which forced the process to be conducted after a restart. It only took a couple extra steps to change drive letters to the correct ones, with merging the partitions back together working like a charm.
Both the Free version and Pro version are almost the same, with the free version only restricting access to the advanced Pro features once you've clicked them. Although we didn't dive too deep into the more advanced features, what features we did test worked just fine and didn't take long to complete.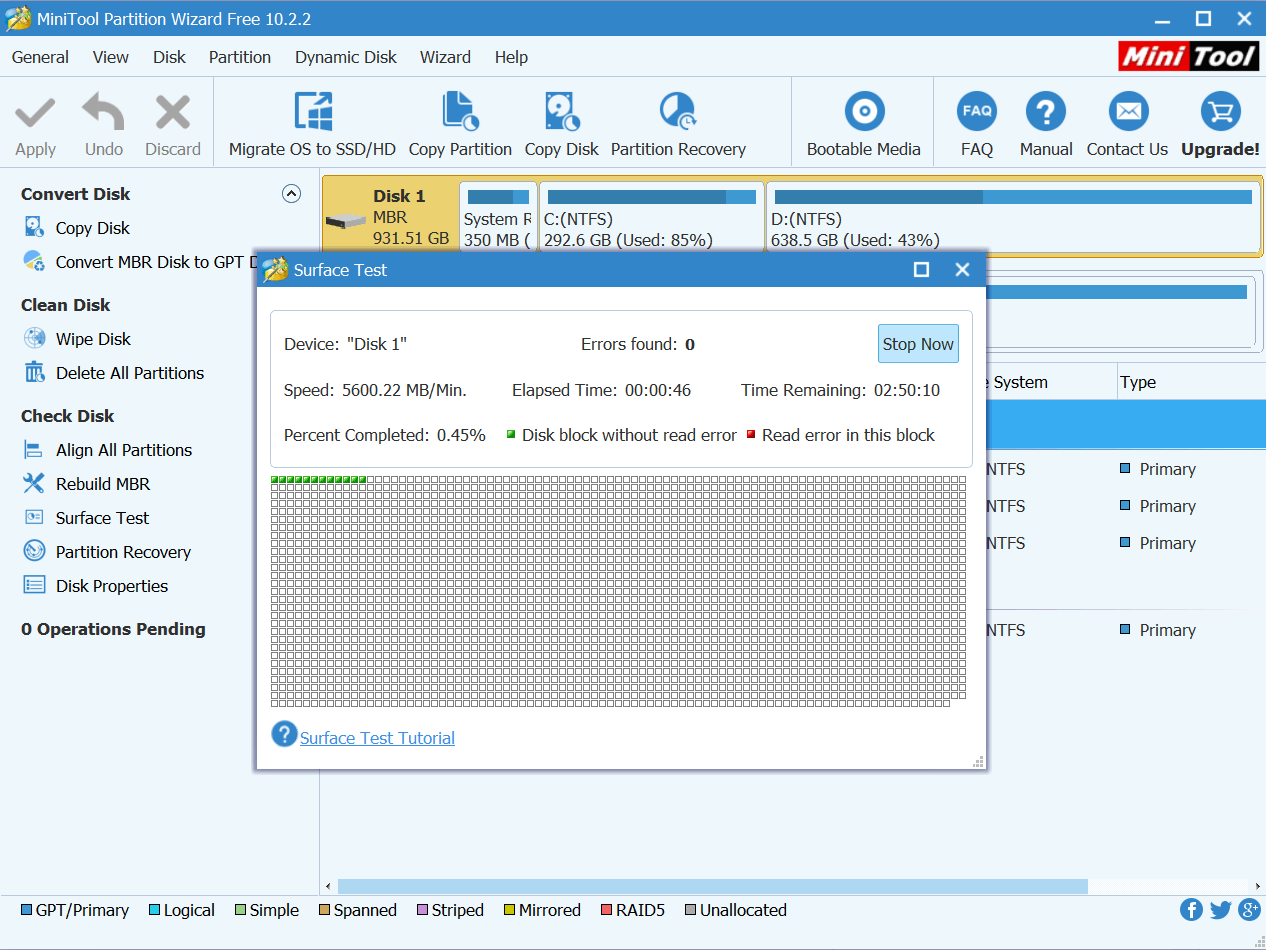 Verdict
Partition Wizard 10.2 free edition is a versatile tool that gives access to various formatting, partition editing, and other drive management actions. MiniTool Partition Wizard is a great software for a person who simply wants a more reliable tool than Windows' Disk Management and wants to avoid accidental data loss. Its vast option list covers pretty much everything you might need when managing your hard drives and partitions.
Partition Wizard 10.2 Pro version adds many more options for dynamic drive users, as well as a couple handy optimization and restoring features for basic drive users. It adds an extra layer of security and repair options to your system in case of accidental data loss and potential partition damage. Still, the free version can let you copy OS partitions to other drives as well, so it's up to you whether the $39 Pro edition upgrade is worth your money. It is targetted more at RAID system and other dynamic drive users with the added security features being more of a shortcut to complex repair operations.
Overall, the free version delivers almost everything that a casual user might need. MiniTool Partition Wizard professional, however, is better suited for professional and experienced users. Both versions worked just fine in our tests, aside from the partition splitting drive letter incident which we quickly resolved. The only noteworthy critique is that the navigating the huge amount of options is a bit clunky since they are grouped up differently in the menu bar, action panel, and the help menus. It's understandable how they would be difficult to split into certain categories but fully graying out the ones you can't access in the free edition wouldn't hurt.
Check out the MiniTool website below, where you can download MiniTool Partition Wizard right now!
[su_button url="https://www.partitionwizard.com/review/partition-magic-free.html" target="blank" background="#ffe335″ color="#000000″ size="7″ center="yes" icon="icon: shopping-cart" icon_color="#000000″]View on MiniTool Website[/su_button]