Apple has been one of the market leaders in the consumer computing technology and handheld device market for the past couple decades. Many smartphone users now use only iPhones because of their polished and user-friendly design.
However, maintaining and keeping up with new Apple products has become a notoriously expensive task, to the point where getting new Lightning cables for charging or data transfer every time the old cable breaks can ultimately take a notable bite out of your budget. This is why it's important for you to know what are the best and most cost-effective Lightning cables on the market, how to choose the one that best fits your needs, and how to correctly utilize them to prolong their lifespan.
Our Top Picks of the Best Lightning to USB Cables
[supsystic-tables id=326]
How we picked our favorites?
Cable length, durability, budget, and other up-front characteristics are easy to cycle through and compare depending on your needs and budget, while real-life performance and reliability can't be evaluated through these specifications alone. This is why we looked mainly at customer feedback on each product, specifically, the amount of positive feedback and the consistency of specific issues between dissatisfied customers.
The former shows whether the product is reliable at all and how it fares over time, while the latter tells us whether there's a certain issue (like the connector breaking off, for example) that you should watch out for, as opposed to a handful of people just getting duds (happens with any product of any kind).
The cables in our list are in no specific order and are simply, in our opinion, the best Lightning cables for different uses and preferences, like best cheapest cable, the most reliable rugged cable etc. The last on our list (Yontex USB-C) features a different connector than the usual USB-A that you'll find on most chargers and PCs, thus it's a more niche product that won't work with regular USB-A ports.
Lightning to USB Cable Reviews
1. Anker PowerLine II
Anker PowerLine has been deemed the best Lightning cable by outlets such as The Wirecutter and The Business Insider. PowerLine II is even more durable than the previous version (around 40% more durable, according to Anker) and couples that durability with an affordable budget and a lifetime warranty.The PowerLine II is available in 1ft, 3ft, 6ft, and 10ft lengths, fit for anyone's needs. Although the previous version of PowerLine cables is also available with USB Micro-B and USB-C connectors, at August 2017, the PowerLine II is only available with a Lightning connector. All 3-10ft cables are available in black, white, blue, and red colors, while the 1ft cables are only available in black or white.
Anker's experience in making durable charging cables shines in this product, as the most common issues people have with any charging cable have been taken care of. Issues like the connector head breaking off, or the cable/connector joint tearing open have been addressed with a sturdy connector head, reinforced connection between the cable and the connectors, and different super-durable materials being integrated into the cable itself.
We added the PowerLine II to our list as the middle of the road option, fit for people who don't need anything specific in a Lightning cable. It's not the most durable cable on our list (that would be Syde Metal), it's not the cheapest but it is sturdy enough to survive your average charging habits for a long time and doesn't cost much at all, considering the benefits. Consider most issues to be covered by the lifetime warranty and you can see why some would deem this the best Lightning cable out there.
---
2. AmazonBasics Nylon Braided
AmazonBasics products might often times seem, well, basic and you would expect to find cheaper and less reliable products in this lineup. However, AmazonBasics Nylon Braided Lightning cables have proven to be quite sturdy and will last you a long time, while also saving you a bit of money. This cable is available in lengths of 3ft and 6ft and comes with a somewhat short 1-year warranty. These nylon braided AmazonBasics cables have gold, silver, dark-gray, and rose gold color scheme options and are only available with a Lightning connector.
Aside from a basic reinforcement of the cable-connector joint and the nylon "skin", there's not a lot to this AmazonBasics cable in terms of extra durability. Still, for the vast majority of customers, the cable works just fine and doesn't fail after a couple weeks or so like most cheaper cables do.
The AmazonBasics Nylon Braided cable is the cheapest single-cable option on our list. It is definitely not the cheapest Lightning cable on the market but is definitely one of the most reliable cables that you can get.
---
3. Bambud Flowing LED
There's only so many interesting things you can do to make an aesthetically interesting cable without making it unpractical. However, Bambud has managed to do exactly that, by creating a durable Lightning USB cable with LED lights integrated under the transparent top layer. Only 3ft long Flowing cables are available, however, they come with a 2-year limited warranty and a 45-day refund/replacement warranty, which adds a lot to the value and reliability of the product. You can also get this Bambud cable with Micro-B or USB-C connectors as well, but only in purple.
The LED light design is pretty unique but not everyone might like it so, as it is with any kind of product with a special design, it can be both a strength or a weakness, depending on your preferences. Still, it may come in handy in some situations, for example, if you have to find your charged phone in the dark. But a definite benefit of this cable is its durable, tangle free, flat cable design with aluminum connectors. While not specifically built as super-durable, the Bambud Flowing cable has worked well for almost all of its users, which is why it has the best customer rating on our list.
In short, if you want an LED Lightning cable, this would be the best choice, and even if you don't specifically need a cable that lights up, the Bambud Flowing cable would still be a good choice that will last you a long time. It costs roughly the same as Anker PowerLine II though, making the latter a better cable if you can deal without a tangle-free LED cable.
---
4. iXCC Element Series Dual
While some people grow to love only iPhones, for example, because of some specific features, many people use Apple products alongside other smartphones, like Samsung or Sony. However, this requires either a cluster of various cables or those tiny adapters that are so easy to lose. This is why a cable like iXCC's Element Dual can be a very practical charging/data transfer solution for many people. This cable features a Micro-B connector with a Lightning adapter tethered directly to the cable, making it almost impossible to lose.
Only 3ft long Elements Dual cables are available, only in black color, so not many customization options with the practical design. However, the added adapter feature hasn't taken away from the cable's durability, seeing how the vast majority of users haven't had any issues with Elements Dual, or any other iXCC cables. Reliability is also ensured with an extra-long 2-year warranty.
Being in the same budget range as the PowerLine II and the Bambud cable, the iXCC Elements Dual doesn't stand out with anything else, other than the added adapter dongle. So, if you're rocking both an iPhone and an Android phone and want to avoid tiny adapters that get lost easily, go for the Elements Dual. If this isn't the case, go for the other alternatives, which have a bit more to offer in terms of durability.
---
5. Yontex USB-C to Lightning Nylon Braided
The first thing to disclose here is that this cable will not work with regular USB (USB-A) computer ports and chargers! But, seeing the rising popularity of the very practical new USB-C connector, and the fact that some MacBooks already feature this port, we decided to add one cable for more niche users who might prefer other gadgets with this new connector as well.
These cables from Yontex have a Lightning connector on one end and a USB-C connector on the other. This would allow you to connect your iPhone to the newest MacBook Pros or more modern USB-C chargers for quicker charging. You can get these cables with cloth, nylon braided, or regular plastic protective layer. 3.3ft and 6.6ft cables of all three types are available, as well as 2-packs of the nylon braided ones, all of which come with a 2-year warranty.
How to Pick the Best Lightning to USB Cable for Your Needs
Now that we've gone over our top picks of the best Lightning cable, it's time to look at the main criteria you'd need to keep in mind when choosing the one most fit for you. We'll also add in tips on how to find a reliable cable if you do decide to look for one yourself.
Connector type
If you knew enough to find a "Lightning" cable buying guide, we presume you have at least some basic idea on what connectors different devices use, or at least what connector iPhones use. Still, it's important to know the main types of connectors that smartphones have these days so that over-the-top marketing tricks don't confuse you into buying the wrong cable for your device.
The main three connector types for smartphones these days are Lightning, Micro-B, and USB Type-C: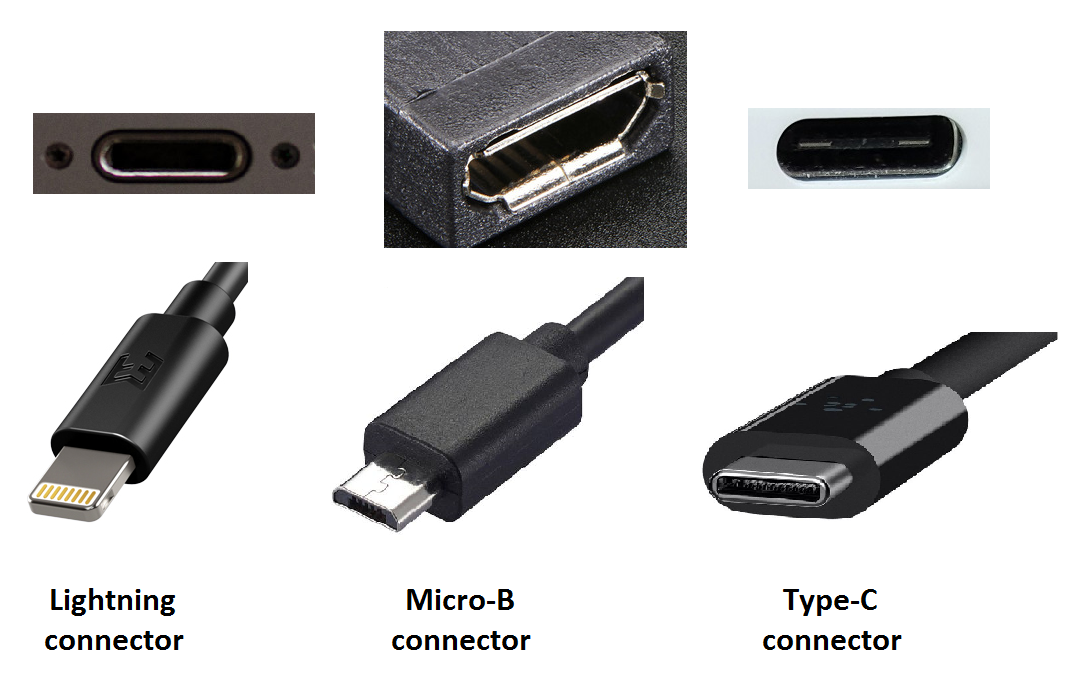 The type of connector/cable you came here looking for. Featured on portable Apple products, like iPhones, iPads, and iPods, the Lightning connector will work directly only with these devices. The physical connector looks just like a toast-shaped slab of metal with flat connector lines on both sides and is reversible, meaning you can plug it into your device whichever way up and it will work.
Featured on almost all Android OS smartphones, regardless of manufacturer. Accordingly, such cables can be interchanged between these different devices but cannot be used with iPhones without an adapter. The physical connector has more of an angled trapeze shape than the other two, making it easy to distinguish.
The newest connector type for smartphones and other devices (newest MacBooks, for example), featured on more modern smartphones. Expect this connector to become more popular in the future, as it's reversible design (works regardless of which side up you plug it in) and better power transfer characteristics may help it become one of the most unified data/charging connection types out there.
Seeing how MacBooks and some phone charger already use this connection, it might creep into other future products from Apple as well, but currently, there's no reason you should get such a cable for charging theoretical future iPhones. The physical connector looks like a combination of both Lightning and Micro-B connectors with rounded sides, featuring Lightning's reversibility and Micro-B's internal connector pins.
While you will stumble upon different connection types on one end of the cable, the other side of the cable will almost always feature a USB-A connector. USB-A is currently the most well-known type USB connector that you can find on any modern computer, laptop, or phone charger. This is why "USB cable" is usually presumed to be with a USB-A connector.
The only thing worth noting here is the two different versions of USB that are currently available – USB 2.0 and USB 3.0. USB 2.0 is an older version of the connection, capable of delivering up to 480Mbps data transfer speeds, while USB 3.0 can deliver roughly 10x more – 5Gbps. This, however, isn't too important with smartphones as their connection with computers is slower than the 2.0 connection itself, meaning they don't get bottlenecked by it, and in turn, smartphones don't need USB 3.0 cables to transfer data at max speeds. That is if you want to use cable connections for data transfer rather than the countless wireless ones, to begin with.
Durability
The likeliest reason why you're reading this is that your old cable broke and you need a new one. This is why having a rugged cable is important to save yourself headaches, or, at the very least, transfer your funds from multiple cheap cable purchases to one of a durable cable.
The main characteristics of a durable cable are rugged materials and a practical design. The durable materials are usually advertised with fancy names, have of which probably just mean "steel wire" or "sturdy plastic". Still, they ensure longer lifespan, often times measured in "bends", which is literally an estimate of how many times you can bend the cable without any chance of breaking it (5'000+ would be pretty durable). However, customer feedback remains a more realistic metric of how sturdy a cable is.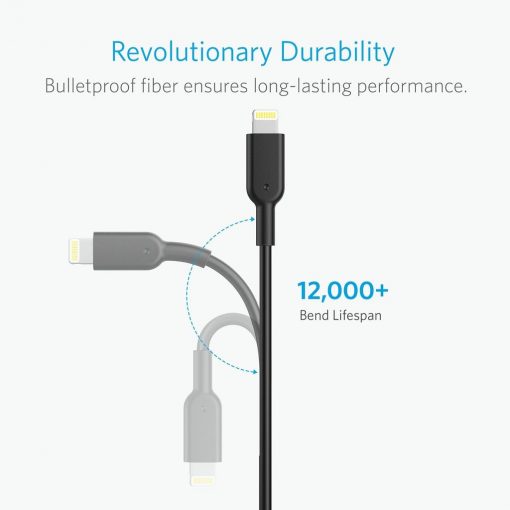 Practical design can involve various methods of avoiding damage. Most commonly, it involves reinforcing the connection between the cable and the connector head with both durable, elastic materials, and structurally sound connections. The connector itself should be made out of sturdy materials, like aluminum. Other practical design features involve flat cables that don't tangle (like Bambud's cable), extra layers of durable materials (Syde Metal), straps that allow the cable to be stored more safely, etc.
Charging characteristics
Undoubtedly, most people today use Lightning to USB cables only for charging, so it's important to know what cable features shorten charging times. The main two reasons are cable thickness and cable length: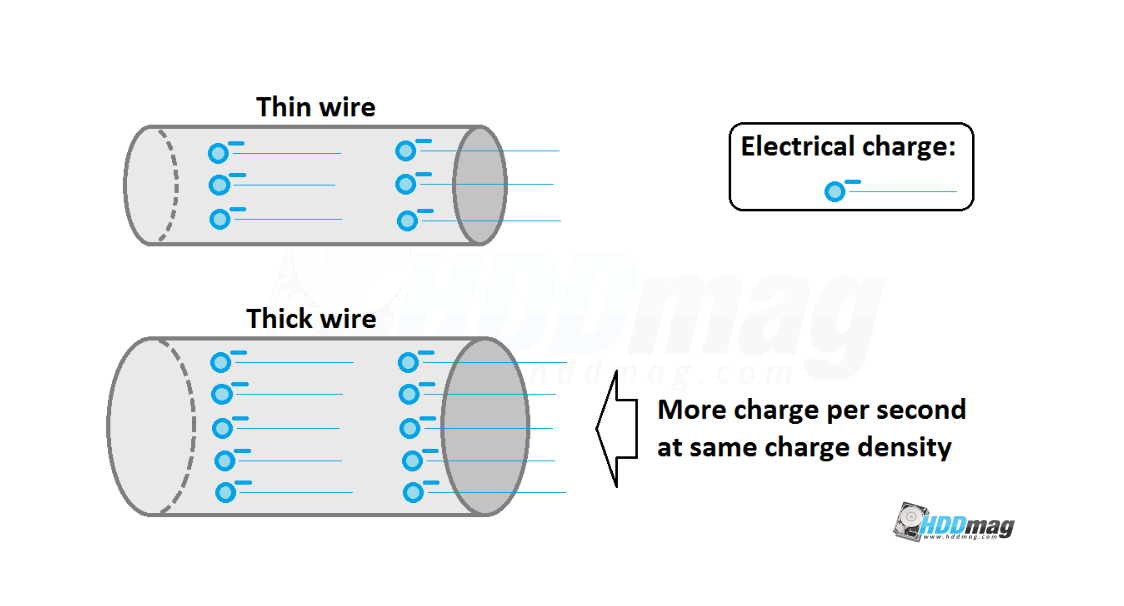 Thick cables have a larger cross-section area, which ensures that more charged particles can be let through the cable at one time, without the risk of overheating. Think of how many cars can a three-lane highway handle at the same time without a traffic jam and how many a one-lane road could handle before jamming.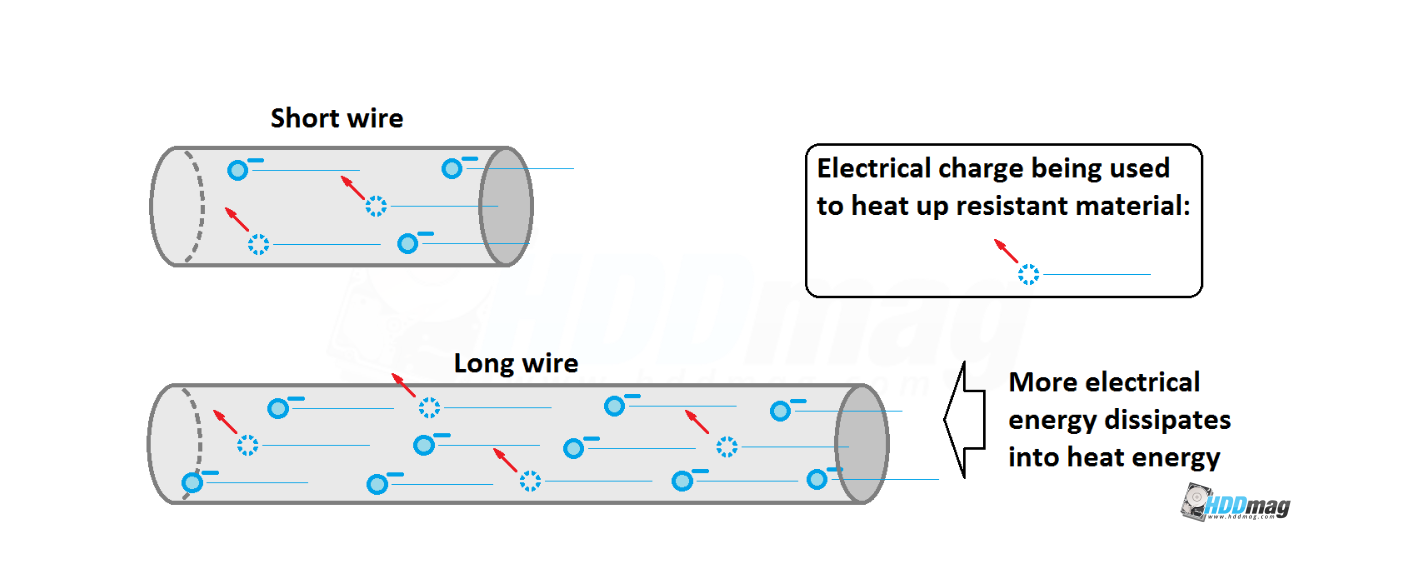 Electricity has to travel further from the charger to the phone in a longer cable, which means it has to pass through a larger volume of the same cable material. This effectively creates a higher resistance where more electrical energy is being turned into heat before it reaches your phone, reducing how much energy at a time your phone receives, and ultimately prolonging the charging times.
Cable thickness can change the power rating of a cable by quite a bit but all cables on our list should be able to handle the maximum 2.4A current that the most powerful chargers can dish out. Overall, the charger you use has a much greater impact on charging times.
The USB version of the cable (2.0 or 3.0) doesn't affect charging speeds!
Both versions use the same two pins for transferring energy so there's no difference between how much charge either connector can handle. You might find some answers in forums that suggest otherwise but that is more of a "correlation doesn't equal causation" kind of issue. USB 3.0 charging cables are more premium, so you can expect other features (that actually DO affect charging speeds) to be premium as well. Meanwhile, USB 2.0 cables are super-common, so you're more likely to get one with thinner wires and faultier connections.
Length and connector housing size
As we discussed, cable length can affect charging times and can also cost you more than a smaller cable, so it's important to know your own habits and what kind of cable you might need. Instead of just overpaying for a 10ft cable that will take longer to charge your phone, get a 6ft/2m cable if, for example, you travel a lot and need a longer cable to reach to sockets in an airport. A 1ft/30cm cable will fit more into an office environment, where sockets are nearby and where having less clutter is important. Altogether, a 3ft/1m cable will be just fine for most people.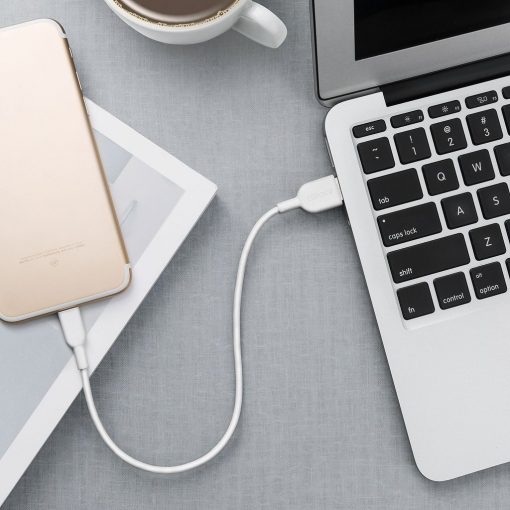 There are as many phone cases out there as there are cables, and many of those phone cases can have very narrow openings around the Lightning port. If you have such a case, keep in mind that cables like Bambud's Flowing cable might not fit into your case at all.
Tips for prolonging cable life
Durable cables will definitely last longer, but how long that actually is, depends a lot on how you use and treat your cables. Below are a couple general tips on storing and using cables in a way that reduces unnecessary damage to them and prolongs their lifespan.
Avoid bending and pulling the cable in any way
Sharp bends inflict mechanical damage to specific portions of the internal wiring, which increases the risk of one of those specific parts to break sooner.
You should always store your Lightning to USB cables (and any other cables, for that matter) wrapped in a circle.
This distributes tension over the entire length of the cable, reducing the possibility of one certain spot breaking. The video below shows how to roll up a cable correctly, however, instead of warping the cable itself to hold the roll together, use separate straps, like the plastic ones that hold the cable together in its packaging.
There are countless different ways you can avoid bending/pulling damage, depending on where and how you use the cable.
For example, don't leave your phone on the edge of a nightstand with the entire weight of the cable tugging on the connector head, don't stretch the cable out to its very limit, etc.
This is why we didn't add heavy, metallic cables, like Fuse Chicken Titan to our list, as the sheer weight of their "protective features" can sometimes make them break even faster than regular cables.
Be careful when removing the connector
Remember how you were taught to always remove any plug from its socket by holding the plug itself? Apply that to your phone charging cables as well!
The most vulnerable part of any cable is at the connection between the cable and the various pins inside the connector head.
So, it's important to reduce stress on these connections as much as possible. Lightning cables are notorious for either the plug or the entire connector breaking off the cable, so another good advice would be not to wiggle the connector. This includes both manual wiggling, as well as the cable weighing down the connector sideways.
Best Lightning to USB cable summary
For the average user who doesn't need anything specific in a charging cable, Anker PowerLine II would be the best option because of its extremely positive customer reviews and the lifetime warranty. Bambud Flowing LED cable would also be a decent competitor for the same budget if you don't have anything against the LED lighting and flat cables.
For people who want something extra-durable, Syde Metal would undoubtedly be the best option, as it has extra resistance to direct external damage, as opposed to just extra protection against wear-and-tear. If cats, nature, or accidentally boiling your cable aren't common issues in your life, any cable on our list would be durable enough to last you a long time under normal conditions.
For people who want a cheap cable that doesn't break right away, the Akaho Lightning cable 4-pack would be the best option, as it's cheaper per cable and will last you a long time even if one of the cables break. AmazonBasics Nylon Braided is also a good option, but it doesn't bring much more to the table than the Akaho cables, which leaves it simply as the more expensive option.
Whatever cable you choose, remember to use it responsibly to prolong its lifespan! Bend it as little as possible and make sure that the cable's weight is always supported to reduce mechanical stress.
Last update on 2020-08-20 at 15:37 / Affiliate links / Images from Amazon Product Advertising API