For a couple of years now you can buy an LG magic remote for your TV. You always get a very basic remote and if you want some extra features, you could step up for magic one. This time we are going to review LG's latest magic remote – model of 2016 that's still present and usable with LG's 2017 TVs.
Getting one can improve the time you navigate through TV's options as well as it's simply fun, because of tons of new features and more solid build over the standard remote control. However, it's not the cheapest remote out there and is it really worth it? Let's find out!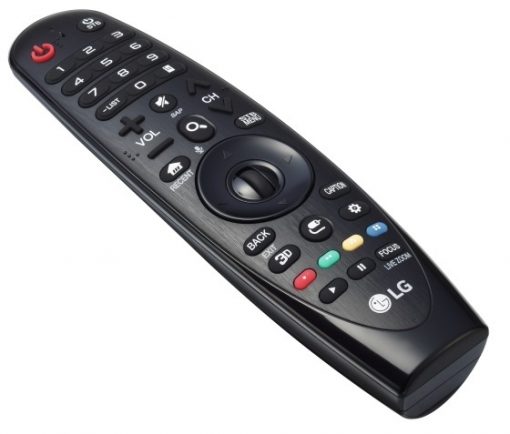 [supsystic-tables id=349]
[amazonjs asin="B01FWOR650″ locale="US" tmpl="Small" title="LG Electronics magic Remote Control Audio/Video Remote Control (AN-MR650)"]
A new version of remote control in every few years
LG's magic remote 2016 is an additional remote control that you can get separated from your TV(It comes with basic remote control). Since 2012 LG has made these magic remote controls and basically, they are all the same. There are no drastic improvements over years. All magic remote controls feature voice recognition and PC mouse like cursor to navigate on your TV.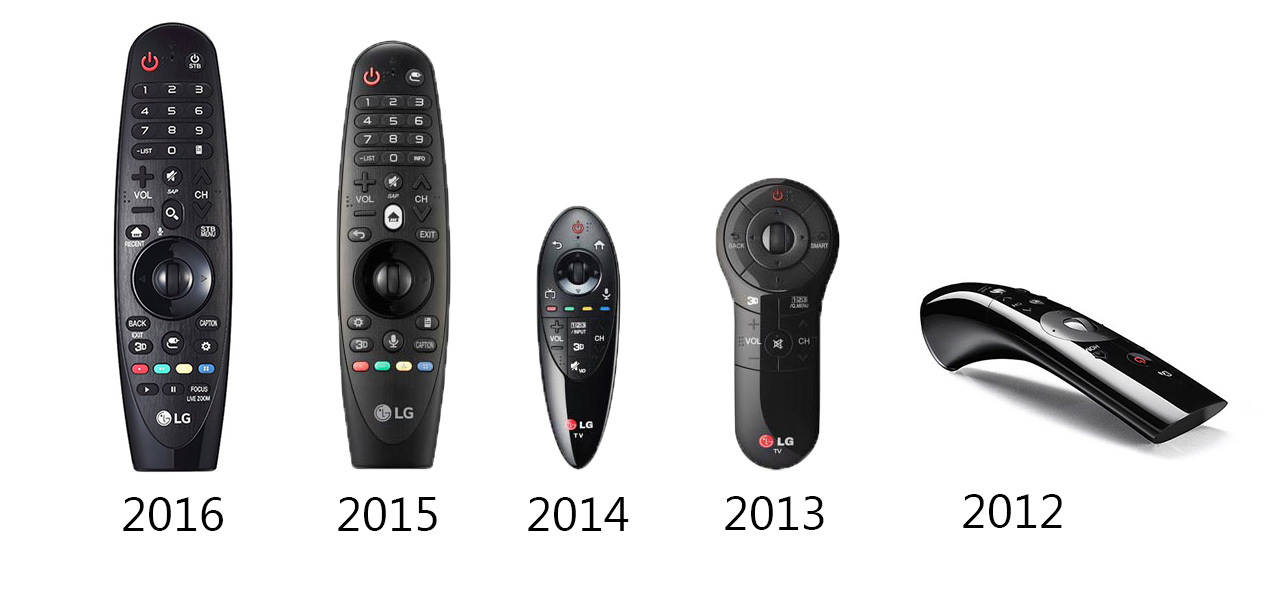 The main functions over the years stay the same. Only design and technology is improving as well as some added features. As you can see from the picture above, LG has experimented with various of designs finally deciding that the classics are the best. The magic remote of 2015 and 2016 are basically identical having few a bit different buttons. However, you have to remember that you can't buy what ever year's model you like as it might not be compatible with your TV. Therefore, check compatibility before making a purchase. Just so you know, the latest LG magic remote 2016 works with all LG's 2016 AND 2017 TVs.
Design and build quality
Design wise looks like LG is coming back to its roots. If the models of 2013 and 2014 were more like experiments, then 2016 model is a well-built, simple device that doesn't look much different than ordinary TV remote control. It has some improvements over 2015's model, but they are very minor – three new buttons and some button icon restyling.


The remote control feels heavier in hands than the standard one, it gives it a quality feel. It may be because it has AA batteries instead of standards AAA. Overall, it's just more pleasant to hold in hands and get the hold on.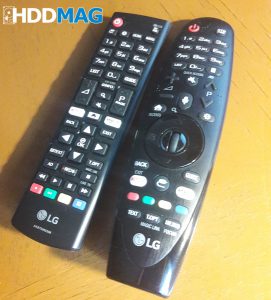 Plastic also feels more premium – at the front, there is a matte finish featuring vertical line pattern, but on the back, it's gloss finish. Unlike Sony and Samsung who are sticking to minimalism and super sleek looks, LG has gone a different way. They have made a real thing – remote control with many buttons, one like you would get 5-10 years a go. And while we are fans of sleek looks and minimalism, we do prefer LG's design just because of its practicality.
Buttons

Ergonomically this remote control is made exactly how it should be. When you hold it in hand, you thumb naturally is placed on the wheel with navigation buttons around it. From this position, you can easily access volume up and down buttons. However, if you want to press one of the buttons ranging from 1-9 you will have to reposition your hand, but it's still way easier than navigating through all channels until you find the one you wanted. Overall all we are happy that LG magic remote again has a full set of buttons.
Despite having a variety of buttons it still seems like this remote control is built to offer decent voice navigation. The button is right above the wheel and main navigation keys so it's super easy to use it.
I bet there are many of you who prefer to watch Netflix or Amazon over the standard TV or you watch them both. In Magic remote 2016 there are two white buttons one with "Netflix" and another one with "Amazon" lettering. They both can be used to quickly access your favorite TV apps without spending time on navigation, that's cool.
You can turn your TV on with any key ranging from 1 to 9. You can also do the same with the Red power button at the top. One thing to mention that it's red light backlighted, meaning it will lit up every time you press any key on the remote control. Although it's quite a cool feature, it doesn't a lot of practice as only one button is backlighted so it doesn't affect visibility at dark.
Features
First of all, LG magic remote offers three different control options instead of standard remote's one. You get:
Point and Click (using remote control as mouse)
Wheel
Voice
[su_youtube url="https://www.youtube.com/watch?v=uoxYO9DslkA"]https://www.youtube.com/watch?v=fTSUgXkfooA[/su_youtube]
Possibly the main reason why people get this remote control is of Point and Click. It enables you to move a cursor around your screen by just waving your hand. It's very similar to using a computer mouse just in an air. This is really handy just about everywhere as it reduces navigation time by a lot. No longer you have to navigate with arrows going through every possible option. Point and Click also make navigation through TV's web browser much easier. Now you can move through websites with ease.
Then there is voice control. It works flawlessly and is super easy to use if you want to find something quickly – it's definitely a way faster than typing something manually. Then there are such features as Magic Zoom that lets you zoom in anything in real time. I doubt many people will use it, but there it is.
Inside the box
The box itself is very basic, nothing much here. It feels solidly sealed. On it you can see all information about this product.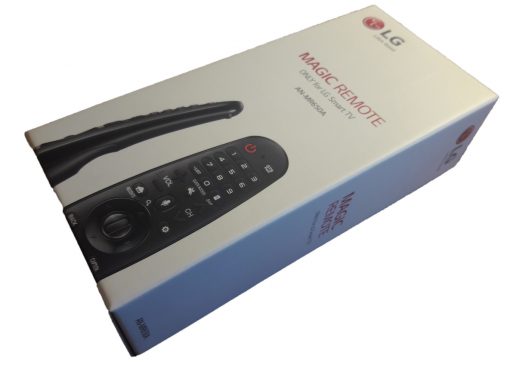 When you open the box you get a bunch of manuals, a CD with manuals and the remote control itself.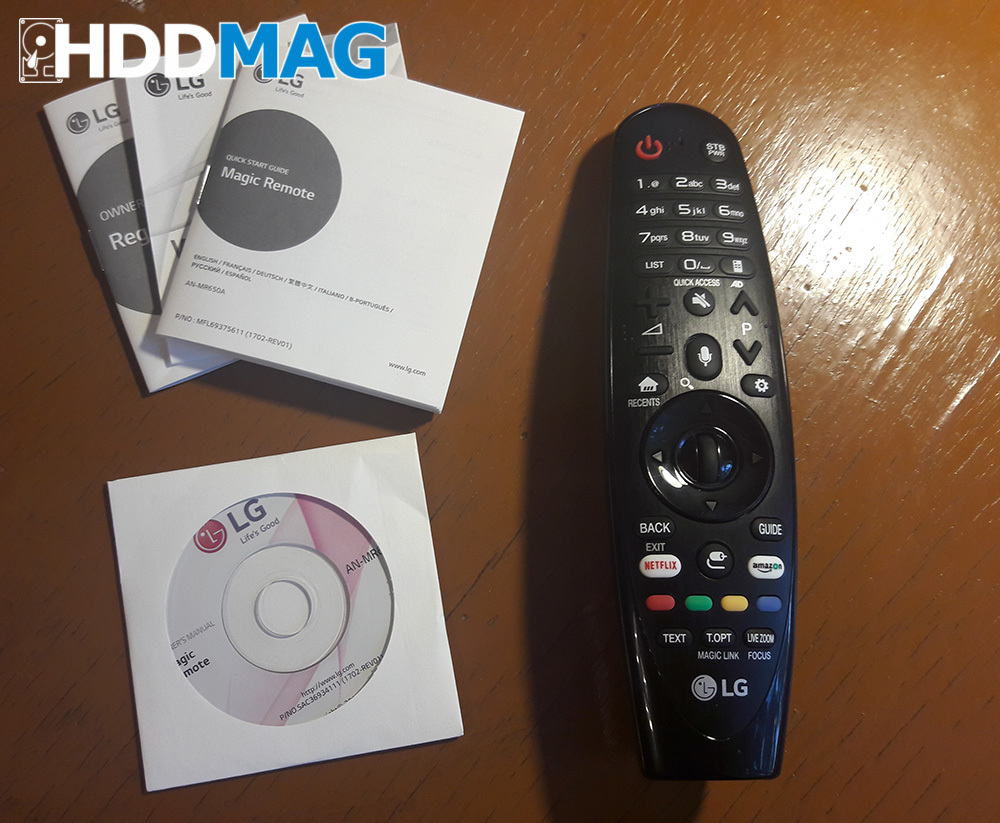 Should you buy it?
After reading this all you might start considering whether LG magic remote is worth the price – about 50$ which isn't cheap for such thing as remote control. We think that it doesn't really add a lot – only a more quality build and extra functionality. If that's what you're after, go a head and get one. I'm using this remote daily and I have to say I'm satisfied. The point and click feature is really cool and super easy to use. It's definitely a faster way how to navigate through your TV. And if we are honest, this is the main thing why you should get this remote control.
Verdict
Overall we liked LG magic remote. It has gone completely different way than competitors – Samsung and Sony which are focused on very slim, minimalistic buttons. More buttons mean easier control over things and it's not like the remote control is overcrowded with buttons – it sits in the sweet spot. Another thing is that competitors don't exactly offer such technology where you wave with the remote control itself to move through navigations. Samsung has something similar with their Smart remote while Sony uses a touchpad.
But is it worth the price? Most likely you will use LG magic remote every day. Is easier navigation worth it? In my case I would go for it, not only you get that but overall better built remote control. I think that this remote is good and LG is going the right way.
Learn more about LG's magic remote on LG's website.