Looking for a flash drive that's super safe, meaning it has a 256-bit AES hardware-based encryption and added security features? Don't want to sacrifice performance for safety? If so, Kingston Digital Data Traveler Vault Privacy might be your best fit.
It offers a lot of features that include a special software called "DriveSecurity" to manage your files on flash drive safely. You can also get an Anti-Virus models that provide you with instant alerts. For example, if your drive gets infected by any kind of malware – Trojans, worms, viruses and so on.
Related: Best USB Thumb Drives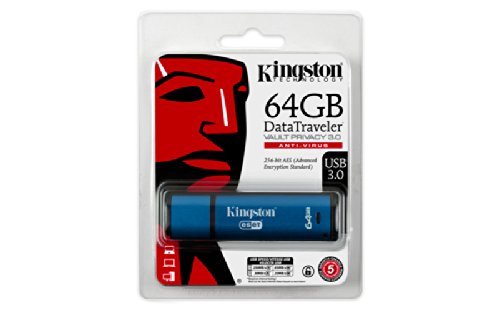 [su_button url="http://www.amazon.com/gp/product/B00G31OONY/ref=as_li_qf_sp_asin_il_tl?ie=UTF8&tag=ishddmag-20&camp=1789&creative=9325&linkCode=as2&creativeASIN=B00G31OONY&linkId=62ef54bc1944b8658a28026846185de4″ target="blank" background="#1113cd" size="7″ center="yes" icon="icon: shopping-cart" icon_color="#fbfbfc" rel="nofollow"]View on Amazon[/su_button][su_spacer]
Performance and technical specifications
The Kingston Digital Data Traveler Vault Privacy not only offers a great data protection from unwanted eyes and malware but also a decent data transfer speeds. This flash drives USB 3.0 performance matches flash drives like PNY Turbo and Lexar JumpDrive P20.
Although this drive offers a superb performance for a drive which main purpose is keeping your files safe, if you really seek high-end performance, check something like Patriot Supersonic Rage 2.
We did some testing with a PC running Windows 10 that has the following specifications:
CPU – Intel i5-6500
RAM – 8GB
SSD – ADATA SU800 512GB
We tested this drive by transferring many different size files starting from 1GB to 10GB and did some benchmark testing. In the result, we got an average read speed of 236 MB/s and write speed of 109 MB/s.This performance is very respectable for an AES drive that primary focus isn't performance. You actually don't need a faster performance for such a drive as max capacity is 64GB. This means you will be able to transfer no more than 60GB of data at the time. (Why only 60GB not 64GB? Read our "Why Real Hard Drive Capacity Is Less Than Advertised" article to find out). Read speed of 200MB/s will be just great for 60GB data transfers. Why? The less amount of data you have to transfer, the faster this transfer will be.
Kingston Digital Data Traveler Vault Privacy specifications:
Available capacities – 4GB, 8GB, 16GB, 32GB, 64GB
Interface – USB 3.0 that's backward compatible with USB 2.0
Warranty – 5 years
Weight – 0.35 ounces
Should you buy Kingston Secure?
If you need a business-grade security with 256-bit AES encryption and additional anti-virus protection, this is one of the best possible choices on the market. With Kingston Digital Data Traveler Vault Privacy you can be sure that your data won't get seen by unwanted eyes and it will stay safe. Performance is also great. We didn't expect it to be so high for a drive that's main focus is keep your files safe. However, as with everything, there are also some drawbacks. For a business-grade thumb drive, we wanted to see a wider range of capacities – 128GB and 256GB models. If you have to work with large media files, sometimes 64GB is not enough. Also, This drive has a relatively high price. Not everyone will be able to afford it.
[su_row][su_column]
[su_box title="PROS" box_color="#179f16″ radius="4″]
[su_list icon="icon: plus-square" icon_color="#179f16″]
Wide range of capacities
5-year warranty with a technical support
Sturdy build quality
One of the safest USB flash drives on the market
[/su_list]
[/su_box]
[/su_column]
[su_column]
[su_box title="CONS" box_color="#9f1619″ radius="4″]
[su_list icon="icon: minus-square" icon_color="#9f1619″]
Only Windows users can take a full advantage of DriveSecurity features
It's a very expensive USB flash drive
Maximum capacity of 64GB
[/su_list]
[/su_box]
[/su_column]
[/su_row]
Design
Design wise the Kingston Digital Data Traveler Vault Privacy is a very simple yet robust looking and feeling USB device. It has a conventional cap design and features an aluminum casing that's waterproof, making sure your data is protected from inside out. Dimensions of this drive are not the slimmest. Added durability takes its toll; however, it's still perfect for carrying in a pocket.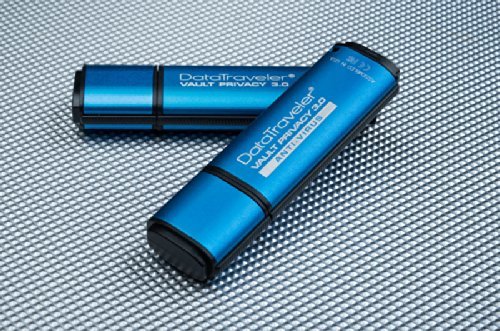 This drive comes in a blue casing that features a lettering of "Kingston" on one side and "Vault Privacy 3.0" on the other. Both sides of this drive are covered with a rubber with added zig-zag texture for improved grip of the drive. This ensures very easy plugging and unplugging.