You have got your USB flash drive for ages, but suddenly when you plug it into your computers USB port, a window pops up saying "The disk is write protected." Maybe you have got a hold of USB flash drive that you just got from your acquaintance and want to manage some files but then again the message of USB flash drive beeing write protected pops up. In the result, your not able to do anything with your thumb drive – can't copy, transfer files nor format your drive. Don't panic yet! You can still recover your data by fixing this error message. We will guide you through few simple steps to make your USB flash drive usable once again.
1.Check if your flash drive has a "lock" switch
When plug in your USB flash drive, Windows will notify you if the flash drive is write protected. On some flash drive, there is a small button or a switch that can be in "locked" or "unlocked" position. If the switch is in "locked" position, you won't be able to copy any files and do data transfers, you also won't be able to format your drive. Even if you think you have managed to delete data, next time you plug your flash drive into the USB port, they will still be there. Despite all previously mentioned, you will still be able to view files on your thumb drive. Before doing anything, check if your USB thumb drive features such a switch and if it is into "unlocked" position. If there is no switch keep, on reading to find out other solutions.
2. Regedit
This step is the one that usually works and is the leading solution to removing write protection from a USB flash drive. To do so, we have to go into the registry and do some changes. At first sight, it might feel scary and complicated, but it's not at all. Just follow our steps, and you will get a properly working USB flash drive in no time.
First, you need to run Regedit.exe. You can do so by opening start menu, clicking Run. Then type "regedit" and hit Enter. You will see The Registry Editor window.
Once the Registry Editor is open, look for a folder called StorageDevicePolicies. Here is the path – HKEY_LOCAL_MACHINE\SYSTEM\CurrentControlSet\Control\StorageDevicePolicies
Once that's done right click "WriteProtect" and choose "Modify..". You can also just double click "WriteProtect." The Edit DWORD Value window will appear.
Next, there is such field called "Value data". The value of this field can only be 1 or 0. "1" stands for protecting the drive with write protection and "0" stands for not to. Change it from 1 to 0 and then click OK. You're all done! Close regedit and restart your PC. Then connect your thumb drive once again and your problem should have faded away.
3. Diskpart
If the previous step didn't work, the next logical step is to do some work with command lines or in command prompt. You don't have to be a programmer to work with command prompt. It's not as hard as you might think.
The first thing you need to do is launch Command Prompt. You do so by searching "cmd.exe" or just cmd in Start Menu. Note: you might have to run it as an administrator. To do so right-click on Command Prompt and press "Run as administrator." 
Type in the command prompt diskpart and press Enter. The Diskpart is a disk-partitioning tool. It's used to change the values of your USB flash drive. When you do so, a new command line window will appear. Now type "list disk" and hit Enter. Now you should be able to see all disks on your system. Your USB flash drive should be on this list. If it's not, make sure it's connected and try to replug it.
Now when you see all disks. Next, select your USB flash drive by typing "select disk a" where a is the number of your flash drive. You can figure out which is your drive by looking at capacities. When it's done type following commands and hit Enter after them "attributes disk clear", "clean", "exit".
Try to use your USB flash drive, it should work.
4. Specific file can be write protected
Maybe you didn't pay an extra attention to your error message. Read it carefully. Maybe only one file that you try to manage is write protected?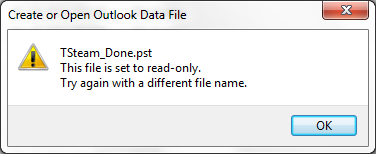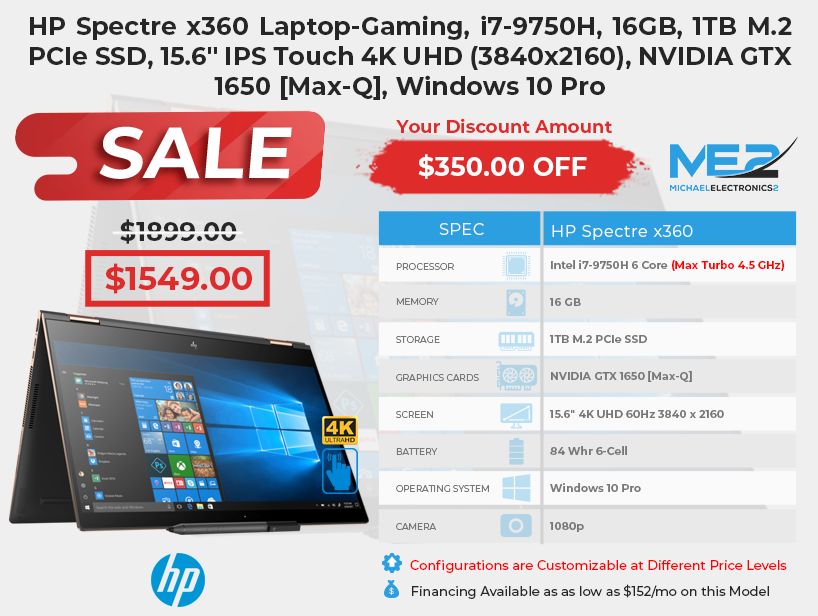 It's possible that you rushed things thinking that your flash drive is write protected when only one file is set to "read only." To fix this, right-click on your file and click Properties. In the section of attributes make sure that box that's titled as "Read-only" is unchecked. One you change it, press "Apply."
5. Maybe your flash drive is full?
The write protect error message may also appear if your thumb drive is fulfilled with data. To check is it this case, go to your thumb drives Properties to see  Used and Free space chart.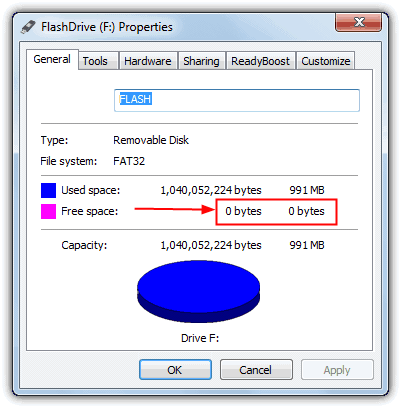 If nothing worked
If you tried all steps mentioned above then there is nothing much you can do. Your USB flash drive may suffer from physical damage. It may be broken. Remember, if you see signs of no bodily harm and it doesn't work, and the drive is relatively new, check its warranty. Maybe things can be saved if your thumb drive is still under warranty, you can just swap it to a new one for no extra charge. If it has no warranty, then sadly all you can do is to buy a new USB flash drive. We have created a list of the Top 8 Best USB 3.0 Thumb Drives. Check it out to find your best fit.