We are using wireless networks every day, in cities everywhere, you go there is a wifi network whether it's at your home, work, school, restaurant or a shopping center. Wireless technology is overtaking ethernet cables. More and more stationary PC users decide to use a Wi-Fi adapter instead of ethernet cable. Sadly, sometimes the Wi-Fi signal lacks strength, this can result in issues that affect your web experience.
Many Windows 10 users have reported having some kind of Wi-Fi range issues on their PC's. Usually, they are about shorter Wi-Fi range. We have created this article to help you increase the range of your Wi-Fi signal and fix any underlying issues. Usually, there isn't one single answer how to fix it so you might have to go through several solutions.
Solutions to similar network errors:
1. Updating network adapter drivers
In many cases, the issues with signal strength or Wi-Fi range are caused by outdated drivers. To fix this, you simply have to update your Wi-Fi adapter driver. You can do this in two ways. First, update your Network adapter through Device Manager or go to your adapters manufacturers website and download latest drivers manually.
You can also uninstall your Network adapter driver so once you restart your computer, it will automatically install necessary default drivers. You can do so by following steps below.
First, you have to open Device Manager. To do so click on the Start button and type in Device Manager. Click on it. You can also access it by pressing Windows Key + X.

In Device Manager window find Network adapters. Under this section find and right-click your network adapter and select Update driver. Check if there are any changes in Wi-Fi signal strength or range. If there are no improvements, try uninstalling driver by following next steps.
If updating driver didn't help, choose Uninstall device. Click Ok.
Restart your computer.
When your Windows launches, it will automatically install the default wireless driver. Hopefully, your Wi-Fi signal range and strength will be increased and all your issues fixed. If the default driver doesn't make any difference, you should manually install the latest driver. You can do so by visiting your network adapter manufacturers website and downloading latest drivers. To make things easier, you can also get a Download Windows 10 Drivers tool, that will automatically install everything you need.
4. Network adapter maximum performance mode
Usually, wireless adapters by default are set to work in medium performance and power saving mode for greater efficiency. Imagine it like a CPU with its stock frequency and overclocked CPU. Or a car which electrical speed limitation. To increase your network adapters performance or give it an extra boost you can change its power settings to maximum performance. In result, your Wi-Fi range should increase and so does signal strength. To do so follow these steps:
Click Start and type "Edit power plan". Click on it.
An "Edit plan settings" window will appear. Click on "Change advanced power settings".
Under Advanced settings find "Wireless Adapter Settings". Then under "Power Saving Mode" click "Maximum Performance". Click Ok.
Note: You can also just choose the High-performance mode in Power Options, and Power Saving Mode will be automatically set to maximum performance. You should remember that high-performance mode will consume more power. This doesn't mean much for those who use a stationary PC, but if you use a laptop, your battery life will end faster.
3. Changing sensitivity value
Some users report that changing sensitivity value affects Wi-Fi range and can fix issues associated with a weak signal. To do so follow these steps:
First, you have to open Device Manager. To do so click on the Start button and type in Device Manager. Click on it. You can also access it by pressing Windows Key + X.
Once you see Device Manager window, locate your Network adapter.
Right-click on your network adapter and click Properties. Next open Advanced tab and under Property locate "Roaming Sensitivity Level". In the value pane, click "High". Also, make sure that "Antenna Diversity Selection" is set to "Auto". Save changes by clicking OK and check if the problem is solved. Note: you may have to restart your computer for changes to take effect.
4. Changing Band Preference
If you have a Dual-Band router and also a Dual-Band network adapter, changing between Band Preference or Wireless Mode can make a huge difference.
Usually, Dual-Band adapters and routers automatically use the best suitable frequency. However, sometimes there can be issues. Manually switching between frequencies can increase your data transfer speeds as well as Wi-Fi range and strength.
First, you have to understand that 5Ghz and 2.4Ghz frequencies differ a lot. A 5Ghz frequency usually provides faster data transfer speeds and support higher Wi-Fi protocols, but 2.4Ghz frequency goes through wall and obstacles better than 5Ghz. Try switching between these frequencies to see how it impacts your Wi-Fi range. You can do it in your network adapters Properties in the Device Manager. You can change Wi-Fi protocol and frequencies under "Wireless Mode". See the previous solution.
5. Stationary PC with USB Wi-Fi adapter
If you have a stationary PC and a USB Wi-Fi adapter that's plugged into the back of your PC case, you will probably get a very low Wi-Fi range as well as signal strength. We have tested this number of times. So why is it so? You metallic PC case absorbs part of Wi-Fi signal that your router transmits. That's why you should get a PCI wifi network adapter. They usually feature antennas, and there are no problems.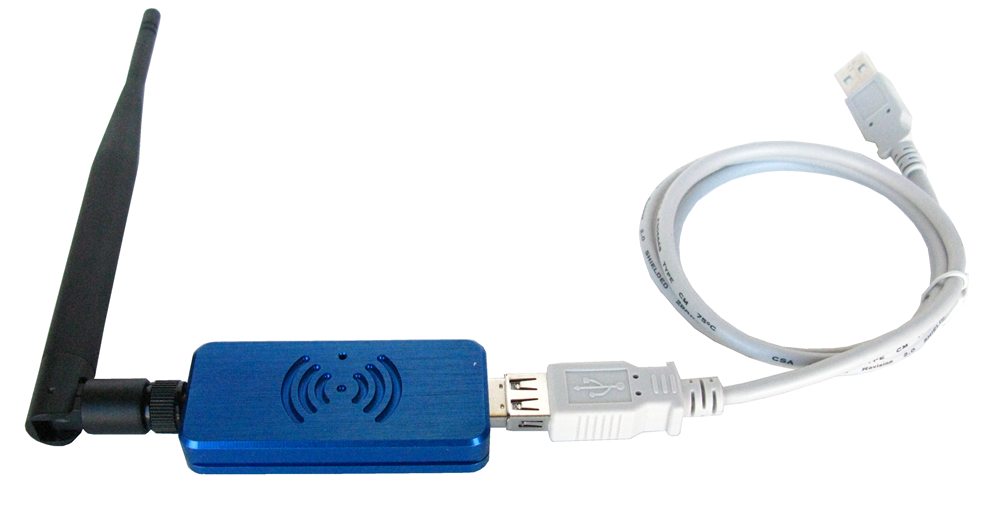 However, if you have a tiny USB Wi-Fi adapter, there is a simple solution. You have to use a USB extension cable. Simply connect your adapter to your PC through an extension cable, and you will be able to tell the difference straight away. Extension cable works as antenna increasing Wi-Fi strength and range.
6. Checking if wireless card is working correctly
Often problems with Wi-Fi range are caused by the Wi-Fi adapters hardware problem. If no matter what you try, you still get the same issues with signal range, check if the adapter is plugged in correctly and there is no wiggle or lose connections. Checking if the wi-fi card is installed into PCI slot and all screws are tight is very important. If it doesn't help, think about getting a new Wi-Fi card.
7. Setting antenna diversity to auxiliary
There are reports of setting antenna diversity to auxiliary and fixing Wi-Fi range issue. To give it a try, follow steps below:
Open Device Manager and find your network adapter, then right-click and choose Properties. (See 1st solution)
Under Advanced tab find Antenna diversity and set it to Aux. Click Ok and see if the issues are gone.
8. Disabling Bluetooth
Sometimes one signal can interfere with others, and this can lead to the lack of performance and decreased signal range. We advise giving a try to disable Bluetooth as this may affect Wi-Fi. See next steps on how to disable Bluetooth:
First, you have to open Device Manager. To do so click on the Start button and type in Device Manager. Click on it. You can also access it by pressing Windows Key + X.
Find Bluetooth section and expand it.
Find your Bluetooth adapter, right-click it and choose "Disable"
9. Using additional hardware to boost signal
If the issue can't be fixed with software and settings, it's time to upgrade your hardware. One simple solution is getting a new Wi-Fi adapter, router or both of them. If so, pay attention to wi-fi range and antennas it has.[amazon_link asins='B01N8ROH7G,B00E98O7GC,B00R92CL5E' template='MyCopyOf-ProductGrid' store='ishddmag-20′ marketplace='US' link_id='3ebabd8f-6874-11e7-b034-0feda46aead4′]
If you don't want to change everything, you just jus get a cheap accessory that will extend your Wi-Fi range. You can find various of Wi-fi extenders, boosters, and repeaters on the market. They each work with a little bit different.
Other solutions
If nothing of the previously mentioned helped, maybe you're just too far from Wi-Fi router, and it's time to upgrade your hardware. You can try to replace Wi-Fi adapters antennas to see if there is any difference or try updating routers firmware. Note that upgrading firmware is relatively complicated and shouldn't be done without a manual as you may permanently damage your device.
Interference can make a huge effect on devices that transmit and receive signals. Usually, in flats, there are many Wi-Fi routers and signals. Almost all your neighbors have the internet. These signals can interfere with one another and result in a decreased Wi-Fi range. To fix this, you might want to use a Dual-Band router and adapter, which features 5Ghz frequency. As most routers transmit signal in 2.4Ghz frequency, there will be less interference if you will be using 5Ghz.