There are different hard disk drives and they run at different speeds, both mechanical ones, and digital ones. Most people would want their PCs and laptops to work as quickly as possible. For such people, it's important to know which hard drives achieve the highest data transfer speeds, by comparing their optimization features and, of course, real-life benchmark tests.
This is exactly what we've done with this top list of the fastest hard drives. In this article, we'll look at the fastest HDDs currently available and their features, as well as what makes hard drives tick at all and what features to look out for to get the best performance out of them.
What Makes a Hard Drive Fast?
Since hard disk drives (HDDs) store data on platters, similar to vinyl disks, the speed at which they turn will obviously affect how quickly data can be accessed. This is why all of the best-performing HDDs are rated with the highest customer-grade spindle speed – 7200 revolutions per minute. You can, of course, get different capacities of the same hard drive series, but this doesn't affect transfer speeds too much as manufacturers focus more on retaining similar performance across all capacities in a drive series.
If you want to attain a fast internal hard drive, be ready to pay extra, because they are bound to be more expensive. This is due to more innovative technologies being used in order to speed up such hard drives. Technologies such as helium technology (replaces air within the enclosure with less dense helium to reduce mechanical stresses), HAMR (Heat-Assisted Magnetic Recording, shortens and improves data writing processes), as well as a whole array of different firmware optimization.
HDD vs SSD – Savings vs Performance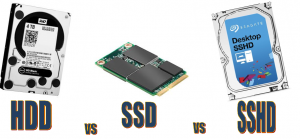 You may have heard about solid-state drives or SSDs taking over the digital storage scene very rapidly due to their super-high performance, upwards of 5 times faster than regular HDDs (make sure to see our Best and Fastest SSD list). So why get a mechanical hard drive at all?
The answer is mainly price. Hard disk drives have been the most popular type of storage for PCs and laptops for a very long time. Same as with most other technology that goes from being a space-age fantasy to an every-day tool, HDDs have become very affordable, costing less than a $100 for capacities that would still last a lifetime for many people.
SSDs, on the other hand, still have ways to go to reach such an affordable status, hence their price being, on average, around 6-8 times higher than that of most HDDs. This is mainly due to how expensive NAND storage chips are to make, as well as the fact that SSD manufacturers are still looking for various interfaces (SATA, PCIe), protocols (such as NVMe), and storage types (3D NAND vs planar 2D NAND) for SSDs to call home. Regardless of the reasoning, the high prices force most people to purchase smaller capacity SSDs.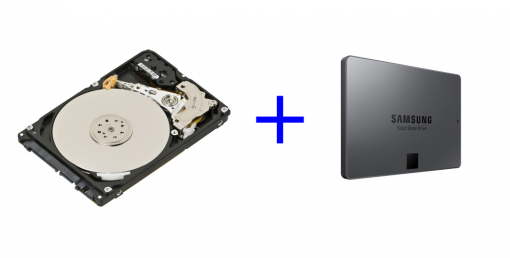 Basically, HDDs are cheaper per capacity and slower, while SSDs are more expensive per GB of storage but a lot faster. This is why many people use a two drive setup – a small SSD plus a massive HDD. The SSD is used for the operating system and programs that need to work as fast as possible while the traditional HDD stores data like photos and documents that don't require high transfer speeds to load up.
SSHDs
For a short time, hybrid drives or SSHDs were a thing. These are basically regular hard disk drives with an SSD-like cache that stored some frequently used data for super-quick access, thus speeding up the overall performance of the drive. This kind of makes them a combination of an SSD and an HDD, though their performance is way below that of separate SSDs. These were made only by Seagate at first, with a few other manufacturers chipping in a bit at some point but achieving little success.
Overall, this may be a solution to some laptop users who only have one 2.5-inch slot for one drive. Other than that, the SSD+HDD combo is still better for both PCs (both internal drives) and laptops (internal SSD + external HDD, if possible).
The Fastest Internal Hard Disk Drives
If you are searching for the best internal desktop hard drives, here are some of our recommendations. Our focus was, as the headline of this article suggests, transfer speeds, which is why some of these drives aren't necessarily the best hard drives overall since they can be priced too high for their value or your budget (check out our best hard drive top list for the best HDDs overall). Nevertheless, if you're ready and able to pay more for higher performance, this top list of the fastest HDDs should be a good reference point.
Hard drive speeds are difficult to pin down, due to different systems with different strengths and flaws that may affect benchmarks. This is why we'll mainly look at UserBenchmark results, which accumulate tons of benchmarks into more reliable results with less error. These results, however, are more often than not 10-20MB/s below the results from benchmarking software such as CrystalDiskMark and ATTOBenchmark, so expect to get higher numbers from these free software tools.
Also worth noting is that some drives have different models of the same capacity, which may vary in transfer speeds, drive age, and some other features. To make sure you find exactly the drive you're looking for, use the model numbers provided in the spec tables. Tip: a part of the code may be hidden "behind" a table cell – to highlight all of it for copying, double-click it.
3.5-inch PC HDDs
[supsystic-tables id=398]
[supsystic-table-diagram id='147′]
[su_box title="1. Seagate BarraCuda Pro" box_color="#2d80a3″ radius="5″]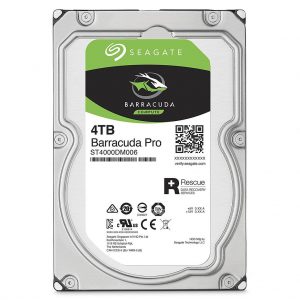 [supsystic-tables id=353]
As most major hard disk drive manufacturers, Seagate has been attempting to squeeze as much performance as possible from magnetic storage drives for many years now. The result of their work is the BarraCuda Pro hard drive which performs extremely well in most benchmarks and comes with a few other high-shelf features.
With 2TB, 4TB, 6TB, 8TB, and 10TB capacities, the BarraCuda Pro is mainly suitable for large system capacity upgrades with a focus on extra performance. It costs a good amount more than most other 7200RPM drives (up to $60 more), ranging between 4-6.5 cents per GB. However, the price is quite reasonable, considering that the high performance and massive capacity options also come with a lengthy 5-year warranty with a 2-year data recovery plan (in select countries). 2TB and 4TB drives come with a 128MB cache while all larger capacities feature a 256MB disk buffer.
Even though the fastest BarraCuda Pro models go toe to toe with Western Digital's Black drives, the Pro's performance varies a lot between different capacities. 4TB and 10TB versions are the fastest, reaching up to 204MB/s seq. read and 197MB/s seq. write. Meanwhile, the 2TB and 6TB drives fall behind with up to 174/166MB/s read/write, which, although respectable, is quite close to the much cheaper standard BarraCuda speeds (discussed below). We wouldn't recommend getting the 8TB version, as it is almost as slow as an average 5400RPM drive.
Although fast, the BarraCuda Pro drives are also quite expensive and are basically premium drives for more of an enterprise usage. Therefore, if you are willing to sacrifice a few MB/s to save a lot of money, it might be worth checking out other performance hard drive options, including the more consumer-targeted WD Black or the Pro's little brother – the much cheaper, "regular" BarraCuda.
[su_button url="http://www.amazon.com/gp/product/B01MYWS7LO/ref=as_li_tl?ie=UTF8&tag=ishddmag-20&camp=1789&creative=9325&linkCode=as2&creativeASIN=B01MYWS7LO&linkId=20518da02df290d6001b202c937b7328″ target="blank" style="stroked" background="#164b63″ size="8″ center="yes" icon="icon: shopping-cart" rel="nofollow"]View on Amazon[/su_button]
[/su_box]
---
[su_box title="2. WD Black Desktop" box_color="#2d80a3″ radius="5″]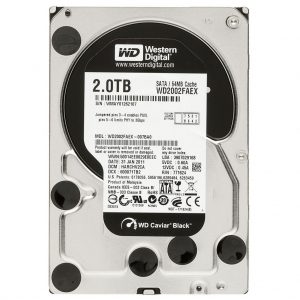 [supsystic-tables id=355]
WD Black is one of the fastest internal hard disk drives you can get on the market today. It is meant to give a boost to computers with heavy workloads. WD Black hard drives are designed for desktop PC and power users who demand performance. See our article about Western Digital HDD Colors for more information on why this is the best hard drive in terms of speed from WD.
WD Black 3.5-inch HDDs are available in 1TB, 2TB, 3TB, 4TB, 5TB, and 6TB capacities with two different, recent 6TB models, both of which are equally reasonable drives (if you can get the older one for a low enough price). The 3TB drives seem to be largely discontinued and thus overpriced. All of these drives feature an extra-long 5-year limited warranty that adds an extra layer of reliability to the drive.
Onto the main course – performance. Black drives have quite the edge over most other hard drives, achieving up to 192MB/s sequential read and 184MB/s sequential write speeds (2016 6TB model). Smaller capacity drives will be slightly slower, but they will still be faster than their counterparts of the same storage size. Capacities of 4TB and above have a 128MB cache while all capacities under 4TB feature a 64MB cache.
Going back to those two 6TB variants, the older 2015 drive reaches 175MB/s seq. read and a massive 217MB/s seq. write speeds, so it's a bit better for writing data than the newer 6TB model. However, most retailer sites will sell it for a much higher price (1.5-2 times higher), that is, if you can find the drive at all. Regardless, if you can get the 2015 model for a reasonable price, both 6TB Black drives would grant you roughly the same performance.
Speaking of price, the extra performance and warranty time of the WD Black drives will cost you more than most other drives would. Across all capacities (6TB the cheapest, 1TB the most expensive), the WD Black drives are priced at roughly 4.2-6.9 cents per GB.
Although most other 3.5-inch 7200RPM drives are cheaper, they also provide less in terms of transfer speeds and longevity. Overall, the WD Black is more expensive than the average HDD, but not by a lot – it's still quite affordable, especially considering its industry-leading performance and warranty.
[su_button url="http://www.amazon.com/gp/product/B004CSIG1G/ref=as_li_qf_sp_asin_il_tl?ie=UTF8&tag=ishddmag-20&camp=1789&creative=9325&linkCode=as2&creativeASIN=B004CSIG1G&linkId=34a726afa794ae77cb0817ccc0b47b40″ target="blank" style="stroked" background="#164b63″ size="8″ center="yes" icon="icon: shopping-cart" rel="nofollow"]View on Amazon[/su_button]
[/su_box]
---
[su_box title="3. WD Red Pro" box_color="#2d80a3″ radius="5″]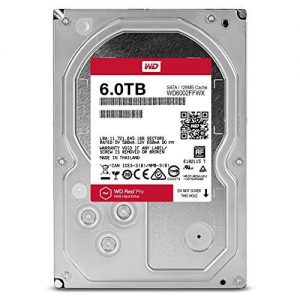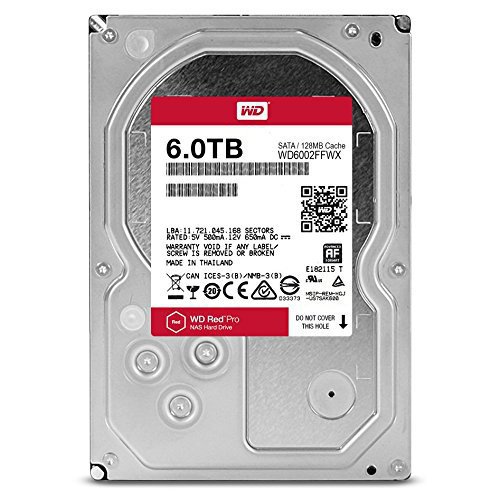 [supsystic-tables id=359]
WD Red Pro is first and foremost a NAS drive, meaning that it has been crafted with increased longevity under continuous 24/7 workloads. This, however, doesn't mean that you can't use it as a simple internal drive for your PC or that the drive lacks performance. The worst effects of using NAS drives in regular PC systems are a few workload optimization issues – no incompatibility or other major issues shouldn't occur.
Even more so than the BarraCuda Pro, the Red Pro's 2TB, 4TB, 6TB, 8TB, and 10TB capacities are suitable more for businesses that use a centralized network storage. The lengthy 5-year warranty ensures the aforementioned reliability, while features such as NASware 3.0, 3D Active Balance, and shock sensors help the drive to function optimally in NAS systems.
The Red Pro reaches up to 184MB/s sequential read and 177MB/s sequential write speeds with capacities up to 8TB, with the 6TB model being the fastest. However, the most impressive benchmarks thus far have come from the newest and highly optimized 10TB version, which, on most benchmarks, achieves upwards of 200MB/s read/write speeds. Currently, the massive 10TB model has very few benchmarks to speak of, though all of them are constant and show staggering performance.
As you may have already guessed, having "Pro" in the name of your drive will cost you more. In the case of Red Pro, you'll be looking at around 4-6.5 cents per GB, or up to $60 more than other 7200RPM drives. You can think of the Red Pro as the NAS-specific alternative to the BarraCuda Pro, seeing how their capacity, price, and performance are rather comparable.
In short, you'll get pretty decent HDD performance from any WD Red Pro models but you'll get the most out of the 10TB version (this is why the Red Pro series as a whole isn't first on our list). At the same time, the regular PC user will most likely never fill up a drive of this size so, if you're already willing to pay $350-450 for your high-performance drive, it might even be a good idea to get a decent 1TB SSD instead. If you're looking for a fast personal hard drive NAS system, the Red Pro is a decent option though its "base" WD Red version will do just fine in terms of both reliability and speed.
[su_button url="http://www.amazon.com/gp/product/B01CHP20MG/ref=as_li_tl?ie=UTF8&tag=ishddmag-20&camp=1789&creative=9325&linkCode=as2&creativeASIN=B01CHP20MG&linkId=18a6af32f7ec54eec04e6557cea26238″ target="blank" style="stroked" background="#164b63″ size="8″ center="yes" icon="icon: shopping-cart" rel="nofollow"]View on Amazon[/su_button]
[/su_box]
---
[su_box title="4. Seagate BarraCuda" box_color="#2d80a3″ radius="5″]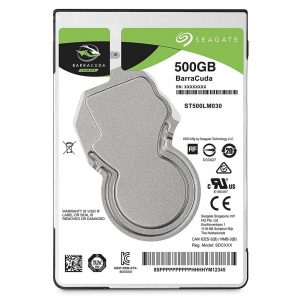 [supsystic-tables id=352]
If the previous hard drives understandably seem too expensive for you, don't worry, as the next quickest hard drive is simultaneously one of the more affordable ones. The standard BarraCuda hard drives might fall a bit behind the premium, high-shelf options that we discussed before (like its "big brother", the BarraCuda Pro), the Barra, but it's still one of the fastest HDDs out there.
BarraCuda drives come in 500GB, 1TB, 2TB, 3TB, and 4TB capacities with a somewhat short 2-year warranty. Regardless of the warranty, the drive is well-received by customers and seems to work just fine for the vast majority of users. At 2.9-4.5 cents per GB (depending on capacity), the BarraCuda is one of the cheapest reliable manufacturer hard drives out there, not to mention being the cheapest on this list.
When it comes to performance, the BarraCuda is outperformed basically only by the aforementioned high-performance or professional drives. Both 2TB and 3TB models reach 178MB/s sequential read and 161MB/s sequential write speeds, while the 500GB and 1TB models fall, on average, 5-10MB/s behind the two former capacities. Weirdly enough, the 4TB version is even slower than the 500GB and 1TB versions, at least on UserBenchmarks.
Overall, the BarraCuda and WD Black would be the more reasonable performance HDD options for casual users from this list. The BarraCuda would then be the cheapest option that doesn't compromise too much performance by being very affordable. We consider it to be the best 3.5-inch hard drive overall, which speaks of how well this drive combines low price with high data transfer speeds.
[su_button url="http://www.amazon.com/gp/product/B01LNJBA2I/ref=as_li_tl?ie=UTF8&tag=ishddmag-20&camp=1789&creative=9325&linkCode=as2&creativeASIN=B01LNJBA2I&linkId=ff1641329f1af29447d57c15930aa8e2″ target="blank" style="stroked" background="#164b63″ size="8″ center="yes" icon="icon: shopping-cart" rel="nofollow"]View on Amazon[/su_button]
[/su_box]
2.5-inch Laptop HDDs
[supsystic-tables id=399]
[supsystic-table-diagram id='148′]
[su_box title="1. WD Black Mobile" box_color="#11a7a7″ radius="5″]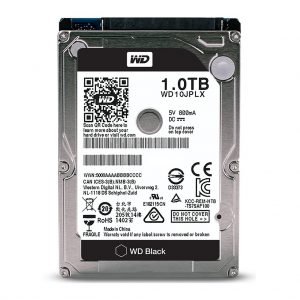 [supsystic-tables id=362]
Although only with a slight edge over other performance laptop hard drives, the WD Black series rises to the top among 2.5-inch drives too. The Black Mobile is one of the fastest and most reliable hard drives and both characteristics are backed up by some of the highest benchmarks for laptop drives as well as the drive's 5-year warranty.
The 124MB/s read and 118MB/s write top speeds (500GB model, 1TB a tad bit slower) of the Black Mobile don't seem like much in comparison to the previously discussed 3.5-inch drives. However, the smaller form factor and the resulting physical limitations of the drive's moving parts result in lower performance for all 2.5-inch drives, making this seemingly average drive the fastest on the market.
Unfortunately, the laptop version of WD's performance drives is a much less reasonable storage option. To begin with, it's available only in small capacities of 250GB, 320GB, 500GB, 750GB, and 1TB. But the worst part is the pricing – all capacities are priced very similarly to each other on most retailer sites (within $5-10 of each other), which leaves only the 1TB and maybe the 750GB models with a reasonable price tag. This also makes the price range between capacities very high, around 6.9-11 cents per GB.
Overall, the WD Black Mobile hard drives provide basically the highest performance that you could get from a laptop hard drive. Plus, it comes with the longest warranty of any 2.5-inch hard drive, that being 5 years. However, the small capacity options will not be enough for today's data saturation, especially considering the extremely high price of these models. In short, only the 1TB model is priced reasonably enough to be considered (still expensive) and provides roughly the same performance as its smaller but speedier 500GB counterpart.
[su_button url="http://www.amazon.com/gp/product/B01DOL05OC/ref=as_li_tl?ie=UTF8&tag=ishddmag-20&camp=1789&creative=9325&linkCode=as2&creativeASIN=B01DOL05OC&linkId=c6bf7e8422339240572964e31d7ced31″ target="blank" style="stroked" background="#164b63″ size="8″ center="yes" icon="icon: shopping-cart" rel="nofollow"]View on Amazon[/su_button]
[/su_box]
---
[su_box title="2. HGST Travelstar" box_color="#11a7a7″ radius="5″]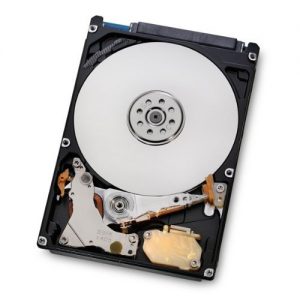 [supsystic-tables id=360]
Very close to the WD Black's performance is the HGST Travelstar. In our opinion, the Travelstar is the best internal hard drive for laptops. It's fast (as fast as laptop hard drives get), it's affordable, and, considering the very positive customer reception, is also quite reliable.
There have been older, smaller capacity models of the Travelstar, but currently the only reasonably priced ones are the 750GB, and 1TB versions, both of which feature a 3-year warranty. Depending on capacity and retailer, these drives will cost you between 5.5 and 7 cents per GB, which is basically as low as it gets for laptop HDDs.
The Travelstar's performance again seems underwhelming but is almost as high as laptop drives go. 114MB/s sequential read and 112MB/s sequential write speeds of the 1TB model are less than 10MB/s behind the WD Black Mobile drives. Meanwhile, the 750GB model is around 10MB/s slower than its counterpart.
In short, the Travelstar isn't the best drive in any field, but rather the second best in most of them. It looks like any old drive and doesn't have many features that you'd call eye-catching but at the same time, it combines everything you'd need from such a drive into one affordable package. This is why we consider the Travelstar to be not only one of the fastest 2.5-inch hard drives, but also the best one overall.
[su_button url="http://www.amazon.com/gp/product/B00B4QESVQ/ref=as_li_tl?ie=UTF8&tag=ishddmag-20&camp=1789&creative=9325&linkCode=as2&creativeASIN=B00B4QESVQ&linkId=f4a2911e63e1d7e086e8be4646b218f4″ target="blank" style="stroked" background="#164b63″ size="8″ center="yes" icon="icon: shopping-cart" rel="nofollow"]View on Amazon[/su_button]
[/su_box]
Hard Drive Specification Meaning
If you're new to hard drive technology as a whole or just haven't looked into much else aside from capacity, some of the specs mentioned in this top list may be a bit confusing. This is why we decided to include a short explanation of the most important specifications of a hard drive.
[su_list icon="icon: cogs" icon_color="#0e7285″]
Form Factor – determines the size of the hard drive. These days the HDD market has been narrowed down to only two form factors – 3.5-inch for larger PCs with plenty of space for parts and 2.5-inch for more compact laptops and consoles that can only fit so much inside their case.
Technically, the form factor tells you how big the magnetic platters are inside the drive's case. There are various other form factors for other computer parts and drives (like PCIe add-in card or M.2 solid-state drives) but no modern hard drives utilize them.
Capacity – tells you how much data can fit into the drive. A plain and simple specification that does what it says on the can.
Transfer Speeds – determine how quickly data on the drive can be accessed, loaded, or saved. Transfer speeds as a whole are affected by many small factors that manufacturers tweak and improve to give you the best possible performance.
You can split transfer speed into two types – sequential and random speeds:

Sequential read/write – represents how quickly long strings of continuous (sequential) data are read/written on the drive. In this case, the read/write needle of the drive doesn't move far off a continuous path on the drive platters, allowing sequential speeds to reach around 100-130MB/s for HDDs.
Random read/write – represents how quickly small packs of data can be accessed in various places (randomly) on the drive platters. In this case, the drive needle has to move a lot, slowing down the overall performance of the drive. Basically, this can be considered as the most strenuous workload on the drive. Random read/write speeds are usually under 5-10MB/s and can vary a lot, even for the same HDD model, which is why we didn't focus on these speeds too much.

Disk Buffer / Cache Size – tells you how much data the hard drive's onboard drivers and controllers can process at a time. A larger cache means that more data can be processed for reading or writing, which increases the overall performance of the drive. Cache size usually ranges between 32MB and 256MB. For most users, cache size won't make much of a difference and its effects will be represented in transfer speed benchmarks anyway.[/su_list]
Summary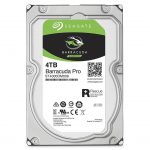 To reiterate, we focused mainly on speed on this HDD list, so the top contender in each form factor might not be the best drive overall. If you have money to spend, for pure speed you can choose the Seagate BarraCuda Pro for PCs and WD Black Mobile for laptops. As stated in the short reviews, higher capacities will yield more performance.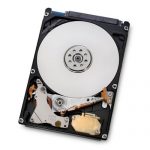 However, in our opinion, the much more reasonable options for more casual PC users would be either the WD Black (more performance, higher cost) or the Seagate BarraCuda (slower but much more affordable). For laptop users, the HGST Travelstar will offer very respectable performance for a much more reasonable price than that of the WD Black Mobile.
As the SSD market keeps pushing forward with great strides both in fields of practicality and performance, HDDs may soon become relics of the old computing world. With this in mind, the list given here will most likely not change much in the near future as very few manufacturers put effort into increasing HDD performance at all, and the ones who do focus on massive, 10TB enterprise drives. So, if you need a fast hard disk drive right now, you can be sure that the drives on this list are a safe investment and will be the fastest HDDs for years to come.
[Fuly Updated December, 2017]