EVGA is a well-known power supply manufacturer that makes products of superb quality and durability, they also come with healthy warranties (based on the model for up to 10 years). On basically, all our PC builds like 1000$ multi-purpose PC, we have used EVGA power supplies. This time we are reviewing 650 GQ power supply.
EVGA has worked together with FSP once again to produce new GQ lineup. It's set to be a one step behind well-known G2 series, however, this PSU still offers efficiency, semi-modular cabling as well as quiet operation.
The GQ series has four models with their wattage ranging from 650W up to 1kW. All of GQ series PSUs are 80 Plus Gold-certified and use only high-end components, Fluid Dynamic Bearing (FDB) fan and offers quiet operation.
Related: Best PC Power Supplies for Gaming 
A little bit more about EVGA 650 GQ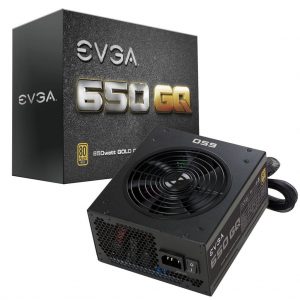 [supsystic-tables id=342]
[amazonjs asin="B017HA3SQ8″ locale="US" tmpl="Small" title="EVGA 650 GQ, 80+ GOLD 650W, Semi Modular, EVGA ECO Mode, 5 Year Warranty, Power Supply 210-GQ-0650-V1″]
To lower production costs, EVGA uses an Active Clamp Reset Forward (ACRF) technology. It ensures excellent efficiency without using super expensive components that would be used in a full or half-bridge design, for example, LLC resonant converters.
Packaging and Contents
The box in which you receive this power supply comes with EVGA's branding. At the front, you can also see the 80 Plus Gold badge. At the back of the box, you can see an image with EVGA's internals and connections.
The PSU itself is well protected inside the box, it's wrapped in a plastic bag. You also get a manual, a set of screw, Velcro straps and all cables which are stealth.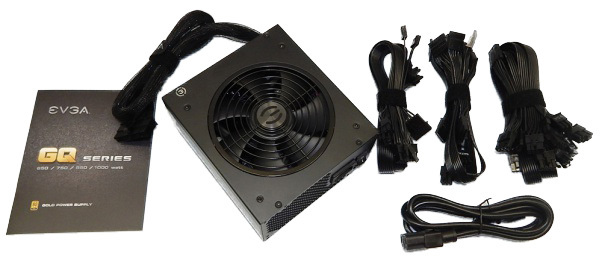 Performance
To be honest, most of the consumers don't care much about power efficiency and PSU performance, all they want is a durable unit. Therefore, I'll not dive into complex charts and graphs of our tests as it won't make much sense for most of the consumers. Below i have collected the main results of our tests.
We performed some tests (cold and hot) to determine efficiency and performance of EVGA power supply. We started with standby loadtests, where we got the efficiency of above 80% in all of our measurements. Then follow up by COLD load tests in which the efficiency was from about 83-90%, that's really impressive. For gold efficiency level this PSU does great. Actually, we have only seen these kinds of results on more expensive Platinum or Titanium models. On hot tests, we also got an efficiency of about 86-91%.
Verdict
Overall EVGA 650 GQ is a superb power supply. You can't really get anything much better than this. This power supply features a great voltage stability and superb power efficiency. We also had excellent results when managed low work loads. As for functionality, this is a semi-modular unit and that's great. However, it also could have been fully modular, maybe I'm picky but that's the only way how to rate EVGA power supplies as otherwise all review could be described with few words like "Everything is great".
[su_row][su_column]
[su_box title="PROS" box_color="#179f16″ radius="4″]
[su_list icon="icon: plus-square" icon_color="#179f16″]
Superb voltage stability
EVGA build quality
Excellent ripple control
A very decent price
[/su_list]
[/su_box]
[/su_column]
[su_column]
[su_box title="CONS" box_color="#9f1619″ radius="4″]
[su_list icon="icon: minus-square" icon_color="#9f1619″]
There are no real cons. At least we can't think of any.
[/su_list]
[/su_box]
[/su_column]
[/su_row]
As for pricing, it's decent. You can't call it expensive, but it's also not one of the cheapest power supplies on the market.
Everything previously mentioned combined makes this a superb power supply that comes with a healthy 5-year warranty and well-known EVGA good reputation of making quality products. Of course, you can always get the same wattage power supply with unknown branding for half of EVGA's price, however, we think that power supply isn't the component to save your money on as they last much longer than any video card or CPU (longevity wise) and all your rig's components need a proper power supply.