An error code of 0x000000EF or also know as CRITICAL_PROCESS_DIED error appears with Blue Screen of Death. It stops what ever you were doing and forces your Computer to restart. This can be very annoying and frustrating if you were doing some important work or entertaining yourself by gaming or watching movies. This error indicates that there is some kind of issue with your System's Critical Processes.
There are many users reports that they got this error right after updating their Windows or during an installation of operating system. One thing to keep in mind is that this error can occur on a running PC as well as during start-up. If you have the second variant, you will have to do few extra steps to fix this error.
As we have noticed, many users get this error right after updating their Windows 8 to Windows 10. So the CRITICAL_PROCESS_DIED error occurs in a result of incompatibility. Often users download and install software that's not compatible with their operating system, in the result issues start to happen. Also, there are cases that this happens because of faulty RAM or just corrupt Windows.
Other Windows errors: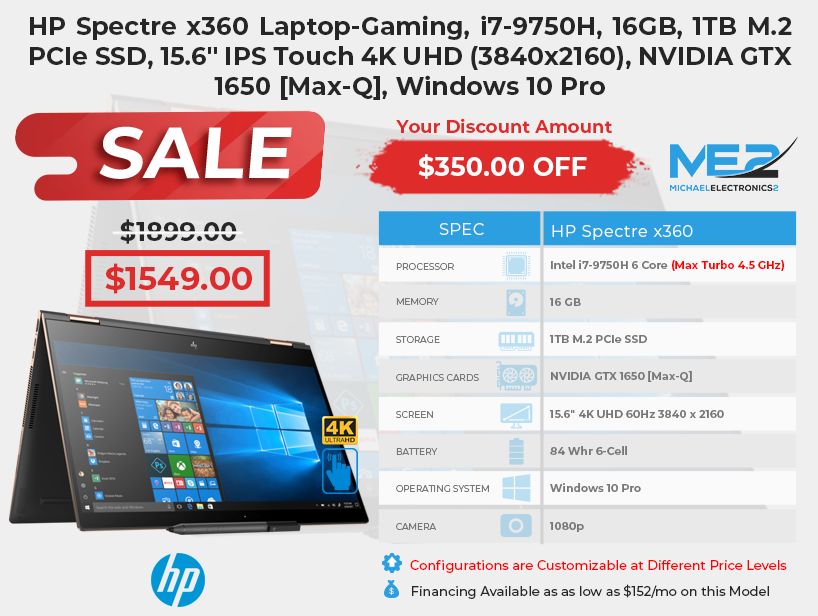 Structure of this article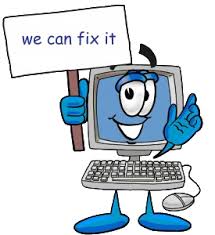 First of, depending on when the CRITICAL_PROCESS_DIED error occurs, you might be able to open your Windows in working order or not. This error can also occur on the Windows startup. You will get the "Your PC ran into a problem that it couldn't handle, and now it needs to restart". If you get this Blue Screen of Death every time you launch your Windows, you will need to perform some additional steps to fix this error. Therefore, if this does happen, keep on reading about "What if I get this error in the middle of Windows startup?." However, if the error occurs on a running Windows, skip this step and go straight to solutions.
We would like to mention that performing a single solution most likely won't solve your issue as there are tons of reasons why CRITICAL_PROCESS_DIED error can occur. That's why you have to implement multiple solutions one by one until the problem is solved.
What if I get this error in the middle of Windows startup?
If you can launch your Windows just fine and this error occurs when you use it, move to the first solution to troubleshoot this error. However, if you keep getting this error message on Windows startup and you have run into an infinite loop of system restarts you should whether:
Launch your Windows in Safe Mode
Fix this problem using a Startup Repair
This usually happens because corrupt Windows Drivers prevent your PC launch normally. First, we advise you to try starting your Windows in safe mode. In this mode. All you will have to do is press a certain key on your keyboard over and over again until you see Advanced Boot Options screen (see picture below).

From all options choose "Safe mode" and hit enter. When Windows is launched in Safe mode, it doesn't use any third-party developer driver or a program. This means if they are the ones to blame, you will be able to launch your Windows normally.
Keys you will have to press:
For Windows 7 and older versions, you will have to press F8 key over and over again to open Advanced Boot Options.
For Windows 10 and Windows 8, you will have to press Shift + F8 key.
Hopefully, you will be able to launch your Windows in Safe mode and if you have, move to the first solution. However, if things didn't go as planned and you're facing some kind of issue launching Windows in Safe mode, Startup Repair may be the way how to solve this.
If the Operating System's Boot Manager isn't working properly, Startup repair is the only way to go. To manage this, you will need your Windows installation files – on a disk or USB flash drive.
Performing Startup Repair
The first thing you will have to do is boot your Windows from disk or USB flash drive. You can do this in your BIOS Boot Menu or by changing Boot Sequence Priority. Once you have done that, you will see a message "press any key to boot from CD or DVD/ or USB." So press any key to continue.
When Windows will be booted, you will see Setup's menu options. Don't change anything here – just press Next.
Now you will see a screen that displays one "Install now" button and at the lower-left corner "Repair your computer button", press on it.
Now you will see three options, choose Troubleshoot.
Now you will see three more options, choose Advanced options.
In Advanced options choose "Startup Repair" and then click Automatic repair.

You will be prompted with the screen below. Just follow instructions.
After performing Startup repair, your Windows might launch just fine. However, if it doesn't there is nothing left just reinstalling your operating system. So one you can open your Windows, let's solve the CRITICAL_PROCESS_DIED error.
Fixing CRITICAL_PROCESS_DIED error on a working Windows
For most of the users, this error will occur on a working Windows while you are using it. This error can happen when you use a particular software or just randomly at any time. Unfortunately, there are so many reasons why it can occur. Therefore, We will have to try many different solutions. Here are most common causes of this issue:
Outdated or corrupt drivers.
Very often BSOD errors occur because of outdated or corrupt drivers. Make sure all Windows drivers, as well as hardware drivers, are up to date.
Corrupt Windows Registry.
A Registry is one of the most important things in your operating system. If it's corrupt due to malware or poor computer maintenance, you might get this error message. You can try to clean registries from bad values using a Registry cleaner tool. However, they all have to be bought. That's why we advise you running one simple command through Command Prompt.
Recent Faulty Update.
Sometimes issues can start to happen after a particular Windows update. If you think this might be causing the CRITICAL_PROCESS_DIED error, go to Control Panel and uninstall the latest Windows update.
Software Compatibility.
If you get this error while working with a particular software, it might be compatibility related problem. To fix this reinstall this software and make sure it's compatible with your system.
For advanced guide on how to solve this issue, check our article about fixing BSOD. See link below:
1. Updating drivers
Sometimes when you get this error, right next to its name you will see faulty drivers name with the extension of ".sys". If you see it, this problem is caused by drivers. However, if you don't, we still advise checking your Windows for driver updates as this won't take longer than 2 minutes.
As we already learned, this error often is caused by outdated or corrupt drivers, therefore you will have to update them. The key here is to find out which driver is the faulty one and needs to be updated. So do what ever you do and wait until the error occurs once again. Then write down the faulty driver's name to find out what does it do. Once you know your faulty driver's name, do a research about it. Find out whether it's Windows or hardware driver. You can do this by using online websites. We used Carrona because it's easy to use and is very straight forward. See link below:
http://www.carrona.org/dvrref.php
Once you open this website, in the search box type your error. For example, driver's name:"ndis.sys". Once you find it, you will be provided with driver's full description.

As we already mentioned, there are two kind of drivers – hardware and Windows related. You can tell what type driver is yours in the "Source section". If it has links, it's hardware related, if the source section features lettering of "Windows update," it's a Windows driver. See image below: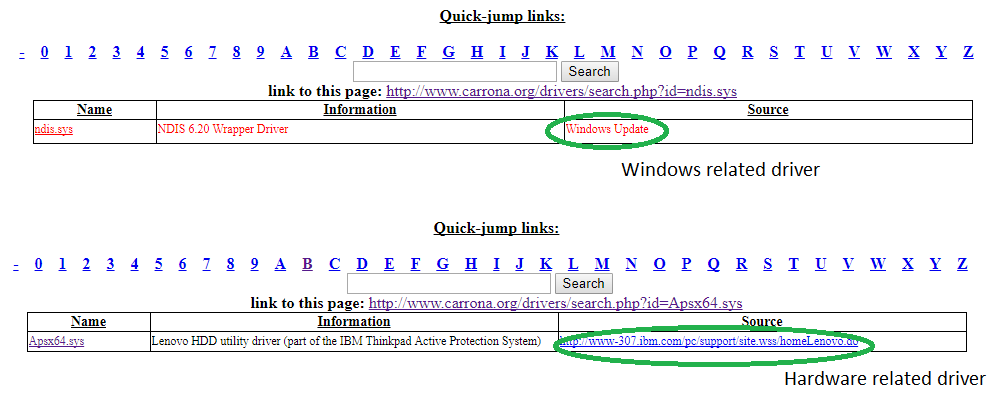 Now you probably know whether your faulty driver is windows or hardware related. Let's see the difference between them.
Hardware drivers
Hardware drivers are used to run certain hardware of your system. Not only external but also internal hardware like motherboard, video card or network adapter. There are like a conjunction between the operating system and device.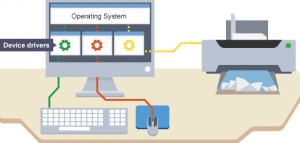 Windows driver
Windows drivers are used by your operating system. They ensure Windows is running correctly and there are no issues.
Updating drivers
Updating drivers are very easy and straight forward. If you want to update Windows drivers, you can do this with an in-built tool. However, for hardware drivers, there are two options.
Updating Windows drivers:
Updating Windows drivers is the first thing to do because it's super easy and won't take more than 2minutes of your time. All you have to do is locate "Windows update settings" and run a check for updates. To update Windows drivers, follow steps below:

Click on the Start button on Taskbar (Windows icon) and start typing "Windows Update settings".

Next, you will have to check for updates. Wait the process is completed, and if any updates are found, install them. That's it!
Hardware related drivers
If hardware driver is faulty, you will have two options how to update it – downloading and installing them from the component manufacturer's website or do the same using Device Manager:
Click on the Start button on Taskbar(Windows icon) and search for "Device Manager," open it.

Once in the Device Manager, look for the hardware part your fault driver is underneath. Right-click it and choose "Update driver". You can also choose "Uninstall device"
Once done, restart your computer. If you have uninstalled the device, on the next startup your Windows will install all necessary drivers automatically.
2. Executing command Sfc /Scannow through Command Prompt.
This is probably the most simple solution to perform. Just open Command Prompt and execute one single command – Sfc /Scannow. To do so, follow steps below:
Open Command Prompt by clicking on Start button and typing "CMD"

Once you have opened Command Prompt, copy/paste or just type the command:  Sfc /Scannow and hit enter.

Restart your computer to see if it did any good. If it didn't you will have to use Registry cleaner tool.
For more solutions see our How To Fix Windows Blue Screen Of Death article.
Conclusion
We hope that after performing Solutions mentioned above and in "How to fix BSOD" article, you were able to fix this issue. However, if you didn't, you can always reinstall your Windows and the problem will be solved unless your hardware is damaged.