A proper gaming headset is an essential gaming peripheral that can change your gaming experience. However, often you have to pay a lot to get a decent headset. Usually, a good gaming headset costs about 100$, premium devices can cost even 300$. Not all of us can afford to pay so much a headset. The truth is – often the only difference between a budget and premium headset is build quality.
A cheaper headset will be more flimsy and made entirely of hard plastic, but premium headsets will feature leather earcups, headband, and frame made out of solid plastic with metal accents. And of course, a more expensive headset will offer more features. When it comes to sound quality, cheap headsets sometimes can sound even better than more expensive headphone options. Overall getting a budget headset is a very wise choice. In this article we have picked the best budget headphones out there: wired, wireless, with 7.1 surround sound, without it. You name it!
If you do want a more premium headset, check out our article about Best Gaming Headsets.
Best Budget Gaming Headsets
[supsystic-tables id='167′]
[su_spacer]
Headsets under 50$
[su_box title="HyperX Cloud Stinger" box_color="#1f21b5″ radius="5″]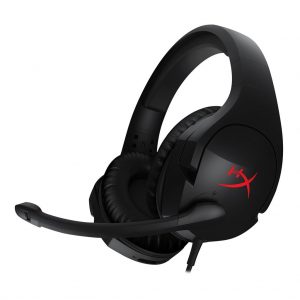 HyperX Cloud Stinger is one of the best gaming headsets that cost less than 50$. This price tag, of course, means some cut offs. The build quality of HyperX Cloud Stinger isn't the best out there and is made entirely out of cheap plastic. However, it will be okay for normal everyday use. The last thing we complain about is a lack of some features like 7.1 surround sound. You can tell that Stinger is nowhere near HyperX Cloud II.When talking about audio quality, you can't expect the same audio quality as premium headsets like Astro A50 or SteelSeries Siberia 800. But this headset offers a good midrange, decent bass, and high notes also sound good. Comfort is good. Some may think it's a bit tight on ears, but it loosens up after few days of use.
[supsystic-tables id='125′]
[/su_box][su_box title="Razer Kraken USB" box_color="#1f21b5″ radius="5″]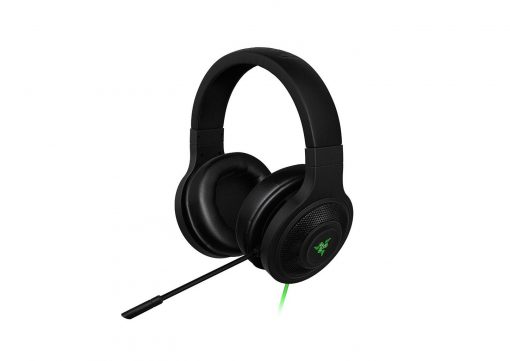 Razer Kraken USB is compatible with PC and PS4 and is connected through USB cable. Overall this is good quality headset even though it's very budget friendly. Razer very simple but solid headsets. Entire headset is made out of plastic, but we would call it a rather nice plastic. This headset can bend and take shape to fit you as good as it can, making Razer Kraken USB very comfortable. The only thing we would change is headband padding. It could be a bit comfier. Earcups on the other side are well padded and feel great. These headphones feature 32mm drivers with a standard frequency range of 20 – 20KHz.
We just love the microphone on this thing. The mic features a frequency response of 100Hz – 12kHz and is very clear. There will be no miscommunication with Razer Kraken USB.
[supsystic-tables id='157′]
[/su_box]
[su_box title="LOGITECH G430″ box_color="#1f21b5″ radius="5″]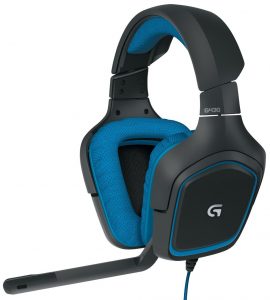 Logitech has always been known to make good audio devices. G430 is no exception. This headset is a bargain, build quality is good, and it offers a pretty impressive amount features. Logitech G430 is one of the rare budget headsets that offers 7.1 surround sound. When talking about comfort, it's up to level. The headband is expandable, and padding on earcups is extremely comfortable. This headset is very attractive made from thin plastic, and steel coated in black, and blue colors. At first, it may feel brittle in hands, but after few days of usage, you realize that G430 is durable. Noise-cancelling boom mic sounds great. Another thing we loved is that G430 comes with USB adapter.
[supsystic-tables id='158′]
[/su_box]
Headsets under 25$
[su_box title="Yanni 2016 Sades SPIRITWOLF" box_color="#0fa61e" radius="5″]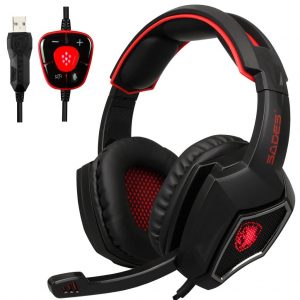 One of the cheapest and most comfortable headsets out there. Headphones all contact points are finished in soft materials making it very good for long gaming sessions. SADES is a company that makes very budget friendly headsets with tons of features. SPIRITWOLF costs under 30$ and offers 7.1 surround sound that does sound good. One of the best cheap headsets out there with 7.1 surround sound. Wise choice if you don't want to spend a fortune but still experience 3D sound all around you.  Even serious gamers will be satisfied with SPIRITWOLF. It features volume and mute buttons on cable making it super easy to control you audio and microphone during gameplay.
[supsystic-tables id='159′]
[/su_box]
[su_box title="Turtle Beach – Ear Force X12″ box_color="#0fa61e" radius="5″]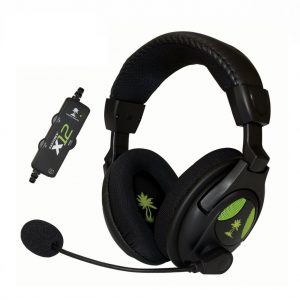 Ear Force X12 is one the cheapest gaming headsets that Turtle Beach makes. And Turtle Beach brand is associated with good sounding gaming headphones. Ear Force X12 is no exception.
Featuring soft, well-padded ear cups and comfy headband, the Ear Force X12 is comfortable. We tested Ear Force X12 with Call of Duty Modern Warfare Remastered, and it did its job flawlessly. I could hear all approaching footsteps with high precision even tough Ear Force X12 doesn't feature 7.1 surround sound. The design is quite simple. This headset features large earcups that cover your ears completely. Microphone seems very clear and crisp, no complaints here.
[supsystic-tables id='160′]
[/su_box]
[su_box title="TRITTON Kama" box_color="#0fa61e" radius="5″]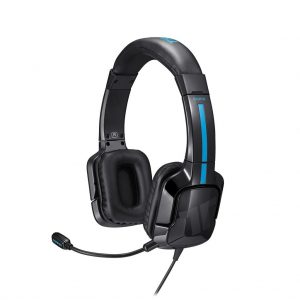 One of the best pros of this headset is its compatibility. TRITTON Kama is compatible with every availably gaming console out there and comes in three colors: black, red and white. It uses 3.5mm audio jack. If you're just looking for a good-sounding headphones that don't cost a fortune, TRITTON Kama is a good choice. Despite the low price, this headset is built well. Of course, the glossy plastic on the outsides of the earcups feel a bit flimsy, but everything together holds well and feels solid. This headset offers a  strong, deep bass, but lacks a bit of volume. This headset will satisfy every need of a casual gamer.
[supsystic-tables id='161′]
[/su_box]
Budget Wireless headsets
[su_box title="Plantronics RIG 400HS Stereo Gaming Headset" box_color="#0fa61e" radius="5″]
The Plantronics RIG 400HS Stereo Gaming Headset is a beast at a surprisingly affordable price. With 40mm, high-sensitivity drivers, this headset lets you experience truly immersive gaming audio. This headset features noise-canceling memory foam earcups and an omni-directional microphone to cut down on background noise. You can easily adjust game volume or mute your mic through this headset's convenient inline controls. The headband is heavily cushioned for comfort throughout long gaming sessions. Plus, you can easily adjust this headset to fit your head. While this headset is designed for PS4 gamers, it is compatible with all consoles, mobile devices, and computers.
[supsystic-tables id='162′]
[/su_box]
[su_box title="Kotion Each B3505″ box_color="#961228″ radius="5″]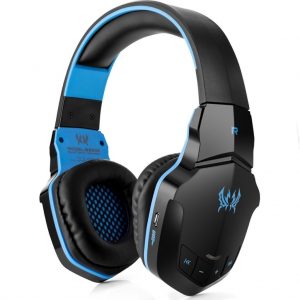 Wireless Bluetooth headset that's compatible with all Bluetooth devices. You can pair devices with through NFC function. There is an NFC chip in the right earcup to pair devices very easily. This headset is very versatile. It features enhanced noise reduction and is a good choice for watching movies, talking on a phone or to listening music and of course gaming. KOTION EACH B350 has 50mm magnetic neodymium drivers, that deliver decent audio quality. We really liked that this headset comes with a 3.5mm cable that can be used to connect to devices that don't have Bluetooth. Comfort is decent as well. You won't have any trouble spending hours and hours in game with KOTION EACH B350.
[supsystic-tables id='439′]
[/su_box]
[su_box title="Bluedio T2S Bluetooth Headphones" box_color="#0fa61e" radius="5″]
The Bluedio T2S Bluetooth Headphones are an affordable option for those who prefer wireless gaming. You can connect these gaming headphones to any Bluetooth-compatible device, making them a great option for handheld, console, and PC gamers. With a long-lasting battery, you can take advantage of up to 40 hours of gameplay per charge. Plus, with the included 3.5mm audio cable, you can still use these headphones even when the battery runs out. The speakers in these headphones provide rich bass tones and clear high notes. These headphones also feature earcups that rotate up to 195-degrees, which is essential for comfort and easy storage.
[supsystic-tables id='164′]
[/su_box]
[su_spacer]
Summing everything up
Cheap gaming headset is a great buy as it won't cut a hole in your pocket and a proper headset will work great. However even if we are talking about budget headsets, budgets can differ. Headphones that costs about 50$ have plenty of features and sound really great are less flimsy and overall are a great buy. Then you can get the cheapest headsets out there (25$ and less). They will do their job done, and you should have no complaints but also don't expect tons of features and build quality. As for wireless headsets, they are ok. But if you're serious about gaming we advise you to take a look at more expensive headphones. Decent wireless headset starts for around 80$.