Omnidirectional speakers are nothing new to the market and have been more popular than ever before just because it makes their usage easier. But that means that there is a large competition between the manufacturers like Bose Soundlink Revolve+, Ultimate Ears Megaboom and JBL Charge 3. They promise full-range sound wherever you place them.
As mentioned Bose entry in this market is with its Revolve and Revolve+, although there are two entries from Bose we only mention the Revolve+ because we like it more due to its bigger battery, louder audio and superior base.
They are expensive, but the design is unique and they both sound great for small speakers.
[su_row][su_column]
[su_box title="PROS" box_color="#179f16″ radius="4″]
[su_list icon="icon: plus-square" icon_color="#179f16″]
Sounds perfect
Built-in handle
16 hour battery life
[/su_list]
[/su_box]
[/su_column]
[su_column]
[su_box title="CONS" box_color="#9f1619″ radius="4″]
[su_list icon="icon: minus-square" icon_color="#9f1619″]
Expensive
Charging cradle is sold separately
[/su_list]
[/su_box]
[/su_column]
[/su_row]
Best Portable Speaker Comparison Table
[supsystic-tables id=406]
Performance
Previously I mentioned that Revolve+ sounds great, but how great it really is?
It`s one of the best sounding speakers that I have tested in a long time and it is one of my favorites. Compared to Megaboom, Revolve+ offers deeper bass and just has richer sound overall. But that does not mean that Megaboom is worse than Revolve+, especially if you are thinking of using the speakers outside the Megaboom waterproof body is still a great pick.
The bigger Revolve+ plays louder and has a better bass response than its smaller brother and it offers more refined sound than its cheaper competitor Soundlink Mini II and also has better clarity and bass than Soundlink III.
So, this means that Revolve+ beats its competitors but it is your choice, because of your taste.
Revolve+ has really detailed audio, with pleasing treble and upper mid-range, but high frequencies are on the harsh side from time to time with powerful and healthy bass it still sounds great.
Great at medium-sized room
So, Revolve+ can easily fill a bedroom, smaller office or every other medium-sized room due to its limitations and while you would like to put a 360-degree omnidirectional speaker in the middle of the room for the best possible audio, but really it is better to put it near a wall, so that the bass gets a wall for the bass to reflect against something solid.
For rooms bigger, Bose recommended to place the speaker in the party mode thru the app and add another compatible speaker, which we tested out and connected it with another Revolve+ and together they managed to really fill even a larger room.
The 360-degree speaker itself manages to fill the room without any sweet spot or dead zone which is the best way for such speakers to sound, as it fills the room completely and everyone gets the same experience.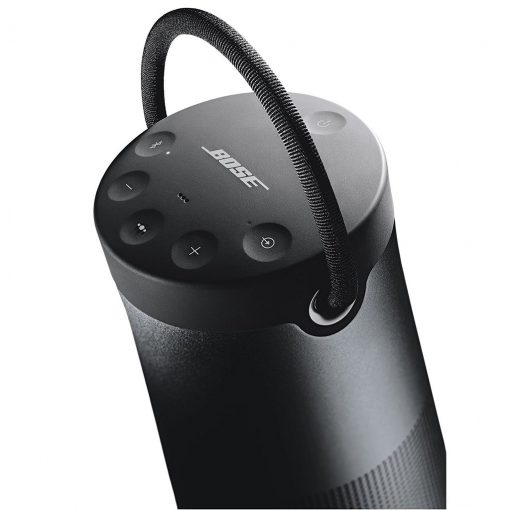 Design and features
As I mentioned Bose Soundlink Revolve+ has a unique design, and I believe so because I have never seen a speaker which looks like old school lantern. And for a lantern to be true it definitely needs a handle and Bose has one which feels really sturdy and is handy when you want to transport the speaker plus it is a nice touch to the design overall, plus it adds an option of hanging it on a hook or anywhere else.
The top and bottom are made of rubber and the buttons are molded into it at the top of the speaker (On/Off, Volume Up/Down, Aux Input and a Multi-function one) and the rubber is not only for the show, as it helps Revolve+ to have IPX4 water-resistance.
Revolve+ has built-in microphone and compatibility with Siri or Google now that can help you to control your phone and speaker straight from Revolve+.
Of course, it also has built-in speakerphone which allows you to talk straight thru Revolve+, plus the built-in microphone had really good recording quality and no one noticed that I spoke to them thru a speaker.
Bose Connect, ports and secrets underneath
With Bose Connect app you can control your Revolve+ thru the phone and makes it easier to swap Bluetooth connection to allow friends to be the DJ. Plus the app allows connecting another Bose product that supports Connect to put them in a stereo mode or party mode, to enhance its volume or sounds quality.
At the back of the speaker, there are two ports 3.5mm AUX and USB for charging, but there is an optional charging dock that can ease the charging even more for some extra cash.
Speaking of charging dock there is another feature hidden underneath, and that is threaded tripod mount which allows you to attach almost any tripod to it and if you add something like Gorillapod you could wrap the speaker around everything and your imagination would be the only limit.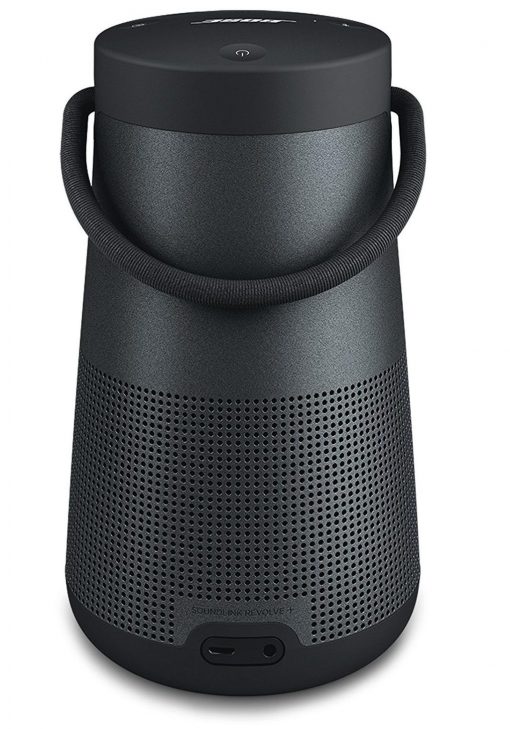 Conclusion
Bose Soundlink Revolve+ is a really great speaker with omnidirectional capabilities that offers smooth sound across the room without any dead zones. Plus filled with the most necessary features that are made to make your experience with the speaker easier and more pleasant, and with a possibility to add charging dock or even a tripod makes it versatile and ready to go anytime you want.
For a portable speaker with such a small size Revolve+ definitely has the best audio available, although for audiophile it will not please them so much as for an average listener Revolve+ is all they need and more.
[su_button url="http://www.amazon.com/gp/product/B06XCW4VFS/ref=as_li_qf_sp_asin_il_tl?ie=UTF8&tag=ishddmag-20&camp=1789&creative=9325&linkCode=as2&creativeASIN=B06XCW4VFS&linkId=639f2c9b3a7847de9d640eb5d483f3a3″ target="blank" style="ghost" background="#35bfff" color="#000000″ size="7″ center="yes" icon="icon: shopping-cart" icon_color="#000000″ rel="nofollow"]View on Amazon[/su_button]