In the world of PC gaming, players are serious about their equipment, which are best CPU's, most fancy RGB liquid cooler components and last but not the least, what are the Top 10 Motherboards for gaming . A quality machine, a high-end headset, or a brilliant display can make the difference between winning and losing. Even if it's only for bragging rights, gamers are seekers of victory, so many take things into their own hands and build their own machines to get the exact combination of features they want.
When you're building a new system, you have to start with the motherboard. Think of it like the human brain. The motherboard is where all the connections get made, and it controls everything from speed to the games you can play. If you're looking to take your game to the next level by building yourself some new hardware, check out these 10 motherboards and see how they rank among those in the know.
How We Chose Our Ratings
It's important that you have a complete and accurate picture of the positives and negatives of the motherboards on this list. We've taken into account customer reviews and user opinions alongside general information about the product to give you the full 360-degree view of each one. We also consider the brand, its history, and reputation because those things matter to you as a consumer of technology products. Three big factors emerged to form the basis of our ratings.
Price – Like it or not, most gamers don't have unlimited resources to pour into a machine. We tried to include options at varying price points, so you can find something that fits your budget.
Expansion capability – As your needs and interests change along with the games available to you, we took into account whether the board allows for expansion down the road.
Size – This has to be a consideration because your system has to sit somewhere, and most players don't have unlimited space.
Top 10 Best Motherboards For Gaming

Comparison Table
| Product | Image | Our Rating | Price |
| --- | --- | --- | --- |
| MSI AMD X470 Gaming Plus | | | |
| ASRock AB350M Pro4 | | | |
| ASUS ROG Strix X470-I | | | |
| Gigabyte X470 Aorus Gaming 7 Wi-Fi | | | |
| ASRock Fatal1ty B250M Performance | | | |
| Gigabyte Aorus AX370 Gaming 5 | | | |
| MSI Z270 SLI PLUS | | | |
| Z370 Aorus Gaming 7 | | | |
| Z370 Aorus Gaming 5 | | | |
| ASUS Maximus IX Hero | | | |
Here's Our Full Reviews Of The
Best Motherboard

For 2018
MSI AMD X470 Gaming Plus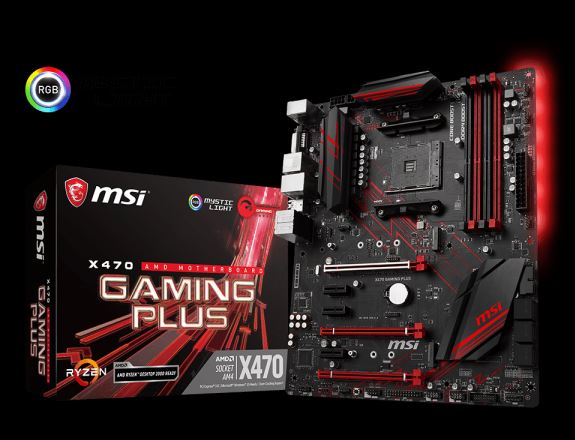 Product Description
Planning to build a affordable RGB support motherboard using the latest MSI gaming app that has that sleeky design? This is the motherboard for you. See full specs: MSI AMD X470 Supports AMD RYZEN Series Processors and 7th Gen A-series/ Athlon Processors. Supports DDR4-3200+(OC) Memory. Click BIOS 5: Award-winning BIOS with high resolution scalable font, favorites and search function. GAMING LAN with LAN Protect: The best online gaming experience with lowest latency and bandwidth management MULTI-GPU: With Steel Armor PCI-E slots. Supports AMD Crossfire Gaming in style with unlimited customization options and packed with exclusive gaming features.
Pros
Affordable price value.

Great expansion capability.

It supports up to 64GB of memory.
Cons
The X470 needs a large case to house it.
ASRock AB350M Pro4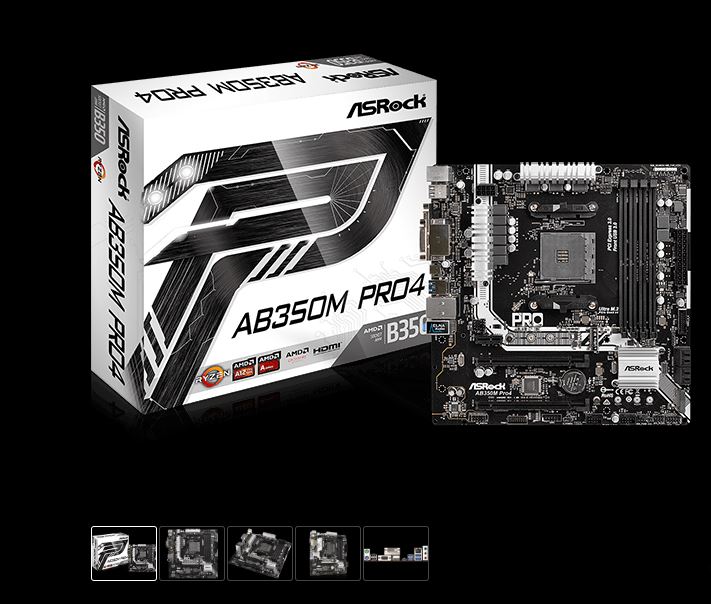 Product Description
A simple designed motherboard ideal for budget gamers motherboard. Maybe you just want to build a budget rig to play your favorite game like DOTA, LOL or the popular Fortnite. ASRock AB350 PRO4 Socket AM4/AMD B350/DDR4/SATA3&USB3.0/M.2/ A&GbE/ATX Motherboard, Supports AMD Socket AM4 A-Series APUs (Bristol Ridge) and Ryzen Series CPUs (Summit Ridge). Provides overclock functionality in bios and supports up to 64gb of ddr4 ram.
Pros
Affordable price value.

Supports RAM overclocked.

It supports up to 64GB of memory.
Cons
ASUS ROG Strix X470-I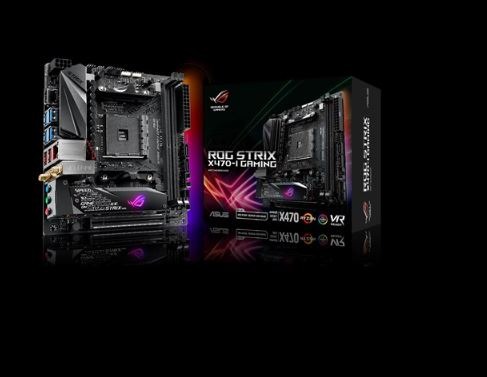 Product Description
Experience next-gen performance with the mini-ITX ROG Strix X470-I Gaming, powered by AMD Ryzen AM4 2 processors. Unleash your system's full power using 5-Way Optimization and outshine the competition with customizable Aura Sync RGB lighting. Dual M.2, onboard 802.11ac WiFi and USB 3.1 Gen2 deliver maximum connectivity speeds.
Pros
Dual-channel RAM support gives you greater bandwidth.

M.2 compatibility.

Affordable price value.
Cons
Gigabyte X470 Aorus Gaming 7 Wi-Fi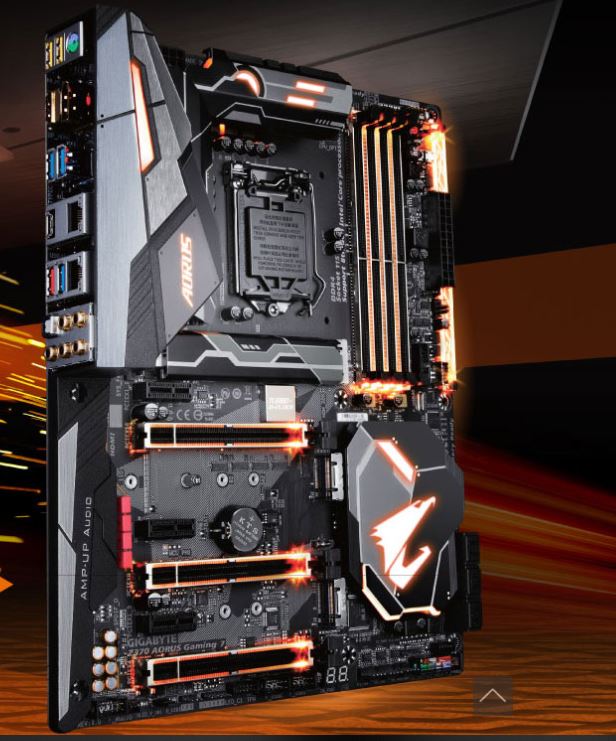 Product Description
This motherboard looks like a tank! Build for enthusiast gamers who wants to have the full rgb effect on their motherboard. These are the full specification: AMD X470 AORUS motherboard with 10+2 IR Digital PWM, Fins-Array Heatsink & Direct Touch Heatpipe, Dual M.2 with Thermal Guard, ALC1220-VB + ESS SABRE DAC, Intel®802.11ac Wave2 WIFI, CEC 2019 Ready
Pros
Excellent design

This unit features great expand ability.

It supports up to 64GB of memory.
Cons
ASRock Fatal1ty B250M Performance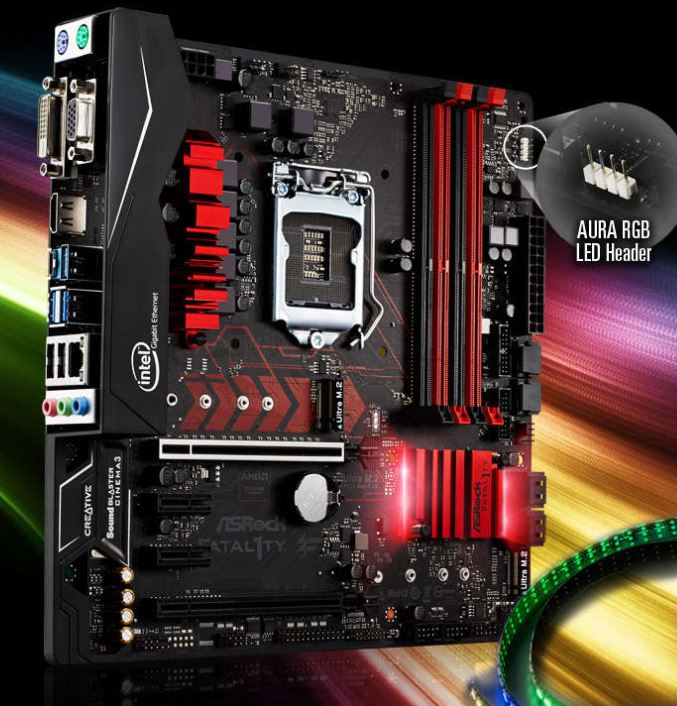 Product Description
One of more popular due to its affordability, if you don't need overclock functionality and what the red theme sleek design, this motherboard is for you! ASRock FATAL1TY B250M PERFORMANCE LGA1151/Intel B250/DDR4/Quad CrossFireX/SATA3&USB3.0/M.2/A&GbE/MicroATX Motherboard
Pros
Affordable price value

You get Dual M.2 and 4 DDR4 slots

check-circle

The ASRock Fatal1ty is attractive and compact
Cons
The lack of an overclocking feature.

This unit only has 12 chipset lanes.

It's only available in black and red color
Gigabyte Aorus AX370 Gaming 5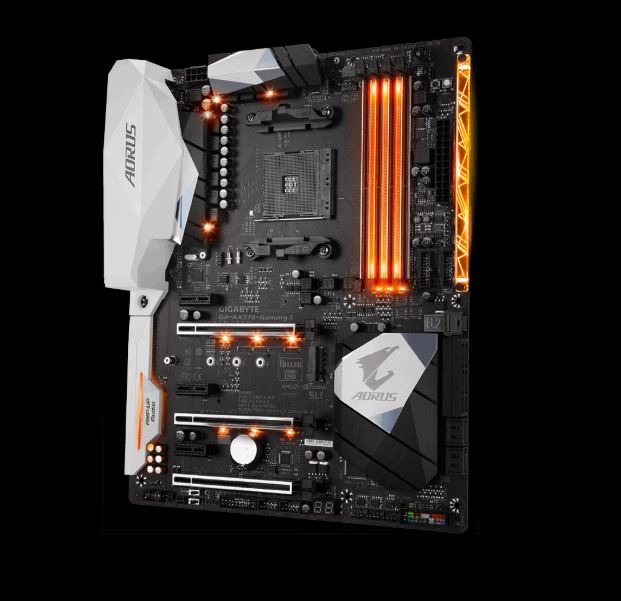 Product Description
If you are planning to get mid-range enthusiast type of motherboard with overclock functionality and dual audio codecs, with a budget around 200$? Then this motherboard is for you! Check the specs below:Socket AM4, Supports New Generation AMD Ryzen Processors Dual Channel DDR4, 4 DIMMs 1PCIe 3.0 x16 + 1PCIe 3.0 x8 Slots 2-way CrossFire/SLI support Realtek ALC 1220 2 for Both Front & Rear 120dB SNR HD Audio Dual GbE LAN (Killer E2500+Intel i211AT) RGB FUSION/Smart Fan 5 Sound Blaster X-Fi MB5 USB DAC UP2 Dual Armor Dual BIOS PCIe NVMe Gen3 x4 22110 M.2 U.2 ATX 305×244 (mm).
Pros
The AX370 has a stable BIOS and good memory support.

The 32 Gb/s M.2 and U.2 connectors

The structure is visually appealing
Cons
The lack of Wi-Fi or Bluetooth feature.

The single M.2 slot

The AX370 only runs with Windows 10.

times-circle

Expensive
MSI Z270 SLI PLUS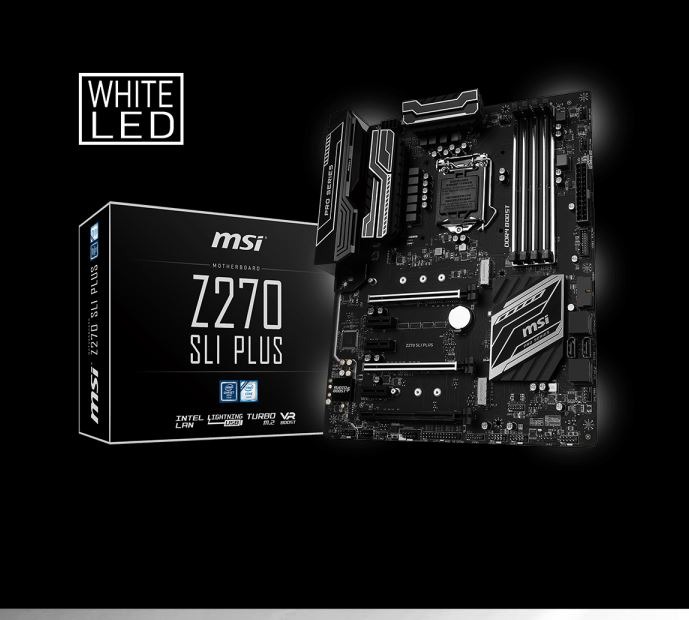 Product Description
MSI Z270 SLI PLUS is built with quality you can rely on with top performance and clever business solutions. Engineered to gratify even the most demanding professional, this motherboard will fit in any PC. Making your life easier and supporting your business with super stable, reliable and long-lasting top performance.
Pros
The Z270 offers solid, reliable performance.

Military Class 5 quality components.

Affordable price value.
Cons
The lack of a digital audio output.

There is no POST code display with this unit.

Lack of a backup firmware ROM.
Z370 Aorus Gaming 7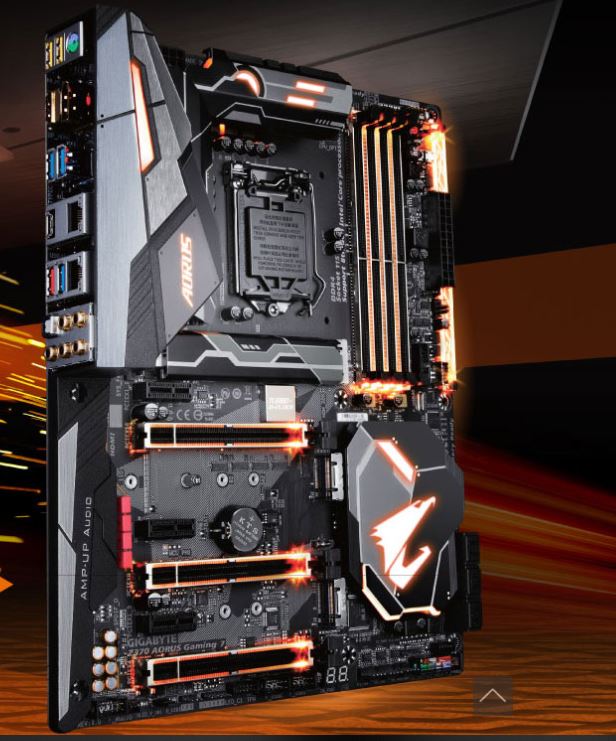 Product Description
For someone who wants to build its system around intel's smoking amazing eight-gen 8th gen CPU's. Buyers should be aware that this motherboard are not compatible with old intel "Coffe lake" sockets. Check full specs here:Supports 8th Generation Intel Core Processors Dual Channel DDR4, 4DIMMs USB 3.1 Gen 2 Type C 3-Way Graphics Support with Dual Armor and Ultra Durable Design Killer E2500 Gaming Network + Intel Gigabit LAN USB DAC-UP 2 with Adjustable Voltage USB RGB FUSION with Multi-Zone LED light Show Design Gigabyte UEFI Dual BIOS APP Center Including Easy Tune and Cloud Station Utilities, ATX Form Factor. 305mm X 244mm.
Pros
The overall design of the Z370 Aorus is good.

You get an A-1 overclocker
Cons
Z370 Aorus Gaming 5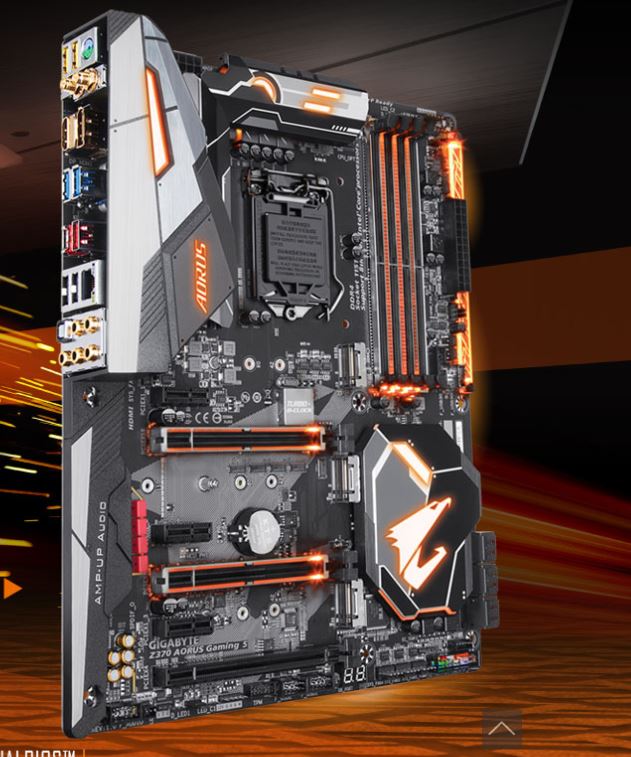 Product Description
Enjoy the convenience of built-in advanced performance tuning features like Turbo B-Clock. AORUS is offering a tested and proven platform that ensures proper compatibility with DDR4 XMP profiles up to 4133MHz and beyond. Supports 8th Generation Intel Core Processors Dual Channel DDR4, 4DIMMs USB 3.1 Gen 2 Type C 3-Way Graphics Support with Dual Armor and Ultra Durable Design Intel Gigabit LAN USB DAC-UP 2 with Adjustable Voltage USB RGB FUSION with Multi-Zone LED light Show Design Gigabyte UEFI Dual BIOS APP Center Including Easy Tune and Cloud Station Utilities, ATX Form Factor. 305mm X 244mm.
Pros
You get a complete package of features.

Affordable price value.

The RGB FUSION color package.
Cons
The bulky design.

Overclocking potential is modest.

Gamers report some heatsink issues.
ASUS Maximus IX Hero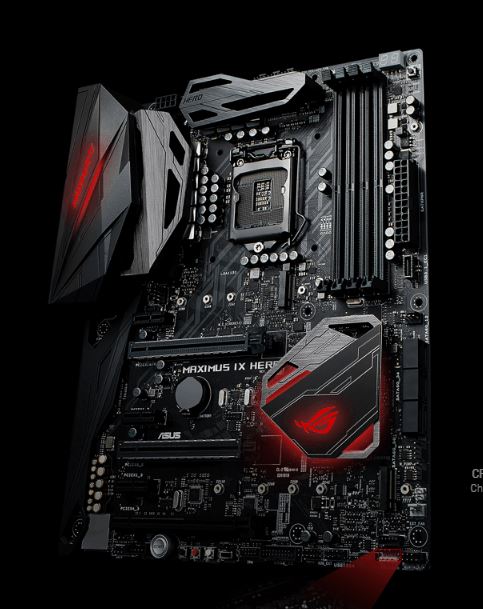 Product Description
Want to get the top of the line motherboard? This high-end motherboard provides all functionality a enthusiast gamers dream of. Get the full power of ASUS aura sync RGB, supreme FX audio for superb game experienced, One-click overclock and cooling functionality and lastly, a built-in AC WIFI mimo. Experience next-level gaming performance and personalization with the ROG Maximus X Hero (Wi-Fi AC), supporting 8th generation Intel Core processors. Unlock full calibration and customization options with 5-Way Optimization, Addressable AURA Sync RGB lighting and 3D printing mounts. Dual M.2, 802.11AC Wi-Fi and front panel USB 3.1 deliver maximum connectivity speeds.
Pros
Best overclocking and memory test scores

Stable BIOS and drivers.
Cons
The lack of available Wi-Fi or Bluetooth

Expensive
Buyer's Guide
Whether you're new to the gaming world or you've been pounding the keyboard for years, it's easy to get confused by all the choices when you're shopping for a new motherboard to support your hobby. The decision is critical, though, because what the board can and cannot do determines what the complete system is capable of achieving. All of your components connect to the motherboard, and it controls the communication between all of the parts of the system. Take your time and do your research carefully so you don't spend time and money constructing something that doesn't do what you want in the end.
Choosing Between Two Kinds of Motherboards
The first decision to make is whether you need an Intel board or an AMD board. An Intel board only works with a CPU of the same brand, and an AMD board only works with an AMD CPU. This seems easy enough, right? However, if you've settled on an Intel motherboard, you have to go one step further. You have to make sure you get the right kind of processor interface. You may also see it referred to as a CPU socket type. The correct socket type should be listed on the packaging of your chosen processor and motherboard.
RAM Compatibility
Three pieces of information can help you determine if the motherboard you're considering will work with the RAM in your machine:
RAM type – RAM comes in two types, DDR3 or DDR4. DDR3 has been on the market for many years. DDR4 is the newcomer, boasting slightly more speed. Your motherboard is only compatible with one type, so make sure it's a match for what you have.
RAM speed – Each motherboard supports a specific RAM speed. Check the speed of the RAM stick and the motherboard details to make sure they match.
RAM capacity – Your board will have a maximum level of memory that it can handle, so be careful not to overbuild it. This probably won't be an issue unless you're putting together an extreme system that uses more than 32, 64, or 128 GB.
Number of slots – If your motherboard only has two slots and you fill them both with 4GB sticks, you'll have 8GB, but you won't have any room to upgrade later. Instead, get an 8GB stick and leave yourself room to add on.
Size of the Motherboard
The technical name for the size of the motherboard is form factor. If you already have a case in mind, make sure that the board you choose will work. Five form factors are available: ATX, Micro-ATX, Flex-ATX, DTX, and Mini-ITX. However, you'll find that two of them are far more common than the other three, the Micro-ATX (also called mATX) and the ATX. The DTX and Mini-ITX don't have the sound card capabilities to satisfy most gamers. Also, you must consider what type of ATX casing you should pick in building a gaming pc. Some cases have limitation for future expansion, if you are planning to build a a rig with 2-3 more HDD's and 1-2 extreme ssd (SanDisk Extreme PRO SSD Review 2018) in it you should definitely get a mid-tower type.
Of the two, the mATX is smaller and more basic with fewer features, and it's less upgradable. However, it's also more affordable. ATX boards are the norm, but an mATX is adequate for most gamers, especially if you're on a budget.
Size matters when you're trying to choose the best motherboards for gaming because an ATX board won't fit in an mATX case. However, it can work in reverse since an mATX board will usually fit inside an ATX case.
USB Ports and Expansion
When you're selecting your motherboard, you want to think ahead about whether it has enough expansion slots to allow for adding things like sound and network cards. Similarly, make sure the board has enough USB ports, and look for one with USB 3.0 or higher.
Here's A Relevant Video From YouTube:
Final Thoughts: Which
Motherboard

Is Right For You?

Four manufacturers dominate the landscape of the motherboard makers. Asus, Gigabyte, AsRock, and MSI all turn out consistently high quality and reliability. Shopping outside these companies is risky.

Whether you're building or rebuilding, the choice you make about the motherboard for your setup can mean the difference between frustration and hours of gaming fun. Lots of factors play into making a good selection, and only you can decide on the features that matter the most to you. The list of favorites here gives you many options to start with. It includes board for those who don't have a lot of money to invest, while the high-end models may be ideal for you if you're looking to splurge on your new system. Let this guide get you started as you begin your research in pursuit of your very own gaming Nirvana.