Managing your data is a tedious task, especially when you have to go down to the more complex partition level where you're presented with various formats, partition maps, and other technical mumbo-jumbo. It's important to have partitioning software that can make sure a less experienced user doesn't destroy his data by accident and knows what he's doing. At the same time, it should also cover all the potential needs of more experienced and professional users.
AOMEI Partition Assistant presents various options for partition editing, both basic and dynamic disk management, as well as a few extra features. But how well do all of them function in real life and how easy this software is to understand for a more casual user?
What are AOMEI Partition Assistant Standard and Partition Assistant Professional?
AOMEI Partition Assistant Standard is a freeware that allows you to manage entire hard drives or their partitions. This is done via various options, like Copy Disk, Migrate OS, Split Partition, Resize/Move Partition, etc. In short, it's an upgrade to Windows' native Disk Management and gives you much more different options for different partitioning needs.
[su_button url="http://www.disk-partition.com/download-home.html" target="blank" style="soft" background="#ffe335″ color="#000000″ size="7″ center="yes" icon="icon: shopping-cart" icon_color="#000000″ rel="nofollow"]Download From AOMEI Website[/su_button]
AOMEI Partition Assistant Professional is the paid upgrade to the standard version and comes with quite a few additional features that let you freely switch disks between MBR and GPT partition maps, allocate free space between partitions, switching between logical/primary partitions and dynamic/basic drives, and much more. The Professional version costs $44.95 and adds various options, not just ones from one field.
[su_button url="http://www.disk-partition.com/download-pro.html" target="blank" style="soft" background="#ffe335″ color="#000000″ size="7″ center="yes" icon="icon: shopping-cart" icon_color="#000000″ rel="nofollow"]View on AOMEI Website[/su_button]
Setup and Interface
Setting up both the free and the Professional versions of Partition Assistant was as simple and quick as with most other software. The regular Install Wizard mainly just makes you choose the install directory. The Professional version comes with two installation files – one for the basic Partition Assistant and another one for Dynamic Disk Manager Pro, which separates dynamic disk options from the main software.
Partition Assistant Standard, Partition Assistant Professional, and Dynamic Disk Manager Pro are all portable programs, meaning you can simply copy or move their installation folders to a flash drive, for example, to use on different PCs.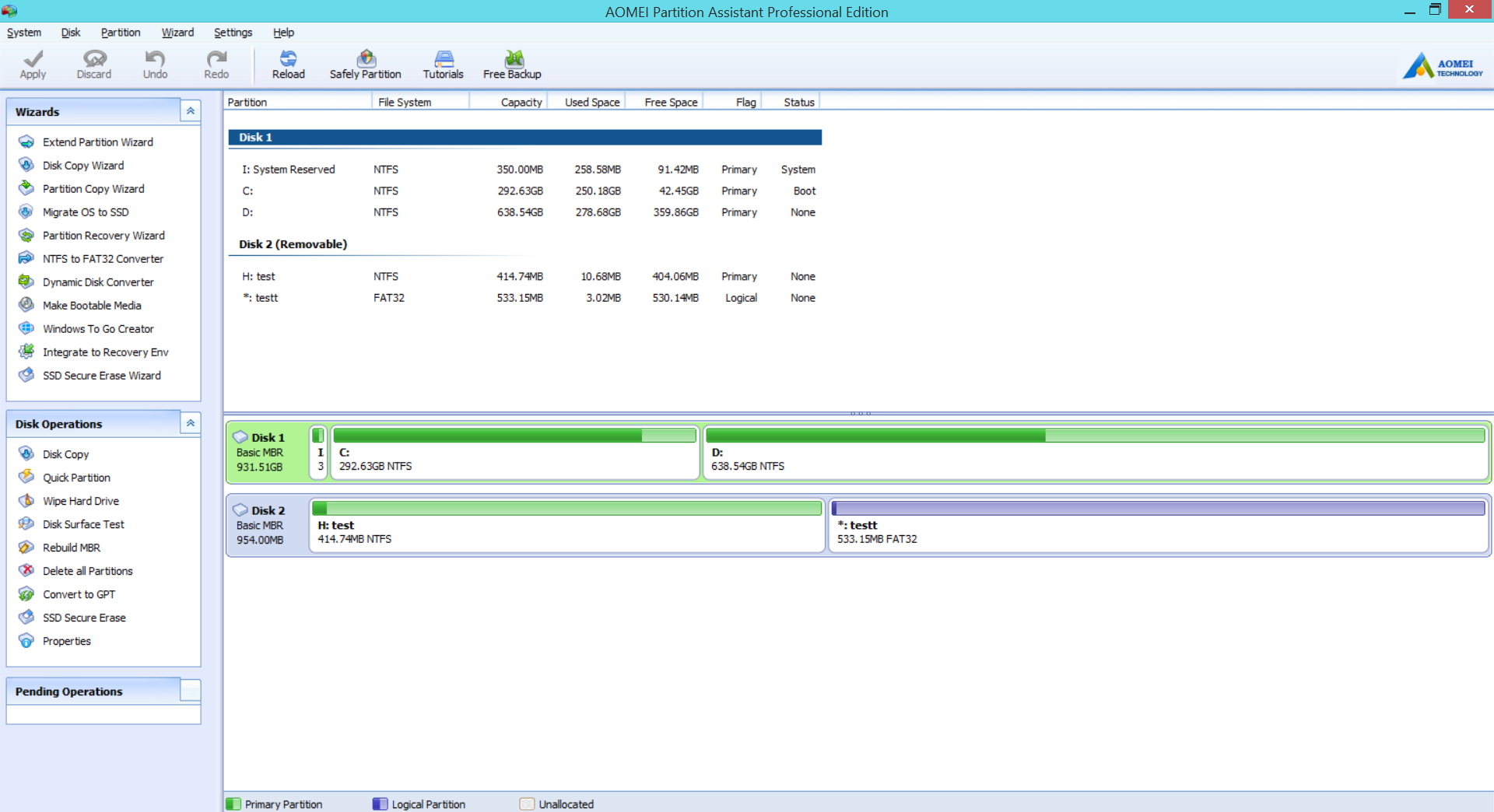 The Standard version and the Professional version feature the same interface, and the freeware simply restricts access to paid features once you click on them. Having these features grayed out from the beginning would be much more informative and handy, but most other, similar software tools do the same thing to promote the full, paid version of the software.
As with other AOMEI products, the options menus are quite orderly and well thought out. This makes the long list of possible actions easier to navigate and use. Same goes for the Help menus, which explain all the features in a simple enough language for a novice to understand, although the paid features are not distinguished here either. Here is the list of options that Partition Assistant has to offer:
[su_list icon="icon: wrench" icon_color="#1398a3″]
"Wizards"
Extend Partition – takes free space from other partitions or unallocated space to increase a different partition's size without data loss
Disk Copy – copy contents of one entire drive to another
Partition Copy – copy contents of one entire partition to any unallocated space
Migrate OS to SSD – copy your OS from one MBR drive to another MBR SSD or HDD
Partition Recovery – recover deleted partition data
NTFS to FAT Converter – change partition format without data loss
Make Bootable Media – create a new WinPE bootable partition
Windows To Go Creator – create a functioning Windows OS partition on any device from Windows' installation image
Integrate to Recovery Environment – integrate AOMEI software tools into the Windows' emergency recovery environment
SSD Secure Erase – wipe an SSD drive (only on Windows 7)
Basic Disk Options
Disk Copy – more simplistic version of the wizard
Wipe Hard Drive – completely destroy all data on a drive
Disk Surface Test – check drive for bad sectors
Rebuild MBR – repair a faulty boot partition
Delete All Partitions – deletes (doesn't wipe) all partitions on a drive
Convert to GPT/MBR – convert an MBR data disk to GPT partition map, or vice versa
SSD Secure Erase – more simplistic version of the wizard (also only Win7)
Properties – see info about a drive's model number, sector amount, etc.
Basic Partition Options
Resize/Move; Merge; Split Partition – change partition size and placement without data loss
Copy; Create; Delete; Format; Wipe; Set Active Partition – edit a partition as a whole
Change Label; Change Drive Letter; Hide Partition – change properties of the partition
Check Partition; Properties – see error and other information about the partition
[/su_list]
[su_list icon="icon: wrench" icon_color="#5713a3″]
Professional Edition Options
Allocate Free Space (Partition) – move free space from one partition to another without data loss
Convert to Logical/Primary (Partition) – change partition type
Partition Alignment – potentially optimize SSD performance
Change Partition Type ID; Serial Number – change internal partition numbering if necessary
Migrate OS to SSD – adds options to migrate MBR to GPT, GPT to MBR, and GPT to GPT
Convert to GPT/MBR – allows system/boot disks to be converted as well
Quick Partition – partition an entire drive in one options menu, choose size, type, etc. of all new partitions
Command Line Partitioning – gives access to PA features through command prompt
Gain access to Dynamic Disk Manager:

Dynamic Disk Converter – change a dynamic disk or volume to basic (MBR or GPT) and vice versa
Initialize New Disks to GPT/MBR – change new drive partition map
Create; Delete; Format; Resize; Move Slice; Change Letter; Change Label of Dynamic Volume – edit a dynamic volume
Create Volume; Move Volume Slice; Add/Remove Drive from RAID Wizards – edit dynamic drive storage
[/su_list]
Functionality
As with similar partitioning software (like MiniTool Partition Wizard, for example), your chosen actions get added to a pending action list before they're executed. This allows potentially data-erasing actions to be reviewed to make sure you haven't misclicked something and don't accidentally destroy important data.
We ran tests on an HGST Travelstar 5400RPM 1TB HDD and an old-school 1GB flash drive by splitting, merging, moving partitions, as well as performing surface tests and more simplistic (change drive letter & label, for example) operations on the drives. Partition management had to be done via a restart, before loading the OS since our installation of Partition Assistant was located on the edited partition.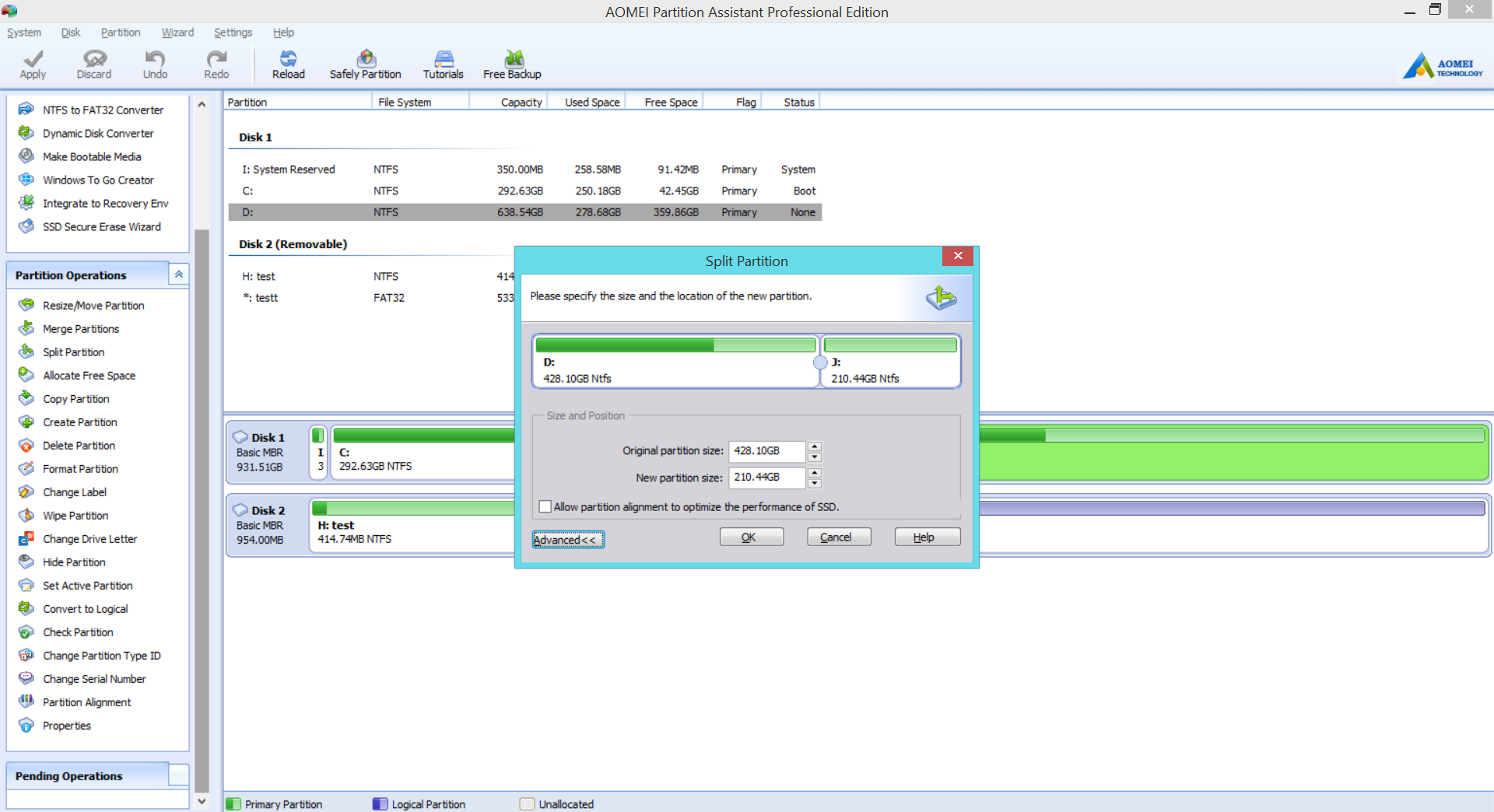 Performance-wise, Partition Assistant handled the necessary actions quite quickly, with most merging/splitting actions for a 200GB partition taking less than 20 seconds, while formatting said partition took only around two minutes. The software's estimates seemed to be all over the place though, predicting 1.5-2 hours for formatting (presuming it doesn't estimate down to hundredths of a second), which is just odd more than actually problematic. The Disk Surface Test of our 1TB drive was estimated to take around 3hrs, which turned out to be a pretty exact estimate.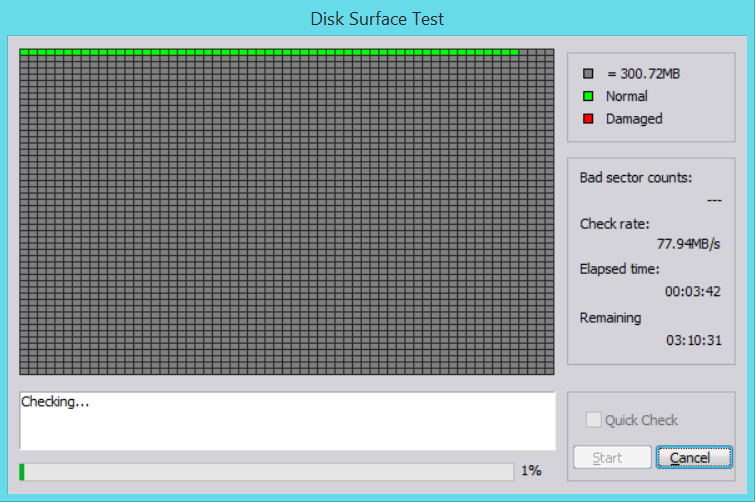 The more simplistic actions, like assigning new drive letters, converting partitions from logical to primary and vice versa, took from a couple to 20 seconds to finish. Another critique, however, would be that multiple actions couldn't be queued. It seems like it should be possible, but when you attempt to add multiple actions for already changed partitions/disks (like splitting off a new partition, then changing its letter), the program demands you to finish those actions first. Overall, all of the more basic options we looked at worked just fine and were completed quickly and without a hitch.
Verdict
AOMEI Partition Assistant Standard is a fantastic partitioning tool that delivers most basic disk/partition operations you might need in an easy-to-understand interface. Although the paid Professional edition features are not split off from the free ones in any way, most of them are either shortcuts to basic action combinations (Quick Partition being the most notable example) or more complex actions that most casual users won't really need (like switching between logical and primary partitions, changing serial numbers, etc.). The only critique would be some minor quality of life issues, like the lack of queueing actions and not separating free and paid features.
AOMEI Partition Assistant Professional adds various extra options for dynamic drive users, as well as more complex operations for basic drive users with specific needs. However, as we mentioned before, the only Professional options that a casual user might need are basically shortcuts, like Quick Partition or Allocate Space. So, if you don't need disk management for work or to manage RAID devices or other types of dynamic storage, you don't have to pay $44.95 for the full version.
Both free and paid versions functioned as intended in our tests and finished the set operations in a short time span. Add to that the intuitive interface and practical feature list and you'll have yourself one of the best partitioning tools out there.
[su_button url="http://www.disk-partition.com/download-pro.html" target="blank" style="soft" background="#ffe335″ color="#000000″ size="7″ center="yes" icon="icon: shopping-cart" icon_color="#000000″ rel="nofollow"]View on AOMEI Website[/su_button]