More and more consumers these days look for a multi purpose monitor, looks good, performs well and has a reasonable price tag. The AOC Q2781PQ is a very sleek looking 27-inch monitor that has a resolution of 2,560×1,440. If you're looking for a true gaming monitor that will be used competitively, then AOC Q2781PQ probably isn't made for you. However, for everyone else who do enjoy some gaming at the spare time, but still want to do some work, create content, this monitor is just great. While it doesn't feature super fast refresh, adaptive sync and a lot of adjustments, it still features IPS panel with a response time of 4ms and 60Hz refresh rate.[amazonjs asin="B01MAXQYTM" locale="US" tmpl="Small" title="AOC Q2781PQ 27-Inch IPS Monitor, 2560 x 1440 Res, 5ms, 50M:1DCR, VGA, (2) HDMI, DP"]
Let's be honest, one of the main reasons why you are reading this article is AOC Q2781PQ's design and styling. It offers quite a lot for its price tag when compared to similar monitors like ASUS Designo MX27AQ or Dell UltraSharp U2715H. However, they do cost significantly more and it's the matter of taste, but I think AOC Q2781PQ has better styling. One of the key features is super narrow bezels, making the screen look way bigger than it already is. It also has a U shaped metal stand. Altogether this monitor is very appealing and futuristic looking.
The First Impression
Right out of the box, this monitor seems superb. Super sleek looks if first what you notice. In the box, there is HDMI cable, Display port cable, power cable, as well as the monitor itself. Setup is also very easy and straightforward. All you have to do is plug in power cable and connect your monitor to PC or console. We advise using Display port as it locks in place firmly and features the best image quality.
The AOC Q2781PQ features a very simple navigation through settings. You have five buttons on the left side right under markings. The interface is very simple to use, you won't need to read manuals to change some simple things like brightness, contrast, color setup and so on. The first thing I changed is brightness. The AOC Q2781PQ seems very bright and at default it had it set up to about 70%. Turning it down to only 5% and it sits in the sweet spot. In the image below, you can see this monitor's navigation keys and brightness at 5%.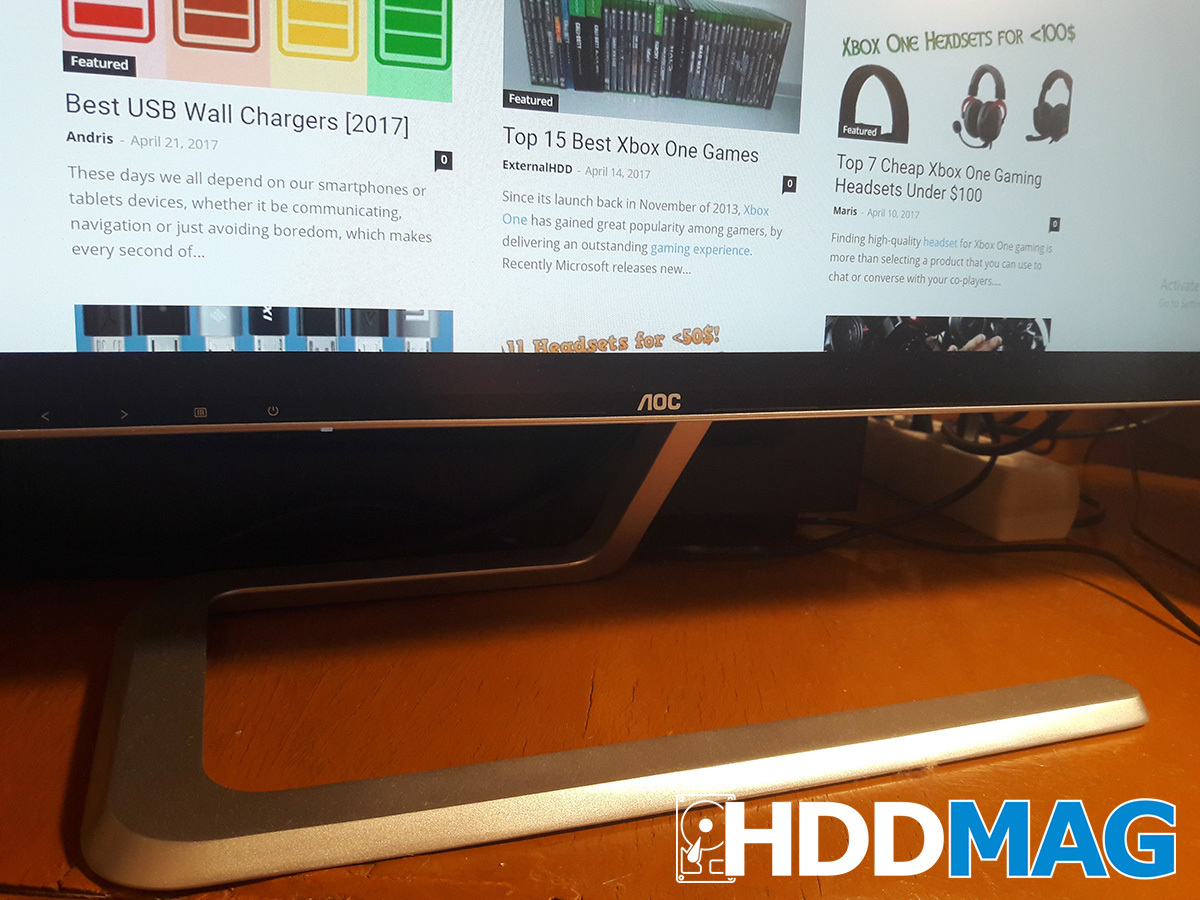 Also, those who haven't used a 1440p monitor before, at first image may seem too small. For example, the first time I switched from Full HD 24-inch monitor to a 1440p 27-inch one I find that task bar and such things as time and date were too small to read. So I changed scaling to 125%. After first few hours of usage, I had no complaints. The image looks excellent and sharp with wide viewing angles and overall this Flicker–FREE monitor seems very pleasant to eyes.
Productivity wise there definitely is a huge improvement over Full HD or 1080p monitor. You can squeeze way more things on your desktop. If you care about multitasking and often open many screens on your computer at the same time, you won't be disappointed with AOC Q2781PQ. IPS image quality is great for productivity, I find this monitor very suited for my work with Photoshop. Of course, the next thing to try is gaming
Of course, the next thing to try is gaming. So I chose to play Witcher 3 on the 2,560×1,440 resolution. See image below.
While this is not a dedicated gaming monitor and lacks FreeSync, it did surprisingly well. The game ran smooth and overall experience was great. This surely is one of the best multi purpose monitors that works well for both gaming and productivity.
The 4ms response time is decent. Of course, it's not 1ms as most TN panel gaming monitors are. However, 4ms is not bad. Only competitive gamers who play first person shooting games may feel the difference between 4ms and 1ms. If it were me, I would choose this monitor over any TN panel because of the better image and color gamut as well as decent performance. Overall I think it's a great multi purpose productivity/gaming monitor. I use one till today in a combination with Multipurpose PC build that costs under 1000$.

Specifications and Performance
As I already mentioned, this monitor has a stunning performance for its price. For human eye, it looks great for both – editing and working with software like Adobe Photoshop and AutoCAD as well as for playing games. We performed some tests to compare AOC Q2781PQ with other monitors. After some work, we found out that this monitor can display 97% of the sRGB color gamut at default settings. It also features a color accuracy figure of 1.38 which is quite high for a monitor in this price range. Some consumers claim there is a minor backlight bleeding at the top, I didn't see any. As for specifications, here they are:
[supsystic-tables id=327][su_spacer]
Design and build
Let's start off with the things I didn't like, there aren't many of them, but for some, they may be deal breakers. First, there is no VESA mount. You won't be able to remove the standard metal stand and attach your monitor to the wall. Next, lack of adjustments. All you can do is slightly tilt your monitor forward or backward, that's it! At first, I didn't like this at all. However, over time you get used to it and if you have a chair with adjustable height, it's no problem. And at last, while mine AOC Q2781PQ has no problems with its stand, my colleague's one has. There is a slight tilt towards left side that you can't fix because this monitor's position can't be changed in this direction. The metal stand itself is crooked by few millimeters so you are left with a monitor that's not straight.
The overall design and build quality are good. At first sight, it may seem that all gray parts are made from metal. Sadly only stand is made from metal and slim gray bezels are plastic.
The back of the monitor is glossy black and has all the video inputs: 2x HMDI, DisplayPort, and VGA. It also features "AOC" logo. The part with video inputs is naturally a bit wider.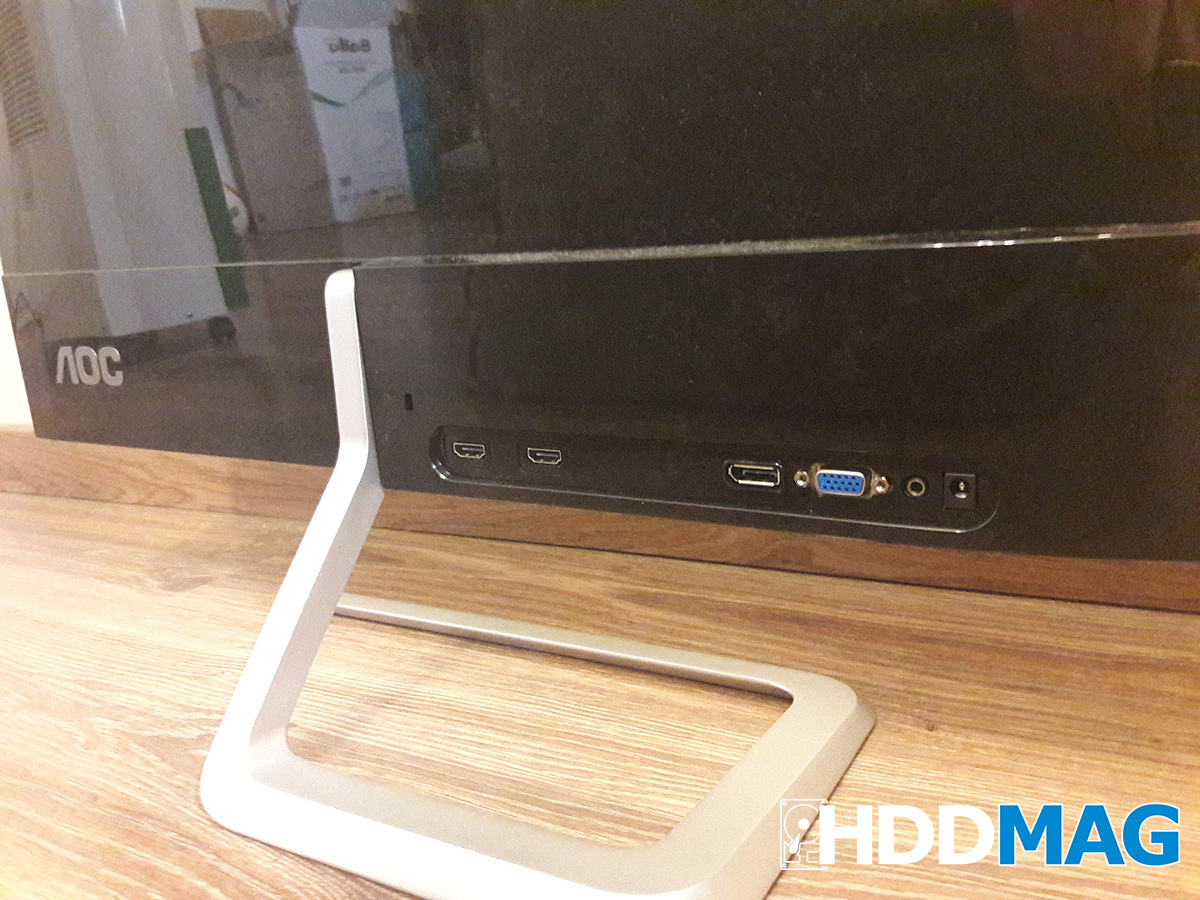 The monitor itself is very appealing and sleek looking. It fits great in any interior with its minimalistic and aesthetic looks. It surely has one of the thinnest bezels you can find on the market. It's superb when used as dual-monitor setup.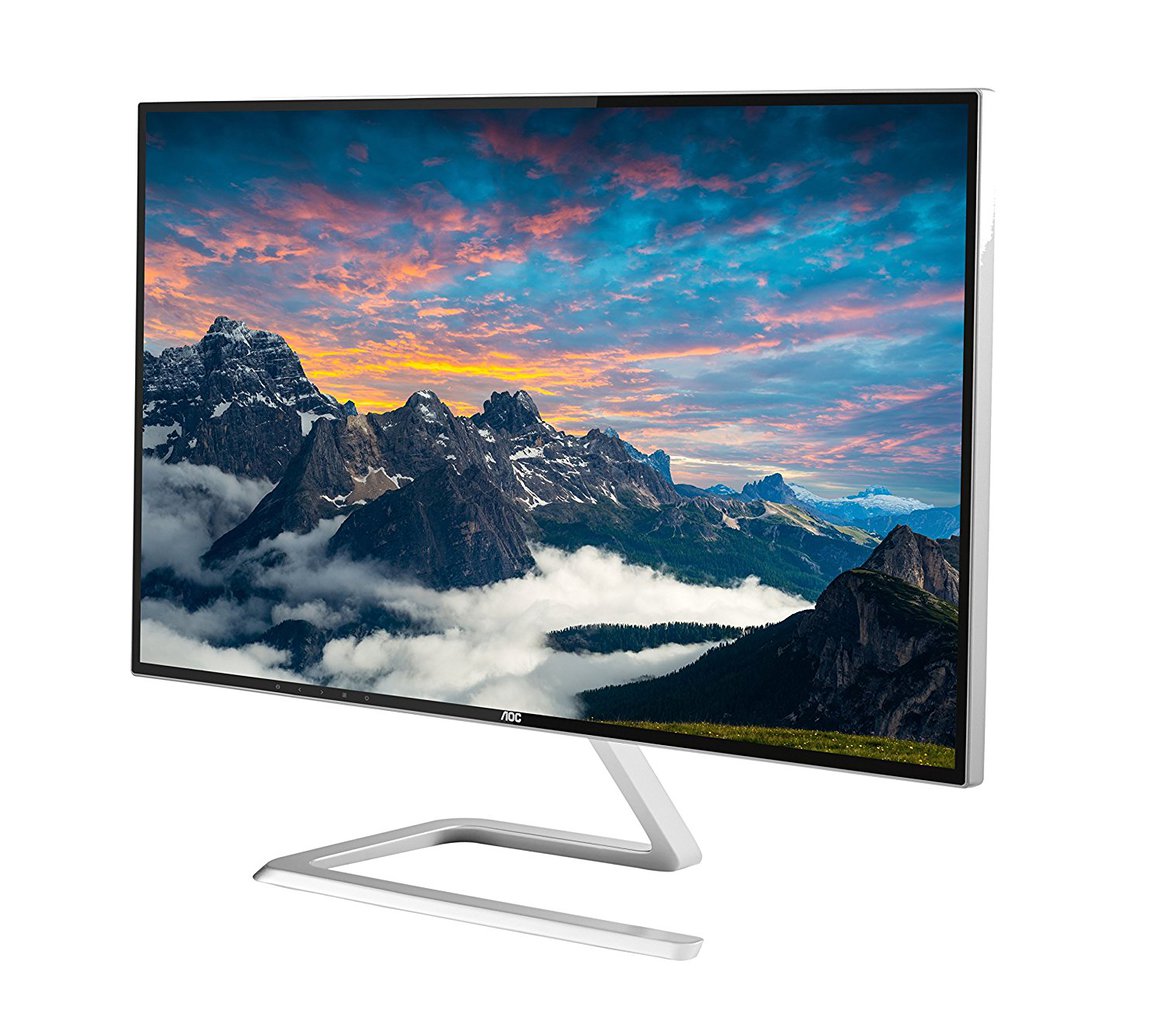 Verdict
Summing it up, AOC Q2781PQ is a gorgeous monitor that sits in the sweet spot between productivity and gaming. It's a great all-rounder with excellent colors, contrast, and amazing responsiveness. Nowadays a 1440p is the way to go, it offers sharper image as well as greater multitasking ability. For some lack of FreeSync and adjustments may be a deal breaker and if you are serious about gaming, this probably isn't the best choice. However, if used for various things combined with a multipurpose PC, this is a great choice.
[su_row][su_column]
[su_box title="PROS" box_color="#179f16″ radius="4″]
[su_list icon="icon: plus-square" icon_color="#179f16″]
Super slim looking design – narrowest bezels you can find on the market, metal stand
A great image quality for a monitor in this price range
While not a gaming monitor, it's still very capable
A very reasonable price
[/su_list]
[/su_box]
[/su_column]
[su_column]
[su_box title="CONS" box_color="#9f1619″ radius="4″]
[su_list icon="icon: minus-square" icon_color="#9f1619″]
Lack of adjustments
No VESA mount
[/su_list]
[/su_box]
[/su_column]
[/su_row]