Solid-state drives are well-known for being upwards of 10 times faster than regular hard disk drives. The benchmark differences between budget and high-shelf SSDs, however, are relatively quite small. This is why many people simply look for the cheapest SSD they can find to get the massive boost.
Adata Ultimate SU800 is an SSD that caters to such customers by being one of the cheapest 2.5-inch SSDs currently available on some retailer sites (like Amazon). In this review, we look at the value proposition of this SSD, what you'll have to give for the lower price, and how the SU800 fares in comparison to other cheap SSDs.
SU800 Specs
[supsystic-tables id=391]
[amazonjs asin="B01K8A29CS" locale="US" title="ADATA SU800 512GB 3D-NAND 2.5 Inch SATA III High Speed Read & Write up to 560MB/s & 520MB/s Solid State Drive (ASU800SS-512GT-C)"]
[su_row][su_column]
[su_box title="PROS" box_color="#179f16″ radius="4″]
[su_list icon="icon: plus-square" icon_color="#179f16″]
Relatively low price
Quite high transfer speeds, considering the price
[/su_list]
[/su_box]
[/su_column]
[su_column]
[su_box title="CONS" box_color="#9f1619″ radius="4″]
[su_list icon="icon: minus-square" icon_color="#9f1619″]
Some similarly priced SSDs provide more
Not always cheap, prices change vastly between retailers (currently, cheapest on Amazon)
[/su_list]
[/su_box]
[/su_column]
[/su_row]
Breakdown of Features
The Adata Ultimate SU800 is a 2.5-inch SATA III (6Gbps) solid-state drive, that is standard 7mm thick. This SSD is available in 128GB, 256GB, 512GB, and 1TB capacities, which would satisfy most people's needs, though, at this point in time, a 2TB option wouldn't hurt. All SU800 SSDs come with the regular 3-year warranty, same as most other SSDs and HDDs.
This SSD leans towards the cheaper end of SATA SSDs by being one of the cheapest (per capacity) among 1TB SSDs at around 26-27 cents per GB. The smaller capacities are less impressive, ranging between 30.5 and 41 cents per GB, depending on the capacity and retailer. Still, they're noticeably cheaper than SSDs such as the Samsung 850 EVO or WD Blue 3D NAND.
As you might imagine, if you pay less for something, it will give less in return. However, with 493MB/s sequential read and 324MB/s sequential write speeds (UserBenchmark), you won't have to compromise performance much. The SU800 displays good sequential read performance, though the write speeds are a bit below the average for similar SATA SSDs. The random performance is also slightly lower than that of more high-shelf SSDs, though not by much – 27MB/s 4k read and 63MB/s 4k write speeds can hardly be considered slow. Overall, the SU800's performance is adequate to its lower price and definitely worth the money.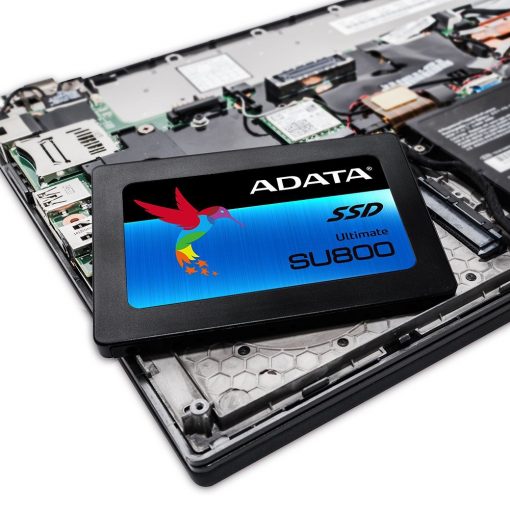 Alongside more common technologies, such as LDPC error correction and DEVSLP, used to increase data integrity and lower power consumption, the SU800 uses some of the more advanced methods of increasing performance. DRAM caching allows this SSD to utilize some of the unused DRAM memory to store data for super-fast access. Alongside this technology, the SU800 uses SLC caching, meaning that a part of this drive's Flash memory is of the SLC type which loads data much more quickly.
It's worth noting that the SU800 is openly advertised to use 3D TLC memory cells, while a more advanced, 3D MLC drive from Adata is available, in the form of the SU900. However, the actual usefulness of this upgrade is questionable because of some of the intricacies considering 3D NAND storage. Basically, the newer 3D alignment of Flash cells may, by default, remove the longevity issues of TLC Flash by allowing larger storage cells to be used. This leaves only the 5-year warranty that, for most people, will not be worth the added 30-40% cost of the SU900. Plus, there are better premium SSD alternatives, like the Samsung 850 PRO.
Alternatives
[supsystic-tables id=392]
[supsystic-table-diagram id='145′]
We consider the SU800 to be on the cheaper end of SATA SSDs, so we compared it to similarly priced drives. Crucial MX300 is one of the most popular SSDs right now because of its lower price (than that of the 850 EVO) and very respectable performance. Meanwhile, Mushkin Reactor is somewhat of a hidden gem, providing superb performance for one of the lowest prices on the market. If you want to check out other SSD alternatives, see our 2.5-inch SSD recommendations or our laptop HDD/SSD top list.
Crucial MX300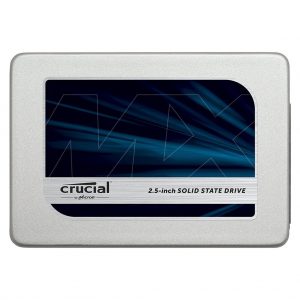 As we mentioned before, the MX300 is one of the best-known SSDs currently available. It comes in 275GB, 525GB, 1TB, and 2TB capacities with a 3-year warranty. The MX300's 464/318MB/s sequential read/write benchmarks may leave a bit more to be desired and so do its 23/59MB/s 4k random read/write. However, with the use of Crucial Storage Executive, you can turn on the Momentum Cache feature that can massively increase transfer speeds.
Pricewise, the two drives are again similar, with the MX300 ranging between 27 and 34 cents per GB. The MX300 is, on average, cheaper when it comes to lower capacities (aside from 1TB capacity). Overall, the Ultimate SU800 and the MX300 are very similar SSDs, both in terms of speed and longevity. With that said, the best of these two drives is whichever one is the cheapest at the moment.
[su_button url="http://www.amazon.com/gp/product/B01IAGSDUE/ref=as_li_tl?ie=UTF8&tag=ishddmag-20&camp=1789&creative=9325&linkCode=as2&creativeASIN=B01IAGSDUE&linkId=bb0999702b851ba54612356e8105f60e" target="blank" style="stroked" background="#C92228″ size="5″ center="yes" rel="nofollow"]View on Amazon[/su_button]
Mushkin Reactor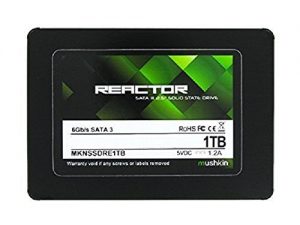 The Reactor is available in an array of capacities, ranging between 240GB and 2TB, all of which come with a 3-year warranty. This SSD provides surprisingly high transfer speeds for being one of the cheapest SSDs out there – 497/415 seq. read/write and 25/81 4k read/write. This is on par with the Samsung 850 EVO.
The Reactor is priced at 26.5-35.5 cents per GB (over different capacities) and costs roughly the same as the Ultimate SU800. The Mushkin brand is less known than Samsung, Crucial, or Adata, which is basically the only issue that you can bring up against this SSD. Other than that, if you don't care about well-known branding much, the Reactor simply offers more for the same price.
[su_button url="http://www.amazon.com/gp/product/B071DVJSJK/ref=as_li_tl?ie=UTF8&tag=ishddmag-20&camp=1789&creative=9325&linkCode=as2&creativeASIN=B071DVJSJK&linkId=52500ba8f811b6de78dd06543e170ace" target="blank" style="stroked" background="#C92228″ size="5″ center="yes" rel="nofollow"]View on Amazon[/su_button]
Verdict
For someone who wants to simply save money on his or her SSD upgrade, the Adata Ultimate SU800 may be one of the best options available. It is relatively cheap and offers decent performance that is worth the price. Although it's marketed as the "lesser" drive in opposition to the SU900 (3D MLC Flash), the SU800's (3D TLC Flash) offers as much longevity and performance as most other SSDs, ergo, there's no need to overpay for the "premium" option here.
All in all, the SU800 is simply a decent SSD that does its job well and saves you money in the process. Some alternatives, like the Mushkin Reactor, may prove to be a bit quicker but for casual users, this difference will go largely unnoticed.
[su_button url="http://www.amazon.com/gp/product/B01K8A29E6/ref=as_li_tl?ie=UTF8&tag=ishddmag-20&camp=1789&creative=9325&linkCode=as2&creativeASIN=B01K8A29E6&linkId=652e0b392dd56185d4db3a0bf186a5f7″ target="blank" style="stroked" background="#C92228″ size="5″ center="yes" rel="nofollow"]View on Amazon[/su_button]